Alpine Home Medical
Medical supply store Alpine Home Medical, 1395 N 400 E ste a, Logan, UT 84341, United States:
220 reviews
of users and employees, detailed information about the address, opening hours, location on the map, attendance, photos, menus, phone number and a huge amount of other detailed and useful information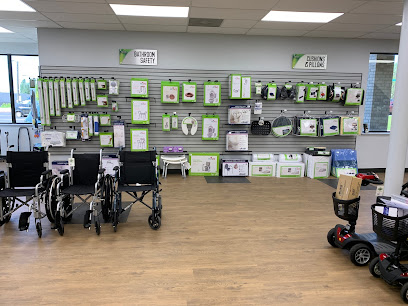 Address:
1395 N 400 E ste a, Logan, UT 84341, United States
GPS coordinates
Latitude:
41.7570161
Longitude:
-111.8245825
reviews Brandon Sikich
I like the personalities of both of the young people that were there. The young man and the young woman are very customer service oriented and do a great job. The young lady that was there really did a good job she answered all my questions and was very patient and helpful. Tell her thanks!
1 month ago Jennifer Willson
I'm preparing for unexpected emergencies. Needed a device to plug into a power unit, fo my clap. Your representatives helped me find what I need. I appreciate their cheerful disposition and eager attitudes, it very refreshing and up lifting. Thanks
1 month ago Cory Parks
I've been so pleased with all the workers at Alpine Home Medical--in store (and even at their phone customer service). They are thoughtful and friendly and I appreciate their curb side service and their promptness. Thank you!
1 month ago John McMarlin
We eventually returned the rented equipment simply because their billing department was a pain to work with. They kept trying to over charge us. I called multiple times trying to get it straightened out and was told someone would call me back. No one ever did. Their statements and what I was told when calling never matched up. Charges on statements were explained and after a few months of trying to work with them to get it straightened out, I gave up and just returned the equipment. It wasn't worth the hassle of always being charged more than we were supposed to be charged. They aren't the only company with medical equipment so it wasn't worth dealing with.
2 months ago michael yaun
I have been to Alpine a few times. I went this time to ask about a scooter. The employees were happy to help and answer all of my questions. I bought a scooter and like it very much. Very pleased.
1 month ago JASON TAYLOR
Alan was so helpful. We had easy to understand information
4 weeks ago vanessa lopez
The order desk was wonderful! They were thorough and helpful to make sure I ordered what I needed. The delivery was not so great. On December 30 I was told that Alpine received my prescription and my order would be sent the next day. Two weeks later they said it was finally shipped. That was a week ago and I still have not received the delivery.
6 months ago Neneth Massage
I seldom get an order that is correct. This time I am short the water chamber. It is always short something . I was told it was sent on 05/03 I received it on 05/10.
1 month ago Carlos Curtis
The rep contacted me shortly after the doctor prescribed using oxygen. The rep explained over the phone that they would leave the oxygen unit on my porch since we were still out of town. When we returned home we found the unit with instructions on how to operate it. Very easy instructions and very friendly rep on the phone.
5 months ago Raj Ajrawat
Amy at Alpine is AMAZING!!! She always goes above and beyond for her patients. I wouldn't go any where else for our Medical Equipment....she's very knowledgeable and very professional ;) keep up the good work Amy
1 month ago Anaswara Prasannan
I went in to get a breast pump. They made the experience very simple and easy.
1 month ago Ben Raley
Very nice people there, I really like it I'm going back again
1 month ago Bruna selfani
Staff is great caring people. Willing to help make your Needs and comfort a success.
1 month ago Ashley Wilson
I was very pleased with Alpine. They explained things very thoroughly. Would definitely recommend them to anyone.
4 months ago craig ulmer
I like the fact that they keep track of what I am eligible for through Medicare. I would like 1 text message to let me know it's time to reorder. In the past I have started getting texts phone calls and emails way too early. This has happened to the point that I completely stopped having them send reminders I would like one reminder
5 months ago Dan Berenson
Alpine Home Medical is a great company to work with. Navigating Medicare rules and regs is a challenge but they've done it well.
2 months ago nikki crisp
I am so discouraged. I purchased the G 5 portable air concentrater in December 2019. It is no longer charging. Alpine doesn't do repairs, they have no loaners and so referred us to Inogen who referred us back to Alpine and so it has been for the last four days. I do dialysis three days a week and need air to get there and back home again. Each company keeps sending us to the other, and both offer no solutions. Meanwhile I'm stuck trying to figure out how to get by without the air I so badly need. Will someone step up and help solve this. Just spoke with Tom. He has been so helpful in solving my problem. He has restored my faith in Alpine.????
4 months ago David Campbell
After Achilles surgery, I needed a knee walker to have sturdy mobility. I was helped immediately and he called my insurance and did all the work necessary to rent this equipment. He went through the working parts & how to store it when driving or not using it. He measured it to my height for an excellent fit and made sure I felt secure in using it. Alpine employees have always treated me well as a customer in every different medical situation I've had. Their last comment is always to call & let them know if there's any questions or anything else they can help with. I appreciate them walking me through the mechanics of the equipment I need, and the one on one support & attention I received.
7 months ago Thomas Deshler
I have been trying to obtain a mobile chair since end of August/early September. First told I would have it by first week of October, but several delays. It is difficult to get in touch with rep (Allen). My insurance approved it and it was supposedly orders on 11/20, but possibly not until 11/24? I called Allen on 11/30 and when he finally called back, told me he had ordered it "some time ago and it will be any day now" . I called him again that Friday 12/4 asking where it was? No response. Called the store (12/7) to speak with Shelly, but female that answered would not transfer me to her and proceed to give me a song and dance about it would maybe be "sometime next week". As of this Monday, it will be about a month since it was ordered. I feel like I have been LIED to and no one cares if I get my chair or not! Edit: I finally got my chair today. I called my insurance and they were able to contact Allen and the chair has been here since 12/14. Lots of miscommunication &/or misunderstanding.
6 months ago Tori Roe
They were very informed about all the different benefits of each device. Very helpful in deciding which one to get.
4 months ago Ning Jiang
Daniel was friendly and courteous. He answered all the questions that I had. I would choose them again!
4 months ago Susan Wicker
The automated system is awkward, and you don't really know what they're sending to you. Calling a representative on the phone is great, and they are extremely helpful.
1 month ago Tim Willingham
If you need your supplies right away don't bother using them. They never seem to have what I need or lack of supplies always. No customer service here. You need to call their office and order your supplies plus you need to wait at least 2 to 4 weeks for your delivery' that's if they get your order right or if they have the supplies you need.
5 months ago aysu ozan
I always feel denigrated when I go into the Logan store. They act like they believe I'm trying to take advantage of them or that I'm incompetent. On my last visit I brought an air hose that was broken. I was told that it wasn't time to replace the hose and was charged $100, which I thought was a bit much. If there was another vendor for sleep apnea supplies anywhere reasonably close I would switch in the blink of an eye. Response to owner's response: Tom, thank you for your very prompt response and your offer to rectify the situation. That tells me that you don't intend to run your business in the cavalier manner I described. The fact remains that I was charged $100 for a damaged air hose, so of course, I have a replacement hose. At the next order opportunity I requested , and received, an air hose although I really didn't need one. At this point I think my best recourse is to accumulate my own inventory of the most expensive supplies so I will always have extras in case of emergencies. Of course, my insurance company will bear the burden of the extra cost. That still leaves the issue of the denigration I experience nearly every time I visit your store. Two of your people have chastised me in the past. One suggested that I wasn't caring for the equipment and told me that I should only buy distilled water from a certain store that was nearby. Interestingly, the next "replacement" humidity chamber I received had the same residue your people took exception to. I didn't want to be subjected to the treatment I had received before and cleaned it myself but I wondered if all the "replacement" supplies are really new. When I returned the torn hose your employee looked at me suspiciously and remarked that it must have taken a lot of strength to tear the hose. Then added injury to the insult by the $100 charge, which I felt was punitive rather than merited. So, here we are, at an impasse. I know you don't intend to run your business this way, but your employees don't seem to understand that. Somewhere a culture that condones being suspicious of your customers and demeaning them has developed and is still alive and well. Tom, the issue isn't between you and me. It is between that culture and me. I still don't look forward to being in your store and I still wish there was another option for me.
8 months ago Don Deaton
I broke my last hose and when i called to get a replacement i have to wait for it in the mail or drive 30 mim. the next day to get it.. I guess i should have planned better.
1 month ago carlos morrissette
Very pleased with the service. They were on time and helpful with the equipment. Would recommend.
5 months ago kevin layne
I love Alpine! They are always nice and helpful and have excellent customer service!
4 months ago Billy Reynolds
Every time I go into Alpine Home Medical I am greeted warmly and have been helped promptly. I feel like the staff knows me. My needs have always been met and sometimes they go beyond my expectations.
10 months ago Kasa Busby
Alpine Home Medical was a great place for renting my sons knee scooter! They were kind and right on top of helping us.
8 months ago Cammie Rone
Great job walking through the CPAP demo
1 month ago Alex Leaskas
They were great brought my equipment fast and it worked great
2 months ago Daniel Callejas
I was able to update my insurance and purchase a battery. Jesse was knowledgeable and helpful.
4 months ago Brennan Stewart
Alpine Home Medical in Logan has been so great. The employees treat me like a friend, remember my name, and always work hard to help me with whatever I need! Thanks Alpine!
6 months ago Tangerine Dream
Very helpful? There is a service charge for delivery. Various qualities for any household but nice products at all levels.
8 months ago Deecy Gray
They were great to work with. Clean and thorough. Was very please with the sanitizing they did.
7 months ago Brendon Romanski
The rep was very thorough and professional and made sure I had everything I needed and answered all my questions.
8 months ago Mike K
I really appreciate the help that you have given my mother. I did have to check up on some pre-authoriztuon for oxygen for her...but it was resolved within an hour and delivered to the home.
7 months ago Erin Vasker
Alpine Home Medical has been helping me for years for my C pap machine. They are very fast, efficient and helpful.
7 months ago Terrance Carter
Dru gave me good instructions about how to operate the CPAP machine.
5 months ago Oudious Lee
I was very impressed with the profesional manner I was helped. Dru was very helpful with getting my equipment set up, and helping me understand everything. Thanks Alpine & Dru
11 months ago Stephanie Han
Alpine home medical Logan was supposed to call me but they haven't done so!
1 month ago Eileen Young
We came in to rent a knee scooter- didn't think it would be a difficult task. Had a prescription from our doctor and when I handed it to the employee, he said that it wouldn't work. After a few minutes delay I then ask "what I needed to do? " He looked at me like that was strange. I then ask what "how can I rent a scooter? , and that I was not understanding. " He then said the insurance needed to approve it. After more delays and silence, I ask " ok how do I do this?" My daughter and I felt way awkward!!! After more silence he told me to come back in a while and he would have a answer. We left the store and returned later after running errands. In our return I ask the same employee if he had heard back from the insurance? He said no. After more time and silence I ask if he knew if we would know sometime today because my daughter was having surgery Monday and it was Friday and Saturday they weren't open . He said I don't know...... more award time passed and I ask if he could call me if he hears anything from the insurance. He told me he would and we left. A couple of hours before the store closed for the day I called and talked to someone and after asking them if my insurance was approved she replied yes. I then went back to the store and ask the same employee from earlier if I could rent a scooter and he said " hmmm". I told him that I called the store and they assured me my insurance replied and was going to cover it. He then replied after some time "hmmmm......... oh you wanted me to call you ..... sorry ". After time I did walk out with knee scooter for my daughter and was very appreciative. In the same time another man came in to get something fixed and looked at. The employee said he couldn't !!! The poor customer sat there ( myself knowing exactly how he was feeling in pure silence ) and after some time the customer then ask " ok what should I do?" Please have your employee work on communication- work on people skills- work on problem solving !! Didn't think this should of been a difficult task!!!!!!
7 months ago Lauren Pedrotti
The folks at Alpine went above and beyond to ensure that my husband received an electronic chair lift/recliner after his surgery. They were prompt, courteous and very understanding of our needs and concerns.
9 months ago volvy
Excellent service even at 0300 hrs. Friendly professional personnel . Logan Office has been fantastic.
7 months ago javi Rivera
Initially had some issues with coordinating my insurance benefits, (more on the fault of my insurance company) to pay for my cpap machine. Long story short, supervisor at Alpine took the time to contact my insurance company again to verify how my cpap would be paid for. She found out my insurance made a mistake, and a rep from my insurance company called me to let me know everything was corrected and my cpap would be covered. Also, the class on instructions for my machine was awesome! Thank you
7 months ago Thanapat Khunwipusit
I would give five stars but the first person I talked to said it was too early to replace the equipment. This was after I had received a text saying it was time. The second person filled the order and it should arrive soon.
9 months ago Sherri Leverett
I get my C-pap supplies from them and they have been very good to work with. Very helpful and always have the supplies I need.
9 months ago Dave Harsh
Alpine Home Medical is the best ???? they make sure i have all of my Cpap supplies. Great to work with.
8 months ago Nick Tiernan
If I ever need any Medical equipment I would definitely go there Again
8 months ago Dylan Lazure
On time and trustworthy.
2 months ago
Popular places from the category Medical supply store