Hy-Vee
Grocery store Hy-Vee, 3504 Clinton Parkway, Lawrence, KS 66047, United States:
220 reviews
of users and employees, detailed information about the address, opening hours, location on the map, attendance, photos, menus, phone number and a huge amount of other detailed and useful information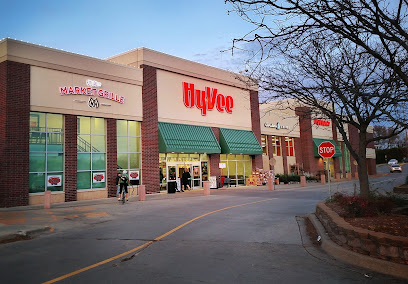 Address:
3504 Clinton Parkway, Lawrence, KS 66047, United States
GPS coordinates
Latitude:
38.9441020
Longitude:
-95.2808460
Location on the map
Reviews Cameron Nagler
Love this store! It's clean, bright, and has a great selection. The only reason I'm giving it 4 stars is because of the fact that their prices are more often than not higher than all the other stores in town. The selection (and the deli section...their Hickory House menu items are amazing!!) keep me coming back though!
10 months ago J Elj
Last night was first time I have ever shopped in a Hy-Vee before! Their produce not only existed but in several options of each item! The store was huge! And I loved the large amount of space between the aisles! It made for a responsible and respectable distance between consumers shopping for items alike; a well developed response to the co-vid pandemic ???????????????? Prices were average with the stores' geographical location and medium income statistics (unfortunately higher than mine lol) but the part I enjoyed the most is snagging one of these FREE HyVee Seasons Magazines on the way out!! Omg it's filled with exactly what most magazine subscriptions lack: fast recipes, fancy recipes, time saving tips, *women's month articles showing off our 'badassery" coupons, new products & reviews, party planners, kids menu ideas, articles of local small businesses engaging in community events and social welfare projects, instructions on ordering groceries from home! And either pickup or delivery options, household cleaning hazards and tips, safe beauty regiments and cosmetics, work-out routines and way to promote healthy eating habits for all members of the family!!
9 months ago David Patterson
I USUALLY ALWAYS GO TO THIS ONE HERE IN LAWRENCE SINCE THEY USUALLY CARRY THE CAT FOOD I NEED TO GET AND I ALSO PICK UP ONE OF THEIR TAKING BAKE PIZZAS USUALLY THEY'RE GOOD BUT TODAY I PICKED ONE UP AND THIS IS THE MESS THAT I GOT I DON'T KNOW WHO MAKES YOUR PIZZAS BUT I WOULD SURELY FIRE THEM I'LL BE GETTING THEM FROM WALMART FROM NOW ON THIS IS A JOKE THERE IS MORE PIZZA SAUCE ON THE BOTTOM OF THIS PIZZA AND ON THE SIDES THEN THERE IS ON THE PIZZA HALF THE TOPPINGS ARE OFF THE PIZZA ITSELF I HOPE YOU DO BETTER HY-VEE BUT I WILL BE GOING TO WALMART NEXT TIME I GO GET MY PIZZA
10 months ago Greg Diner
Although there are enough exclusive offers to make the rewards program worth joining, you aren't hit with hefty penalties on just about every item if you don't scan the rewards card. There is a fancy cart sanitizer making things safer during the pandemic. Produce runs higher than some places, but comparable to most. Soda isn't generally priced to incentivize stockpiling. Self checkouts are designed for large carts of items.
4 weeks ago Brett Swiecicki
I love shopping here! They always have everything I need in stock, and they have made extra effort to make sure their customers are safe and have the items they need during this pandemic.
8 months ago Rakiba Drew
Hy-vee is my all time favorite grocery store!! They have a beautiful meat counter, great employees who are friendly and helpful!! And of course have a helpful smile in every aisle!! ????❤????
9 months ago Bernard Lane
The bakery was gr8 when they first opened, but NOW, I won't bother.
8 months ago Pramila Nachappa
The two managers on the floor tonight are always very helpful, nice, and professional.
7 months ago Karen Torres
Went in to see what Chef Kelly was cooking. Chicken fajitas were on the menu and I was not disappointed. Last night I went in for his steak night. Cooked to order and it was incredible. He only cooks his special menu 2-3 days a week but I recommend stopping by and checking it out!
4 months ago Larry Crpenter
Nice clean store, they didn't have everything I needed, but at least 95%. I would suggest avoiding weekends and evening busy hours for the best service, however they have self service checkout and they monitor check-outs to add checkers. They do have to-go food, a deli, bakery a huge meat department and a pharmacy. They also have an app so you can do curbside pickup.
10 months ago Molly Trostel
I ordered online and had my food delivered from Hyvee Chinese. The dasher was great. Very fast from the time it was picked up and delivered. The food however was awful. I swear the chicken has been sitting a long time as it was dried out and difficult to eat. I ordered sweet and sour chicken. I got one small dipping sauce. The rice was crunchy. I also ordered California roll sushi. I got an email saying it wasn't available. I will never eat here again. Ever. I don't recommend it at all. I wasted way too much money for a meal I can't even eat.
11 months ago Kevin R
Great selection of ready-to-cook meals. Excellent service staff throughout!
8 months ago Tyler Jefcoat
Clean, well stocked, they had a nice cold area for health foods, even sell some of the locally made gluten free foods. That said, not impressed with Customer Service of upper management. We had made a purchase online because we were visiting from KC. We were not residents of Lawrence. Half of our order was missing. The staff member loading it said they couldn't find it and to call back for refund. I emailed and there was no problem getting refund, but insisted on us calling to give a card number. I asked for a HyVee store credit or gift card, I was told they could do that but it could only be spent at their store. How is it I can buy a gift card at HyVee and use it at any HyVee but the store managers can't do that to credit me for an order that was messed up on their end? We finally got back to Lawrence about 3 months later. I had emailed to ask if I could get the refund the day we planned to be there. I was told yes, go to Customer Service. The young gentleman at the counter went out of his way to help, very kind. The manager on duty not so much. You can tell she was annoyed. I guess I was stupid to assume they knew the exact amount I was owed, I left my list at home. The staff had no clue what I was talking about, the manager tried to reimburse me for the 2 items listed out of stock on the order. I had to explain 2-3 times that it was items they missed, not out of stock items. Anytime I've had an issue at my local HyVee's, the managers went way out of their way to help. Even offered to drive the missed items to me at my home, which is some distance for them. I don't expect them to do that, but I did expect that the managers had a record of the emails and had a better idea of what needed to happen to reimburse me. It took 30 minutes to finally get a credit. I know I could have been better prepared and more timely, but I think this HyVee also could have done a better job of keeping my information at hand and ready for when I came to Customer Service as they directed me to do. And I have a hard time believing that a gift card issued by them can only be spent at their store.
8 months ago Maruja Harris
Lots of random selections. Prices a little higher then Walmart. Love the coffee shop.
4 weeks ago Mollie Hopson
There are a lot of choices for allergen friendly foods. The people are friendly at check-out. We like the hours.
9 months ago James Bills
Very busy during the holiday time. Just count on everything moving much slower with all of their Covid-19 protocols in place. They are for our own good.
4 months ago Dennis Eiseline
This review is for "The Cheese Guy"!! Thank you for being so amazing! And for gentleman that referred me to you, thank you. I just keep looking at my beautiful Charcuterie slate and raving about my memorable customer experience. Other customers commented on my slate, and I raved! Then other Hyvee staff raved about "The Cheese Guy". That's how you know he's THE best! I appreciate you for making me feel special.????
1 month ago E H
Very clean and well stocked store. Customer service center was very helpful and staff members were knowledgeable of their store. Great products with reasonable prices and easy to find selection of products.
10 months ago shubham goyal
This is the only hy-vee in Lawrence. The staff are always kind and the store is clean. They have good deals on food, and I like that we get gas discounts. I hope corporate allows them a store update as it would be wonderful thing since there is only 1 store that serves Lawrence and the towns around who travel 30 mins to shop there.
10 months ago Alex Baker
Love this store! Nice place.
8 months ago Chris Gu
Came to get my prescription refilled, answered all my questions and checked multiple sources for the best deal! Thanks ????
9 months ago Janna Laughon
Iam having trouble finding jello brand jello already made in the cooler section raspberry and strawberry flavors.and today there was only one orange.what us the problem.other wise i love the store.
7 months ago Stephanie Underwood
Their store brand is very good! Great quality at great prices!
10 months ago Seema Khan
While there are MANY reason to appreciate living in Lawrence, Ks one of the best we have discovered is ... Hy-Vee Grocery store on Clinton Parkway! This store is CLEAN, the associates are COURTEOUS, well groomed and ALWAYS willing to provide any assistance in finding particular merchandise cheerfully. We purchased an entire Thanksgiving dinner yesterday and, despite having nearly 700 orders to fill, ours was totally accurate, the dishes we ordered were cooked to perfection, the price was entirely reasonable and, after a very short wait in line, the order was placed in our cart and we were on our way. When necessary, any prescriptions we have ordered have been filled in a timely manner by very professional and knowledgeable pharmacy associates.We feel so fortunate to live in a community with a HY-VEE grocery store!
1 month ago Mike Bergeron
I just moved here from Iowa. Nothing better than keep Hy-Vee as my grocery store. I feel at home
9 months ago KarnivorusKLONE
Inventory was well stocked, but prices are kinda high. Bonus points for being Covid careful.
11 months ago Luc Brissette
Love this place. I just wish the fuel rewards were better!
11 months ago Jim Faurot
Drive up pharmacy Speedy and efficient.
8 months ago Terri Hishmeh
Well structured store. Friendly people, quality products. I really like the overall store and it's offerings.
1 month ago Remo Medrano
Great veterans support. "Breakfast for veterans" is great and we in the veteran community can't thank you enough and it means so much it means to us!
1 month ago Chris Romp
Clean well stocked, curbside pickup love this store
10 months ago Kamran Siddiqi
Good selections on most products and a clean store with friendly staff.
10 months ago kelly hagood
$5.00 hamburger meal was good
7 months ago Jim Cole
Good produce, and good variety of sodas and drinks. Easy to get around the store and self checkout is a breeze
1 month ago Patch J
Great selection and friendly service.
8 months ago Karen Starnes
There bakery is out of this world
7 months ago Meital Heber
Hy-Vee's grocery pickup service is excellent. They're so organized, efficient, and friendly. They're a little farther away from me than Dillon's, but the experience is a million times better. Unlike Dillon's pickup service, Hy-Vee has a great system in place and their customer service is so much better.
5 months ago Jason Dillon
Easy to find what I needed, friendly and helpful staff
9 months ago beth fremel
My wife and I are members of the CHAMPPS good nutrition program for local seniors. Both Hyvee and Dillons supermarkets prepare CHAMPSS meals. I prefer Hyvee because the selections and quality are superior. We had a great breakfast this morning at HYVEE. I asked for blue berry pancakes but I was turned down. Maybe next time. Happy 2021 to everybody.
11 months ago Tina Gionti
They have the most amazing bakery
7 months ago Suraa Alomar
We switched over to HyVee, as Walmart refuses to staff cashiers. Great selection and staff. Dont understand the way the way the store is organized, but it is clean and has whT we need.
1 month ago Pam Hogan
Always great place to shop, tried twice, 3-4 weeks apart, to buy Hy-Vee chopped green chilis, none in stocks both times.
4 weeks ago Adam Beilfuss
Great selection and great prices, very friendly staff that is willing to help you if you need anything while shopping
1 month ago Jess Smith
They had what I was looking for in stock where another store had none in stock. Plus they had a sign saying why they had a limited supply on hand. That was very helpful information.
3 months ago Robin Frye
Friendly helpful service! Thanks
9 months ago Diane Linnea
The store was very clean and many of the customers were wearing the appropriate masks. Selected my items and even took a few extra minutes to look at extra sales. Which in these times is a rare event for us.
3 months ago Sawsan Jaber
As a Personal Shopper, mostly I find Hy-Vee easy to navigate when shopping. When I cannot easily find an item, there is usually an employee close by who is happy to help me find what I need :-) :-) :-)
4 months ago Thomas Geyster
Please make the repetitive commercial on tv STOP ✋. OTHERWISE, GREAT!
9 months ago Steven L
I bought some glazed donuts here and they were half raw.
8 months ago Jonathan Diaz
Love HyVee
7 months ago
Popular places from the category Grocery store