Pet World Experience
Pet store Pet World Experience, 711 W 23rd St #26, Lawrence, KS 66046, United States:
220 reviews
of users and employees, detailed information about the address, opening hours, location on the map, attendance, photos, menus, phone number and a huge amount of other detailed and useful information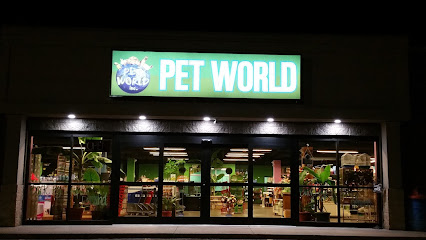 Address:
711 W 23rd St #26, Lawrence, KS 66046, United States
GPS coordinates
Latitude:
38.9416829
Longitude:
-95.2422193
Location on the map
Reviews Candiz Smith
The absolute best place to find your new pet! The animals are obviously very well taken care of, given lots of attention, and handled quite a bit. The staff's knowledge base extends way past the bullet points in a pamphlet. These people KNOW their animals! I have never been to another pet store with cleaner fish tanks. I mean, SPARKLING clean! Extremely impressed and will definitely recommend!
8 months ago tatu lappalainen
This pet store truly is an experience. They gave something for everyone. Hamsters reptiles. Everything is clean and well displayed. The giant tortoises are a treat for kids to see. Before Covid, kids could feed the tortoises. They have every kind of freshwater fish you could possibly want. Everything is very healthy and active. I have never had a fish from their store die on me.
8 months ago Emily Dorman
I honestly can't say enough good things about this place. They have very knowledgeable friendly staff who go above and beyond to ensure you are informed on making your pet purchase. They will take the time with you necessary to go home feeling confident with your new friend that you have everything to meet their needs. Their aquatic, amphibian and reptile selection is incomparable to any other store I've been to in this area. It's Amazing. You won't be disappointed by stopping by.
9 months ago Rodney Spurlock
This is a world of pets. There are worlds and pets. Just don't ask about the alien in the back. He gets angry. I lost three friends this way. Though if you do see him don't ask him about the secret of the universe. I almost went to a psych ward because I found out. Good pets.
8 months ago Mary Martin
Got my bun and his supplies here and they were awesome. He was in good health and well nurished. They have quite the selection of pets and supplies with decent prices. I just wish they had a location closer to me! It's probably a good thing though, or I'd be there constantly!
9 months ago Sherry Whitaker
We are glad we found this local pet store. Quick drive out to Lawrence from Overland Park. We were looking for Polar Blue Parrot cichlids and guess where we found them! They have plenty of aquarium decor options. Love that they're locally owned! We saw signs that they do parents night out and camps for kids.
9 months ago Kyle Winell
OMG! this place deserves 100 stars. We have taken Snoop Dog to a few places to get baths. No place had the service this place has. We have been there twice now, and both times the staff where great with Snoop. For some reason his coat was whiter than the other places we have gone to. Also last few places we tried we asked about shedding brushes as Snoop Dog sheds. None of them really worked. So when giving the bath the staff used a brush that seemed to remove a lot of hair. I asked her about it and she showed it to me. I purchased it (even though it cost more than the others) and brought it home. The hair it pulled from Snoop was incredible. The best part is now when Snoop see the brush in our hands he sits down immediately. LOL!! Even Snoop loves this brush. It does a great job and it must feel good to him. So thank you staff at pet world for helping us take good care of SNOOP DOG!!!! We love him!!
8 months ago Jim Hill
Stopped in while passing through Kansas and was wowed. Great shop and the best looking fish tanks I've ever seen. Friendly staff helped me find what I was looking for. Completely impressed!
7 months ago shea osborn
The best local pet store in 30 miles! Staff is amazing and very knowledgeable! Great selection for any pet type!
7 months ago Cam Leon
Great experience. I bought two piranhas from them and they walked me through the entire process and my piranhas are still alive and doing well today. Staff is so friendly and they truly care about the animals.
8 months ago Bruce Weng
This place is freaking amazing every time a great experience and the staff is even more fun and amazing and are just great!!!
9 months ago Andrew Delisle
Great as usual. Always enjoyable for children and adults. Friendly speedy check out
8 months ago Wendy Leech
Its a great place for pets. It seem like a mini zoo. You can mostly get birds and fish here, cats and dogs are not available much.
2 months ago Massimo Alloro
"please come back another time if you're not shopping today" That was posted on signs as soon as you walk in. What is that supposed to mean? Kinda makes it feel unwelcoming to guests.
7 months ago Dara Moss
The people here are super friendly and helpful. I truly enjoyed my visit here and have since been back multiple times and will be back many more.
9 months ago Lavanya A
They are nice and try to give you as much information as they can before you buy a pet from them
8 months ago Daphne Latham
This is an absolute Lawerence treasure. I took my grandson and he had so much fun seeing the wide variety of pets they have please never change ❤
7 months ago SAIYYAED Ali
We're very nice and welcoming and also good knowledge and was just a fun place to be
7 months ago Mike Staples
We had an amazing experience with Grant. He was kind, patience, and thorough with our needs without making us spend more money than we needed to. He responded well to our children and helped guide us as first time fish owners. We will only be shopping here because of Grant. I hope he sees this and knows that he made our day and fish experience much better.
1 month ago Robin Nico
So many good things to say about this store. Staff is knowledgeable and friendly. Large selection of pets/new family members. Local business, and they hold themselves to a higher standard than the chain "pet stores". TY Pet World
2 months ago Kim Johnston
Make sure to get in early. They close at 7pm so if you visit any time after 6 you'll get to hear the employees constantly grumble and moan about "how much they have to do after close" while they play a cute closing time soundtrack over the speakers. Fish selection is 4 stars, the girls (especially the pink haired one) get 0 stars for rudeness and being unprofessional.
9 months ago Danielle Flores
Such an amazing place! The workers are amazing and they are really there to help you!
8 months ago Volucris Soul
Great, friendly service. Options galore! And decent prices! Definitely going back!
10 months ago Elizabeth Girling
I travel around to a lot of States and that by far is the best pet store i have been to. Keep up the good work. I will be coming back to this store its 3 1/2 hours from my home love it!
2 months ago Poumposhka
Best pet shop in the state! Top notch owners who are involved in the community. We love PetWorld!
9 months ago Cathi Muller
Ande and Drew are just wonderful. They helped me and answered my 1,000 questions about the bird I was getting and how to take care of it. They are very caring with all the animals and so helpful. I felt very at ease when I took my bird home because of them. Thank you so much girls! ❤❤
2 months ago Andrea Dreismeier
Very cool pet shop and fish shop and pet supplies. Very educated employees. So awesome service
9 months ago Lauralyn Buie
This place is awesome and the workers are very nice and patient. We were buying fish for our new small aquarium and they patiently answered all of our questions, and we had a lot lol. They showed us what fish and supplies to buy to get started with our aquarium. Nice people with a great atmosphere.
11 months ago Prakash Mahato
Very fun place with lots of animals! I love seeing Phoenix the store pet everytime I go!
9 months ago Kimberly Schaefer
The is a local store with great customer service. I would go here before any of the big box pet stores. Prices are competitive as well. They'll have anything you are looking for. I feel like the people that work here so because they love working with pets.
1 week ago Cory Laddan
Friendly and helpful staff. Every staff member looks like they are happy to be there, which is a nice change of pace. I love how the animals are not in cages, and always have clean environments.
11 months ago Whitney Clark
I live 1.5 hours away so I called to see if they had lots of available birds. They told me yes they do have many available birds. I drove all the way out there to look at 5 available birds which were all terrified of people, and a couple dozen birds that were not available due to being hand fed. These birds could not have deposits placed to hold them and not a single bird was allowed to be touched in the entire store. One lady working there was helpful and great, one was an insidious +€#¥! Don't waste your time.
1 month ago Morphicelus
Usually we adopt not buy animals but we bought some birds From them but after we adopt our cats they refuse to take the birds back and we gave the birds to some of our friends. Still one of our favorite places in Lawrence
7 months ago Steve Schlesinger
Nice selection very nice and I didn't see any fish dieing in there tanks at all unlike PetSmart
9 months ago Samuel Malone
Lots of great items. Seems better than much bigger stores. Friendly and helpful staff. Check them out.
11 months ago Pamelyn Resilla
I live the variety of fish they have but not how the workers treat customers. I drive an hour and 20 minutes to this store once every couple weeks and the workers are not very friendly. They dont like to answer questions and dont even think about asking them to look for a fish in a tank. They wont do it.
11 months ago Norma P
Amazing selection of pets... my g.f and I really like this medium sized yellow bird... and of course the giant tortoise
10 months ago Emily Alward
Items are pricey but it's a good time to look at the animals
8 months ago Shelly Hambek
Absolutely LOVE this place. We've bought several insects here, no problems thus far. The dedication they put into taking care of the animals here really shows.
1 week ago SIKNIK TECH
All in all my favorite pet store I've ever visited, I've been going there for the majority of my supplies and fish the last 10 years or so, super friendly staff and knowledgeable at that, 10/10 a place I'll forever visit as long as the doors are open.
2 months ago Rachel Yates
I come here from from Kansas City for almost all my pet's needs. I'm never disappointed.
8 months ago Ralph Stan
Tim has the best pet store in the midwest!
7 months ago Syed Ahsan
Best pet store I have been to! They had lots of fish and unique options that we hadn't seen before at other local shops. We drove from Kansas City to visit and it was definitely worth the trip!
1 month ago Jason Morgan
Best pet store around. Very knowledgeable staff and always willing to help in any way.
10 months ago Kasi Smith
Pretty much anything you might need for almost any kind of pet. Friendly, knowledgeable, and helpful staff.
10 months ago Brian Blair
The staff is incredibly knowledgeable and helpful. They were even able to get a replacement glass top for my aquarium!
11 months ago Todd
Me and my kids love going here and grandkids
8 months ago Kellie cunningham
I come here as often as I can... It's the best zoo in Kansas.
8 months ago Misti Robison
I was very happy with this store. Everything looks to be pretty well takeing care of. Only complaint id have is the lack of saltwaterfish but great selection everywhere else.
11 months ago Kazem Esfahanian
One of the best pet stores in the area, lots of unique animals and staff is always professional and knowledgeable
9 months ago
Popular places from the category Pet store