Car battery store Valley Battery
Car battery store Valley Battery, 5132 Auburn Blvd, Sacramento, CA 95841, United States:
118 reviews
of users and employees, detailed information about the address, opening hours, location on the map, attendance, photos, menus, phone number and a huge amount of other detailed and useful information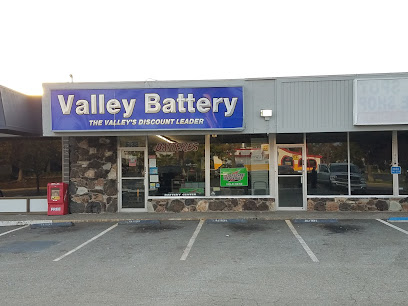 Address:
5132 Auburn Blvd, Sacramento, CA 95841, United States
Website:
valleybatteryllc.com
GPS coordinates
Latitude:
38.6620967
Longitude:
-121.3449467
Location on the map
Reviews Diana Mobley
OK, so this is an update on the massive improvement on customer service, night and day. Helped me out with a battery that failed a bit early, but just out of warranty. Made me a deal on the new one and let me do the removal and replacement work there at the store, and offered me tools if I need any. Really good prices as well. I am a customer, and do recommend them. Thanks!
5 months ago Nessa Acosta
Love this place! Didn't know it existed. Now I know & I love it ????
10 months ago tracy reinson
I got my battery last week and looks like my car wont start once in a while so i had to go back to have it checked...its not the battery but it was the connection..so he changed the bolts and gave it to us for free..no charge..very helpful and nice guy..thank you valley battery! Good job!
10 months ago Tis Rachel
Great service by Allen at Valley Battery! They had a hard-to-find battery for my 1990 Miata. Installed it for free! And gave me a military discount with a smiling "thanks for your service."
8 months ago David Wolff
One of the filler caps was broken when we bought my wife's motorcycle. Tony searched high and low and found a replacement that the stealership was not willing to do. Thank you.
6 months ago Mindy Drobnick
Always go here . The best value and prices in Sacramento.
7 months ago Tiffany Meinke
THE OWNER IS A SHORT GUY THAT IS ALWAYS STACKING BATTERIES IN THE BACK, AND HE HAS A REAL GOOFY GUY NAMED DAVE WORKING FOR HIM....THE GOOFY GUY DAVE INSTALLED MY BATTERY FOR ME AND DID A GOOD JOB...HE EVEN PUT THE HOOD DOWN AFTER THE INSTALL....BEST BATTERIES, PRICES, AND SELECTION IN TOWN ; YOU SHOULD GO HERE IF YOU EVER NEED A BATTERY...
3 weeks ago Austin Bodnar
Knowledgeable people good service
7 months ago Albert Mak
Fast service good price
7 months ago Rachel J
Very good customer service.
7 months ago Thomas Langerak
I would highly recommend them if you need a battery go there super cheap and they will even install it for you there within minutes. Great customer service
5 months ago Brinton Smith
I came in and got exactly what I wanted and at a fair price ! Thank you ! Mark !
5 months ago Katerina Bakunina
Great service, excellent price's
7 months ago Vince Wallace
Friendly and informative. Fast service cheap prices and battery exchange. The works.
10 months ago Topher Boss
Great little shop. Very affordable batteries.
8 months ago Fizzah Shaikh
Got a 12 volt battery brand new took it home was dead and tried to charge it wouldnt hold. A charge took it back got another one, same thing. Took that one back got another, again same thing. Took it back and finally got a good one. Got some cool flashlights that plug into the car cigerette lighter
10 months ago Marcy Laster
Amazing personable staff! Very helpful & knowledgeable.
8 months ago Mira Marnie
It's Allen. He has a great personality and is one of the best of the best when it comes to customer service. D A Ortega Sacramento, CA
10 months ago VaNisha Aguilar
I have been coming to this place for a long time the only place I buy my batters good prices and good service. I need a battery for my scooter and i'll be there first thing in the morning. Rate it good
11 months ago Yulita Ran
From High quality batteries to value batteries they will have what you need. And the staff is friendly n helpful
1 month ago Pat Fisch
You can recycle your old batteries for cash or credit towards batteries they have available.
8 months ago Jonathan Cotton
These guys are excellent lowest price of batteries in town and the guy running the front desk is just the nicest guy in the world
10 months ago maarten visser
A+++
6 months ago Andrew Wardle
Battery crapped out after 3 MONTHS ! Then i was miss informed the warranty length at purchase of the battery which I found out when i called for the info (rudely by the man working that answered the phone). I was miss informed as well as sold a battery that only lasted 3 months..i would not recommend this place to anyone!! ????
3 months ago Jarod Gochee
This is the cheapest place to get batteries! I've been here many times and am very satisfied. Other than the place smelling like cigarettes, it's good. =)
7 months ago April Belcher
????
4 months ago Vamsi Mohan
They were cool
7 months ago Asfar Azmi
Easy to find, friendly personel. Reasonably priced batteries and such..
5 months ago Tony Slayton
I will travel all the way across town to buy batteries here! Super helpful friendly staff and great products! Never had any issues! - Crown Rick Auto
10 months ago Joseph Ciborowski
Good service. Well stocked. Skilled technicens. Best place for battery needs.
5 months ago panna yasmin
They were very helpful & knowledgeable !
9 months ago Sable T
Best prices in town, that's why they have been there for so long.
10 months ago John Dunning
Great customer service and prices, family have been going here for years, as I recently have to have my battery replaced on my X5. Can't beat em.
5 months ago Ivan Wenzel
Very helpful they will work with you according to your needs
10 months ago Unnati RANGOONWALA
Great customer service, very knowledgeable staff. Great prices on both new and refurbished batteries.
11 months ago Lisuanis Martinez
Phenomenal prices for AGM Batteries
8 months ago Angel Hoagland
The battery they sold me literally went out 1 month and 2weeks after I got it smh
5 months ago Paul Patterson
I called over the phone as an educated buyer. Absolute horrible customer service, sales associate was rude, arrogant, and ignorant. Nobody there could tell me whether it was made out of recycled lead or virgin lead. They treated me as though I should just shut up and come in and buy a battery without asking questions. The supposed Manager was much nicer, but could still only read me the info from a sales brochure/Internet page. Simply put I will not now nor ever go to this store to purchase anything at all. Save your time and frustration and just go to Les Schwab or Costco. Both of those stores have better warranties, prices, knowledge, and customer service.
5 months ago Kathy Oneill
Only place to get you good refurbished battery.
9 months ago Dustin Pooler
The service was excellent, product worked as described. The sales people were friendly. I will return for more products. Glenn Thompson, Sacramento CA
9 months ago PotatoTree
Very helpful and good cost point.
9 months ago Richard Amaro
Good customer service & great prices!
5 months ago Ron Hess
Helpful, affordable used batteries, optional year warranty
2 months ago Lola Lola
Helpful people working there. Good prices.
3 months ago Alan Davies
Very helpful with batteries for any budget
5 months ago Robert Granville
Very helpful with my car battery
8 months ago Aly Tromer
Always super helpful and affordable!
11 months ago andrea scaramuzza
I bought a battery that was not good. Returned it very easy.
10 months ago Courtney Peterson
Best battery shop in town, ask for Tony
5 months ago Gordon Bittner
Its good place for some good cheap battey. Both 3 battey from then like year ago and still run.
11 months ago
Popular places from the category Car battery store