Manufacturer TEMCo Industrial
Manufacturer TEMCo Industrial, 48621 Warm Springs Blvd, Fremont, CA 94539, United States:
220 reviews
of users and employees, detailed information about the address, opening hours, location on the map, attendance, photos, menus, phone number and a huge amount of other detailed and useful information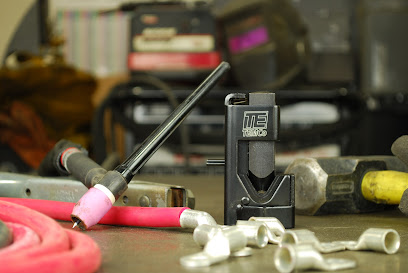 Address:
48621 Warm Springs Blvd, Fremont, CA 94539, United States
Website:
temcoindustrial.com
GPS coordinates
Latitude:
37.4656509
Longitude:
-121.9174903
Location on the map
Reviews Motty Smith
Why only three stars? Well, this is the correct product and the one I ordered. It took longer than I thought it should take, over a week to receive it, but I can accept that too. The problem is the packaging. The item was shipped in a …
7 months ago Aaron Desjardins
Really fabulous service from these guys. They have solid tools at a great price for the quality. Also, fast service on shipping welding cable. Made all my purchases for building out my Sprinter van easy.
7 months ago Chris Cunniff
I ordered copper crimp ring terminals. They arrived very timely and were exactly the product I ordered and needed. Very good quality. I am very happy with my purchase. Mike Curtis
6 months ago Alby Babu
Received correct item but arrived with a decent sized dent even though packaging was near pristine
6 months ago Chris Hoerske
I ordered a simple on/on dpdt 6 pin switch from them on eBay. It got here quick and is a quality switch. This will work great on my homemade guitar amp attenuator as a bypass switch. I only wish I had bought the similar on/off/on switch …
9 months ago John Costello
Excellent service and products. I just ordered two more capacitors for my heat pump system. A start capacitor and a dual run capacitor. The TemCo capacitors have lasted much longer than the OEM ones in my unit. My start capacitor finally …
6 months ago Aubrisha Allen
Hi quality products. Ordered large battery wire crimper and solar PV panel wiring on Amazon and they were well packaged and delivered quickly. Highly recommended.
6 months ago hunniebfamous Williams
I ordered the switches to use on my home theater. I received them fast and the quality of the toggle switches were beyond my expectations. Glad I found you guys. I will be back!!!!
6 months ago Collin Abeln
Have ordered resistance wire and got fair pricing and fast delivery. Great company to deal with as they value good customer relations.
6 months ago Kaela Ford
Purchased cable and crimpers for a RV retrofit project. Could not be more pleased with the quality. Also, I'm no longer anxious about crimping lugs on 1/0 cable!
6 months ago L O
Great products with great quality, i have bought 1/0 ring terminals for my stereo installation! They also ship fast!
9 months ago gloria campos
If you want American made stuff, this is the place to go. So far I've ordered the cable lug crimper tool, welding wire, and various cable lugs. They make an assortment of sizes and you can order quantities from as little as 5 ft to 250 ft. …
10 months ago lucia huang
I have purchased wire spools from TEMco about 10 times. Each transaction has been excellent and the product is top-notch. I use their resistance wire for vaping coils, and they carry hard-to-find sizes (29 or 31 gauge for example).
6 months ago KD Luttrell
This is my second time buying from TEMCo industrial and they are awesome!! Quality cable Everytime I need it for my car audio builds and at an affordable rate????????.. the best conductive materials without fail Hands down... today I'm doing …
11 months ago Numan Nunu
I am in the process of setting up a Battle Born battery based solar system for my TT - Travel Trailer with a Victron MultiPlus. Of course there are lots of wires and cables going to and from the batteries, the multiplus and the TT - Travel …
6 months ago Kelly Taylor
Can not be any happier from these guys. Great service and fast shipping
6 months ago Anatoly Kreichman
I bought the TEMco hydraulic crimping tool for work. From Packaging to utility, its all great. A solid professional grade product. Will surely recommend to other electrical specialist.
9 months ago Leon Henderson
I am very satisfied with the tools, they are of very good quality, price guarantee, I am a master electrician and I have recommended TEMCO products to electricians in Puerto Rico.
7 months ago Dennis Laumann
Made in the USA! Super fast delivery despite I ordered on a holiday weekend. Well packaged. I will be back. Thanks!
9 months ago davinder duggal
Great 1/0 wire, bare copper battery connectors, and hammer lug crimper. They also stand behind their merchandise. I highly recommend them.
9 months ago Vara Prasad
Took a little bit to understand how to wire this foot pedal since it did not come with directions. However, it was easy to look up and find pictures and schematics how to wire it. Overall, very easy to get set up, and it works great. Seem like a high quality product for a very reasonable price.
5 months ago Danny Guihen
Fast service, fast delivery, heaviest duty wire I ever received!!!
6 months ago Patrick Shelton
TEMco is the BEST company I've ever worked with. My items arrived days early and are of the highest quality. These guys are incredible. I trust TEMco. I will buy from them again.
9 months ago Constantly Learning
I just needed a capacitor for my pool pump, and the one that originally came with the pump was a TEMco product. Our local pool parts retailer didn't have any in stock that would fit and said they could order it, but expect it to take "a …
2 months ago Vishnu Prabhu
I ordered a seemingly hard to find start capacitor for an electric motor. Not hard for Temco. They had it, shipped it and I received it in 2-days. Wow. Great price and Service. I'll be back!
11 months ago annamalai yaar
I purchased a Hammer Lug Crimper from TEMCo and although I've only used a couple times it performs great. It is very well made and heavy duty. I crimped 4 AWG cable to copper lugs for some DIY car battery cables and they feel securely …
9 months ago Robin Frye
I ordered a 3.5" knockout off of Amazon fulfilled by TEMco. The punch and die look great except for the shoddy packaging that caused the cutting corners on the punch to get damaged in transit from CA to OH and now the punch is junk. Poor …
1 month ago Russell Longyear
I will continue to buy your tools because they are very good and resistant
7 months ago Rachel Toy
I bought a Th0005 crimping tool in November of 2019 and just realized in August 2020 that I was missing a couple of dies in my kit. I contacted Temco, showed them my Amazon receipt and they sent me the missing dies in 2 days. They could …
3 months ago Robert Rossi
A well made crimp tool will do a great job on my wind turbine and solar projects. Thank You for a fast arrival
3 months ago Steve Perez
Fast, efficient shipping. Good products. Good prices. Exemplary customer service.
4 days ago Michael Rosales
Bought their Hammer Lug Crimper Tool, TH0007, to fabricate new battery cables for my 55 year old Massey Ferguson tractor. VERY pleased with the quality of the crimper; simple, rugged, built to last, Made in America, with a 5 year warranty. I could not be happier.
1 month ago Hdth
The product was exactly as described and the shipping was really fast. They have a generous return policy, but I won't be needing it.
11 months ago Tom Foolery
Awesome prices for great quality tools and a warranty to go with them. I would recommend before spending big buck on a big name with poor quality tools.
9 months ago zeca vts
Temco is my go to for SS316L wire, I use it in temperature control builds. It is a great value, and performs to top standards. I would recommend them. I normally use 28 or 26 Guage wire and twist it up with a drill.
9 months ago Melissa Mullins
TEMCo Industrial provided a great value along with excellent service with prompt delivery and a secure package. I would gladly recommend this company to any one who needs Solar Panel peripheries, I'm using these cables to reach inside my shed from the point taht my solar panels are at.
11 months ago Joan Nelson
Great product. Super fast shipping
8 months ago Don Howson
Ordered replacement grab hooks and clevis pins for a tow chain I broke. Clevis pins were a little tight (3/8" diameter) for my 1/4" chain, but a little percussive persuasion did the trick. Perfect replacement. Fast shipping, great price, and quality product. It's not often I get the trifecta - very glad I bought from TEMCo!
3 months ago J Jones
Fastest service I have ever received. Very pleased.
11 months ago Scott Freeman
I shop alot on the internet for the products I need and most things have a very lacking description or hard to understand when I found Temco's product I read thier description 3 times because it was so easy to read and understand Ijust had …
10 months ago ella sometimes
Fast shipping and good quality cables for my solar panel.
10 months ago Courtney Simpson
I purchased a bunch of 1/0, 2/0 and 3/0 lugs to help me finish my solar project at home and I have to tell you, the price was great and the shipping was fast. I opened the box and was pleasantly surprised to find out that the quality of the …
9 months ago Ryan Luiken
The motor run capacitor worked perfectly in our large shop floor fan. It was an excellent price to boot.
2 months ago Arda Bulak
I just received my TEMCo TH0037 - 4" Hydraulic Knockout Punch - Electrical Conduit Hole Cutter Tool Set. It was amazing! See details in my photos. 5 stars for this quality product! After my review, I received a lovely LED gifts. They are tough (waterproof to IP67) and quality LED.
5 months ago Jerry Bryson
I ordered a 3/4" conduit hole knockout punch. It worked great. The product is high quality and TEMCo sent it to me pretty quickly.
4 months ago Linda Campbell
I purchased this HVAC run capacitor when my home A/C capacitor stopped working. I have not tested the product, as I had to pay a HVAC pro $250 to install his own capacitor (heat was too unbearable to wait), but I'm sure this would work …
4 months ago Glenn Tavares
I bought some hole ring terminal lugs from TEMCo on eBay and I was very happy with both the quality and the price. I will buy from TRMCo again when I need more terminals.
11 months ago Wanester Cruthirds
When I opened the package I was amazed at the quality of the product, how quickly I received the TH004 Knock out set and the price is unbelievable. The product works exceptionally well. Thanks TEMCo!
4 months ago jamie nielsen
I just received my second AC run capacitor from TEMCo via Amazon. In both cases, shipping was free and quick with the capacitor placed in a bubble wrap envelope inside the FedEx envelope. Their prices are competitive with other brands for …
1 month ago maddieforever funimate
Top notch service and products. Quick shipping and genuine concern for their customers! My A/C capacitor works great and was delivered FAST! Thanks TemCo!
5 months ago
Popular places from the category Manufacturer