Peet's Coffee
Coffee shop Peet's Coffee, 8909 Madison Ave Suite 400, Fair Oaks, CA 95628, United States:
145 reviews
of users and employees, detailed information about the address, opening hours, location on the map, attendance, photos, menus, phone number and a huge amount of other detailed and useful information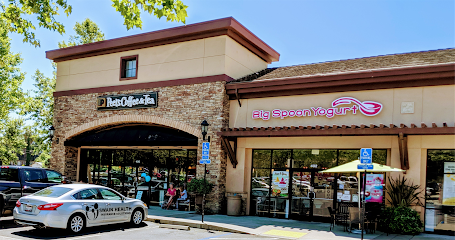 Address:
8909 Madison Ave Suite 400, Fair Oaks, CA 95628, United States
Website:
locations.peets.com
GPS coordinates
Latitude:
38.6643223
Longitude:
-121.2244198
Location on the map
Reviews Sau Dip
First off coffee and staff are a 5 star experience. They manage and keep this place clean all through covid. The Pete's coffee food has always been the let down. Bland and overpriced with a feeling of being ripped off. Everything else is …
6 months ago Ajith Kularathna
Staff and drinks are AMAZING. best coffee in town. Stephen, jordan, tiff, jimmy, noah , all recognize and remember my drink. They make me feel like family. Atmosphere here is super relaxing. Great for conversations, contemplation and relaxation. Drinks are stellar. Make sure to try the iced cold brew. Lots of outside tables
1 month ago Jennifer Smith
We pulled in a decided to try a different coffee shop and thought how can you go wrong with coffee? It wasn't busy at all, so we thought we'd give it a try. My friend ordered just coffee with lite cream and raw sugar and I ordered a foo foo …
9 months ago Julie Ford
Very nice staff! They greet as you enter the coffee shop. Clean and welcoming place despite the Pandemic. Excellent coffee quality! I recommend the Havana capucino.
10 months ago Maryann Gay
They have really great coffe and even better tea. The people there are really nice and helpful. Lots of seating and in a really convenient location.
9 months ago Cory Laddan
I like Peet's Coffee, so I'm already a bit of a shill. But this store was good because it seems to be doing a good job of safety during Covid. Indoors seating is closed and they have Plexiglas dividers up to protect their staff. They …
1 week ago Francis Rullan
Spoke to Peet's Fair Oaks staff on the phone. Good folks. Very helpful. Visited the Folsom location. More good people. Assisted by volunteering to find out where I could get their smaller travel mugs by going the extra mile and calling the …
9 months ago Thomas Lyon
Awesome staff! Great coffee
6 months ago Reynaldo Cardoza
Perfect Americano. Thank you!
9 months ago Eva Serafica
Came in for a reccomendation of a solid herbal tea, received both and a great conversation. I enjoyed the vibe and the people that work here, thank you Mickey for the reccomendation & convo, you're awesome!
1 month ago Yasmin Hagi
Loved the coffee carafe 12 cups, milk cream sugar cups lids! Perfect for us who wanted coffee to start their day before painting!
3 months ago Miguel Garcia
Relaxing place hood coffee. But food is a little pricey. Their reward program gives a free coffee after 15, but dutch bros is free after 10... but if you want good sit down coffee spot I like Peets much better than Starbucks
7 months ago Chris Nunya
Best coffee and staff was very friendly.
11 months ago Creighton W
Michelle always has a smile on her face and makes my drink just right. I enjoy visiting this location because of the friendly faces and great service. Thank you Michelle for the excellent customer service. Til next time, Cheers!
7 months ago R K
I have been there many times for many years it's always just the way you want it
2 months ago Ong Siang
Great coffee great service today!kw
5 months ago owsla owsla
great location!
9 months ago trill city
Always great service here at this location!
2 months ago Kristin Medina
It's a nice coffee shop, not busy very often and also has a good amount of seating, both indoor and outdoor. The coffee is decent and the customer service is good. The environment is chill and it has some cushioned seating, otherwise its wooden chairs indoor and metal outdoor.
8 months ago Tred Hines
The best dirty Chai, by far! And the staff are soooooo nice!
7 months ago Cornelia Jefferson
Excellent location! Baristas are amazing! Very friendly! Also the best coffee!
7 months ago mz goldie
I love Peet's Coffee House in Fair Oaks, California! I have been a patron of Peet's since 1967 when I was living in Berkeley, CA. and found them to be always be courteous and friendly.
7 months ago Elora Apantaku
Great coffee friendly staff amazing service!!!! I would definitely recommend coming here!!! I will most definitely be coming back!!!
5 months ago NATHAN HOPPER
Kind and quick staff at this location. My favorite place to get coffee
8 months ago D Jackson
Best place to stop for a cup of Joe. really amazing customer services.must stop and try you will love it employees always really helpful and nice, not to mention there selection and verity is outstanding. You will never go back to Starbucks …
1 month ago Malik Lowry
The peppermint mocha was much better than their regular mocha.
5 months ago Yuliia
Love the coffee is one of my favorites, the staff is always very polite, friendly, I love that they have something for every member of my family.
8 months ago Sorin Botoroaga
Amazing place
1 month ago resika ramesh
Always friendly and the baristas know what they're doing.
11 months ago Melissa White
Great meeting place, great coffee and hard working staff
8 months ago Kelli LaPoint
Good service and great Mocha decaf non fat, Good Evening????????????
7 months ago Georgia Brooks
The staff at this location is always friendly, and they have never made me a bad drink. I work weird hours and they aren't open when I leave for work in the morning, so I like to stop by on my way home in the morning. They have a great tea …
5 months ago Shamiyah Judson
Very friendly staff. Great little coffee shop. Accidentally ordered a latte without asking for non-dairy milk and they remade it no problem. Peet's is one of the best coffee shops out there. Also, if you are looking for vegan pastries, they tend to have some, just ask the barista.
9 months ago Monica Genarie
We love coming here. The environment is nice, relaxed and quiet. The staff are very friendly and courteous. I'm not a coffee drinker, so one of my favorite drinks is the matcha latte with almond milk. So good!! You can request it iced as well. My husband likes their cold brew fog.
9 months ago Amy Wilson
Best coffee in town way better then star bucks. Once you try them theres no going back.Since the first time I tired them I was hocked Love there coffee, every one is always super friendly and help full, just outstanding customer services. …
2 months ago Dave Vest
Great little coffee shop, a few cozy indoor and patio tables. Great for a small business meeting.
11 months ago Derek Schansberg
Wow. Didn't realize that I have yet to review one of my favorite places to visit for coffee. Okay, the only place I go for coffee. I have been a Peet's fan for over 20 years and the coffee is absolutely the best. The customer service here is one of the best Peet's I have been to and it is down the street from my house. Score!
5 months ago Brurya Batash
Had a great experience at this Peet's location! I had a fairly big order, but Noelle did a wonderful job taking our order. Not only was she very nice but she was very patient with us, which is awesome. All the other staff members working …
3 months ago Karen Lee
Love getting work done here in the morning...
7 months ago Vinita Rajasekhar
Good, best coffee beats out starbucks over priced non quality coffee. I would reccomend trying their "Dirty Chai" it may sound weird but is a great alternative if you are not a coffee person.
10 months ago Laurel Cook
So love our Peet's in Fair Oaks Ca. Steven, Ross, Michelle, Tiffany and the gang are great! Coffee and Specialty drinks are made well and consistent. Our second home.
8 months ago Robert Eldredge
This is one of my favorite Peet's. My order is always on point. Saturday mornings can get really busy.
1 month ago Lina Muriel
Love this place! Great staff!
7 months ago Nick Sergent
The lady at the front desk was very rude to me, when I took off my mask for 1 second so I could breath (there were people here but they are more than 6 feet away from me) then she yelled at me and was smarting off to me and then when the …
6 months ago Zachary Hurd
I'm more of a Starbucks fan but Pete's is my solid second. Dutch Bros are awful. The coffee here is nice bold and strong but the white mocha just taste a bit on the chemical flavor side. This location is a nice, great parking, pretty chill and not as busy.
8 months ago Samuel Velasquez
Great cold brew tai coffee.
7 months ago Monica Roman
A nice little coffee outpost. Frequently seems a bit understaffed with mercurial hours.
5 months ago Maura Sharp
Great coffee, great staff, fantastic rewards program. Proof that family owned businesses tend to stay top-notch.
8 months ago Dishari Mondal
WAY better than Starbucks, the quality of the bean is just better, and they don't cheapen out the drinks like starbucks, and the staff is very friendly
1 month ago Travis Bart
Peet's or Starbucks-sorry, but I dont see the diff. Good coffee no matter.
10 months ago
Popular places from the category Coffee shop