Stoneback Appliance
Appliance store Stoneback Appliance, 925 Iowa St # A, Lawrence, KS 66044, United States:
42 reviews
of users and employees, detailed information about the address, opening hours, location on the map, attendance, photos, menus, phone number and a huge amount of other detailed and useful information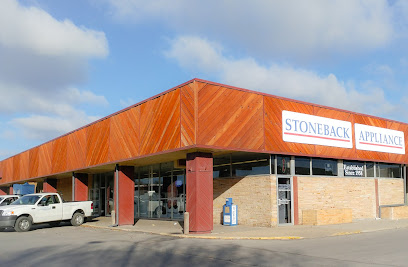 Address:
925 Iowa St # A, Lawrence, KS 66044, United States
Website:
stonebackappliance.com
GPS coordinates
Latitude:
38.9671256
Longitude:
-95.2612241
Location on the map
Reviews Patricia Peoples
I was so confused about buying a washer, I actually cried a bit over all the information. Impeller or agitator? Front load or top load? Were the government regulations over water levels still in place? It was overwhelming. I shopped around and every place wanted to charge an outrageous fee to deliver, install and take away my old machine. I drove to Stoneback and a very nice man named Andy helped me so much. He answered all my questions and he did not try to oversell me. He showed me just what I needed and nothing more. Better still- no charge for delivery, installation or take away. And he did not try to pressure me into a warranty. I had to ask him about the warranty. WOW. The other man who helped me was Jimmy. He was so nice and he even scheduled delivery for the same day as purchase. He said the drivers should be at my place between 4-5 pm. They showed up at 4:05 pm and were as nice and professional as can be. Could not be happier with the sales and installation of my new Whirlpool. I will never mess with Big Box stores again. Love this store and the people who work there!
10 months ago Fady
Great service, great staff. I picked out a washer on Monday and it was delivered within 24 hours. After using it the first time I noticed some water leaking. Jim came right out to my home to trouble shoot the issue. The washer was fine but my washer standpipe was clogged. I appreciated the excellent customer service (I'm sure the big box folks wouldn't have been so helpful), and I absolutely love my new washer. I will definitely go back to Stoneback when my dryer needs replacing.
10 months ago Wael Bader
I am so happy to know we have an amazing small business in this community that supports the JAG-K program. They donated all the cardboard materials for an upcoming event and we are truly grateful! Thanks Stoneback!
8 months ago Linda Southern
I had an unbelievable experience before, during and after the sale with Jeff. I highly recommend Stoneback!
6 months ago Ryan Bonnette
Very kind and courteous staff. They helped me replace my old falling apart dishwasher racks at an affordable price. Much better than any online parts store! Thank you, you all are very much appreciated. Highly recommend. I will make sure to make this store my go to for appliances in the future.
4 months ago Joseph Green
I can't say enough good things about Stoneback Appliance. From sales to delivery--communication, professionalism and quality products are excellent. We are fortunate to have this local business!
10 months ago Raj Selvakumar
You won't find a better group of people. They helped me troubleshoot my dishwasher issues, and when it wouldn't work had a great deal on an in stock replacement. (The corporate places in town don't stock many appliances.) Bonus: I keep hearing how they give back to the community. We will continue to shop here.
10 months ago Yesenia Gonzalez
I saved money on dryer repair with help from a knowledgable employee! I thought I needed a thermal fuse but were advised that I likely needed to replace our thermostat. They were right and with some direction from them my partner and I were able to diagnose the issue properly, buy the correct part at Stoneback, and fix it ourselves without paying someone to come out. Thank you! Highly recommend.
4 months ago brian turner
I was not looking forward to shopping for a new washer. They made it super easy with a great selection. They even set it up and hauled my old washer off. Really nice staff and will be back for future appliance purchases!
5 months ago niladri mukherjee
I wish we'd skipped the trip to KC and just started up the street at Stoneback's instead! We found their pricing on the fridge we wanted to be very comparable (and actually cheaper) than the box stores in KC. Every step of the installation and delivery process was very efficient and professional, and they were even able to delivery earlier than expected! The delivery staff were clearly very experienced, knowledgeable, and helpful. We will definitely shop there again!
7 months ago Mij Mason
No BS. Went in and Jim helped immediately and had what I needed. Awesome!
4 months ago Toni Stubbs
Thanks for help with new & old appliances!
8 months ago William Henley
We have purchased many appliances at Stoneback's over the last 30 or so years. We love these guys. They are unfailingly helpful, knowledgeable, friendly, and very responsive. Fantastic customer service. We are lucky to have them in Lawrence.
7 months ago Hershy Noe
Helpful staff, good place to get parts as well as a good local business
11 months ago James Hubbard
Terrible customer service, took advantage of my ederly parents, go to Prices for repairs , they left a hugh mess and did not reinstall the washer and dryer, techs are morons. elderly parents called me to fix and clean up their mess. We have used them for 30 years and never again.
11 months ago Nate Anderson
Stoneback fellows are wonderful guys.they fixed my washer for me a year ago, ???????????????????? and I'm very happy with the job they done!!!! I also bought a 5 burner stove from them and I've been very happy with it!!!
5 months ago helen richardson
Absolutely the best guys! Came in on a sunday before closing just on a whim...jimmy was polite and answered our questions. Today we got in and out with an LP gas stove in 36 minutes! The guys elwere great and we got a good deal as well. Highly recommend!
9 months ago Scott Metz
My review is on their customer service. My landlord does business with them all the time. He has them call to set up an appointment with us. I had to call them, only to find out they already had me on the schedule and then was told that my problem wasn't high on the priority list so it won't be until next week. RUDE guy, great for business I'm sure, absolutely NO customer service skills. I might also mention that the problem that needs to be fixed is something that they worked on already and it wasn't resolved....
7 months ago Honey Bear
We order all our refrigerators, washer/dryers, dish washers for our rental property and for our home from Stoneback Appliance. We have always found them friendly, helpful and honest. I would highly recommend them. We have been buying from them for many years.
7 months ago Lee Borden
The staff was very helpful. My mother in law's dryer was just blowing cold air. The guys there advised me to bring in the thermostats to be tested at no cost. They were all fine, so I bought a new heating element. It didn't fix the problem so I took it back and they refunded the money without any hassle. I told my mother in law she should go look at Stoneback for a replacement. They have a good selection to choose from. These guys are awesome!
2 months ago STALKER
I had our family microwave / convection oven go out unexpectedly and we had family coming in over the week-end. I was scrambling for an inexpensive microwave to serve as a backup and Stoneback Appliance came through with flying colors. Thanks so much!!!
5 months ago ASHAN DEEP
The guys at Stoneback were great to deal with. I was having trouble with my ice maker so I took it in to see about ordering a new one. Jeff searched the store and found a match; he then took the time to take mine apart and install the new one. I would highly recommend using Stoneback for your appliance purchases and repairs.
9 months ago Benjamin Cronin
I had not been in this store to shop for appliances before. Always went to NFM. But when my washer stopped working, I thought I would shop local to see if I could find what I wanted. When I walked into Stoneback Appliances, I was immediately greeted. I had to order my washer and dryer since I needed gas, and was given a great price and service by Martin. Since my order may take 2 weeks to come in, I was loaned a washer until then. Great service!!!! I love my new washer and dryer. And will only go to Stoneback Appliances for any future needs. Thank you.
10 months ago Fred Duarte
The heating element in my oven went out a week before my husband and I were hosting a dinner party. I checked all around town and no one had the part we needed. I went to Stoneback and they ordered the part and had it for me the next day at a great price with wonderful service. I'll definitely be back!
5 months ago Tina Charles
Very kind and helpful! I would recommend to please get repairs here.
8 months ago Datrion Sorrells
I am so glad I found Stoneback! From my first encounter on the phone to completion of the installation of my dishwasher, everyone was very professional and friendly. Excellent customer service! Robert arrived to install my dishwasher and it was obvious throughout the process, he knew exactly what to do. He removed my old appliance and was very careful to clean up the area before installing my new one. Robert also explained ways to keep my dishwasher in good running condition. I would highly recommend this store to anyone looking for an appliance. It's good to know they are also available to fix broken appliances.
9 months ago Amin Ahmed
We've bought several appliances from Stonebacks over the years. Recently, our old dishwasher bit the dust. Stopped in to see what they had. Found one we liked, bought it, and they had it installed the next day. They even hauled off our old one. It is refreshing to buy an appliance and not be hassled to buy a "2-Year-Service-Contract" for an extra 60 bucks, or any of the other nonsense that you have to deal with at the big corporate franchises and mega-box-outlets. Their quality and service were over the top. Not the rock-bottom-lowest price but absolutely the most value for the money. The owner of the place is usually there and every employee seems to have the ownership mentality, as well as the expertise to answer questions about their products. You can't put a price on those things in my book.
5 months ago Adri Carz
We recently bought a GE gas stove from Ray Stoneback Appliance. They were wonderful to work with and the service was excellent. We'll be sure and buy from them in the future. It was a pleasure to do business with a hometown store.
10 months ago Marketing Branding
We have purchased many appliances through the years from Stoneback Appliance and are always very pleased with their sales and service department. They go above and beyond my expectations. Professional service and accommodating to the customer.
10 months ago Lacey Sheridan
I have always had good experiences when I use these people. It's like doing business with a small company in a small town but with the selection and pricing of a big company in a big city. Highly recomended!
2 weeks ago Kristin Dippold
Sells associates never fail to answer questions, are competent, courteous and honest. Parts arrive in a timely manner. I would recommend for all appliance needs.
9 months ago Damien Vigil
Sales and service like it used to be. Personal, helpful and they'll work with your schedule. Free delivery and installation. Also a great place if you need parts.
11 months ago Antonio Edwards
It was great! Great products and great service !!!!!!!
1 month ago Armando Cabrera
Generally a great selection, the place to get parts for sure. It is however a HUGE pain in my side that they are closed on sunday. Not convenient for us busy dads trying to clear a weekend to do list.d
11 months ago terre b
Stoneback is loyal to their customers. They make things right! Highly recommended.
7 months ago Josh Hamby
Great people fantastic prices! Be sure to ask for Andy!
9 months ago Leroy Brinker
I checked out their prices and, on this particular item, they were LESS than the big box and furniture stores. A friend of mine bought a refrigerator from them several years ago. Not only did they beat everyone's price, they delivered it, installed it with the ice maker, and hauled the old one away, all for no charge.
1 week ago Sue Smith
Very knowledgeable, they can deliver the day you buy.
8 months ago philip ventola
Excellent customer service
7 months ago Reginald Manning
Very helpful. This was the only place I could find in Lawrence that had the part I needed to repair my dryer and was open on a Saturday.
2 months ago Katherine Leblanc
Extremely rude staff told me I was scamming for trying to order a part. Horrible service and rude people working here. So disappointed.
10 months ago Ian Moreno
Great people!
1 month ago
Popular places from the category Appliance store