Bel Air
Grocery store Bel Air, 4008 Foothills Blvd, Roseville, CA 95747, United States:
220 reviews
of users and employees, detailed information about the address, opening hours, location on the map, attendance, photos, menus, phone number and a huge amount of other detailed and useful information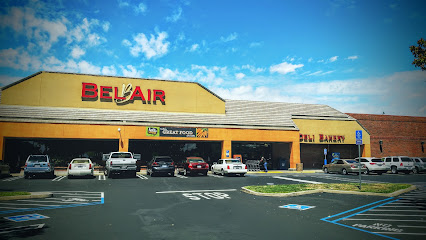 Address:
4008 Foothills Blvd, Roseville, CA 95747, United States
GPS coordinates
Latitude:
38.7533390
Longitude:
-121.3109853
Location on the map
Reviews Taco Cookie
Always clean, they have sanitizer at the door and keep the store looking great. Friendly employees and to top it off if you like on the way out you can grab free fruit for you kids.
10 months ago Vikas Jain
Always super clean and organized
9 months ago Kyle Ferguson
Not a fan. Very pricey for what you get. I can never seem to find anything. Save some time and money and head to save mart just down foothills or Safeway off of pleasant grove for a full shopping trip.
1 month ago Cars Dafa
Way better than Safeway or Walmart, because it's clean and organized.
9 months ago Chundra Wayne
I went to pick some groceries and sushi everything was okay until I bought sushi when I got home my sushi was partly frozen and it smelled like it wasn't fresh.
10 months ago Grace Mickle
Nice neighborhood grocery store. Incredibly friendly and capable staff. The store is always well stocked. Due to current Covid-19 restrictions, only on entrance is open (the one on the right as you face the store). Great selection of wine, spirits, and beer. Postal services available in the store (limited hours).
6 months ago Mary Surkein
Friendly staff. I never go here, except for one or two items. Sometimes they have things for full price. You can identify them because they are "on sale." I once went to Safeway for a small shopping trip. Spent $58. Stopped on the way home and comparison shopped. Saved over $25 by driving the extra mile or so. On my last trip, there were too many shoppers without masks, so I may not be back soon.
3 weeks ago Revathy Kumar
I used to love this store but it seems as if every time I shop here there is always someone not wearing a mask. Why did you hire security if they aren't even doing anything about this?
9 months ago Anna Torres
It seems like the quality of food and other items at Bel Air Market are going downhill lately. I have had to take back spoiled berries and flowers recently. It's no fun to pay for quality merchandise and then have to go back to the store to exchange. They need to be doing more quality control!
4 weeks ago Asilyam aubakirova
I went to Bel Air to pick up some groceries this morning, when I walked to the check out #2 they had a sign with the wheel chair ♿ I asked if I could get served because there was no one in front of me or behind me the clerk totally ignored me he didn't even lift his head while I waited for his response and then he turned the light off. I then walked over to the self service and as I got there I spoke to a young lady who helps out if anyone is having a issue with the register and as I was telling her what had happened that clerk went back to his station and turned on the light. The young lady and I just watched, he obviously didn't want to help me I was so shocked tears came into my eyes. I have been going to this store for more than 20 years. This is not service this is ignorant. I am so upset about this I don't know if I will ever come this store again.
2 months ago Anne Lauterbach
Nice clean store. Just know there will be Covidiot residents showing mask defiance. Can't change that about selfish Roseville people.
8 months ago calvin walls
Always find everything I need. Courteous checkers and baggers. They were passing out masks and water!
5 months ago ROD Bowie
I believe Lynnea Hernandez is a stuck up and demanding way too much from the store. I apologies for their gross review and on behalf of every other level headed NORMAL person on this planet i am sorry people like them exist. It is clear they do not possess the very traits and qualities they demand from others. The store is great and the best for quick and efficient in and out trips for essentials.
8 months ago Lauren Arr
Very clean location, employees are friendly and helpful. Always an enjoyable shopping experience.
3 months ago Guy Odekirk
Always clean, cool, and courteous. Great prices and the most beautiful floral department, the woman there is very helpful and sweet.
10 months ago jodie Forbs
Didn't have cake I wanted
10 months ago Jon Burris
The cashiers at this location give extremely poor customer service. I live nearby and shop there out of convenience. Each time I shop there, I hope my experience will be good, but, to NO avail. I get disappointed each time. The cashiers don't greet their customers, they are absorbed in conversations with each other, they don't smile, and they only talk to the customer when it's time to collect money, and then, it's "bye". That's it. One time, I brought it to the cashier's attention that her service was horrible. She was snide to me and started blaming her behavior on me. Wow! I have decided to not shop there again. There have been too many incidents where the cashiers act like they could care less than to help their customers. Good riddance.
10 months ago John Carey
As a weekly customer, I couldn't be happier with this place! The staff is so friendly and know us by name! They always have great produce and weekly deals! You can even get 2x points coupon in some weekly ads!! The meat department will even marinate your meat for free!!
4 weeks ago albert webb
Great grocery store. Nice, helpful employees. Good selection.
5 months ago Pascaline Abetifen
Love the cleanliness throughout the store and fresh quality products. The produce department is like artistry with all the colors and selection. My favorite section is the hot Chinese food. Yum!
6 months ago Ra Ra
Be great if they'd answer the phone or change the number to a phone number that works.
1 month ago Ruby Noe
When the other stores don't have what we need, this store does. It's great for emergency shipping needs.
7 months ago Jamie Hyde
Wonderful staff very helpful and knowledgeable
1 month ago George Borel
Always very courteous Cashiers. Apprec. assistance from an employee re Store Ad no longer delivered by p.o.
4 months ago Gauthier Treu
The deli and the very fresh produce is hard to beat. Nice specialty items; soaps, candles, etc.
4 months ago dale sandler
Bananas are too ripe wanted 5 only bought 2 little issue but they need to order them with more shelf life
5 months ago Steve Durant
The Staff was so friendly.
6 months ago Agustin Pereira
Small and nothing like other bel airs
4 months ago Teeka Lee
The customer support counter staff was a wonderful gal and very helpful with a Connect card I needed. Didn't shop in store...just her outstanding service made my day.
7 months ago Alex HdzAlv
I shopped today for lunch meat. The very friendly and attentive Deli lady made sure my selections were sliced to my satisfaction. She also provided slices for tasting. Thank You Deli Lady
9 months ago chiki alejo
Nice store, has been remodeled since the last time I was here, staff was friendly and selection was very decent. Prices seem a little higher for things than other stores around the area, but it was very clean and organized. I'd recommend a visit.
10 months ago Margo Queen
What I like about this store is every employee is wearing a mask, one forgot his mask so he went into the restroom and improvised. ????
2 months ago Celine A
My family and I would head here for food like grocery's but the best part about this place is the donuts. The donuts here are the best donuts I have ever had. I would recommend trying the donuts.
9 months ago Grace Armas
Bel Air might rival Disneyland.
8 months ago Jim Clem
Their mail service center is super helpful!
4 months ago Suzanne Parker
They have the best produce and meat.. buy dry goods elsewhere.. 5 dollar mondays is cool..
9 months ago Damien Butler
Bel Air has always been my favorite market in Roseville. I would occasionally go to another store in a rush...but the bulk of my shopping was done there. Over the years...the quality and service has steadily gone down hill. The baggers are totally inept, I have actually picked through produce that was semi rotten and have just overall been super disappointed. Today may have been the last straw. The floral department has been bad since the nice lady with the long hair left...but today I bought a bunch with a broken stem (not the first time!) and while I know a customer could have done it....I think it is just the last straw. I have sent messages to the store directly in the past....and they don't seem to care. I'm sad...but there are just too many reasons to stop shopping there.
9 months ago Robert Byczek
I love the Monday deals! The staff is always friendly and they will give you rain checks for sale items out of stock.
8 months ago Tyler Mays
Staff is very friendly and helpful. Food is fresh and healthy, tastes great. Love shopping here, highly recommend.
8 months ago Cynthia William
Good store all around.. but seriously there is a checker named Tiffany, SHE IS AWESOME! VERY FRIENDLY, WILLING TO HELP, AND IS ALWAYS SMILING!! HOPEFULLY THEY GIVE HER THE RECOGNITION SHE SURELY DESERVES! THANK YOU FOR ALL YOU DO THERE TIFFANY!! KEEP UP THE AWESOME CUSROMER SERVICE!
10 months ago Ramiro Fire
Oh they're very professional very clean concerned about their customers always can find what I'm looking for and there's lots of help if you need any help and I'm a little disabled so needless to say they're always right there willing to help me
4 months ago Victoria Kalogerou
Too expensive!! Way too expensive!! Give me a break! Doesn't even have that great of a selection of merchandise!
6 months ago angel Escamilla
All-in-all, it's a decent Bel Air. It's my go-to stop on the way home from work, but maybe more because it's convenient. It's a Bel Air, so they have the usual good variety of stuff, including harder-to-find items, and I do like that in their produce section that they have an area highlighting produce from local farms. But my star knock is for the seafood section. The fish counter should just not smell that... fishy in a better grocery store. I'd be very judicious buying pescetarian fare here.
9 months ago Dunne Hagen
Best staff and management! People are very friendly and nice here! Love to shop here! Food is great! The bakery has very nice cakes and pastries, produce is impeccable! Great place to shop!
10 months ago Tim Badger
Very nice market. They have every thing you need. Good meat ,poultry and seafood. Fresh produce. All your grocery needs. Very clean and maintained.
9 months ago angel Escamilla
This is the closet grocery store to me. Always nice and clean..very fast cashiers and nice too. Great place.to go for fresh rolls for dinner!! Overall great place.
6 months ago Bridgett Kinney
Went for the Monday specials and they were out. I guess I have to be there at store opening.
8 months ago Rebecca Hatt
Went in to grab a few things but they were so friendly I did all my shopping that day.
4 weeks ago Innahot Belous
Great selection of Goat Cheeses and non-corn Chips!
10 months ago Lisa R
I love Bel Air. We've shopped at this location for over 25 years! Staff is friendly, meat and produce always fresh. Sure, Walmart has lower prices overall, but you can get good buys if you shop around/ take advantage of sales, etc. Nicer experience for sure!
6 months ago
Popular places from the category Grocery store