adidas Outlet
Sporting goods store adidas Outlet, Premium Outlets, 13000 Folsom Blvd Suite 101A, Folsom, CA 95630, United States:
220 reviews
of users and employees, detailed information about the address, opening hours, location on the map, attendance, photos, menus, phone number and a huge amount of other detailed and useful information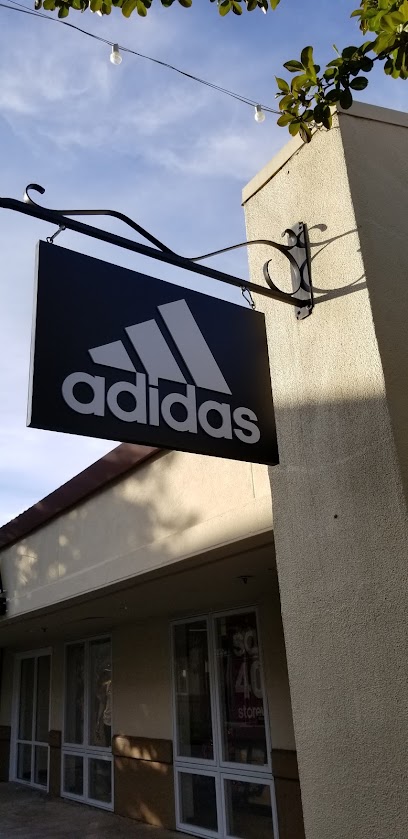 Address:
Premium Outlets, 13000 Folsom Blvd Suite 101A, Folsom, CA 95630, United States
GPS coordinates
Latitude:
38.6443039
Longitude:
-121.1878947
Location on the map
Reviews Wayne Kaplan
Yikes! $30 for Adidas face mask when June is right around the corner and mask mandates will be removed. Plus this is an outlet. Just go to Gap and get three Gap mask for $4.
6 months ago Lisa Morgan
The shoe selection is nice and the store is pretty much always 40 percent off. I wish they had more kids clothes but for women and men, they have great! This is a must visit when at the outlets
1 month ago Md Rajakhan
The wait outside isn't terrible. It's in a nice area. There's a 15 person limit inside. They had a decent sale going on. Plus a few discount racks. I found a few snapbacks I wanted along with a nice pair of sweats.
9 months ago Kaapo Kuvaja
I really like my Adidas shoes but I was disappointed with the lack of selection my last visit and no staff offered any help at any point.
7 months ago Michael Melton
Although I'm don't really wear adidas, this is my 15 year old nephew's favorite store. Went in to get him some clothing a week ago and boy when there is a sale the prices are really good. Bought my nephew a pair of shorts, a t-shirt, a pack of socks and underwear and the total came out to be no more than $25...not bad for some quality brand name sports wear.
2 months ago Haim Eckstein
I went there on Valentine's Day. I just got off work working a 15 hour night shift. I was there with my boyfriend. The employee that took care of me at the register seemed like she didn't want to be there and I continue to be pleasant and nice. At the end of my checkout i wish her a Valentine's Day and she said you too. I wasn't being rude at all, we all work to make a living and it's fact that it was Valentine's Day. She then responds to her co worker 'is that a slap in the face or something?!' My boyfriend had to push me out to not say anything back. Her Cashier #: 00717265 I was a manager at a big corporate store and I get it there are days we don't want to be at work but don't be rude to paying customers just because you are bitter about having to work on a holiday.
10 months ago Select Auto
Great place. Great prices and people there are very professional.
8 months ago Hassan Syam
Love this store, excellent selections and pleasant staff. Defiantly my go to store for my Adidas.
7 months ago Mark Dempsey
It is a outlet store, so not big. But solid discounts and some good finds!
8 months ago Taylen Oancia
Awesome. Good deals. Staff was friendly
8 months ago Norm Wallace
Need more matching sets and larger sizes
7 months ago Amy Armstrong
There was a good amount of shoes to choose from but nothing caught my eye. For being an outlet the savings on clothing weren't all that great.
2 months ago Elizabeth
Loved going to this place. Everyone there is helpful and alwys eager to help you.
4 months ago Nicole C
Great selection of apparel for men, women and kids. Also great selection for shoes at a great price. The staff is always helpful, but not pushy. Sign up for the emails and you'll be notified every time they have a sale, which is pretty frequently. I've been able to score some good deals thanks to the emails. Also good to note that online purchases can be returned to this store rather than shipping them back.
6 months ago priya s
Always love the ADIDAS outlet. Great stuff. Great deals.
1 month ago Brian Katke
Not the same old Adidas. They've been busy at the drawing board for style. Mission accomplished!
3 months ago Kenneth Thomas
Worst control on safe distance.... Overpack with people.... Adidas is good but this store sucks.... Don't go there Vacaville is better...
2 months ago Alex Jackson
Helpful staff great selection
7 months ago Kendra
First-rate environment and very affable service
2 months ago Deepak Chourasiya
Nice clean store and wonderful staff!
11 months ago ohad snir
Good product, good deals, and no 20min wait outside in the heat like the Nike Outlet....... Booooooo!
2 months ago Albert Matthew
Great deals on sportswear. Never know what you will find.
3 months ago sam felts
Nice shoe selection.
9 months ago Leah Cawthorn
Fantastic discounts and helpful staff
10 months ago Charles Taben
Great deals all the time. Especially on shoes. Fashion is not outdated for being an outlet store. Always come here for holiday shopping
9 months ago velvet
A very limited choice.. if you're looking for the Adios series, you're out of luck. Prices are very similar to what we can find online. Save yourself a trip and order online via running warehouse or sports basement.
1 month ago Saad Saleem
50% off everything
6 months ago Louie Harrison
One of the best brand in sport
11 months ago Linda Cux
Extremely helpful staff. Location has both shoes and clothing at great prices. All the inventory looked like it was in great condition. Only downside is less options in color range of the shoes you may want and sometimes in sizes. Men's 7-9 and 11-13 were more common, 9.5-11 somewhat tough.
9 months ago Kathryn Black
Good prices will lure people in and the cost of stuff is good.
9 months ago Cindy Griffith
Awesome sauce! Great place to pick up Adidas gear... and even better when there's a sale or mark down on prices!
6 months ago Cornelia Jefferson
Good food! Great atmosphere!
5 months ago Amjad Hossain
Signs state everything 50% off (fine print says some items are not). Took a pair of sweats from a rack marked 50% off. Stood in line for 25 minutes. Advised by cashier that item was not 50% off (this seemed to surprise her, too).
8 months ago Roxanne Moore
Although their prices are always descent they still haven't added a 2nd dressing room in probably 5 years!! (Yes only one for both males and females) Yesterday I went in and found the item I wanted and had to wait to try it on for 30 min (and that was with luckily only 3 people ahead of me). Usually with 5-6 people the wait can be closer to an hour!! Then I had to wait another 15-20 min in line to pay for it with just 3 cashiers. This is ridiculous whereas in comparison the Nike and UA store in the same outlet mall I was in and out of each store of with my purchase in under 10 min as they have several dressing rooms and more cashiers. I'll probably never go back their again until they fix this problem.
8 months ago Irasema Martel
Luv Shopping There
11 months ago Jill Halkin
Awesome savings and quick service!
2 months ago K P
Love this place
8 months ago Dee Cook
All items 50% off sale. Highly satisfying.
10 months ago Brian Souter
Clothes was ok. Didn't have my size(12) shoes though.
10 months ago Diana Kizer
Unlike the Nike outlet they let you try on shoes ????????
1 month ago Ann Harrington
That's a great store
1 month ago Samantha Sze
Would like to see a larger selection, but I always get what I need with some good savings
8 months ago Patricia P
Amazing, goated on the sticks. Amazing sales and products.
4 months ago Susan Simons
Good customer service they helped my wife find the right shoes for her and my wife was happy about that????
8 months ago David Bruno
Great selection & deals
11 months ago Taylor Ooley
Loved it. Great prices! Friendly staff.
6 months ago Betty Prado
Cool store...no restrooms though
6 months ago Sheree Hagans
Really good prices. Wish they had more women's sweat pant and shirt combos but great for the prices.
6 months ago Shelia Perkins
Always great sales
1 month ago Karthick Sarvanan
Smaller than Reno or Vacaville Adidas outlet, but usually Folsom has a lot of gear on the floor.
4 months ago
Popular places from the category Sporting goods store