Dorsett Vapor
Vaporizer store Dorsett Vapor, 11396 Dorsett Rd, Maryland Heights, MO 63043, United States:
220 reviews
of users and employees, detailed information about the address, opening hours, location on the map, attendance, photos, menus, phone number and a huge amount of other detailed and useful information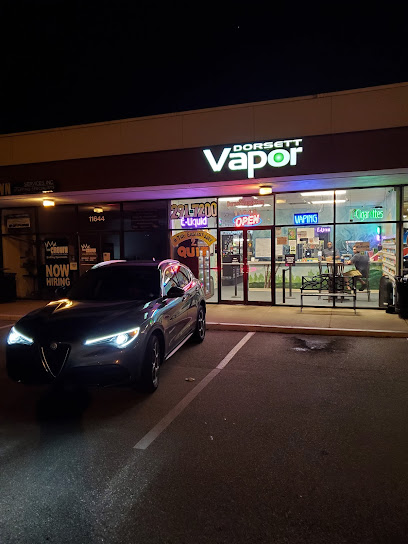 Address:
11396 Dorsett Rd, Maryland Heights, MO 63043, United States
GPS coordinates
Latitude:
38.7107022
Longitude:
-90.4180789
Location on the map
Reviews Toni Pronti
Very eager to help and very knowledgeable!!! If you have even thought of going, do it. This place is really cool looking and they have everything. Will be back again and again. Oh if you have any questions, message them through google. They answer you really quickly and are open very late.
7 months ago Faith Narkiewicz
Good selection. Friendly, knowledgeable people. Fair prices. Good hours.
7 months ago Sherry Ward
DYLAN at the shop in St Louis is AMAZING. So patient when I was asking my questions about different flavors of disposable e-vapes to choose. I went with his recommendations and love every one of them. He is what customer service really means! If you go there, ask for him. You will be treated like royalty. Thank you Dylan for being who you are. You are a rare diamond.
8 months ago Barry Raymond
This place is incredible. Best vape shop in St. Louis. It's extremely modern (really cutting-edge is a better word) with phenomenal customer service. Makes it clear the owner isn't scared to spend a little dough to provide a good experience. Just started going here last week. I won't go anywhere else now.
9 months ago Crystal George
Nice clean vape shop, very great customer service. Lots of great products.
11 months ago lorna Tebault
Great place to go, they are very helpful and courteous, everything is beautifully displayed and the hours are great. This is a top notch vape store, one of the best that I have seen. IT's a 10 star place hands down.
7 months ago Jordan Denmark
Wow, this by far the most beautiful vape shop I have ever been in. The employees are very nice too.
7 months ago gayshena coleman
Wonderful experience working with the team at Dorsett. I was looking for something very specific and Theresa helped me to get what I needed at a very reasonable price. I will definitely be telling everybody about this place and returning for all of my vape and CBD needs.
7 months ago Adrian Ibarra
Good location. Great selection. Very helpful staff. It was my first visit and Heather helped get me set up with an affordable and well suited vape.
9 months ago Bibi Lafleur
First time here today. Huge selection, unique vibe, and a place you can actually hang out a grab a cup of coffee. It's more than just a vape shop, so nee experience for me.
9 months ago Vera Dupont
Staff was awesome, super helpful and nice. The store had a wide selection, and is super clean. I am sure I will be heading back soon :)
8 months ago Brandie Reynolds
I didn't catch the gentlemans name that helped me today. I received amazing customer service. I am in the worst pain I've probably ever been in. I can't even move my left arm. This gentleman sympathized with me. Helped me find what I was looking for and much more. I appreciate the help he gave me. I got a cbd cream for pain. I just applied it, fingers crossed that it helps a little. Thanks again, Dorsett Vapor. I was very impressed with the store and its staff! Will definitely be coming back! Also, the art on the ceiling and walls are a master piece! Credit to Maggie Lowe for the stunning artwork!
9 months ago Ghermez Hkl
Friendly and helpful staff. Competitive pricing. Nice and clean atmosphere. Huge variety of products. Rewards club available. I am a return costumer and will continue to be so.
9 months ago Colleen Walker
I've only been here a few times but everyone has been extremely helpful and knowledgeable about the products they have. The store is very clean and the set up is easy to access. I would highly recommend this shop, I'll definitely be back!
11 months ago Salini Salu
Very helpfully nice quick service. Able to answer aby questions and get you in your way... Prices very reasonable
9 months ago Farid Parsa
Nicest vape shop I've been in. I don't know a lot about the stuff, I'm pretty new, and the shop girl was incredibly helpful and so nice.
7 months ago Tim Patrick
Dylan is the man.. help me with a oil product I was looking for.. great store . Super clean! Thanks guys!
9 months ago Steve Holland
Excellent customer service. Nicky was very informative and detailed in the explanation she provided at my visit.
8 months ago Rahiem Goode
Amazing selection. Great people. Relaxed feel.
7 months ago RJ Rauen
Super helpful and friendly staff! Great products! Highly recommend- talk to Heather! She's great!
9 months ago Crystal Parrish
Very nice staff! Very helpful and knew what they were talking about!
7 months ago Guilherme Brum
Great selection and very nice hooked me up very fast with what I needed
7 months ago Claire L
Open early, always eager to help, rewards program... enough said.
7 months ago ronak prajapati
I had great experience. Ricky was so patient with me and help me decided what was the best thing for me. Will definitely will sending people your way.
10 months ago Michael Dameri
This is a great little shop. The staff were really helpful and seemed to love working there. They also have a great selection of products!
1 week ago prakash kanakia
First time visit for my wife and I, Raven was very helpful answering all our questions and offering suggestions as well. Highly recommended
10 months ago kent dantes
Nikki was very helpful and informative!!???? I suggest if you need any vaping info then come talk to her!!
8 months ago Brittany DuShane
These guys are great! Super helpful. Super patient. Always there when you need em.
9 months ago Kevin Lopez
Had such an amazing experience here at DV! Raven was very knowledgeable and did a wonderful just helping me, as a vaping newbie! This will be my new regular spot!
9 months ago baylee burnette
Helped me find the mod that was perfect for me and helped me find great juice. Really pleased with my experience. Super COVID safe.
9 months ago ZAAD
Dillion did a great job. Helping me find them products I need. Explaining each item to very detailed
10 months ago Asilyam aubakirova
We love Dylan!!! When your customers love your employees they will be back! #weloveDylan
8 months ago Anas Daghmoumi
Great excellent customer service response quick a very great selection of vap juice really helpful team work is awesome Dylan great worker knows his way around service was helpful and introduction was very professional
9 months ago Chad Stiltner
I promise this is a wonderful store full of different materials and brands of all kinds. the only reason im giving a 4 because i had bought a 2200 vaporlax that lasted overnight...literally. I took it back, only for the second one to do just the same but quicker. so at this point they said i could come back one more time but i just decided to not even bother. but everything was great just the device itself was bogus.
10 months ago Larry B
Dylan gave excellent customer service and he is very knowledgeable in helping me pick out what I need. Defo recommend this place.
9 months ago Craig Kellem
Amazing service and amazing workers. Friendly, open and engaging. I felt welcome as soon as I walked end. Awesome place to go.
10 months ago Kelsey Shemanski
I like place, nice stuff, great assortment. Will come back again!
7 months ago Stephen
Austin was so very helpful. I went in to grab my husband some things for his birthday. He was super helpful showing me items he think he would like. I would highly recommend coming. Best experience ever!!!
8 months ago Susan Crowther
Huge selection and the staff have great knowledge of the products!
7 months ago Scott Lewis
10/10 would definitely recommend! Always has a super helpful and friendly staff! Great prices compared to other shops in the area :)
4 months ago Allanah Morales
Raven was awesome and knowledgeable. Definitely made everything so easy!
9 months ago vineeth bangera
Had a great worker help me out! Heather really told me about everything and enjoyed the visit!
10 months ago Louisa Sanford
Very nice and clean store with great customer service and product suggestions from Dylan.
10 months ago Michelle Pham
These people are absolutely amazing. The friendliest people and a huge variety of products! Plus they open early and stay open late! Definitely my main go to
3 weeks ago Tony L
Clean shop and friendly service. Heather was very helpful!
9 months ago Tripp Thomas
Great service. All the employees did a great job asking questions and helping me find what I needed.
10 months ago Orlando Johnson
The best experience shopping in e cigarettes store. Dylan was very friendly and knowledgeable.
9 months ago Katelyn Volk
Amazing customer service the man named Dylan helped and was really nice also explained the difference between things really good place I recommend everyone to go there
9 months ago akhil raheja
By far my favorite vape shop! The staff is always so friendly and helpful! I seriously don't go anywhere else
9 months ago Joel Gauthier
Nicky was awesome. Very attentive and helpful. Will return soon
9 months ago
Popular places from the category Vaporizer store