Smoke Safe Vapor Lounge
Vaporizer store Smoke Safe Vapor Lounge, 2975 N St Peters Pkwy, St Peters, MO 63376, United States:
24 reviews
of users and employees, detailed information about the address, opening hours, location on the map, attendance, photos, menus, phone number and a huge amount of other detailed and useful information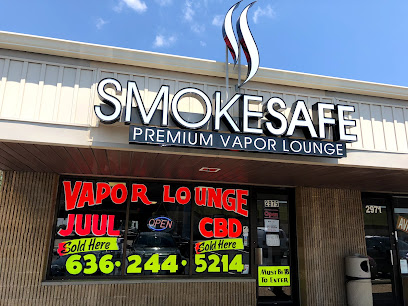 Address:
2975 N St Peters Pkwy, St Peters, MO 63376, United States
GPS coordinates
Latitude:
38.7518440
Longitude:
-90.5629863
Location on the map
Reviews Torx Durley
This place is amazing! Staff is extremely friendly and knowledgeable and always have the best recommendations. Their prices beat every other shop in the area and the options seem endless. The atmosphere of the shop is great and it's always a pleasure to visit. Thanks for great business!
2 months ago Ben Laflamme
Only place in town with Authentic Puff Bars. They are dangerously good, with an excellent price to match. The employees know how to treat you right, with best in class customer service. RIP Juul, hello smooth juicy good flavor ????????
7 months ago Patrick Miller
Great selection, customer service was ON POINT! Will be returning.
6 months ago KYLE JOHNS
I purchased a battery for my JUUL pods here for $35, and it was defective after a couple days of use. No big deal, I took it to the store and the employee tried to fix it, but he could not. Then he said he could not refund or replace it. He offered me a discount for a new one, so I foolishly bought another one (I liked the design/shape). A couple hours later, the new battery stopped working, so I went back to the store.. same story. I was told to call the number to China on the box. The kid refused to help resolve anything, and refused to give me the name or number to any sort of management. I can't imagine how many other people they ripped off by deliberately selling defective products. Ridiculous.
9 months ago Susan Cuello
Do not come here. The girl knew absolutely nothing about vape products. Was happy to sell me a mod that needed batteries without telling me so, went back to get the special batteries it needed and they don't have them. Also refused to take a return 15 minutes after I bought it. These people are scam artists and thieves. Dont give them your money
1 month ago David Weakley
Great customer service . . super chill spot they've got a selection and lots of comfy chairs. Gonna check out the hookah next time. Thanks for your help ans the tasty juices
7 months ago Elena Parshina
They sold me an expensive mod that never worked from the start. I came back 2 hours after purchase and the clerk told me to charge it over night and see if it worked. Never fixed the problem so I came back the next day and they told me no return policy. I'm absolutely furious.
7 months ago Tonda Lingr
There is a good selection of vape products but they are more expensive than other stores.
7 months ago Stephanie garza
This is by far one of,if not the best shops around! Cadence is very knowledgeable of the products and takes the time to get to know the customers preferences. She also goes one step further, she remembers them. Hands down I will return again and again . They provide customer service that makes you feel appreciated and like part of the family! You're missing out if you don't give this shop a try! A+ isn't a high enough rating
1 month ago Teri Buck
This uses to be my spot to get vape juice. The Queen's love was my jam. They really jacked up the prices though. My usual was $36 before and now it was $53.
11 months ago Ruaa Mohamad
Best vape shop around! Cadence is a top notch employee, she is very welcoming and brings good vibes to the environment. I recommend this shop over any others, a must try!
5 months ago Jacob Halverson
Cadence is Amazing! So helpful and friendly. Great company.
5 months ago Noah Schmall
Owner is super nice! They have a great selection and chill area.
1 month ago jason Griffith
Awesome costumer service. Cadence is one of the nicest people I've worked with.
10 months ago Caroline T
Great service. Friendly people. Good products!
9 months ago Debbie Price
To be perfectly honest; I am a newbie with the whole vaping scene. The girl at the counter was so sweet and super chillaxed. She explained to me what I had and how it was a little out of date and she showed me a few newer devices that were on the cheap side for a beginner like me. I was also kind of worried about them exploding in your pocket like you see on the news but she said that those were basically from people modifying their own devices and put my mind at ease. She showed me newer less messy and more popular devices that were not as expensive as the big vapeheads I see all the time. A piece like something far more simpler for a person that's trying to quit smoking and it's not as messy as spilling the liquid and she explained to me how much money you save vs. Smoking and then she up sold me on some CBD oil. The shop girl was really cute and kind and funny. For anybody that is curious, has any questions, or feels a little hesitant or intimidated by going into these vape stores then this would definitely be the store to go to because she spoke in terms that I understood and broke everything down for me so that I could understand it. And she pointed me in the direction of a newer device that is simpler to use. And the store even have a voice command module. I was blown away by that. The shop girl was so aweet and cute and she has a really cute dog as well and he is super chill too.
1 month ago Maria Macias
Nice little vape shop with friendly staff. They have cbd oil, flower buds, and gummies. They always appreciate customers. If you are looking to quit smoking try thier cowboy tobacco house made e juice.
1 month ago Rick Doute
When i called the salesman was very rude and short with me and did not even introduce himself as with the store so i did not even know if i had the correct number. This store is terrible if i could give 0 stars i would.
9 months ago Erik Bjornerud
Great people, can't beat the prices
11 months ago Brian Strauss
Prices are great, staff is great.
5 months ago Dan Pearce
Excellent helpful staff.
8 months ago Jens Schulz
Well this place is a little different
11 months ago Ross Shelton
He's my dad
7 months ago Big DroN
Cute chunky dog
11 months ago
Popular places from the category Vaporizer store