Aperina Studios
Wedding photographer Aperina Studios, 6929 Sunrise Blvd Suite 205, Citrus Heights, CA 95610, United States:
35 reviews
of users and employees, detailed information about the address, opening hours, location on the map, attendance, photos, menus, phone number and a huge amount of other detailed and useful information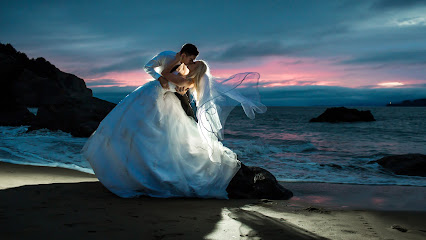 Address:
6929 Sunrise Blvd Suite 205, Citrus Heights, CA 95610, United States
GPS coordinates
Latitude:
38.6916636
Longitude:
-121.2726231
Location on the map
Reviews Sherry Smigielski
Overall, I am totally satisfied! We had so much fun getting our wedding pictures taken by Paul with Aperina studios. He is professional, creative, talented, and so easy to work with. The pictures were sent to us almost immediately after the photo shoot. They all turned out great with each picture perfectly capturing the emotion of the day! You will absolutely love your experience with Paul! Excellent service, great to work with, with the best quality of pictures! He will make the best out of your big day!
6 months ago Michael Thompson
I first stumbled across this company on google and looking over their portfolio on their website my fiance and I absolutely fell in LOVE with their work. Aperina Studios was on time, professional, full of energy and made us feel so comfortable in front of the cameras. What also stood out to us is that they're a team of brothers and they worked so well together. I would highly recommend them to anyone looking for an amazing company to capture their big day.
3 months ago Fma Fma
I have been a long time fan of Aperina Studios work and knew that they were the team that I wanted to film my wedding! COVID changed a lot of our wedding plans but in the midst of all that, Aperina Studios remained professional, organized, and produced amazing work! When I say that my wife and I love our wedding video more and more every time we watch it, we truly mean it. Every detail of our wedding from beginning to end was perfectly captured and included in our wedding video! Aperina Studios has definitely exceeded my expectations and I give them my highest recommendation!
3 months ago Jonathan West
If you are looking for an amazing, professional, and reliable cinematography and photography team, no need to keep looking. Booking Aperina Studios was my first decision towards wedding planning. I had been following their work on social media and so booking them was a must. They really know what they're doing. We received our photos and video very quickly and they exceeded our expectations. Absolutely breathtaking. I always feel awkward having pictures taken of me because I don't necessarily know how to pose but Paul would tell me exactly where to tilt my head, how to place my hands, and just was very detailed oriented. Therefore, the photos and video weren't awkward in any way but looked really natural and captured our story. Thank you so much Paul and Vitaliy for making our big day extra special!
2 months ago Nicole Tozzi
I like how they work! It was so easy-going, no stress, no nerves, everything was flowing the way it was supposed to flow. Guys were like ninjas, you'd never see them while they work, they were able to catch all the details and didn't miss a thing! Overall I want to point out that Vitaliy and his team took care of every aspect of the wedding on their side, highly recommend!
2 months ago gary newcomb
We booked Paul Lyubezhai to shoot a wedding function in our family. Clearly in these testing times when people should help each other out Paul was just the opposite. He is not at all courteous and was extremely rude when asked to honor the contract and process refund which was clearly stated in the paperwork we signed before engaging with him. I would not recommend him to anyone. I am sure there are better photographers out there, Paul is certainly not one of them.
3 months ago Tiffany Bumbury
My wife and I had an amazing experience working with Aperina Studios for our wedding. Vitaly and Paul were creative, professional, and so easy to work with. From the initial meeting to the final products, Aperina was by far our favorite vendor to work with. They both went out of their way to work with my wife's disabilities and our unique circumstances and delivered outstanding videos and photos of our wedding. Their quality of works really shines through with their attention to detail and being at the right place and at the right time. Our families and friends always compliment us on our beautiful wedding photos and videos. I would highly recommend Aperina for wedding photography and videography.
2 months ago David Edwards
I couldn't be happier with Paul and Vitaliy. They have the highest quality work, super professional and very creative. We couldn't be happier with our final product. Worth every penny. Highly recommend.
3 months ago Mujee Sulaimalebbe
It is said that true quality of a professional is best judged in difficult circumstances. And Paul from Aperina Studio has showed unprofessionalism by backtracking from the signed agreement during the current unprecedented situation. People are putting extra efforts to help each other in this pandemic and here Paul is making big money by not refunding the advance without providing any services.
5 months ago swati srivastava
Aperina Studios is by far the highest quality and exceptional cinematography establishment. They're award winning for a reason and I definitely witnessed their amazing, beautiful talent through my wedding photos and video created by the team at Aperina Studios. My husband and I had the best time working with Vitaliy (Cinematographer) and Paul (Photographer). They both have over the top, professional and top notch quality when executing their work. Looking at my wedding photos and video, I felt like I was the star of a movie. I felt so beautiful and they were able to capture the love and happiness through the content Aperina captured. The quality is just so amazing, I couldn't believe it with my own eyes how beautiful everything was captured. My jaw literally dropped when I got my gallery of photos and video delivered. I highly recommend Aperina Studios. My husband and I will forever cherish our wedding day for a lifetime with these timeless, beautiful photos and video. Thank you so much Vitaliy and Paul!
10 months ago Eric Warner
Aperina Studios was by far one of the best decisions my husband and I made for booking wedding vendors! My husband has been a long time fan of Aperina's work and I can definitely see why! They are incredible! Not only were they timely, professional, and easy to work with, but they also made both my husband and I feel extremely comfortable in front of the camera (which was a huge concern of mine)! Like many engaged couples this year, COVID changed a lot of our wedding plans. We were so sad that Aperina Studios was booked for our original date, however after having to change everything around, we found out they were available for our new date and jumped at the opportunity to book them. Their team was so organized and quickly got on board with all the changes despite the last minute booking. The day of the wedding, Vitaliy and his team went above and beyond to capture every last detail from start to finish. They even stayed overtime for our bubble exit and spontaneous swim session in our venue's pool! These candid moments made for the perfect touch in our wedding video! Looking back, our wedding day flew by and I am so glad that we have such an amazing video to re-live all the moments that slipped from our memory. Wedding photo and video are the two things I would prioritize budget wise. If you are on the fence, let me do you a favor, book Aperina! You may be paying a bit more but you totally get what you pay for and it's worth every penny! I could not recommend Aperina Studios more!
2 months ago Christopher Boggs
We hired Aperina Studios for both wedding cinematography and photography originally and have since had Paul take all of our family photoshoots! Our wedding day went smoothly and they captured every last detail of that day. We love our video and photos! We received our video and photos way sooner than expected and the quality and professionalism was impressive. He is extremely flexible and was able to work around several date changes, both our wedding date and some last minute photoshoot changes. Even after moving out of state, we still traveled to Sacramento for our photoshoots. Paul does such amazing work! Overall, great customer service, very responsive and a great team to work with. Definitely recommend hiring Aperina Studios for both photography and video. They are a great team and work very hard to make sure they get every last capture perfectly.
3 months ago Stephen Grayson
I booked Aperina - Paul to shoot my wedding which was unfortunately canceled due to COVID-19. Paul did not acknowledge the contract which clearly stated to refund full deposit back to the client due to unlikely events like COVID-19. Paul was too rude and arrogant. I would highly recommend NOT using his services.
8 months ago the reeves
Aperina delivered videos beyond our wildest dreams. I cannot thank them enough. The whole team was extremely professional and easy to work with. My husband and I were debating on even having a video and we are so happy that we did and that we chose Aperina. The final wedding video brought back all the amazing memories and we were able to relive the moment. It was so well done and my friends and family described it as a real "Hollywood movie" If you are looking for a team to capture the best day of your life, then Aperina is the right choice!
2 months ago Windy Lash
extremely unpleasant experience. we were already unfortunate that our wedding got postponed due to covid 19, but aperina studio has made it even worse for us. our money wasn't refunded even though the contract was saying otherwise. they are very rude and unprofessional.
3 months ago Christine Geraczynski
My (now) husband and I absolutely LOVE working with Aperina! You don't often find people that are not only easy to work with but also a joy to be around. They were recommended by our wedding planner, Anais Events, who is also just superb by the way. We first met Paul during our engagement shoot. Paul's passion for photography, down to earth nature, great attitude, hard work, and skills really shine through. We were so impressed with the photos and really felt that our personalities shined through while still being polished and professional. We got to work with both Paul & Vitaliy (video) during our recent intimate COVID wedding. Although we haven't seen the final photos yet, we have seen a few teasers that Paul sent our way and were absolutely blown away. Vitaliy sent us the final video so promptly and I can't stop watching it. It is just so well done. THANK YOU for making these memories for us and with us!
8 months ago Melissa Dupuis
Highly unprofessional, very rude. I would not recommend to any one.
3 months ago James Hale
Aperina did an amazing job filming our wedding and reception. We had an outdoor reception on a golf course during the day when it was bright, sunny, and hot! The video crew wasn't fazed! They perfectly captured the intimate moments, the emotions, and all the beautiful details of our special day! The guys were easy to communicate with throughout the day and I never felt like they were in the way! They worked very smoothly with each other and were just an overall fun crowd that made us feel relaxed! The finished product was stellar - so professional, beautiful, and cinematic! It was much more impressive than I even imagined! We've shared our video with friends and family and they absolutely loved reliving the day along with us! This is a keepsake we will treasure for a lifetime! Thank you so much Vitaliy and your crew! We think so highly of you and your work, and will continue to recommend your work to our friends and coworkers!
8 months ago Electric Garbage
Vitaliy and his crew did an absolutely AMAZING job with our wedding video. They captured the beauty and emotion of the day and we couldn't be more grateful. If you have to choose between Aperina Studios and a photographer, trust me... go with Aperina Studios!
10 months ago Aaron Wright
Aperina Studios are truly as good as it gets. They're the most creative, detailed and accommodating vendors from my wedding. They went out of their way to make sure everything was as easy as possible for my husband and I. We had a destination wedding in Saint Lucia, so a lot of logistics were involved. They brought all their equipment (drones included) and got the MOST BEAUTIFUL shots! Afterwords I loved the footage so much, I asked for additional edits and they put them together for a nominal fee. Our family and friends have not stopped raving about the videos Aperina produced. Every emotion, detail, and moment from our wedding day is captured and portrayed. We've watched the videos 4 times and have cried every time. I cannot say enough great things about this team! Last thing: they even put together awesome Instagram edits for you to post! Just a fantastic, professional, extremely talented and kind team!
1 month ago Nestor Noria
Very unprofessional, rude and insensitive in this difficult time of pandemic.
3 months ago Kathleen Morrow
Thank you Aperina Studios for capturing our week-long wedding festivities so flawlessly. We really appreciate you going above and beyond to help make our wedding process smooth and enjoyable. It really shows through your work how much you love what you do and how committed to cinematography/photography you are. Thank you for embracing our culture/religion and incorporating all the key moments into our videos. All of our friends and family have commented on how spectacular the videos are (especially the drone shots!) Your cinematography skills and professionalism definitely set you apart from other in your field of work. We will always highly recommended you to anyone wanting to capture their perfect day.
8 months ago jerry krugger
My husband and I booked Aperina Studios as soon as we got engaged, as we had been following their work on social media and they do an amazing job! Vitaliy (the main videographer) made it really easy to set up an appointment to meet with him and discuss our vision for our wedding day video. Vitaliy was EXTREMELY knowledgeable, accommodating, and professional throughout the entire planning process. During the wedding, him and his team were extremely professional and made it very easy for my husband and I to be in front of the video camera! They knew EXACTLY what they were doing, even though our venue was a tricky one to film in, and worked hard and diligently the entire duration of the wedding day! We absolutely cannot wait to see our wedding video! We love Aperina Studios and their team and hope that you look no further for an AMAZING wedding videography experience and book Aperina Studios!
8 months ago Lashyua Rahim
Amazing work!
3 months ago Razvan Burghiu
If you have a wedding coming up, i would highly recommend Aperina studios for both photography and videography. From the start, aperina was professional and understanding of all of the crazy needs that our families and cultural requirements had. The team was prompt and always available to talk whenever we had questions or slight changes in plans.
4 months ago Mireille Carro
They are very professional. Had pleasure to use Aperina's services and I can definitely recommend them as the best wedding videography and photography team. You will not be disappointed.
2 months ago Carmen Greer
Just as the people who saw the potential in Apple before it flourished significantly, I too, see potential in this company in the same manner. It is on point, precise, genuine and thriving. Indubitably, I am rating five shining stars; a superb company with superb rendered products. I highly doubt you will regret hiring Aperina.
8 months ago Anne Pentland
My husband and I got married in August of 2014. Aperina Studios was the first vendor that we booked. It was really important to us to find a cinematography team that understood our vision and make it come to life. And that is exactly what they did! They captured it all- from the moment I got my mehendhi done, to getting smeared with turmeric all over my body, to walking hand in hand as I vowed to marry my husband, to dancing all night with my friends and family; you feel every ounce of emotion while watching the film. Three years later, I still get asked "who did your same day edit?? it was beautiful!" The time and effort that Aperina Studios puts in, is truly visible in their work. This team works 12-16 hour days to make beautiful films. Vitaliy & Paul have become family; I see them every year at my friends events and they ALWAYS take the opportunity to check in and catch up on life. Their entire team is very warm, friendly, and trustworthy. Most importantly, they are punctual! They are always set up and ready to go! They never waste a moment and always have their creative minds thinking about how to make the film they are working on the BEST thing!
4 months ago Megan Robichaud
I LOVE Aperina Studios. Vitaliy and crew filmed our wedding and did such an incredible job. Honestly, of all the vendors we worked with, Aperina Studios stands out as my favorite. They were communicative, humble, friendly, professional, and rockstars of their craft. I am so grateful and in awe of the film they put together for us. The first film that I saw from Aperina Studios, back when my husband and I were trying to nail down the type of wedding that would be meaningful to us, was of an elopement. It stole my heart and brought me to tears. It was so intimate, I felt honored to get to watch that film. We knew instantly that was the type of wedding ceremony we would want, and only Aperina Studios could be the one to document the day. In fact, they were the first vendor I contacted—and I planned the wedding date once I confirmed a date that would work for them! We had worked out with Vitaliy that we would have two receptions a month after our wedding, and that we would need the film done by then, so we could show the film to our guests. He said no problem, and boy, did he deliver! It was everything I hoped for. Truly a film that we will cherish. And every person at the two wedding receptions loved the film. They were in tears and couldn't stop talking about it--saying they'd never seen a wedding film quite like that before or had ever seen a more beautiful and romantic wedding. In so many ways, seeing a ceremony through the lens of a well crafted film does a better job of conveying the intimacy of the moment than just being a guest at the wedding or having a videographer record one long sequence. They captured the richness of the landscape, the behind-the-scenes raw tender moments, and all the love--and presented it in a gorgeous 6 minute film. So if we had anyone feeling remotely weirded out that they were going to be attending a reception and not be at our elopement-style ceremony, they were won over just a few seconds into the film. Thank you, Aperina Studios!!
11 months ago lucia huang
I can not tell you how much I loved working with Aperina! I love not only that its a family owned company, but that the brothers work so well together. You can tell they respect each other and their craft. Throughout the 4 day wedding festivities each member of the "Aperina family" kept me laughing and smiling, they were respectful to the elders and all my guest. They took direction really well and remembered the small details that were important to me, many that were mentioned in our first call. Many of my guest joked that they were "EVERYWHERE" capturing every moment. Often times, lovingly, they were referred to as "Ninja's!" You can truly tell that Paul and Vitaliy LOVE what they do. This is not a job for them, it is a passion of theirs.. creating art and using our celebration of love as their canvas. They beautifully captured every small detail of the decor, our outfits and very emotion of mine and my family. I am so grateful that my experience with them was nothing but quality. My dad who does not give praise very easily, said "hands down, these guys are the best and are very talented, as they created a masterpiece for us" From their straight forward pricing, multiple calls to talk about expectation, day of interaction, to editing photos - editing feature film.. I am truly impressed and feel blessed to have worked with the best. It is companies like Aperina, that will slowly change the bad reputation that many have when working with photographers and Videographers. Thanks team Aperina, you guys are the best!
1 month ago Deanna Hartman
A few years late on writing this review but while watching our wedding film the other day, I felt the need to share the memorable experience we had working with Aperina Studios. Aperina Studios: a creative cinematography/photography team lead by two enthusiastic, passionate, and professional brothers, Vitaliy and Paul. The first time Roop (my wife) and I met Vitaliy, we knew we wanted him to film our wedding. Though we had only seen a limited sample of Vitaliy's work, it was his positive energy, passion for cinematography, as well as the sincere interest and respect he showed toward other cultures that won us over. It wasn't till our engagement photoshoot in San Francisco that we realized how talented of a photographer Paul truly is. Regardless of the cold and rainy weather he stayed optimistic and patient. Paul's relaxed demeanor helped put us at ease and allowed us to behave more naturally in front of the camera. Roop and I felt very comfortable spending the day with Paul; he was open to hearing our suggestions, ideas, and allowed us to express our creative side as well. Both Vitaliy and Paul are very approachable and easy to communicate with, which made it easy to share our ideas and give suggestions. They did an excellent job of understanding our expectations and overall vision; this is apparent in the collection of beautiful photographs Paul captured and the spectacular highlight video and feature film created by Vitaliy. Aperina Studios was the perfect choice for us. Our friends and relatives were very impressed by Vitaliy and Paul's work as well and also expressed how much they enjoyed their company; several of them had expressed interest in hiring Aperina for future events. I just want to express our appreciation for your hard work. You both played an important part in our wedding and we wouldn't want it any other way. Thanks for the memories!
1 month ago Kanat ErKhasan
Vitaliy and his team covered a week's worth of festivities for our wedding this past May. From the very first interaction, he and his team were incredibly professional and interested in understanding us as a couple as well as our vision for each event. What surprised us most was how committed they are to the quality of their work - Vitaliy never took any shortcuts and was always ready to make the most of each moment. Vitaliy and his team were extremely professional throughout the entire process and took away much of the stress of such a busy week. They were punctual, respectful and mindful, and altogether very easy and fun to work with. It goes without saying that the videos they created for us were beyond amazing! Months later, we still have people complimenting us on how beautiful the short video was, and how seamlessly the Aperina studios team worked during the events. Ronak and I would highly recommend Aperina studios. Their artistic vision is fresh and elegant, and they are dedicated to creating a video that is not only beautiful, but truly captures the essence of your wedding. Most importantly, they are wonderful people with great personalities who manage to make even the most stressful of situations better with their professionalism and great attitudes.
8 months ago Kelley Altland
I was lucky to have found this company by browing the web. They filmed my daughters wedding and the quality, professionalism and excellent customer service I received from Vitaliy the owner, was out standing. You wont be dissapointed in this company. Thanks to Vitaliy and his staff, we will have many happy memories we can reflect on by watching the DVD wedding over & over.
8 months ago sean com
The best!!!!! Is it possible to give "5+++++"
3 weeks ago kate holmes
Ok
4 months ago
Popular places from the category Wedding photographer