Safeway
Grocery store Safeway, 8925 Madison Ave, Fair Oaks, CA 95628, United States:
220 reviews
of users and employees, detailed information about the address, opening hours, location on the map, attendance, photos, menus, phone number and a huge amount of other detailed and useful information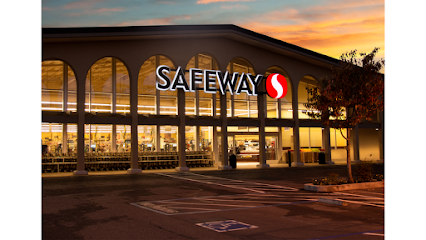 Address:
8925 Madison Ave, Fair Oaks, CA 95628, United States
GPS coordinates
Latitude:
38.6651300
Longitude:
-121.2242725
Location on the map
Reviews ella sometimes
My review is strictly related to receiving my Covid-19 vaccination at the pharmacy, hopefully this will be helpful for others in the area looking to do the same. I feel like the entire process was handled very well, and am overall pleased with the interaction. Setting up the appointment was trivial using the website (it's on Albertsons.com, apparently they own Safeway?) and I was able to get an appointment only one day in advance. There was a single "informed consent" firm that I had to print and fill out before the appointment, the same one that is required everywhere. On arrival, I just had to go to the pharmacy at the rear of the store to check-in, and then I had to just wait a few minutes since I had arrived early. I was then called in to the private room for my shot. The nurse was very pleasant. It took a couple minutes to get my shoulder exposed and sterilized, and then I must have looked away for a second because next thing I knew she was putting a bandaid on me. I swear I never felt a thing. I never really have any issues with shots or giving blood, but this was completely unnoticed. After the shot, I was told that it's best to hang out for 15 minutes to make sure there were no adverse reactions so I just chilled out in the waiting room for a bit and then went home. Great experience! One other thing I feel I should give the staff kudos for was the way they handled a more difficult situation with another customer. One of the folks that was there also waiting for an appointment fainted briefly while he was waiting. I'm not sure of the details on what happened, but I'd guess that the guy probably had some sort of anxiety/panic issue around getting the shot. The staff took excellent care of the young man and kept the situation from getting any more tense for everyone involved. Nothing specific, just handled the situation with calm professionalism and had the man feeling better very quickly. Maybe something you had to experience to understand, but the professionalism was comforting to everyone present. Well played!
7 months ago Tashaya Johnson
EDIT: A week later and these items on the shelf ARE still expired, we will no longer be shopping at this location. I only got photos of two items today but everything else still listed was expired. Shop here often but yesterday when we went there were SOOOO many shelf stable items expired, some dating back to DECEMBER 2019. We went down a couple different aisles before giving up and just purchasing what we had. Items included pretzels, cereal/rice bars, chips, salsas, peanuts and frozen items!
3 weeks ago Jessamine Kelley
This Safeway is awesome. Clerks are nice and helpful. Always smiling and great to have conversations with. They're often out of stock of things I buy regularly. It really is unfortunate that it is so close to my home but I have to go to another store to buy my cereal, milk at times and a couple of other things for an entire week before it returns to this Safeway.
7 months ago Renee Pollock
A lovely store, in a nice shopping center. The staff here are always super nice. They are friendly and very helpful, which is such a extraordinary touch, more and more these days!
8 months ago Jake
Love Safeway. Nice clean store. Employees are always helpful and friendly. With "Just for U" and ad special you can save a bundle.
8 months ago Jason Perry
Harken ye, and I shall relate the epic of my travels adding the Safe Way. For a number of minutes did I traverse the baked goods, and discovered there a delicious cake of 4 cheeses. Also there were chips.
9 months ago Ruben Soto
I watched Elija from the deli department bag up and toss two garbage bags and return to the counter and proceeded to make my sandwich. When I asked him if he was going to change his gloves he said I changed them in the back. The box of gloves was sitting on the counter and even if he did change them in the back he still inserted the new bags on the garbage cans when he returned to the front counter. I have no idea what sort of training they have but the health inspector really needs to review the video tapes on 3/20/21 at 18:10 - 18:25 pm. ABSOLUTELY DISGUSTING.
10 months ago Achintya Kumar
I got there on time but I got sick early, weak, breathing. , pharmacist told no because us gonna be worst. I was trying to reschedule and another employee say we will let you know when. Few more weeks.
9 months ago Stephanie Langan
This store is amazing! By far the best butchers in town. The checkout people are always fun to visit. The deli is extensive in choice of meats, cheeses and prepared foods. Produce better than nearby Raley's. Great job, Safeway.
3 months ago Krista Fandrei
Whatever you do, DO NOT order your child's birthday cake here. I came to pick up the cake for my 3 year olds party over 2 hours after it was supposed to be done and they had not even started making it. Then the printer was down because they ran out of yellow ink and couldn't even make what we ordered. Absolutely unacceptable. Safeway has dramatically gone down hill over the last year and my business will forever be at other stores.
7 months ago Julia Michaelis
It was good, I just hate how much more expensive it is than other stores.
7 months ago Rocio Lescano
In ORANGEVALE CALIF. IS SUPWR SKILLS & CURTIOUS ATTITUDE WITH AUTHIENTICITY & TRANSPARENCIES TOO.4-25-2021 SUNDAY 10:15AM
8 months ago Raymond A
Never really crowded and everyone seems a little too happy, in a good way, haha
8 months ago Adam Curiel
Helpful staff, clean, cake I ordered was perfect! Yay!
7 months ago Shadah Bayath
Started with a basket..ended with a wagon! Great sales during monopoly event
9 months ago Josephine Tambal
Helpful staff, sale products were fully stocked
8 months ago Shutter Shots
Nothing like standing at the deli counter being ignored! Never again
8 months ago Taylor Buttrill
Today I shopped Safeway. I hadn't shopped there since 4 months ago.. Produce was droopy, overall I've seen the store much cleaner in the past.
10 months ago Saeed Ebrahim
Love this place. Always friendly and helpful
3 weeks ago David Olver
I think this is my Favorite Safeway... just a feeling, you'll feel it too when you go there. Awesome Veterans memorial outside too!
2 months ago Pam Hudson
Just a nice clean friendly store always well stocked
10 months ago Vitali Tiessen
Clean, well stocked and a great team! My favorite Safeway in the area.
10 months ago Kari Rogers
Always clean very helpful staff. Love this location Madison an Hazel fair oaks c
2 weeks ago Thomas Ruffins
My favorite place to shop for groceries...Safeway is Way safe with covid19 they have done a great job keeping us locals safe...thanks keep up the good work
1 week ago Ian Clark
Very clean and convenient store. Very helpful staff and a great selection of meats and seafood.
1 month ago Vishnu Prabhu
I've only been to this location twice since I recently moved to the area, this location is exceptionally clean, well stocked and very well staffed. I had been shopping at the Rst location for 11 years, in that 11 years I've watched that location sadly deteriorate. When I first visited this location I was very impressed, I t reminded me of what the Rst location used to be like.
3 months ago Anthony Caston
They have a great Moche bar
9 months ago Maria Lucovich
I am always able to find what I need at my nearby Safeway.
2 weeks ago john Hammers
Dave in the meat department is hands down the best meat cutter in the local universe. I especially like the way he cuts a nice thick bone in ribeye. He's also a really nice guy. Always the best customer service, Thanks Dave !
6 months ago Adam Golden
Looks real nice. Singe they just remodeled
11 months ago Zalika Finch
The employees were very helpful & friendly today. Had a great shopping experience.
2 months ago Inna T
Shout out to the great butcher crew. Great personal service as always today. However while they were taking great care of me a large man, (manager?)with a shaved head and a red shirt came over and was very inappropriate in front of customers seemed clear that he was threatening their jobs for not having face masks on. I understand policies need to be followed even if it may be an overreaction. But I feel like an effective leader would have a talk to them in private not in front of me.
9 months ago Musu Khatun
Love this local store, the service is always good, we love the deli and the produce is always fresh.
1 month ago Peter Henry
I like the fact that this store isn't too big.
8 months ago Theodore Leon
Great selection and customer service in the meat department
3 days ago Shemika Phillips
The employees here have so much fun energy its hard to not want to shop here.
2 months ago Rebecca Sivak
Love the on the floor employees. Have been going here for years and they always treat us like family.
2 months ago Russell Martin
Love my store ????❣️
11 months ago adrianlaflame
Great store! Great pharmacy! Dont like the heavy set female butcher there, she's rude and well just rude! People around me couldn't believe she talked to me the was she did! And here I was trying to buy an 80.00 prime rib! Told her keep it and left!
7 months ago serkan sezer
Had the buns I was looking for. A little tough to find them (keto buns).
11 months ago jackie whitaker
Everone always friendly and helpful. Great job Safeway...
1 month ago Judy F
It was busy cause of the holidays. Great customer service.
1 week ago h h
Super clean store!! Great produce!!
9 months ago Loyd Sharpe
Good meats and desserts when the price is right. Definitely good deals on specials. Quality products, and good produce.
6 months ago Lynn turk
A good place to get steaks from the meat department. I like being able select the cuts I want.
3 months ago Deborah Stanley
Went for 2 specific items and they are out of stock on both.????
9 months ago CountryBoy
Super sweet cashiers
8 months ago Jennifer Willson
Good deli service. Very helpful employees
10 months ago Dustin Fortier
Great store! Really clean and staff are polite. A bit to quite, considering the SIP here in Fair Oaks. But very well stocked.
8 months ago Demetria Johnson
For starters... I must say that it's nice that this store is open 24hrs. I came in here to use the restroom then proceed to shopping but wow did my decision change quickly. I went into the restroom only to spot something that looked like a cockroach. I stopped it's lights out then went to tell the staff which was lounging around. They seemed to smirk at me and didn't address the situation. I ain't coming back to this store even for the midnight purchases anymore. It's your decision but mine is no way!
8 months ago
Popular places from the category Grocery store