The Phoenix Dispensary
Cannabis store The Phoenix Dispensary, 9897 W McDowell Rd #720, Tolleson, AZ 85353, United States:
220 reviews
of users and employees, detailed information about the address, opening hours, location on the map, attendance, photos, menus, phone number and a huge amount of other detailed and useful information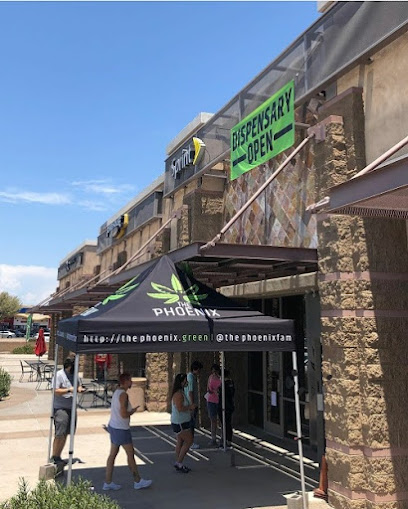 Address:
9897 W McDowell Rd #720, Tolleson, AZ 85353, United States
GPS coordinates
Latitude:
33.4641367
Longitude:
-112.2707700
reviews Christopher FigueroaPerez
Never have I waited in a medical line so long... but at the end Joseph saved the day! This guy is the kindest person I have met! He is why I will come back!
5 months ago Mia Dawson
I was a bit overwhelmed by the high speed process. It's nice that the line moves quickly, but all the products are back on the walls away from you. The budtender will bring anything you like, but you can't really look at the selection. You have to just ask for whatever form of product you want, and trust them to know what's actually back there. Being given a verbal list of products, including prices, is challenging for a visual person. I spent $200 in less than 4 minutes, and I have never heard of any of the strains I walked out with. I guess it's no worse than when I lived in an illegal state and just took what the guy handed me. But, it could be better. The budtender was very knowledgeable, and very confident, she did an excellent job. Next time I would definitely order online.
6 months ago Mimi Piquepanse
First time stopped in and my experience was awesome. Everyone is so helpful and even security at the door made me feel welcomed. Hands down my favorite spot.
5 months ago Lisa Rogers
The flower and the people are great but I have never waited so long in a line for medical while recreational patients keep coming in and out. They definitely favor recreational over medical
5 months ago AD
got a text from the Phoenix dispensary said 11/24 2018 vapen all day bogo. I get there and nobody knew noting about it. don't recommend
5 months ago Nicole Cummings
I'm a Rec customer. Great group. Lines move quickly. Very friendly and professional. Excellent product choices. Still honor med patients. Has dedicated checkouts for both med and rec customers.
6 months ago J K
The Phoenix Dispensary seems to carry minimal stock. They never have what I need and offer no deals or specials on their products. If you're prone to settling for less (and more than likely paying more), this place is the spot for you! On the plus side, there's a good chicken joint in the same parking lot to make up for it.
6 months ago Jill Carter
This is my favorite dispensary. I love their flower, some of the best top shelf you can get. All their bud tenders are friendly and nice. Was hesitant with them implanting recreational but they made sure to take care of all their medical patients as priorities! Love to shop here, always recommended to others!
8 months ago Shashi Tiwari
Love it here best place. Love the option to pre-order and pick it up right in the mornings with no issue and no long waits! Don't understand how some people can't read and listen and just follow their policies it's not that hard to wear a mask ????
7 months ago Jazlyne Bowers
Great experience here! The budtender was knowledgeable and able to make useful suggestions. The strains were recognizable and they had lots of good quality product.
7 months ago AmirReza Oghbaee
I have been coming to The Phoenix now for about 6 months. I use the curbside service and have never once had a problem. Every interaction I have had with the Budtenders has been amazing and informational. I would definitely recommend The Phoenix to my family and friends. ✌️
9 months ago Molly Barbian
This is my go-to dispensary, and now they're showing their true colors that profits are more important than patients. Ever since they were about to go rec, deals & products are extremely limited. What I need for pain and would get deals on regularly, every/every other week, are now out of stock & they appear to be no longer running the deal. Online ordering & curbside pickup is also temporarily down, and I'm not about to stand in line around a bunch of people during a pandemic. Really disappointing and I hope they're able to quickly resolve these mistakes.
8 months ago Clay Hervey
Walkednin on Sunday 5/2/21 in search of some cbd. The place smells like it has some great dank meds. However whenni asked about cbds the bud tender had no idea whatbwas in stock and really had no idea what she was talking about. I walked right out!
6 months ago Sue Wyatt
Most amazing staff they always have what I need. Always feel welcomed and not rushed!!! Cheers!!!
6 months ago Holly Dobney
Great service, selection and prices. These guys are awesome!
6 months ago Carolina Pena
The phoenix dispensary is awesome! The staff a friendly and knowledgeable, the prices are insanely good and product is quality.
9 months ago Sam West
My husband was just at this location off McDowell Rd and the man outside was RUDE. he demanded my husband wear their facemask and demanded he sanitized his hands with sanitizer provided by the dispensary and said "ITS OUR LAW" Well, first of all it may be policy, but it is no law. last we checked America is still a free country. ALL MANDATES IN THE STATE OF ARIZONA ARE LIFTED. So, if you want to continue COVID hysteria as a company, you are free to do so - just have some manners about it and.. We will happily take our money elsewhere. More people need to stand up to TYRANNY at all levels in society.
7 months ago lauren christiana
I usually go in but lately I been using the delivery service & I always get Corey. This guy is AWESOME! Give him 5 ⭐⭐⭐⭐⭐! He's friendly, courteous and always has his MASK ON! ????????If ya get Corey, please make sure you tip him
1 month ago Melvin Davenport
Great dispensary. Prices are reasonable and the flower here burns very good. Def check this place out. It's a hidden gem.
8 months ago Davey
I recently moved here from the Oregon/Idaho border. I haven't been to any other dispensaries here yet and to be honest, after my experience here today, im not looking forward to it. You would be out of business in Oregon your first month of business. I don't want to talk about your selection(I was told it was a bad day for options). I just spent $50 for 1.5g of shatter and I can see through paper better than this dab(thats a bad thing).....in Oregon id get 5g's of clear shatter for $100. No military discount? I've been to dispensaries in 4 states and NEVER had a dispensary NOT offer a military discount. Figure it out guys. I won't be back
7 months ago Diana Shia
Staff treats you like you're 2 and don't know anything about marijuana even when you do. I have bought many disposable carts that die before they're out and they won't replace them, they offer a 10% discount. I bought flower that caught fire and wouldn't stay lit. The manager was rude and basically told me I was lying because no one else had called in. I've worked in the marijuana industry for years in Colorado and this place is a joke. The door guys are always the nicest but they barely check your ID lol The staff doesn't know a lot about marijuana, I asked what strains they have and they just kept asking "Indica or Sativa" which anyone that knows marijuana knows that's just the way the plant grows.. the stereotype behind Sativa and Indica should be discussed so customers actually know the difference. The store is laid out where you can see the product but nothing is big enough to read, the prices are OUTRAGEOUS. In CO you can get an oz for $99 OTD, shatter/wax for $12-15 OTD and 1 gram carts for $20 OTD. My 1/8 for $45 here was the worst I've ever smoked. It clearly wasn't flushed of chemicals. The manager said the testing all looked right but all their dates don't match as far as batch and harvest so I'm not convinced.
6 months ago Sean Cherry
The reason I give it such a low rating is because I was treated very rudely by a female who I mistook as a male. She had short hair and was sitting behind the counter and it was a simple mistake. But she dogged me and tried to sell me the most expensive products, the entire time, giving me Go to Hell looks. Because of this, I will not be back to the Phoenix dispensary. Because of this, I will tell my friends about the treatment I got at there. By the way, thank you CURALEAF for always being there for me.
6 months ago Alex Jackson
I've gotten some really great deals here and the pre order and pick up process is quick!
8 months ago Kimberly Clarke
The bud tenders are not well informed. I told them I need sativa carts and they sold me Maui Wowie which is a sativa but they also sold me GG4 and Wedding Cake both of which are HEAVY indica dominant hybrids. I will never go here again.
6 months ago Martin Kahler
New location is convenient but clearly not safe or easy to even listen to the bud tender! your cheap plastic "walls" will not protect from covid. people are so close and loud next to each other have to literally scream my order. if ya'll are so pumped to market rec weed maybe you should consider the safety of your staff + loyal customers. your 5 star review will soon be 1 if you continue to operate so selfishly.
8 months ago Henry Miller
I came in 10 minutes before closing coming from chandler and Taylor J was my bud tender. Very helpful and by far the best customer service I have received my 3 years of being a medical card holder. Thank you ????
9 months ago derek hill
When you want good Medicine and good customer service drive about 2-3 miles further to " the Harvest" dispensary trust me don't waste your time at "the Phoenix "
8 months ago Drew Caplan
Went there last night after a long day to pick up some meds. Cashier number 15316 at register 08 at 7:43pm on 02/26 was absolutely rude. I asked what kind of flower they had tonight and she says what you see. I have problem with my vision, which is part of why I am there. Also I couldn't see what flower was in the jar and what was empty let alone the names written in neon colors. I could have easily looked online or up at the jars but I have a problem with my vision. I ended up picking the first thing I saw because of how rude she was with her words and demeanor. I came in ready to spend a fairly good amount, at least for me, and ended up walking out with just what I needed due to her poor customer service. Idk of this is the norm for patients now that they sell rec, but it needs to change. I'm not the first one that will go in needing help and I'm not the last to. but it will be my last time here. Especially considering that I pay top shelf pieces and I get home to popcorn and dust. That's no way to treat a person let alone a patient. Not sure what herr problem was but that was the worst experience I had at a dispensary, especially after a hard day.
8 months ago Sean Riopelle
This dispensary is great! The staff are all very friendly and helpful! Definitely will go again l
9 months ago Henny Soni
First time visiting! Supper stoked great atmosphere
6 months ago Ted Williams
Place was very well keeped and organized the staff was extremely helpful and friendly prices were great I will definitely be back
8 months ago Sophie Greenberg
Was a cool place. Medical now takes a backseat to recreational. Money talks!
8 months ago Noodle Dangle
First time patient. As I approached the doors I didn't understand that you have to have your card out to show the locked door. I didn't know this so, after I pulled my card out, the door opened and I asked if that was what I need to do; pull my id out before they open the door. A very large security guard asked if I had a problem. I replied and said no. He asked why I was being rude. I informed him that I was a first time patient trying to figure out how to get in. He said I didn't have to be rude. All I did was ask if I had to have my id out for the door to open. Honestly, this was the worst first patient Experience ever. Intimidation isn't a good form of security. I didn't feel safe. So much so that I saved this for the reviews. Didn't want to say anything in the store because they had potent planet in stock. Which was the only reason I went. As I left I tried explaining and talking to the security guard but he continued to express his dislike for my tone. He also told me that if he doesn't recognize people then they dont open the door. I'm not sure how he was supposed to recognize me if I was a first time patient. This shop felt like an underground pot shop. The woman behind the desk was nice and knowledgeable. The budtender was nice and helped me and was knowledgeable too. The security guard was a muscle who used his size to intimidate a first time patient. I will only shop there for potent planet. Nothing more. If you go there, pull your id out before approaching the blacked out windows. The security guard sees you and will not open if he doesnt recognize you're a patient. Even if you pull on the locked door and look confused. He might take it as aggressive behavior. Buyer beware.
1 month ago Charles Joseph
Great specials for cardholders, good selection, fast courteous service. This place is my go to for my personal stash.
7 months ago Mageed Abdo
Always ???? flower great staff and great vibe each time
6 months ago Dottie Blossom
I wanted to thank Chelsei for her excellent customer service and the whole phx squad best in da west!
8 months ago Petra Salatko
There very best is very average and disappointing!! And you will pay top dollar for it !!!
5 months ago Ryan Grawin
Very high chance of Covid infection they do not care who walks in or if they have visible symptoms, medical waits and recreational does not, with hostile clients who get in fights in the parking lot while security just watches. Definitely avoid this place or bring some protection.
9 months ago Pati Partee
One of my favorite dispensaries. Never disappointed. Great staff, great products and great daily deals. Love their new home in Tolleson.
10 months ago William Singletary
So far it's one of my favorite dispensary on the west side. They have daily specials and good flower.
11 months ago Erin Saldarini
I love being able to come in and always find what I need. The staff is awesome and the service never disappoints.
9 months ago Donald Tilbury
My 1st time today. Went with recommended products. They did not disappoint ! Friendly and helpful. Relaxed atmosphere. I'll be a regular
11 months ago Uber R
Over priced flower forsure. 65 a 8th for some mid tier type medicine.... pass if u can
7 months ago Arthur Malapit
This place is really overpriced, the bud tenders are terrible and the second one, was also rude, and when you have a BOGO, they won't give you the higher-priced item. I had this happen to me this week. I'm never coming back to this place. They also have pre-packaged flower that is garbage. They don't trim the stems on the flower. It's also dried out, and very harsh.
1 month ago Jail Annex
Love this place Great selection Here at bud tenders ♥️
7 months ago Eddie Lukes
Really exotic Marijuana Strains. Very nice Workers, and again i love the exotic Marijuana.
9 months ago Wilson Mourino
Definitely sub par customer service, very rude demeanor. I visit regularly, but it seems like something always goes wrong , whether it be with my online orders or with the "computers". Whatever small manager was on duty (today) didn't bother to help, she mumbled something and moved my transaction to a different terminal. This place has quickly become my least favorite place to visit. It's more of a hassle rather than something I look forward to.
6 months ago Sal Falco
Best dispensary I've been too. I like to pick a spot I like and stick to it. I've been going here for about a year and their customer service is always the best. They develop customer relationships. Today I had an issue with my online order and they fixed it no problem but they also gave me some free promo stuff with my order. Which is awesome! They fixed my order and gave me more! Thank you guys!
6 months ago Michael Micalizzi
THANK Phoenix Dispensary! You guys rock! Happy Holidaze! XO
10 months ago Jackie Mcintosh
Since this pandemic I've had anxiety got myself a small support dog and usually don't go into dispensaries well their online wasn't working so I went inside to pick up some medicine I HAVE A MEDICAL CARD I forgot her chest harness saying she was a support and the security guard who handles the door allowed me to enter thank you sir for your leniency I'll remember next time all of a sudden someone else asks me the same question and kicks me out I WAS faithful to this place sent business this way no more!I know this dont matter to you but my taxes can be spent elsewhere thanks
7 months ago
Popular places from the category Cannabis store