Vaughn Battery Co
Car battery store Vaughn Battery Co, 601 S School Ave, Fayetteville, AR 72701, United States:
71 review
of users and employees, detailed information about the address, opening hours, location on the map, attendance, photos, menus, phone number and a huge amount of other detailed and useful information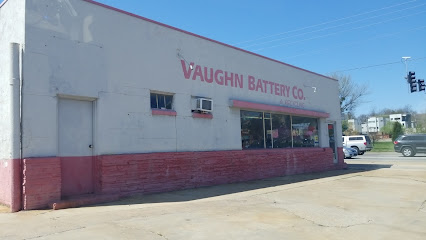 Address:
601 S School Ave, Fayetteville, AR 72701, United States
GPS coordinates
Latitude:
36.0563260
Longitude:
-94.1648152
reviews Alex Luu
The best place for batteries, good prices. 5 year warranty. They checked my alternator too.
1 month ago Joy Bell
If I could've given o stars I would've! This place and people Nathan and George have told me I'm not smart enough to get my own battery. I purchased a brand new battery in 2019, this battery didn't last even one year. I took it back and yes they replaced for free! Well the battery they had replaced for free didn't last one year! Now this week I'm on my third battery which didn't work and had to take my business elsewhere! Horrible experience with Nathan. This man told me I was not intelligent I needed a man to take care of my business!
1 month ago Jennifer Shryock
So thankful for this place they really took great care of me and my battery needs on the spot! Highly recommend Vaughn Battery Co to anyone and everyone! Thank you!!
1 month ago Jason Kindig
Very helpful!! Bought a battery there and a little over a year later, car was dead in the morning. Nathan checked and determined battery was faulty. Replaced free if charge! Awesome service!
8 months ago Tonisha Flagg
so many people buy their batteries here. this place has been around since before my time. i rebuilt the door and opening to the restroom. you should go buy a battery and try it out! lol
1 month ago Toni Balogna
I go here for all my battery needs and have never been let down ever ever ever never!
5 months ago Richard McGee
Pulled up and drove away with a new battery installed in 10 minutes. Quick and easy.
6 months ago Svitlana Bondarenko
The service is great, but the guys didn't have masks on.
6 months ago Mina Yacob
Very affordable and fast service. Love V. VAUghn
2 months ago marla Summers
Amazing prices, amazing customer service, great local place that has been here for years, won't do business anywhere else.
8 months ago Dora Nobi
Mist make bank from walk ins because they dont answer their phone. Been trying for a few days several times a day with no answer. Looking to buy 8 quality batteries but forget it.
8 months ago clark griswold
I left one of there batteries on all day long. 12 hours of headlights on my truck. Cranked right over.
6 months ago Rallow Love
Thank you so much! Great cost! Super fast! Very nice!
2 weeks ago Shay Palmer
Honest, good folks.
1 month ago Laura Halahan
I get all of my batteries for equipment and vehicles here. Their batteries last longer than those from big box stores.
10 months ago Valisa Caldwell
No enthusiasm, wanted to much for battery
1 month ago Seelie Fae
We Took a battery back for warranty replacement, battery has 3 yr replacement stamped on it, we have had it for 6 months. It went dead and we put it on charger. We were told it was overcharged. We were told they would put acid in it because it was dry. They have refused to replace it. We were told to take them to small claims if we wanted too. We just wanted battery replaced. We were told we needed to find out what caused it to overcharge. I will never purchase another battery from them. To all you do it yourselfers, guess you have to be somebody to get a real replacement
2 weeks ago Lance McDonald
These guys won't cheat you, they're honestly some of the nicest mechanics I have met and got me fixed up by cleaning my battery and sending me on my way.
3 months ago Kyle Mikota
Efficient and Friendly, what more could you ask for?
11 months ago Caroline Bafundo
Great prices, and they honor your warranties. Nathan makes the visit less painful.
2 months ago Trish Groenenboom
They had the battery i needed and recvd great customer service
4 months ago Kenneth
Horrible place. Crooks. Bought battery just in November and won't stand behind their failing battery. Never ever go here again I hope no one takes a chance on this place. Not worth it when their are reliable places that will stand behind their product. Thank you O'Reilleys!! So rude at Vaughn's. Guess when you know you are a croook that's the customer service that goes along with it.
2 months ago Sharon Morse
Good friendly service. Good prices. Always like to support the locally owned, small businesses in our community.
1 month ago cameron gonzalez
This is the place to go for your next auto battery.
8 months ago Jessica Knighton
Now I have not actually gone to the store but the person that answered the phone when I ask a question was incredibly rude and unhelpful. So I will not be going two Vaughn Battery Company because of the disrespect on the phone
2 months ago Jeff Boryszewski
After shopping around found them to have the best prices along with great service! Thanks!
2 months ago Darryl Evans
Good place to get a battery in the help is awesome
10 months ago Nicole Jennings
My wife went here, just before closing time, and they were fantastic. Nathan tested the battery to confirm it needed a replacment. She bought the $75 battery that was $120 on the Walmart website. If you want to support local business, add this one to your list. Excellent.
2 months ago Rol Fessenden
Great experience. We appreciated the friendly service.
4 months ago Katie Lyons
Been going there over 35 years. No bad experiences
4 months ago David Montez
The only place to buy a battery, nathan is awesome, and very helpfull.
2 weeks ago Edward Vannier
We had bought a 5 year battery from them 43 months ago. Still had the receipt. The battery failed. I took the car in expecting to pay a prorated charge, but they replaced it at no charge. 5 stars. Next visit: Had to replace my truck's original battery after 8 years. They had what I needed, bought it and out the door in 5 minutes or so. They routinely checked the new battery before selling. Walmart doesn't do that unless asked. The battery fit perfectly.
2 weeks ago Dimitri Govaerts
Best prices. Fast installation.
2 months ago Elizabeth Hernandez
These guys always have what I need and they have it in stock that day! The prices are fair...not the cheapest place, but I believe you get a better product than a big box store like wal-mart and you get a better warranty. I have one battery from them that I purchased in 2012 and it is still going strong in 2018!
8 months ago Cindy
Three only reason why I put a three star is that the girl that works there was smoking in the front room. To me that's a lack of respect to others that don't smoke and don't want to smell like smoke. Other than that the battery guy was spot on and took very little time to get me set straight.
3 months ago Jason Looney
Helpful workers!
10 months ago Tristen Stewart
Good service and best prices on batteries. They are always cheaper than the auto part chains. I've purchased 4 batteries for 4 different vehicles, and have only had good luck with them.
7 months ago Courtney Patterson
I took in same old batteries. Got a tealgoid price for them.
1 month ago Albert Yuan
These folks aren't afraid to tell you you only need an adjustment, not a battery. I've used them for years. When is the last time you had a retailer fix a problem for free?
2 months ago Sama Swangs
Called and told them what I needed, got there 10 minutes later, had everything ready. In/out less than 5 minutes with the right stuff. Friendly staff! Highly recommend!
9 months ago lukotomara
I've been using Vaughn for 20 years. Always had great batteries.
2 weeks ago Ben Brown
To high on stuff
6 months ago Emily Cannon
Locally owned and you can't beat their prices! Plus warranty on car batteries.
2 months ago soumen rit
Quick and easy. Good service.
4 months ago Tim Church
Wonderful customer service and experience!
2 months ago Bailey Cheek
I bought a 6 volt battery for my 1949 dodge truck. Simple purchase.
2 weeks ago Dale Chrisman
Their batteries are good quality and have a 5 year warranty. I got a battery for a Toyota Camry for only $70.
6 months ago fred monahan
This is a great place the guy that runs the place sure know his stuff I do ALL my battery business here and have since the 90' s
2 weeks ago Cynthia Soenasto
Quick service, fair price.
3 months ago Shellie Larry
TERRIBLE BUSINESS!!!!! If you're looking to buy a battery anywhere is better than this place! It's run by junkies who don't know the first thing about running a business. They sold me a bad battery and when I brought it back the next day they "tested" it and said it was still good but when I tested it myself it was wasted! AVOID THIS PLACE AT ALL COSTS!!!
2 weeks ago
Popular places from the category Car battery store