Car wash Diamond Wash Auto Spa
Car wash Diamond Wash Auto Spa, 1401 SE Eagle Way, Bentonville, AR 72712, United States:
167 reviews
of users and employees, detailed information about the address, opening hours, location on the map, attendance, photos, menus, phone number and a huge amount of other detailed and useful information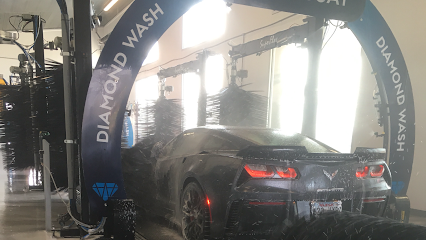 Address:
1401 SE Eagle Way, Bentonville, AR 72712, United States
GPS coordinates
Latitude:
36.3557740
Longitude:
-94.1739235
Location on the map
Reviews Hal Kravitz
At first when I paid it seemed a but high for the cheapest wash to be $13. But then when I pulled up, they had 3 guys spraying the car down with debugger and it was good and soapy before I even got into the car wash. But when I went …
6 months ago Robby Cardosi
Love going to this car wash! Customer service is always great! Someone is always waving hi as you drive up. They do a great job spraying down the car before you go into the car wash. The kids love all the colors they have going through …
6 months ago Shenique Rushing
Today I have experienced the worst car wash I ever had. I have visited this place before, but I gave them the second chance. I payed $25 + $70 = $95 for interior and exterior. I had to spend 45 mins of my time after them. They asked if I …
5 months ago Steven Coggins
Always busy but its worth the wait! So my husband said I need to revise my review, the staff is detailed at providing you with best service for what your needing, the vacuums are not like other facilities as they work phenomenal meaning he …
6 months ago Amanda Williams
Easy loading because of the moving floor. No metal rods to line up! Workers spray down car before the car enters the brush area. Employees even hand towel water that the blowers missed. Get the monthly pass and go often! Good vacuums too. And close to a great restaurant, Arvest, Neighborhood market and Sam's club
6 months ago Bangsters
My husband got off work early and decided to wash some dirt off the truck. His first time in the truck at this car wash , had been before in our car and had no issues except water spots. This time the car wash tore the bug shield guard off …
7 months ago Lorent Hinant
I use their VIP membership to save money. Overall better then other places I have been. Have recommended to friends. Like the fact they wipe down and do tires after you run through.
6 months ago Angel Jalessia
This is the most unprofessional group of people I have ever come across. If you care about your car or yourself at all, don't bother using their services. Not even close to worth the price of admission. Seriously. Try splash or somewhere else and thank me later. I will never make the same mistake.
6 months ago Shawn Dofner
Best automatic car wash ever! Lotso f detail to preping the car to go through ans lots of soap. The car was very clear, great both blow and hand dry!
5 months ago eric christopherson
Just another car wash. Nothing really stood out, except there is a guy who dries your car once you are outside of the car wash. They do have 2 vacuums at each station. The big one for most everything and a small one for cracks and small places like beside and in between the seat cushions
6 months ago Ali Kherallah
Lounge could be better. The TV has Amazon but no prime. Uncomfortable chairs, more of a small waiting area than a lounge but they did a good job washing the truck and cleaning the interior.
7 months ago Scott Prince
Got the diamond wash and express detail, it's an awesome bargain and they do a great job.
5 months ago Tomas Rodriguez
Wash was fine but the detail employees left all the seats reclined, the outside rear view mirror turned completely backward, and the dash controls changed. They need to learn to put things back the way they found them. The windows had streaks on them. This service is not worth the $45 charge plus a tip.
11 months ago Kiran B
Nasty water spot damage I can't seem to completely remove from my trim on my Tesla Model Y. Spent over half an hour with some chemical guys detailing fluid trying to clean it up, but it looks like dressing is the only thing that's really going to cover it and help correct it
5 months ago Brandon Atkinson
Awesome service. And my car looks amazing.
6 months ago Jerrica Harboldt
It was the first time I had been there and I SUPER EXCITED about a "real car wash" where someone actually dries the windows and applies tire shine. I paid for a "Platinum" and then I left. When I got out of the car not 5 minutes later, I noticed that there was no tire shine on my tires (included in "Platinum" wash). Kind a bummed ????
8 months ago Bling Dog
Good thorough wash. Only had to remove 4 or 5 tar spots afterwards.
6 months ago Scott Lemieux
Pricey; basic wash is $13. There was no brush that cleaned the windshield or hood of the car so its still dirty. Had better elsewhere.
11 months ago Bonita Caldwell
Great service and fast! A little pricey but not horrible.
6 months ago Linda McLaughlin
Ion got a car but my friends car pretty clean
6 months ago Jussi Nikkinen
Yesterday was my fist time and was fantastic good attended good service ???? I recommend this place
8 months ago Stephanie Butkus
Went here for the first time and purchased their most expensive auto detail package inside and out. I was there for about an hour and after I left I went straight to lowes to find out nothing had been done. Very disappointing. Tried to call and of course no answer. Will never go back.
3 months ago Jason Compton
The wash does great job but the girl that checked me out acted like it killed her to give me my receipt and rolled her eyes
8 months ago Justin VanNoy
Best carwash in the area hands down! Always a great experience with more than satisfied results. Noticeable difference in the strength of their vacuums compared to other washes. Also the amount of soap and water used for the cost is pretty great!
3 months ago Frederick Sutton
Always my favorite place to go, even with a jeep wrangler it seems to be the best wash, and hand detailing in NWA for only 13$
9 months ago Jeff Hendricksen
It was my first visit to this facility and I was very very pleased with the staff the location and the price and the service was great I would recommend it to everyone
10 months ago Ken Winters
Very good service friendly employees best vacuums in town
7 months ago Heather Ghali
Superb service and detail. It's not what you'd expect from a car wash
7 months ago Yianni Kosmides
Kinda spendy for a simple wash is all I was needing!! But they took care of you and your vehicle!! I really liked the fact that your vehicle rides along two belts and not just one chain on one side of the vehicle!! Smooth and got the vehicle clean!!
3 days ago Mary Murray
Awesome employees! I had bugs on the front of my car still after running through the wash and they let me run it back through again - no problem!
2 weeks ago Zack Turner
Absolutely love this place. Beat car wash in NWA
9 months ago Kevin Spurlock
Love this car wash. Our car always comes out the cleanest over any other drive through carwash. I love the fact they wipe down your car after you exit the wash itself. I always tip those guys. They are out there in the heat wiping down peoples' vehicles. They always do a good job on my vehicle.
4 months ago Natacia McKay
Amazing customer service everytime i come here
8 months ago Jack Cotton
Great bunch of guys and gals there. Always so happy to see me. Very helpful and they do a great job keeping my truck clean!!
2 months ago Duane Sanders
Good car wash they wipe it off to after you run it through
9 months ago ajinkya s
Excellent service detail oriented get you in and out with neck breaking speed. Planning on purchasing membership the value is just phenomenal.
10 months ago PB
Does a pretty good job, better than the others in town. Could do better getting the wheelwells clean.
2 weeks ago William Hearne
Very nice carwash, friendly staff, reasonable rates
10 months ago Sam Newman
I would like to say thank you to all the people that worked on my Jeep sport wrangler 4 door white . You all were great so thank you all again
2 months ago Carol Coker
A little higher priced but they dova fantastic job!
11 months ago Susan Hanks
First time here, I will definitely go back!!
9 months ago Adri B
Great carh wash.
6 months ago matthew gaming
They have a very nice setup and fair individual wash prices and a great membership. Car gets very clean.
11 months ago Billy Lile
It was quick and cleaned just fine
6 months ago DeAnna Vonderheide
I have the Platinum Membership and I love it. Wash my Yukon weekly there. Not a single scratch, always see smiles on employees faces, and always a quick visit. 4 stars is because it doesn't get my truck completely clean. It's a contactless car was so I'm not upset at all. I love the place.
7 months ago Kimberlei Carter
They did an excellent job on the interior but it looked like the back hatch of my car hadn't even been touched. I had to wipe it down when I got home so it looked as pretty as the rest of the car.
4 months ago Cold Management
Save the time and spend your money with someone who actually does a good job even if it's pricier. You get what you pay for - half done interiors, tires semi cleaned and not enough detailing. I had to vacuum my car and clean the seats …
4 months ago Steve Schrems
Wow I am impressed with this place the only thing I can say is even though the guy is at the end of the car wash will dry your car sometimes you got to ask him to actually do your tires but the fact is that my car has expensive tires on it …
6 months ago Marcos Alves
Forget Zip Car wash! Diamond Wash is the best! For $20+ Platinum tier same price as if not close to zip price. You get express hand towel wiped down and hand tire scrub to get those rims/tires shiny. These guys offer more than Zip car wash. …
7 months ago Erik Motley
This car wash is really good, cleans vehicles well. Details are definitely worth it.
1 month ago
Popular places from the category Car wash