Scooter Doctor NWA
Scooter repair shop Scooter Doctor NWA, 2201 C #3, S Thompson St, Springdale, AR 72764, United States:
15 reviews
of users and employees, detailed information about the address, opening hours, location on the map, attendance, photos, menus, phone number and a huge amount of other detailed and useful information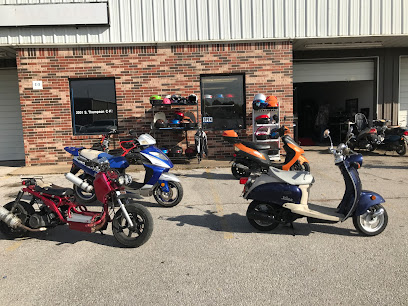 Address:
2201 C #3, S Thompson St, Springdale, AR 72764, United States
GPS coordinates
Latitude:
36.1636781
Longitude:
-94.1422961
reviews Micah Bryant
Courteous and helpful.
1 month ago Holly Burk
had to replace the entire fuel system on my moped and still having issues, I called for advice and one of them has been messaging me with sound advice and says he'd even be willing to make a stop by here to look for himself on his own time, as I don't have any other way to get around. THATS customer service
4 months ago Bobo B
Love my scooter, bought for 500 it has lasted me 4 months and going strong. I almost went to fayetteville and bought one for 1,299$!! Glad I was referred to Scooter Doctor!Actually went in yesterday and had them service it.Good people
4 months ago Patrick Poleri
I went by the location. It looks like they closed. I even knocked on the door for the location. This was at 2 pm on a Friday. No one is there. The sign and stuff on the window is gone.
2 months ago Raul Pleitez
My brother recommend me here and was not dissapointed.Really glad they worked with me on the price. 5 stars all day long.
2 weeks ago Ben Gibbin
We purchased a scooter here. I have in a message that it runs great and only has cosmetic damage. 2 days after getting it, it breaks down. When I asked them about it, he wanted $ to come pick it up. Are you kidding me? We then purchased a new battery. Worked for one day. Broke down again. We purchased this scooter as a way for my husband to get to work. Now, because it's just a sitting pile of garbage in our garage, we are having to pay every day uber for him to get to AND from work. Keith won't answer or return calls, messages, or anything. SCAM! Edited: I ended up buying a new scooter from a completely different company after having their mechanic look at the scooter doctor scooter. This mechanic found that parts had been put on backwards, broken parts had been used, and the wrong oil had been used. (This is how it was sold to me!) That company gave me a price discount because they "felt so bad that another person had been scammed by the scooter doctor". They let me know that the scooter doctor is known in NWA for selling scooters that work to just get off the lot, and then break. Of course, the scooter doctor has an "as is" clause in all their paper work. So when it undoubtably falls apart, their hands are Clean. But don't worry! They'll buy back the piece of garbage they sold you for $50. Of course, they'll charge you $25 to pick it up (since it won't be running) Stay away from this place!
2 weeks ago Jason Hicks
Yall literally dont answer the damn phone for nothin
3 months ago lisa fasola
Been going to scooter doctor before it even had a name, ive bought 2 scooters and one 90cc fourwheeler in the past of doing business there, they all ran great and ive even brought them in for tune ups and to be serviced,these folks will do you right.
4 months ago Mira Marnie
Known kieth personaly since he was fixing and building in his back yard now he owns a business he always fixes my motorcycles and the best part u can watch him if u choose so u kn okw what hes doing not very many shops will even let u see ur bike till it's done
6 months ago Joseph Meraglia
Sell these scooters with all types of broken parts I was stranded 45 mins from my house with no headlights cause they ghetto rigged the lights to work long enough for me to leave and they wouldn't answer the phone or reply to me messages when I tried to reach out and be civil about it smh don't waste your money with these guys!!!!!!!!!!!!!!!!!!!
5 months ago Robert Lee
Bought scooter 2 months ago,runs great.
6 months ago Lonnie Laster
Great business
5 months ago Jim Arnold
Scooter runs perfect, good service
6 months ago Scott Tolman
Good service, great scooters.
4 months ago Subrata Singha
Goo d scooters
2 weeks ago