Empire Beauty School
Beauty school Empire Beauty School, 568 Colonial Rd, Memphis, TN 38117, United States:
21 review
of users and employees, detailed information about the address, opening hours, location on the map, attendance, photos, menus, phone number and a huge amount of other detailed and useful information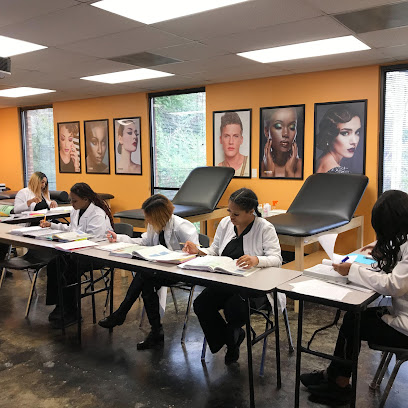 Address:
568 Colonial Rd, Memphis, TN 38117, United States
GPS coordinates
Latitude:
35.1154712
Longitude:
-89.9019571
Location on the map
Reviews Katelin Garchow
I've been going to Empire faithfully since 2006. I must say the stylist (s) and I've had many with star quality! ⭐ ⭐ ⭐ ⭐ ⭐ I would get major compliments on whatever style and I highly recommend this school. I absolutely love the students and instructors!!!!????????????
8 months ago Stephon Sims
The young lady that did my hair was very professional and I was very pleased with my hairstyle.
5 months ago Julia King
They very friendly, great customer service, very business professional, and my stylist Ms. J. Black is the domb on making you look fabulous, Hat's off to everyone at Empire Colonial Rd Location.
1 week ago Angie Miller
Great school, loved being more hands on !
9 months ago Sheila Zachariae
If you lady's really want to learn how to do hair this is the place.
11 months ago Patti W
This would be the perfect cosmetology school to sign up for next year.
4 months ago Rania e
My favorite place to go for my ME time.
4 months ago Emily Reimold
Late response. Went to this school unexpectedly and ended up having a great experience with student stylist Ashley Bowie. She did a great job on my hair. I will be back.
5 months ago Melissa walker
I see my comment was removed here, because my original comment is still on Yelp (where all the honest comments are they can't pay to have removed) Again, if you try to go to the Evening salon, best of luck. They are very inconsistent with hours, very rude and inconsiderate. They don't honor appointments and can care less how you feel.
7 months ago Jeremy Sheinman
My experience with Empire Beauty School was positive. The instructors were noticeably professionally instructing and assisting students. The student providing my service was very knowledgeable and proficient. Five Star Service????
2 months ago hooshang nikki
I went to the Empire Beauty School on Highland for a manicure this morning. Their students were out on a field trip so they gave me a 20% off coupon and told me I could go to the Colonial Rd. location. I waited at least an hour, maybe longer. When I go to the nail salon, there is usually a conversation about what kind of manicure--gel, acrylic or just polish on the natural nails. There were no questions asked about what kind of manicure, so maybe I should have just spoken up. The student nail tech did a good job of polishing my natural nails. At the salon, I usually sit at a drying station. Here she just used a personal fan for about 5 minutes. My nails were dry to the touch but were not completely dry. I have damaged the polish on 3 nails since arriving at home. The instructor did not look at my nails before I left. Then when I checked out they said they could not give me 20% off a $5 manicure. The coupon said, "We're sorry we couldn't provide you service today so here's 20% off for your trouble." I thought they were wrong not to honor the coupon but by then it was one p.m. and I was just ready to get home and eat lunch so I paid them and left.
5 months ago Jon B
I went to this school, not worth it you basically learn everything on your own ALL most of the instructors do is be in their own world talking about things that has NOTHING to do with what your supposed to be working/learning... I went home one day after school hurting ended up in the hospital & ended up having to have emergency surgery stayed in there for a couple day I let my instructor know. Then when I was discharged I was told to stay home for a week (got a doctor's note btw) & do a follow up with my doctor so I went to doctor she said I can return to school in a week.... (got a note) contacted my instructor & told her if she wanted me to fax her the doctor's excuse & at first she said yes then I kept asking her has she received it yet she said the fax machine was down to wait until the next day so i did & then i asked her did she receive it yet & she said it was still down & I said okay I will wait till later I sent it then I kept calling her texting to see if she has received my fax yet no response (I called/texted my instructor & I called the school) NO RESPONSE !!! I did that for about 2 or 3 days then it came time for me to come back to school so I try my instructor again the day before school I ask her did she ever receive my doctor excuse or does she just want me to bring it in? Her response is "you`'ve been terminated for 4 days now" !!! NO ONE answered my calls/texts within those days at ALLL! She nor no one else bothered to call/text back & respond to me let alone let me know i`'ve been terminated. I owe money now that I shouldn't even be owing because of my absent which was ALL excuse btw smh!!! Don`t waste your time or your money.
1 month ago Dear Shelley
empire is the best school .! I would refer anybody here.! they have the absolute best insructors.! if you don't learn its your fault because they constantly go over the material you will need.!
5 months ago Tom Carsner
This place is great ! I went for a tour & they are so welcoming . Made me feel at home . Staff explains everything thoroughly . They made me feel like I could be myself
11 months ago Beth Kailukaitis
Great school!..great service!..Great staff!..
1 month ago Peter Duckett
Very courteous instructors and students. Professional services performed exceeded my expectations.
11 months ago Cheryl Spillman
Great school
6 months ago greg cook
Great schools make you feel right at home
10 months ago Akshar Patel
The girl answering phone was diffucult.. I called the wrong one u found out with a 10 min conversation love the Empire on Highland
9 months ago Danny Chong
This school is most racist school i have ever been to in my life. The students and the staff RACIST!!!! I. Could not talk with any one at this school about it because they would like gang on me in verbal abuse. I wish i new cooperates Number and report them.
8 months ago Amer Safi
Nice clean neat
8 months ago
Popular places from the category Beauty school