Nail salon Tropical Popical
Nail salon Tropical Popical, 28 William St S, Dublin 2, D02 DX47, Ireland:
119 reviews
of users and employees, detailed information about the address, opening hours, location on the map, attendance, photos, menus, phone number and a huge amount of other detailed and useful information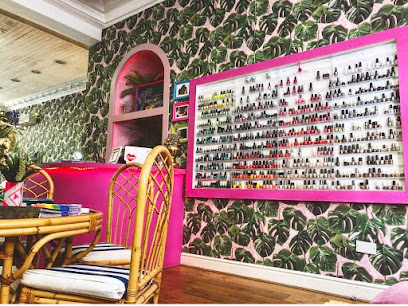 Address:
28 William St S, Dublin 2, D02 DX47, Ireland
Website:
tropicalpopical.com
GPS coordinates
Latitude:
53.3415790
Longitude:
-6.2631310
Location on the map
Reviews Judith Noameshie
Always a top notch service! Not only are the technicians thorough and highly skilled, they care a lot about the quality of their work and will make sure that they are happy with the standard of your nails! And, they're just sound and lovely people. I always come out with a big smile and feeling better about my day!
2 months ago Lashonda Annison
4 weeks ago today I got this Gelish done (on my own nails, no extensions). No chips, cracks or peeling in sight! Highly, highly recommend any of the girls in Tropical Popical, they're all fab and all the staff are so friendly.
11 months ago Brian Bogle
So happy with my shellac. Perfectly trimmed cuticles. And most importantly, they were very thorough in safety procedures for preventing Covid. Cannot remember the name of my service provider (had tattoos down both arms) but she was very nice, and made sure I didn't touch my phone throughout the service, otherwise I would have to sanitize my hands again. A very vibrant colourful salon. Very unique. I will be back for sure.
1 month ago Sabine Pochon
Love this place. Always do a great job and the place feels very safe. Hand washing station for the client and sanitiser before they start. Everyone was wearing masks so it felt very safe. Plus had a great chat with the nail technician.
3 months ago Steve Johnson
Really beautiful job, thin and delicate, great shape. Would highly recommend. Well worth the price.
9 months ago Michelle Brown
I absolutely love Tropical Popical! The salon is vibrant and so much fun. I've visited in the before times, as well as more recently. I can honestly say, I felt just as comfortable and relaxed there as in pre Covid times. The staff take lots of precautions (wearing masks, providing masks for customers, social distancing and more) while keeping a relaxed and very enjoyable experience. The prices for treatments are very reasonable, will be coming back and definitely would recommend!
6 months ago Patrick Walsh
Had a absolute amazing time and a great service delivered! I'm already rebooked for my next visit! Highly recommend it!
1 month ago Matt Stearns
I went for the first time to Tropical Popical and will go absolutely again and again!! They were so lovely over the emails - girls explained me everything. I had a late appointment at 6.30 pm but girls were so nice and provided such a good customer service. Amy did such a good job on my nails. Vibe was amazing, service was amazing and girls are so lovely... what else to ask for :)
7 months ago Pritha ghosh
Amazing experience from start to finish :-) from my cheeky last minute email the day before, to the appointment itself. Had my nails done by Amy and she was fab x felt incredibly comfortable and safe. I will be back and im bringing friends. Thank you ????
4 months ago JP Keyser
Love this place. Staff are amazing. Covid protocols very good and they even sell MASKS!
3 months ago Vince Wallace
The best place in Dublin for nails, could not recommend more highly! The gals are all super friendly, incredibly talented, and I always leave the salon feeling better than when I went in. I also love being able to support a women-led and women-owned business!
8 months ago Thanh Dao
The girls are very rude. Poor quality products. Never again!
10 months ago Bar Wolk
Had a manicure today .Firstly I had to reschedule not a bother very polite. Manicure was top notch .super professional lovely girl top points . Loads of compliments today on my manicure which gave me a real lift . This salon is top of the range would highly recommend.
6 months ago Amy Aliazzo
Loved it. I'll definitely be going back. I moved to Dublin a couple of years ago full time and have been trying loads of different nail salons since then trying to find a decent one. The price at Tropical Popical is a bit higher but from my experience it seems worth it. The staff a super friendly and nice to chat to. The music is great and the decor is amazing. My nails turned out stunning and I've been getting so many compliments on them. The price for refills is a set price and it doesn't matter if you have one or two nails that the extensions broke off they dont charge extra to replace them. The technician who did mine actually replaced my 1 broken nail but also she replaced 3 that weren't broken but had been cut either too short or shaped too badly to just file. She them completely transformed the shape of my old set to look gorgeous and like new which is amazing because of how misshapen they were before! UPDATE: I took a star back because after less than a week nearly all of my nails are lifting and 2 fell off completely. They didn't break they fell off in one perfect and undamaged piece and luckily I have professional nail glue at home but I had to stick them back on! When the woman did the refills I feel like maybe she pulled too much of the existing gel off which loosened the bond on my nails. Normally when I get refills done they just file off the gel polish and then add gel to fill in the gap and fix the shape but she actually pulled off almost all the gel except about 2mm at the extension. Also one of the nails that came off is one of the ones that had been taken off completely and replaced so I'm not sure why exactly or what but something is definitely not 100% right. Its like when I try and do gel at home tbh and they dont bond properly. Not sure if it's because I over cure or not using the binder correctly but I do all the steps including dehydrating etc
7 months ago Courtney Matz
They do a great job. They're lovely. Very funky decor.
5 months ago michaelheffez
The place is very cute with lots of colours and crazy ornaments like an out of nowhere zebra. The staff are friendly girls who manage to strike up a conversation with the biggest introvert. Only pity that the mini mani I got was ruined only after one day, chipped on most fingers. I'd say they should invest in higher nail polish quality (some of the bottles are from h&m).
10 months ago Lisa Attenborough
Stunning nails and always amazing work. You really get what you pay for.
5 months ago Chaotic Spectrum
Practically perfect. Amazing energy, high quality, attentive to details and fab environment. Excellent communications in booking. Only complaint is the mani chairs are not comfortable.
11 months ago AB S
I got my nails done here for my wedding and so far they have lasted longer then shellac ever does on me.
9 months ago Alysha Cameron
Would definitely recommend. The women who work there are lovely, and took the time to talk about what I wanted and advised me on the best treatment. I'm already looking forward to my next appointment!
8 months ago Bornali Hazarika
Awesome spot. I went with my daughter...the girls couldn't have been nicer, gave us both star treatment. Will 100% be returning!
11 months ago Inge Yde
This is a brilliant beauty salon in Dublin! I found it online and I loved the funkiness of the place and the quick response on my email appointment request. The staff is very helpful and really good at their jobs where the environment is buzzing with uplifting music. I did my manicure for my wedding there and the girls were so helpful , they even gave a gel manicure for free as I destroyed the classic plain one in less than an hour. Honestly, they made my day! See you when I'm back in Dublin :)
11 months ago Wesley Brooks
Great mani pedi. Just impossible to get an appointment. But really enjoy coming here. Nice atmosphere
6 months ago Khadijah Beyah
A must place to visit, ideal location in the city centre, the nicest mani ive gotten in a long time, i will be back fiona
6 months ago Katie McDaniel
Had such an enjoyable treatment and the staff treated you like a friend, wish there was one in Galway!
7 months ago Taylor Libby
Excellent nail salon, staff are lovely and the quality is top notch. The nail art they offer is fantastic too. Highly recommend.
8 months ago Marcin Voshena
Always excellent quality nail art and friendly staff. Complimentary soft drink and chocolate offered to customers. This is my number 1 go to place for nails.
6 months ago Karla Berry
The place, decor, nail techs are great. However, my nail extentions started to lift around week 2. I was very dissapointed and sad to have payed that amount of money for something that didnt even last through-out my nail growth :(
6 months ago Emmanual Vlassakis
Everyone here is super friendly and brilliant at doing nails!
8 months ago Kimberly Elliss
Amazing work ladies! Got an appointment for the same day (life savers!!) , place is hoping, ladies are chatty, lovely and talented! Job is really well done , great attention to detail - delighted with my glittery nails - right on time for the festive season! A bit on the pricey side but really worth it :) Recommend and will go back !
9 months ago Allie Barbeau
My favorite place to get my nails done! Love staff and great atmosphere. Always supporting important causes too which is a great bonus x
7 months ago Rob Wolff
They do absolutely great work here, and the girls are lovely. My nails always come out perfectly shaped and applied and I get tons of compliments. My only complaint? They jam the music on WAY too loud, so it's easy to miss the good craic!
11 months ago Mark Cydrus
Beautiful place guys just go there without worrying definitely u will have great time here
5 months ago Samantha Pepper
Lynn did my nails and did a wonderful job . Such a great girl , she put me at ease and we had a giggle too . Looking forward to my next visit .
6 months ago Exodus MKE
Absolutely love this place. The girls are so friendly and so talented at what they do. I messed up and missed my appointment on the week before Christmas and they were still able to accommodate me. Gems. Wouldn't go anywhere else
11 months ago Luz Perez
Friendly staff, Bali and tropical like vibes from the decor, talented nail artists and great quality.
7 months ago Claudette Turner
5 stars just for the name. Also, lovely people.
6 months ago Judy Wearmouth
I have been getting my nails done (gellish) with them for about 6 months now and absolutely love it here. The ladies are always so nice, and your nails are "insured" for 7 days! Once, I somehow damaged one of my nails after a couple of days and they offered right away to fix it for free. They're the best.
1 month ago Ariel Riber
I've been here twice now to get gel nails and every time I have got them done, most have snapped within a week. It also took the last girl 3 hours to do refills - which cost 60€! Completely over rated - sorry girls!
1 month ago Frank Pitto
Was there for my hen party, beautiful salon and very funky but found some of the staff incredibly rude and not at all a pleasant experience. Very disappointing. Also, very poor quality polishes. Would not recommend.
6 months ago Marek Casimir
Amazing staff and great service ???????? Will definitely be going back!
6 months ago A Jones
A cornucopia of creativity! Staff are more like artists than beauty technicians. Girls absolutely loved it. Only minor quibble would be smell of the chemicals, which still seems pretty pungent to me, despite the extractor fans. But I guess it goes with the territory. Staff are fab.
9 months ago Waldhausen Shawnee
Got my Christmas nails done here. The detail that went in was amazing. Such friendly and welcoming staff. I was getting compliments all month.
11 months ago Eternalnerd
The absolute most fabulous nail bar there ever was! The most amazing ladies funny kind and give the best treatments! I look forward to every visit I always have a laugh when I go in and couldn't recommend them more . Jessie Daly in particular does a fab set of gels
8 months ago mark olson
Really disappointed with their nails, one broke the day after I got them done, then another four have not only broken but fallen off, it's been exactly three weeks and for the price of 50 euro I think they should have at least all lasted for 4 weeks. One fell off while I was opening the microwave, one when I put my hand in my bag etc! The actual nails were lovely, as were the staff! Probably just got unlucky but won't be going back.
8 months ago Jackson Aaberg
Fun, fizzy set up and bopping tunes
6 months ago Pam Currey
Got a great manicure and some advice for my worn out nails. The staff are fantastic and so so lovely. The salon itself is fun to be in! Love it and can't wait to make my next appointment! A real treat!
5 months ago David Lynam
There is so much that I love about tropical popical. I love the owner, she's gas and whip sharp. I love the ethos of the place. Not something you can say about many nail bars. It's unapologeticly pro choice and pro woman in a way that's hard to get across in a short review. I liked my experience the with my mini mani. The girl who painted my nails was lovely. And the Mani itself has lasted nicely. It's day 4 and no chips. Just some wearing at the tips. My only gripe is the selection of non shellac colours wasn't fantastic. There were some crusty bottles and some cheap polishes. And I expected it to be fantastic. If this changed, it would make all the difference. I've no doubt that the nail art is amazing, but it didn't meet all my needs.
2 months ago HGIP USA
I've never been one to get my nails done, but after being to Tropical Popical, I'm totally addicted. I come every three weeks now. The girls are all absolutely fantastic at what they do. Every one of them loves a good chat which makes all the difference. They're extremely accommodating if you have to change your booking to add or remove people, even if it's slightly later notice than required. I would recommend them to any of my friends or family, really and truly. I cannot say enough how lovely they are. And sometimes you just need a good girly chat and some TLC.
7 months ago T Banacek
Was looking forward to trying this place. My experience was grand, girl was friendly and nice but my nails smudged three hours later.... they were still not fully dry, perhaps a top coat would have helped. Didn't enjoy the overall experience. Much much nicer nails bars in town that aren't as expensive. Won't be back.
5 months ago
Popular places from the category Nail salon