National Portrait Gallery
Art gallery National Portrait Gallery, St. Martin's Pl, London WC2H 0HE, United Kingdom:
220 reviews
of users and employees, detailed information about the address, opening hours, location on the map, attendance, photos, menus, phone number and a huge amount of other detailed and useful information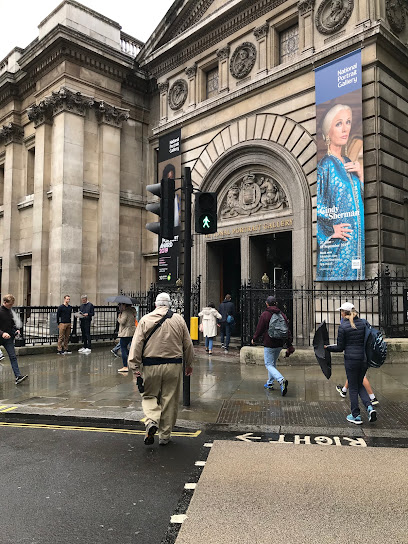 Address:
St. Martin's Pl, London WC2H 0HE, United Kingdom
GPS coordinates
Latitude:
51.5094236
Longitude:
-0.1281216
Location on the map
Reviews David Cheng
I accidentally got into the museum and it was one of the best "mistakes" I have ever made during my visits to London. The art is extraordinary and tells fascinating stories to the visitors. I would highly recommend visiting there especially to history lovers.
11 months ago lubna rustom
The National Portrait Gallery, is a lovely museum to stroll around for a few hours. They have a broad collection of art, beautiful things from all over the world. Personally, I really liked all the paintings with animals and flowers, which they have a lot. Besides the art, the historical building of the museum is really impressive as well. The staff was very helpful and of course it is always nice that the museums here are free to enter. I would definitely recommend the portrait gallery if you're just in London for a few days.
6 months ago Cartin Andrei
I love coming here (or rather used to love, it's been closed due to Covid) just to stroll around. The interiors are an art on its own, the atmosphere is just fantastic, not to mention the significance of paintings available. All combined is a unique experience that never gets old.
1 month ago Paul DesRochers
One of the loveliest museums in London. Beautiful building - well lit. Disabled friendly. Good rest room facilities. A beautiful collection of artworks from the Tudor period. The museum displays well documented pictures with wide space to walk. It is quiet and warm. Features modern art collections and currently an exhibit/collection of post world war paintings. Definitely recommend a visit
10 months ago Jasmine Hawkins
One of the best free museum galleries in Britain. It specialises in portraits and the early Tudor and Jacobean section is my favourite with fantastic original oils. Great research collection, shop and educational programmes. At the moment it is closed for refurbishing but is accessible online.
9 months ago Maria Stein
I thoroughly enjoyed my time here on a warm, sunny, London afternoon. It was refreshing to enter into a free museum for a cheap traveler looking for culture. The outside of the museum, walking through Trafalgar Square, is an amazing experience on it's own. Inside the gallery, you will find so many amazing pieces of art. My favourite is the guy holding the piece of paper like he just got charged 2k to fix his car.
7 months ago Kaitlyn Schneider
I went there in 2019 and I love it. By the way Francis Drake was an English corsair, but in Panama we consider him a pirate. Filled with paintings and portraits of historical figures
4 days ago Pranav Agarwal
This place combines portraits within over 800 years period! I love English history, and it is such a pleasure to visit places like National Portrait Gallery where you can see original paintings of great monarchs (including amazing picture of Elizabeth II with her dog), famous women, beloved and beheaded wives, important historic scenes and events and admire the modern artists' works! You can spend hours in this place and get such a great inspiration! Do secure some time for this gallery when visiting London
10 months ago steve hatch
Full of rich culture and various great artists
11 months ago Tara Mason
If you are interested in art or photography (which can also be art) you definetly should visit this great gallery and museum. It is super inspiring. Went there already a few times. Great bookshop and coffee shop. Go there and spend a few hours looking at their amazing collection.
10 months ago christine chase
Nice change of pace to the National Gallery. All is a bit more condensed, but still very impressive collection of portraits. And of course, it is free. Probably best to go during the week to avoid big crowds. Staff seemed bored as usual in big central tourist attraction. You also can play the game who you would like to hook up with and take pictures of the portrait and then compare with your friends in the end :-)
2 weeks ago Wayne Randall
Imagine yourself in Tudor England having just been asked to paint a portrait of your monarch. A monarch who believes they have the face and figure of a Greek god, but who actually has the face and figure of a pickled goat's head stapled to some bagpipes. You have a burnt stick, some dry mud, and an egg. If you're up to date with the latest art technology, you may also have a bag of seeds. And if you get this wrong, it won't be your painting that gets hung. Fortunately some Tudor artists not only got it right, but their work has survived for 500 years and is now on display here, alongside many of Britain's most famous faces. It's impossible not to be impressed. In some areas it does feel more like a catalogue of noteworthy chaps rather than a collection of art, but the best sections more than make up for that. I personally like the half-finished, not-very-good, only-one-we-could-find, type of portrait. It makes a refreshing change from some of the formally posed, hand on a book, portraits. The only portrait I have of myself was done in purple crayon on crumpled paper, and is basically a picture of two smiling potatoes and some twigs. I think I'm the potato on the left. Maybe it would help if there were one or two smiling potatoes amongst the Victorian Statesmen.
4 months ago Hemera Maybonni
Exquisite pieces of art from British history right next to Trafalgar Square. Very easy to get to in the tube.
2 days ago Nicholas Woods
Very beautiful and diverse array of portraits available on display. Thoroughly enjoyed my visit and was surprised by some of the more iconic portraits I found here. I particularly liked the monarchs rooms as well as the contemporary portraits including some of my favourite celebrities. Would recommend visiting this gallery as a must see when you're in London. I spent about an hour and a half here and saw all the portraits available but if I went again I would slow down my pace and take my time absorbing all the wonderful art available.
2 days ago ben feldman
An amazing experience of seeing the most well-known people on their portraits. A lesson on the history, culture and art in one go. I definitely recommend.
11 months ago Sarah Koon
An absolute must visit site with Nelsons Column, the 3 Lions, water fountains and the national gallery all in one place. Magnificent for anyone who has not yet visited.
8 months ago Frank
A wonderful museum heralding portraits of Great Britain's past and present. Kings, queens, prime ministers and cabinet members are well represented as well as special exhibit of nationally acclaimed portraits. Also there are several seasonal gallery areas worth visiting. I tried to show in my photos, a sampling of the wonderful portraits in this exquisite gallery. It is well worth a visit. Plan on at least 2 hours to really do the gallery justice. It is free.
10 months ago Fausta Cabrera
Great place! Lots of art to see of different styles, great that it's free entry with optional donations, as it means it's something that you can add to your day, to your lunch break and it doesn't cost lots. A lovely way to add some culture, talk about time periods and spend some time!
10 months ago Joe Moss
Having it free makes it really worth it - you can pop in or out without feeling bad about how long you're there for. The paintings, though nothing unusual/very exciting, show how art and the way people are portrayed, evolve through time. Would definitely recommend.
8 months ago Michael Newman
It's a wonderful place to visit and I hope they will open when their website states they will in a few years time. Educational fascinating and some dated styles are similar to the present time.
1 month ago Travis Seymour
The place to see The Art, to feel the atmosphere of the times long pass by, and of course the times modern. Portraits are overwhelming, the venue is just perfect, when I go there and browse the gallery I am out of time, just the images and sculptures of the moments in time and people immersed in them. Of course the gift shop is standard, the bookshop is great, no mention of the coffee shop on top of it, but they should work on the prices there. Overall amazing experience I am repeating it as often I can.
11 months ago Mike Mckinney
This museum is awesome. I love portrait paintings. I assembled paintings of Queen Victoria in chronological order. You can watch her age through oils instead of Kodak. Her ages are 21, 23, 37, 43, 56, and 78. The last painting is titled, "4 Generations." With her is her son (Edward VII), grandson (George V), and great grandson (Edward VIII).They all became kings.
4 months ago petro humaun
Been many times, this time for Hockneys Drawings. Great space, well curated exhibition and carefully selected items in the shop. I never leave empty handed!
2 months ago Blue MountainCur
One of my favourite places in London is the National portrait gallery. You can always loose yourself finding new details on portraits you have seen before. There is truly something for everyone, from old masters to new contemporary portraits. Most of the museum is free barring the travelling exhibitions. Don't miss the cafe in the basement for good coffee and decent food.
1 week ago Morten Bruun
The National Portrait Gallery is closed until Spring 2023 for refurbishments. We got in just before. It's a treasure trove of British portraits, historical and contemporary.
9 months ago Alison Kavanagh
Awesome place well worth checking out! Suggested donation of £5. We spent almost two hours here exploring all of the various portraits. Lots of seats to rest on, and also lots of information for each painting.
11 months ago Justin Erfort
Free entry and lots to see inside. Important to note that this is probably not a great place to bring young children, as they are likely to get bored quickly. However, there is a variety of styles on display including some more contemporary portraits. Nearby Trafalgar Square, the national gallery, and not far from the British Museum.
2 weeks ago Jason McCrory
A beautiful gallery. Lots of really interesting art and great air conditioning on those hot London days! Free entry (donation suggested). Very easy to find and some fascinating pieces.
10 months ago Vivek Anandh
Nice gallery. Lots and lots of different portraits. Some things are free to see, but for some you need to buy ticket. You need some time to see and go through all of them. Also there are students studying for art and trying to make some drawings.
11 months ago Michael Williamson
Highly recommend for an hour-2 hour visit. Lots to see, very impressive portraits that you'd swear were photographs and not hand drawn! Also the building itself is beautiful.
8 months ago Troy Parks
LOVED it !!! I have been following this museum for years on Instagram so glad I got to see it in the flesh. I was not disappointed. The museum is free and runs on donations. There is so much art (from the 17th century and beyond) it is truly overwhelming. The building itself is a work of art! It also located in Trafalgar Square. I was sad that I did not have enough time to visit this museum. They do have certain exhibits (like impressionist artists) that do change so check beforehand that do cost money to enter. But it was about 10 pounds per person. Trust me if you love art, you will not be disappointed :)
11 months ago Darlene Coffman
Probably not as well known as the National Gallery, this is a fascinating free gallery in London with many interesting and probably expensive photographs on display. They do exhibitions and I liked the Bobby Moore photographs as they gave an insight into his life outside of football. I enjoyed my visit although, as it is free and in Central London, so did a lot of other people so it was very busy and maybe not always the best way to admire the photographs
1 month ago Roy Tuttle
Absolutely beautiful, mind boggling how these artists painted these amazing pieces of work. I love art, Im a Graphic Designer by trade, and then pieces are just inspirational. Love it, so moving. Great for anyone, any age. They have different exhibitions on and most of the museum is free. Perfect for a day out. Centrally located at Trafalgar square.
1 month ago kahmiah g
The National Portrait Gallery (NPG) is an art gallery in London housing a collection of portraits of historically important and famous British people. It was the first portrait gallery in the world when it opened in 1856. The gallery moved in 1896 to its current site at St Martin's Place, off Trafalgar Square, and adjoining the National Gallery. It has been expanded twice since.
8 months ago David Adams
I love this museum.full of interest. I have been coming to have look for many years Whenever I leave this lovely building I feel cherrful. And another advantage it is free of charge .I live in London and can access it any time.
6 months ago William Goode
Love this place. Just pick out a section and enjoy. Something for everyone
10 months ago Konstantinos Vlachos
We have been to the National Portrait Gallery before, but the latest visit was to see the Michael Jackson: On The Wall exhibition. Thoroughly enjoyable, we were there for around 2 hours. It wasn't packed with people which meant we could see and read everything clearly. We had a drink in the cafe too, which was reasonably priced.
2 weeks ago Simply Delivery
I could come here every day, sit in front of a masterpiece and never run out of inspiration. We've visited countless times and always found something new and to be proud of on behalf of the human race. My best advice is to take it easy. NPG is one place where completing a full loop in one go is probably too much to take in.
2 days ago Maria Modesto
Fantastic gallery, such an enormous collection of portraits, and so many differing styles. Modern portaits as well as historical ones. Particularly enjoyed the Cindy Sherman exhibition which opened today. Lovely calm feel to the gallery, not overcrowded. Just a shame it closes at 6pm, would have been good to have been able to spend more of the evening here.
9 months ago Hector Anguiano
Great gallery with free entry, and also a nice place for stay to see the street show. It's also a place you can see the Big Ben different view, really great for visitors and photographer!
8 months ago sarah brown
I love it! I always come here when I visit London. Even if it is just for 30 minutes. It spans centuries of portraits. If you are lucky you come here when the BP Portrait Awards are showing to gain an overview of modern art and styles - impressive. The faces will linger in your mind. Tip: don't forget to have high tea in the portrait gallery and don't forget to reserve in advance. The views over London combines with the dishes are superb - friendly French waiters included...
2 months ago Arryn Beer
National Gallery of Portraits, holds the most extensive collection of portraits in the world. Beautiful building. Free for main exhibits. £18 for the temporary exhibitions. Was very busy but everyone was enjoying the calm and history of this cultural gem. The floors are grouped by period, the oldest portraits being in the highest floor. There is a gift shop. The Portrait cafe is very busy, we could not get a table. The price of a coffee is £2.70 so not too expensive.
2 weeks ago Neil Teitelman
Being a person who is very interested in historical eras and icons in them, this gallery never fails to disappoint. The art is so fascinating and well upkept, with art and new exhibitions being added fairly regularly. Staff are very welcoming and don't force donations out of you, which is comforting.
2 months ago KIM ULRICH
Great gallery. Free to visit, only have to pay for special displays. Could spend four hours here with a great cafe and gift shop.
4 months ago Barb Miller
Interesting gallery featuring portraits of people from different epochs. I enjoyed visiting it very much ????.
10 months ago Erin Hutt
Love to pop into this gallery whenever I'm in the area. It's free and has loads to look at. The restaurant on the top floor is well worth a visit as well.
11 months ago Syed Ahsan
Visiting The National Portrait Gallery is always a special experience for me. I always visit alone, to roam at my own pace and give each work of art the attention it deserves. I'm always stunned by the artistry from this generation's most talented painters and sculptors, and the thought process they explored to execute what we see. Visits are constantly educational and entertaining for me, and visiting is at the top of my suggestions for things to do in London.
11 months ago Sree Eyeconic
Its free and the Art is great. What's not to like? A must see place. You will need at least 4 hours to enjoy the art. Could probably to a quick tour in 2 hours. So go there on a full stomach :) Lifts available.
11 months ago Aashish Talwar
Amazing place to visit when in London. The gallery holds great portrait collections. Highly recommended for all ages and great learning place for kids and young on art and culture.
10 months ago Sam Newman
Good overview of British history. Would have been great to get a booklet to tell us that we were seeing. And maybe a family tree like they have at the start of each room
2 months ago
Popular places from the category Art gallery