Scottish National Gallery
Art gallery Scottish National Gallery, The Mound, Edinburgh EH2 2EL, United Kingdom:
220 reviews
of users and employees, detailed information about the address, opening hours, location on the map, attendance, photos, menus, phone number and a huge amount of other detailed and useful information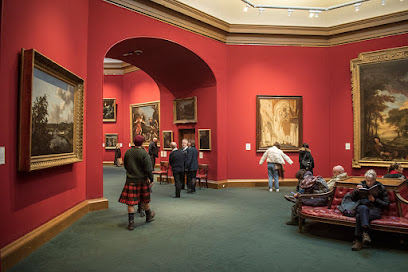 Address:
The Mound, Edinburgh EH2 2EL, United Kingdom
GPS coordinates
Latitude:
55.9509020
Longitude:
-3.1956862
reviews AXL
Very nice place to roam around and the art gallery over there is superb ???? Do visit it if you want to see wonderful paintings. The whole area has a really good vibe.
10 months ago Eilyn Cueto
Very well organised & managed social distancing, great staff, greatly reduced gallery/collection currently visible.
3 months ago Joy Martin
Love this place, so nice to get back after the year we have all had!! How lucky we are to have access to such incredible art works!!!
3 months ago John Dunlap
Amazing collection, lovely experience and all staff are very friendly and kind as well. A must when you come to Edinburgh.
8 months ago Terry Cole
Nice place for a short weekend visit. Staffs are taking proper precautions during Covid situation.
9 months ago Soheil Aharpoor
Had a nice look round the Scottish national gallery from looking at the self portrait of Rembrandt to the monarch of the glen it is well worth having a look and best of all it's free. The only downside was we couldn't go upstairs to look at the impressionism section as this was closed off due to covid
10 months ago Patrick Hackett
Great exhibits! Full of great paintings and the occasional sculpture. Sit down and enjoy the strange silence as others enjoy the paintings. It was fantastic you don't have to worry about knowing your artistry, amazing paintings and old …
6 months ago Tyler Barber
Relax atmosphere at the moment. At this moment you need to book in advance. The website is a bit chunky, it works well, but you need to go through a number of pages before you actually can get your free ticket. I booked just 30 minutes …
10 months ago Fernando Jantarada
Didn't get to go in but at least I got to sit outside and enjoy the view of everything around us ????
3 months ago Meet Jhatakia
Hello Rembrandt! How does if feel sitting next to Da Vinci and Van Gough?
11 months ago Richard Pace
Great building and some fantastic and very important artworks in the gallery. It is not a huge gallery, which is part of the charm of this wonderful space. One can easily while away a few hours here. The Scottish National Gallery is a must see when in Edinburgh.
8 months ago Shannan Duncan
Spent some time looking around the National gallery in Edinburgh and was very impressed. Some fabulous works of art and some amazing statues. The decor of the gallery was first class. I went in September so not to busy but very crowded during the summer holidays. Definitely worth a visit.
4 months ago Lubasha Fed
It was nice to see a quality exhibition with a good collection of exhibits.
2 weeks ago Tammy McIver
Amazing place! You will find paintings by famous painters: Vermeer, Van Gogh, Monet, Cezanne, Gougain, Leonard Davinci, Rafael and Boticeli. The staff deserves all the appreciation. Admission is free but you need to book online.
3 months ago Ernest Williams
Beautiful pieces of art here. Nice to spend the afternoon.
4 months ago Laura Lanham
If you are an art lover, this would be a good place to visit. Though the area is not that huge and you can probable explore it in about half an hour or 45 minutes if you want to stare at the paintings for a little longer, it still is an interesting place to visit. The Midsummer Night's Dream painting is part of their collection.
4 months ago Abood Albannna
Lovely fine arts gallery chock-full of a rich tableau of painting and sculpture from 1300 to 1950, and is a manageable size to be taken in in an hour if you go quickly or an afternoon if you take your time. Considering the size of the …
4 months ago Monica Dang
A beautiful building situated on Princes Street right next to Waverley station looking up to the royal mile and Edinburgh Castle. The galleries are free to enter, but donations can be made and there are shops and a cafe. The range and …
7 months ago Susan Buluran
Amazing place! So much to see and do. Lots of interactive attractions. And the cafe is good too.
3 months ago Kun An
Superb array of paintings. From the skating minister to the Monarch of the Glen. The paintings are themed well and give you a good sense of the important collections on display. The building is so central to Prince's Street and the …
8 months ago John Lagnese
Great Bridget Riley exhibition showing her development throughout her entire career. The scope of works is very broad even including an immersive 3D art piece as well as many early drawings. My favorites however remain the colorful abstract …
4 months ago Jonna Wright
The Scottish national gallery in my eye has a problem the placing and balancing a picture within an exhibition it is crucial to have an esthetic eye to hang works for an exhibition ,my visit today the gallery has placed an important self …
4 months ago Tracey Taylor
Another fantastic free museum in Edinburgh, although donations are encouraged. It displays a range of paintings. Very interesting and a great central location. Not sure why you can't sit in some of the chairs though.
7 months ago Vicente Escriva
What a pretty picture Gallery experience it was. Such a lovely picture Gallery at the heart of Edinburgh. Scottish National Picture gallery can be accessed in less than 10 minutes walking distance from the Waverly Train station. The Gallery …
9 months ago Tam L
I'm giving the gallery 5 stars, even though they were undergoing a big refit when I was there, and it felt more like a work-in-progress than the main gallery of a capital city. But for the price - free! - there is still so much to enjoy, even if your visit is curtailed by the work going on.
4 months ago Grace Alexander
A beautiful gallery. Such a calming place in the middle of Edinburgh's hustle and bustle.
5 months ago Eric Dafop
Fantastic place. And all free. I could spend all day watching all the beautiful art
9 months ago Angelique Rivera
Fantastic place to stop and wonder. If you like art or just want to slow down for a day and relax while looking at more than your phone it's perfect. Free entry, so what are you waiting for?
9 months ago Jack McDaniel
Great eclectic mix of stuff Well laid out and loads of interactive notices.we had an organ recital and Linda mccartney exhibition as a bonus so worked for us.a gem in the centre of Glasgow. Great shops although expensive but only to be …
4 months ago rob lynch
Great gallery. Free entry like most national galleries in the UK. Smaller than I expected but worth a visit.
9 months ago Karkeis Artis
Amazing and beautiful place. Cant wait to return and look at all the stuff I missed.
5 months ago JAYPAL RAJPUT
The layout planning and sense of space is good, practical, no depressing museum feel, bright, open, not pretentious, straight forward yet not so straight forward and inviting. Very rich in content.
7 months ago Judy Dorr
Excellent day out especially if the weather is bad. The entrance is free but you may be asked for a donation Lots of interactive stands. Excellent views from roof terrace. The staff very knowledgable and friendly. I reccomend it.
4 months ago Brenda Norris
Just love this place. Contemporary, clean, spacious with great exhibitions always going on there. The feast for the eye, the balsam for the soul and the food for thoughts. Also there is a marvellous cafe there ; a cosy place for rest and relaxation. Be inspired????
11 months ago Ortwin Schmidt
Great choice fo those who would like to feel the art. But not too long:) Beautiful pictures and very comfortable Museum itself
6 months ago amber stone
Walked into the Royal Scottish Academy on Princes Street by mistake. We soon realised the gallery is actually located behind the academy building. There are some amazing pieces and the size of the gallery is manageable, making this a brief …
9 months ago Jonathan Gerstenberg
Situated near to Waverley train station, the National Gallery is an amazing place to visit. There are many famous works of art in the Gallery. In my opinion, These pieces of tremendous art are the best of Daddi, Degas, Duncan, Gaugin and Singer-Sargent! (Photos taken on iPad 6th Generation)
7 months ago P marko
They had a nice variety of artists from different periods. Excellent way to spend a couple hours. And being free is always helpful. I always drop several pounds in the donation boxes.
9 months ago Cassandra Rose
Some wonderful works of art, there is a coffee shop just inside the entrance. It was an enjoyable visit and not too busy.
5 months ago Tanisha Bhattacharyya
An amazing gallery with some truly astonishing art. However! Where is the art painted by women? In the entirety of the downstairs gallery there is not one piece of art painted by a woman. It's just a bit irksome. Definitely some amazing renaissance art though.
6 months ago Gagan Dangi
only saw the outside of this really beautiful building when we were visiting Edinburgh I hope we will return sometime would love to see the inside we have a mascot we take places with us he as his own group on Facebook called travel with Max took a photo of him in front of this beautiful building
4 months ago LHarbit
A bit surprised that it isn't a huge gallery like the one in London; does have fantastic collections nonetheless. I got to spend more time appreciating artworks while tagging along the tour occasionally. It was a wonderful and enlightening experience.
3 months ago Sean Fewins
Amazing collection of books . Great place to spend the whole day with books.
5 months ago bryan r
Loved visiting this place. There's just so much history and variety and I especially liked the Modern Art section. Highly recommend if you're a fan of the Arts.
3 months ago Susan Abraham
You don't need to be a fan of art or have the knowledge about the importance of many artists which you can find inside, to feel amazed. Everything is original and it looks like you have a window to see how was the life around the years …
8 months ago Jen Mitten
I really enjoyed the experience. They have a great variety of paintings from different time periods, including some from the great masters. Beautifully curated. The January special exhibit is lovely. And the cafe wasn't great, but it was nice enough. They also have cute gift shops.
9 months ago Ben Whatley
Small, some pictures are hanged very high, ends with impressionists. Photos allowed. Very gentle support.
3 months ago Kimberley Rose
I love the Scottish National Gallery, is free the access and all the pictures are amazing, was very beautiful and people who works there were super friendly, I really enjoy ????
5 months ago Coochi Chronicles
You have a couple of things to work on. Why would an item not have a clear price tag on it? Do better.
8 months ago No Fxde
A well laid out gallery with an eclectic mix of art work containing some major European pieces covering the period from the early Renaissance to the 20th century. I have visited a number of times over the years and it is a favourite of …
11 months ago
Popular places from the category Art gallery