Gallery of Modern Art
Art gallery Gallery of Modern Art, Stanley Pl, South Brisbane QLD 4101, Australia:
220 reviews
of users and employees, detailed information about the address, opening hours, location on the map, attendance, photos, menus, phone number and a huge amount of other detailed and useful information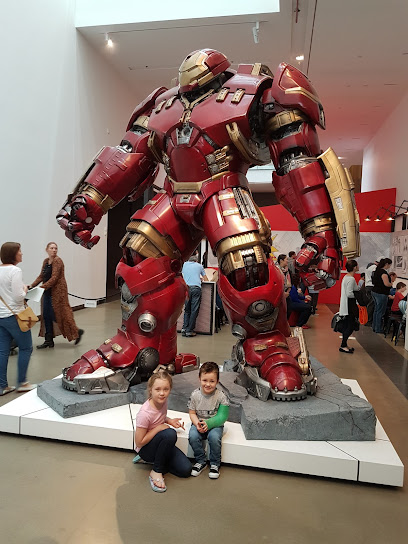 Address:
Stanley Pl, South Brisbane QLD 4101, Australia
GPS coordinates
Latitude:
-27.4705247
Longitude:
153.0171262
reviews Brianna Bidwell
High quality ART here!! Definitely want to come back, cause this time me and my partner Gina only spent 2 hours here. And we feel not enough!!!
1 month ago Kanakacharyulu Velpuri
This gallery is almost a must everytime I visit Brisbane. There is always an exceptional exhibition or multiple to be enjoyed. This was were I first had seen Warhol, Picasso, and more and it's easy to get to and also a great experience. Highly highly highly recommend.
3 weeks ago Donna Self
My friend and I went to the motorcycle exhibition last week, they were amazing. From the bike themselves to the arrangement, near the entrance there were ones looked like bicycles, then outdoor bikes and finally the modern electric ones. There were interactive games as well, you can design your own motorcycle and share through SMS or email.
1 month ago Shareen Franklin
Really good experience in this place, art was amazing. Only 1 bad note, the security on the front door was rude. Definitely could see he didn't want to be there.
3 weeks ago Catherine Siverts
The Motorcycle Exhibition is by far and away one of the best I've seen at any venue. These bikes are real jewels and they are in immaculate condition. And although the photos here are all showing the bikes, there was actually a lot of photos and videos supporting as well. In fact, I really think you need to go twice so you can take your eyes away from the bikes and enjoy the other elements. Brilliant.
5 months ago F Perez
Went to the motorcycle exhibit, didn't have a super huge variety but the emphasis was on the motorcycle as art and what they did have was very high quality, with some very rare bikes. I found the E-bikes very interesting in particular as I got to see stuff that I've only seen online overseas. I really loved it and I'm thinking about going again.
1 month ago Thomas Ryan
Motorbike exhibition curated incredibly well. Beautiful bikes, friendly staff, interactive displays, free cloakroom, coffee shop. Did I mention the bikes? Amazing ❤️????????????️
3 months ago Keri YoungBear
The issue I had was I spent 20 minutes in a line and once I got closer to the door, a staff member then advised anyone with prepaid move to the right. Yet 3 staff walked down with the QR code AND NOT ONE mentioned if you have a prepaid ticket please move to the front of the door. There was no signage for prepaid ticket holders and no need to be waiting in line. Very poor service considering you had plenty of staff on. The exhibition was fantastic that was 10 stars.
1 month ago Harry Mann
Never fails to impress whether it be thought provoking or inspiring art, told with a series of mediums. Or just cool things to look at. Always a great destination
1 month ago jawhara jiji
The Gallery holds some very well curated exhibitions. The recent motor cycle exhibition was a great example of a really popular event. There is plenty of space for many visitors and space for inspiration and reflective thinking. The Gallery Cafe over looking the Brisbane River is really a wonderful hospitality venue with great staff, good food and the tree lined bank of the river with its many boats and bridges. The blue water dragons are friendly and courageous as they guard the southern bank of the river.
1 month ago Charles Andersen
Love love love GOMA! There's always something totally amazing on show here....lots of it free. The paid exhibitions are incredible too and well worthwhile. Loads of special events throughout the year and even the building is sensational!!
2 months ago Amy Thomas
Awesome display of motit bikes. We worth a visit. How they display them is perfect
1 month ago Ali
The motorcycle exhibition was an amazing experience. The curators should be proud of having brought these beauties to Brisbane. Thank you GOMA for an amazing walk through time and ingenuity...
1 month ago William Littlefield
Went to motorcycle design, art and desire show. Was absolutely fantastic. Very well done
1 month ago Christine Reighley
Love it! Quite much to see! It's spacious enough to walk around too. I'm really impressed.
1 month ago Carol H
Lovely gallery in Brisbane city. I very much enjoyed the free guided tour of Gordon Bennett's 'Unfinished business' run by volunteer guide Jan. The free guided tours run at 11am and 1pm. The current exhibition, 'From collage to meme' includes some works from Andy Warhol, which shines the spotlight on gay, transgender and LGBTIQ activists.
3 months ago Aspen King
Impressive gallery with great exhibition spaces. I really enjoyed the quality and standard of the graduate high school art exhibition . Exceptionally high standard of work and very mature for high school grads !
3 weeks ago Joel Cordial
I try to visit at least once per exhibit and it's an amazing experience everytime. If you haven't been, I highly recommend you make the time.
3 weeks ago Letitia Lee
Pity many halls were empty. Hmm. Large exhibition halls, well designed but poorly signposted. The motorcycle exhibition was excellent.
1 month ago Keen Williams
Enjoyed the exhibit, some really nice bikes on show. Some must have been difficult to find some of them esp a one off Aussie 1914 bike with advanced (for the time) suspension designed for the 'challenging rough roads of Australian cities'. Some things don't change!
4 months ago Nithu Mohan
Motorcycle exhibit was brilliant. Very busy this time of year but it doesn't take away at all from the effort and hard work that's been put into this. Some of the most beautiful bikes I've ever seen and even some interactive experiences for the kids (young and old). Definitely a must a do if you're in Brissy
5 months ago Kevin Hogan
Visiting this gallery is a must when you are in Brisbane especially during bad weather. Their ongoing motorcycle exhibition featuring 100 motorcycles from past to present (thanks for the generous private collectors!) is the highlight of the whole experience. You don't have to be a motorcycle lover to appreciate them. The designs are amazingly impressive!
6 months ago Michelle Godinez
We went to see some Aboriginal arts. It was really good and mind stimulating. However they didn't have a lot of art works on display, so it was really a quick visit. We didn't go to see motorcycle show. GOMA has a very good view of the city and the river. Staff were very friendly. It was very quiet on Sunday afternoon.
1 month ago Josh Hertel
My first time to here, quite interesting art. It needs 2 hours to walk around and refresh my brain. But the gallery is not very large
2 months ago Shimada Yosoaun
Thoroughly enjoyed the day. All works of art. Oh how i wish the Britten and the MV Augusta F4 was in a glass box in my lounge. Highly recommended to all motorcycle nuts..
2 months ago Joe Paschitti
Absolutely loved the historic motorcycle exhibition. Well presented and easy to navigate despite the large crowds!
2 months ago Johnathan Rowland
Good selection of modern art, but the space could be utilised a big more and the curation needs to be improved
4 weeks ago Ken Ip
Had a great time at the Motorbike exhibition. Try to make it if you can.
3 months ago Lexxis Bosslady
THE MOTORCYCLE , Design , Art , Desire this exhibition was beautifully displayed . Overall the cleanliness of the whole gallery was spot on...no complaints at all ????
2 months ago Jaime Martinez
What a great exhibition. You have to love the Motorcycle. Had a fantastic time. It was well thought out.
6 months ago Crocop Fan
Awesome designs ! I highly recommend everyone to have a go a the exhibition! Here a sample of the greatness..
2 months ago Brady Urrunaga
Always a wonderful place to visit. The staff were awesome and the exhibits were incredible.
2 months ago Matt Cardigan
Saw the motorcycle exhibition, very nice! Various peices of history scattered about and helpful insights from exhibit assistants.
2 months ago Bob Levesque
Loved the THE MOTORCYCLE DESIGN, ART, DESIRE exhibition. Well done for drawing in so many people who enjoy motorbikes.
3 months ago Johnny Parker
Yeah it was great, probably more bikes in the carpark..lol Get your Covid check in App ready so you don't hold up the que if your not tech savy. Nice staff well laid out. Ducati was the stand out bike on the day but im biased for Italian bikes.
1 month ago Divya Khosla
The motorcycle exhibition is really interesting, loads of amazing bikes & the information is great, glad we went!
3 months ago Erika Thibodeau
A visit to GOMA is always worthwhile. The motorcycle exhibition we saw was fantastic. The drawback is that the gallery seems to be a one trick pony. With so much space available, on every visit a substantial part of it has been off limits due to new exhibitions being developed. Surely these could be scheduled in a manner that allows more of the collection to be displayed, and less 'downtime' for the gallery.
1 month ago John Rhodes
Saw the Motorcycle exhibition - brilliant! Even those who are not bike enthusiasts should see what mankind can dream up. Exhibition well worth the cost but not the souvenirs, which were outlandishly priced.
8 months ago Dennis Caldwell
Thoroughly enjoyed the Motorcycle: Design, Art, Desire Exhibition that is currently showcasing. The exhibits were incredible altho I am not a motorcycle person. Interesting to see the vehicles through the ages & read up on the history. The Harley Davidson definitely highlight. Go see it as soon as you can you will not be disappointed. The GoMA is such a professional & pleasurable venue.
1 month ago Johnny Tanya
Always worth a visit. Access is fine for wheelchair. If it interests you don't miss it..
1 month ago You Sauk
Motorcycle exhibition is so much more expansive than I had dared to hope for. Bikes from early to futuristic and it is extraordinary that they have been able to bring so many together from around the world.
4 months ago Debbie Nelson
Very pleasant and good space. People watch art and take a break here. If you come to Brisbane, please visit here and enjoy good works for free. It will be a very valuable opportunity. Art works are wonderful and wonderful.
7 months ago Jeremy Frazee
My Mum told me about the MOTORCYCLE DESIGN, ART, DESIRE exhibition at GOMA last year I then had a Motorcycle accident go figure so had forgotten about it then my Girlfriend took me to it for my birthday she's a sweety I let her drive but I guided last time we went some where and I didnt say where to go we ended up at the PA Hospital we were going to Indooroopilly lol Had a great time some interesting bikes both historical and present seems it's coming full circle bikes 100 years ago where bicycles with engines now with electricity they are starting out the same who said things change
2 months ago Rebecca Norris
So interesting. Loved the virtual bike rides with the poster you could text to yourself, and creating your own bike was great fun, especially for our 8 year old. ????
10 months ago Stefanie Greene
I can always spend hours here. There's always so much to see, so much to learn and it's always so well presented. So proud that GOMA is ours here in Qld, it's world class and makes us a destination. My most recent visit is for Motorcycle which is a fabulous cross-section collection for motorists and design fiends alike.
6 months ago Neha Kaur
GOMA has been a regular for us since opening. An amazing space and a huge asset to our home town.
1 month ago Deborah Farr
Went to see the Motorcycle: Design, Art and Desire exhibition, which was thoroughly enjoyable. So many fantastic bikes on show! Educational AND fun.
3 months ago Carolina Pena
The place is very serene. Best to go here if you booked a ticket for their special art show. Worth your money. We went here to see the recent Motorcyle Show. March 2021. It showcases the first to the latest motorcycle of different brands.
3 months ago brian rumohr
Attended the Motorcycle exhibition. Left me breathless. Beautiful machines.
2 months ago Michael L
We attended the motorcycle design art desire exhibition, and loved every minute of it. from the get go the staff and security were very nice to us. From checking in (Due to COVID right to the end). I would highly recommend going again!
4 months ago
Popular places from the category Art gallery