Les Schwab Tire Center
Tire shop Les Schwab Tire Center, 302 Johnson Ave, Orofino, ID 83544, United States:
73 reviews
of users and employees, detailed information about the address, opening hours, location on the map, attendance, photos, menus, phone number and a huge amount of other detailed and useful information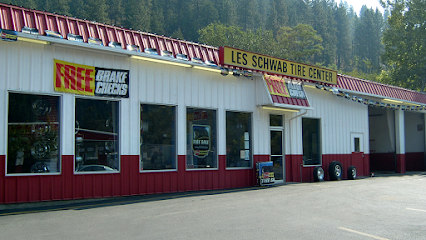 Address:
302 Johnson Ave, Orofino, ID 83544, United States
GPS coordinates
Latitude:
46.4780013
Longitude:
-116.2524710
Location on the map
Reviews Paulletta Gwinnup
Friendly guys working there, and they're always super helpful. Also great prices for a Les Schwab
3 months ago Jack Nelson
Very responsive staff at this store. I have never been disappointed in their service. They live up to their old motto as "The Sudden Service boys".
3 months ago Terri Miller
Small town service. These guys go out of their way for the customer!
1 week ago Abid Hussain
As usual, great service and very knowledgeable employees.
1 month ago Jim Thomas
It was Great Fast Service Free flat repair and done with a smile Thank You!!!!
2 months ago Robert Tyrrell
I had my car looked at because there was squealing coming from my passenger front tire. The gentleman that helped me was great, when we got back to the shop Jason was completely rude and snappy to the other employee, very disrespectful. His customer service skills definitely need to be worked on.
7 months ago Eric White
Fantastic service and price from these guys. Thank you so much!
9 months ago Ashley Ohliger
They need to pay attention they put the wrong tires on the wrong rims and I had to wait around for an extra hour
2 months ago Jamari Davisjones
Great place to get your vehical an tiers done, an the employee's are great an polite!!!!
8 months ago Bob Cowell
They did a great job.
5 months ago Jake Atzen
Fast service, good people.
7 months ago Sumanth Dupuguntla
Always friendly and helpful.
4 months ago Sunil Padinjareppattu
Courteous staff. Quick and easy, very helpful! Also knowledgeable, they knew right away what to do! Thank you guys! Keep up the good work! I highly recommend les Schwab for all your tire needs! Every one I've been to has been fabulous!????
8 months ago Al Nakvi
Very overpriced for simple things. Quoted almost twice the cost for a simple mount and balance of 4 tires than other locations that are in Lewiston.
6 days ago Keith Foor
Great place to get tire's and a little more done to your vehicle's.
5 days ago Andy Hall
Excellent, friendly service. Personable techs who take time to explain your options. Great staff, reasonable time frame.
1 month ago Jessica Massad
If I could give Les Schwab in Orofino zero stars I would. When my family came in this past November to get our snow tires put on, and you guys finished and loaded our summer tires into the bags, put them in the back of the truck, and said we were good to go, we TRUSTED you guys. This past week when I had my bagged summer tires ready to be put back on, we discovered we were actually sent home with FOUR DIFFERENT TIRES that were NOT for my car. When we called about it, no one felt obligated to apologize, and no one intended to fix our situation. So I got to spend the money (definitely not at Les Schwab ) to buy four new tires for my car because of this facility's mistake. I understand this review, and my family being upset, doesn't affect this Les Schwab at all. I understand that losing 7 vehicles to do business with from my family doesn't affect this Les Schwab. However, it would appear that Les Schwab's mission was to provide world class customer service , and "Doing it right is what we do best". But that was so far from the case.
2 months ago Charles Lowel
What a great team!
10 months ago Lisa Strout
Told me in the phone it was going to take a half hour it took over one and a half hours. Tried to fix things that didn't need fix. Thier machine would not read my card, they were rude about this. I had to go to the bank, the bank told me my card was fine it was thier machine. I paid in cash. I will not go back.
4 months ago Chandan Narayan
We have been customers for 40 years. Always excellent service and helpful employees.
2 months ago Bryan W
I have been taking my vehicles here for tires and oil changes fun yr about 4 years and have had nothing but good experiences. Jason the manager will treat you fairly, and all of the tire professionals are great at what they do.
4 months ago Yaroslav Taraskin
Excellent service even if you don't show up in a brand new rig they make you feel that your rig and your safety is there number one priority.
4 months ago ohad snir
THANK YOU FOR GETTING ME IN SO QUICKLY AND DOING A VERY GOOD JOB HELPING WITH THE TIRE SELECTION. AGAIN THANK YOU JASON AND CREW
2 months ago Taher N
I'm giving Les Schwab another try. Years ago I bought a set of tires from them that they could never get balanced, after being told Evey time I went back that I needed something new like shocks, ball joints, tie rods, basically a rebuilt front end on a truck that only had about 50,000 miles on it . After replacing everything that was suggested the tires never balanced and I wore them out at 25,000 miles. Les Schwab would not honor the warranty I had to replace them at full cost. I went somewhere else. Never came back that was 20 years ago.Well I decided to give them another try. The help was curtious and very helpful at gaining my trust. Hopefully the tires will last at least 50,000 as they have a 60,000 mile warranty. My driving habbits are mostly highway with some off road and trailer towing. I am an experienced driver non agressive. I purchased the Open Range A/T in 275/70/18 for a 2016 Ram 2500 crew cab 4X4.
3 months ago Jen Mcmillan
Always have a good experience in Les Schwab in Orofino. Good service by a good group of professionals. I drive from outside of Kamiah to do business with them.
4 days ago Reginald Howell
Always top quality service, friendly staff, knowledgeable customer service, and quick appointment times.
6 months ago Anna Henschel
Les Schwab's provides outstanding customer service and excellent work at great prices! I trust Les Schwab's will all my tire and brake needs! I give them my highest recommendation!!
2 months ago kim jones
Excellent service. Very good interaction. No unawnsered questions.
3 months ago LuckyClover
Always friendly! Always great customer service!
2 months ago Calena Bates
Wonderful working machine.
1 month ago Claire Fabella
Great folks. Exelent service
4 months ago Piyush Gandhi
Not recomended at all! service is poor and will do whatever they can to avoid warranty, also make sure they document what they tell u they got me.....will never use again......the manager jason doesnt listen to customers and talks right over ya when you talk....no good!
2 months ago Debra Rose
I was here to have service on the tires I got here. Received service at no charge.
1 month ago Chen Ting
They were very nice and fixed my tire for free!
2 months ago Saul
Ate popcorn while having my seasonal snow tire change over. I even charged my phone.
6 months ago Andreas Apostolopoulos
Great service friendly and helpful staff
5 days ago George Lusczek
July 9th we had a bearing blow out on our boat trailer and busted a hub a couple miles from Orofino. We tried to get help from our insurance company and got no help at all. We went to Les Schwab the next morning and told them what happened and went to the local towing company and asked for help, it was going to be 2-3 hours. The tow truck driver called Les Schwab to see if they could take a look and see if they could help. Less than 20 minutes after we left the towing place a Les Schwab guy showed up. Told us what was wrong and they could fix it. Turns out we busted an axle too. They fixed everything perfectly. Everyone there was very helpful and very nice. They all made a horrible situation wonderful with the way they treated us, their efficiency and their service. I live in Post Falls and have never had this kind of service at any of our local Les Schwab stores. I never want to break down again, but if I do I hope it's near the Orofino Les Schwab.
9 months ago Manuel Cortez
These guys are always on the ball
1 month ago Olive Graves
They were very fast and had my car fixed in under 30 min.
4 months ago Saara Anniina
My Wife and I were on vacation and while camping in Orofino I noticed the left front tire of our vehicle was badly worn. I called Les Schwab at 7:45 a.m. and Jason answered the phone and I explained my situation. Within minutes Jason confirmed they had tires in stock, confirmed the price, and shuffled some things around to get me in at 8:30 a.m. for tires and alignment. That is exactly why I have always purchased tires from Les Schwab and will continue to do so. Thanks to the professionals at Les Schwab our trip wasn't delayed.
3 days ago Mik Mak
Great service and knowledgeable staff
3 months ago Stephanie Tran
Love me some Schwabs
3 months ago kira walter
Been a customer most of my life.Good garantee
6 months ago James Whitehouse
Try to sell women vehicle parts which are outrageously priced when they can hit Napa and pay 99% less for the same item. Service fast, people nice.
3 days ago Knile Mile
Excellent service.
2 months ago Mayson Lockett
Always get you in and out.
2 months ago Kathryne Yepez
I went there because I hit a chunk of ice on the highway and I had put the spare on. I was told the tire was damaged I wasn't even shown the tire. I walked out to the shop because my son was in the car. I saw the tire and saw no evidence of damage and was charged over 50 dollars for a used tire to be put on my car. I believe I was taken advantage of because I was traveling.
8 months ago Java Jane
Always Excellent.
3 months ago Harman Bath
Pride in performance! Top notch customer service
4 months ago Bob Lee
Poor service, wait times were not what they said it would be and then a guy I went to high school with put 3 cars that came after me in front of my car.
6 months ago
Popular places from the category Tire shop