SS&B Heating & Cooling
HVAC contractor SS&B Heating & Cooling, 2607 W Bennett St, Springfield, MO 65807, United States:
220 reviews
of users and employees, detailed information about the address, opening hours, location on the map, attendance, photos, menus, phone number and a huge amount of other detailed and useful information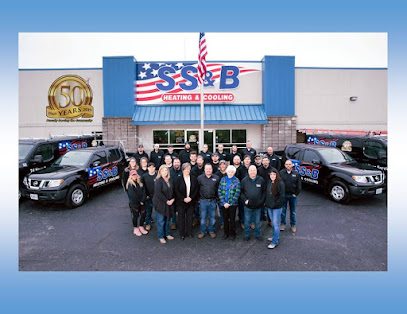 Address:
2607 W Bennett St, Springfield, MO 65807, United States
GPS coordinates
Latitude:
37.1904521
Longitude:
-93.3290302
Location on the map
Reviews Sandra Vannucci
Project manager Brad went above and beyond to get us the units we wanted in a timely fashion. Austin and his assistant were efficient and careful throughout the installation. All were professional, friendly, and respectful despite a couple of challenges that our home posed. We would not hesitate to recommend them.
8 months ago Carmen Dejesus
We have used several Heating and Cooling companies in town mandated through our Home Warranty companies. None of them compare to the team at SS&B. The SS&B team consistently arrive in a timely fashion, are considerate of our home, and always provide education about the maintenance/repairs needed. Jesse did our yearly maintenance today and he was kind, thorough, and even took the extra time to engage with my four year old. We will request him again, he is our favorite! The SS&B secretaries are also very friendly and work through any call until the job gets done. Overall, the team at SS&B take time to diagnose your problem correctly. They ensure maintenance is up to date and effective. And they are the best company in town. I pay extra for yearly maintenance outside of my warranty company, simply because I know they do the job right, the first time, and I trust them!
9 months ago Joi Hood
We have used the services of this company for installation and maintenance for almost four years and have recommended them to others. Everything completed has been done in a professional manner with excellent results. The technicians have been on time, efficient, and courteous. Their work trucks are clean, tools are organized, and they have even worn surgical booties over shoes to help keep floors clean. We had a minor issue that arose requiring a recent call and the techs arrived on our porch with their masks already in place (correctly) which I much appreciated at the current time. Highly recommend!
10 months ago fernando montejo
(Duffy) is an outstanding rep for this company. We would love to have him do the maintenance yearly on our heating and cooling systems. He is a very kind and respectful person. Cleans up areas when job is completed. He also finds things that may need fixing at some point and time to give a heads up. Very happy with Duffy. A pleasure to have had him attend the maintance needed here.
8 months ago Stephen Overlock
They came in with the lowest bid and I got estimates from 5 contractors. They scheduled my installation in a timely manner. The technician Showed up on time wearing a face mask and bootees to keep my floor clean. He did a professional, neat and quick installation. I definitely recommend this company.
10 months ago Latrina Yates
During a recent period of very cold weather, our heater failed to function. SS&B responded very timely and evaluated the furnace. The technician tested various aspects of the furnace and found no obvious problems since the furnace ran properly after he re-started it. Later in the day, the furnace again failed to function. After another call, a technician responded promptly. The second technician determined that a wire was experiencing a loose connection. After tightening that, the furnace has continued to function properly. Both technicians were pleasant and professional. Although it took two trips, the experience was very satisfactory. The company and the technicians performed to expectations.
10 months ago water bed
Chris did an amazing job getting our system working again. He went above and beyond on making sure our system operates well and safely. We have relied on SSB for years and highly recommend them!
8 months ago nicola carrier
Quick and professional install, when the cold snap hit we felt like the new furnace was under performing. A quick call to Brad and he explained it all. Sent out a tech the next day, another quick and professional service visit and all was great. Highly recommended these guys.
10 months ago gloria n
We rely on SS&B to provide us professional and friendly, knowledgeable and reliable help in the Springfield area. So far, SS&B has delivered on all points. Chris and Greg were here a few days ago to assist with a heating issue. They were great. I appreciate their courteous manner. Thanks.
10 months ago Dennis Davis
Greatly satisfied with the installation of a new hvac system from SS&B! The team of Denny, Brayden, Austin and Brad displayed a high level of knowledge and high quality workmanship. We also appreciated the follow up call from Keisha inquiring about our level of satisfaction upon completion. Thanks team, you're awesome!
7 months ago Carrine White
I would like to commend Jesse Mough, the person that serviced my issues. He was prompt, friendly and very knowledgeable and thorough. He made the process more understandable.
7 months ago Inci Inan
Ryan was very pleasant and answered any questions that I had. He seemed to know the equipment very well. He was h ere for a Quality Control Check.
7 months ago Jennifer Reid
Chris did an amazing job, he was professional and explained exactly what was wrong with my heating system. He was also more than happy to answer any questions I had. I would definitely recommend this company.
8 months ago Alexis Miettinen
Have used SS&B for years and have the utmost confidence in them. Ryan did a AWESOME job today and look forward to seeing him in the fall!
8 months ago Ronda Baker
The two gentlemen here today were very professional kind and courteous. Answered my questions and were very thorough. So far, the problem seems to have been solved. Thank you for your service. I would definitely recommend SS&B . I think one's name was Chris. But you guys know who they were. They were awesome.
11 months ago Ivette Alvarez
Chris came out and diagnosed problems we were having with our furnace not coming up to desired temp. He quickly identified the problem, checked, cleaned, and replaced any necessary parts. He was super knowledgeable and was very clear in his explanations of the work being done. Great customer service, we are very pleased with Chris and the whole crew at SS&B
9 months ago Lyndsay Anson
Chris, Jeese, and Joe were on time and very professional. They explained the issues with the HVAC exhaust attic fan. Discussed in detail the options to correct. Great guys.
7 months ago Leo Crespo
Chris was the employee who serviced our cooling system. He found problems with the system which appears to be potentially expensive. Chris was courteous, explained things thourly, and gave me instructions on what I needed to do. Very good performance on a very bad problem. He is a valuable employee! Honest workers are hard to find. Hang on to this guy! Jack Hays—-3446 East Ladue, Ozark,Mo
8 months ago Liena Churchill
Always great service from SS&B. Ryan was the technician that was here today, great service, very personable, very knowledgeable. Gave us some options on a repair that needs to be done. Appreciate the great service from Ryan today!
8 months ago kawinna hamerton
We had four bids done to replace our hvac system. Brad was by far the most professional and most detailed of all quotes. Marcus and Jason installed the new unit and they were clean, responsive and answered all of our questions. We would highly recommend SS&B to anyone.
9 months ago Lauren Bretton
HVAC didn't work. Charged system, got a part replaced that was under warranty and tried to get outside HVAC unit to work. Had to replace HVAC unit. Came on time, very profession and very skilled. Would hire again!
8 months ago Carrie Floyd
I have used SS&B across two homes and four HVAC systems. They have always been on time, never had any surprise charges, and are always considerate of our home. We were pleased to see an SS&B sticker on our furnace when we moved, as it gave us piece of mind that it was a quality system installed correctly.
11 months ago Wes Hogan
Chris l is a very professional service technician and did an amazing job . A great person and he explained everything he did . Wow what great service !!!
8 months ago Lena Lima
Chris was quick and professional and took the time to make sure I understood the repairs and why it was necessary. He even showed me how to change my air filter. I'm a first time home buyer and the learning curve is real ????
11 months ago Shakthi Bama
He is extremely friendly and explained what was going on. And made sure I had no more questions before he left.
8 months ago Cory Carmouche
S S & B performed needed work on Air C. in a acceptable time frame and it seems to work very well.
7 months ago sam ducrane
Brad was very helpful and professional throughout the process from the day he gave the bid until the HVAC system was installed. My wife and I had many questions but he answered them all. He let us know when it would be installed and called to check on everything as the installation was wrapping up. Denny and Brayden called when they were on the way and showed up right when we expected them. They were friendly and professional as they removed the old system then they waited patiently while I cleaned/prepped the floor for the new. They even moved the thermostat from one wall to another in a more centralized location. They showed us how to change the filters and made sure we didn't have any questions or issues before they left. We're very pleased with our experience and would definitely recommend SS&B for any heating or cooling needs!
9 months ago Melissa Brazelton
SS&B has taken care of my heating and AC systems for many years. Products and customer service are great - today's maintenance visit by Ryan was efficient and pleasant.
8 months ago Angel Santiago
SS&B does a great job. We've used them for several years and always get fantastic service. Dominic and Chris were both very helpful and great to work with.
1 month ago rahi malik
Ryan was very professional and detailed. He did good work and I'm very satisfied.
9 months ago Aubrey Webb
I had been having issues with my furnace for quite some time. Nobody seemed to be able to fix it properly. Chris was assigned to come look at our furnace. I admired his willingness to try and find the problem. He really listened to what I was saying and he found the problem!! Very nice guy and knows what he's doing! Thanks SS&B for sending Chris out!
11 months ago Olga Rosario
I purchased a new top of the line Trane unit from SS & B in 2016. They have performed maintenance on the unit since purchase. I am not real thrilled about the price of maintenance, but ALL HVAC companies are expensive. On 04-07-21, my A/C was not working. Techs came out and found the cause was a faulty switch valve. Part was covered under warranty but not the labor, which is NOT SSB's fault. Labor was priced at approx. $800 and I was told it was at least a 4 hour repair. I gave them permission to do the work. Tech M. Duffy was assigned to the repair. Duffy started the repair, and a rain storm blew in. Moisture got into the system. The repair ended up taking approx. 10 or more hours, but SSB charged me the original price, even though the repair took 2 times longer than expected. Duffy also did the maintenance on the unit and found and resolved another issue. I would recommend SS & B for repairs and HVAC.
8 months ago Rodney Spurlock
My service technician Chris did a thorough job getting my HVAC unit ready for those hot summer days. Thanks Chris Bill Bryan
8 months ago Rexanne Collins
They were very courteous and willing to accommodate my particular needs. Service was done in a professional and speedy manner. I would definitely recommend them.
1 day ago Zahruujaabdalla
Duffy was friendly and professional. He explained what was going on and made repairs in a timely fashion.
8 months ago Jeff Boldman
We love Chris! He is an excellent tech. Knowledgeable, professional, and an all around great guy. I have peace of mind knowing we can trust his work.
1 month ago Caitlin Haltom
Very polite and informative. Chris and Duffy did a great job.
8 months ago Larry Weir
We had service technician Chris who was outstanding & very knowledgeable. He explained the repair process & is a great asset to the SS&B team
1 week ago Emily lin
Chris was professional, courteous and finished his repair in about an hour. We are pleased with his service. Thanks.
10 months ago Bob Lamont
Chris did a fine job he was efficient explain things clearly
9 months ago roller guzman
Ryan was on time and very professional. Would highly recommend SS&B!!
8 months ago Seth Perlman
Chris Loftis came out twice after hours to make sure my family had heat. SS&B was very prompt and dealed with my issue in a very professional manner. 5 stars.
1 week ago WestanneVEVO
Terrific service at a great price. Our technician Ryan D. was awesome, on time, super pleasant, and friendly. Def a place I would suggest to others.
1 month ago Gerardo Sandoval
Timely, communicative and effective. Always professional, courteous and pleasant to do business with.
9 months ago Mariela
SS&B Heating and Cooling installed a zoned heating and cooling system using my existing HVAC in a 90 year-old home. They were always prompt, extremely courteous, responsive to my questions and just nice to work with. They installed ducts and dampers and left the place so clean, you would not have known they'd been there. I highly recommend them for HVAC services.
4 months ago stephanie Knerr
Always excellent service by their staff, both on the phone and in person. They kept my 20 year old system operational in the cold until they could install a new system over a year ago. I like the new system & their maintenance program. Good service deserves a good review. Thank you SS&B!
3 months ago Kajin Mohammed
Very nice young man. Didn't mess around and also pointed out a problem on our hot water heater, above and beyond!
11 months ago Patricia Ware
My heating unit went out in my house, I decided to call SS&B and they sent Ryan right on over. He got right to work and found the problem, he had to order the part but as soon as it came in he came right back and got my heat up and going again. Thank you guys for the great service.
2 weeks ago Kristina Sequeira
A quick and thorough install of quality Trane components
8 months ago Nancy Khera
Way to expensive. You can find quality work for way less. I called and it was like 3pm and she said she had two different rates. One for regular hours and one for after. And failed to mention that she was scheduling for after hour until I asked. Wasted my time! Called another company that are very good and had half the price to just come LOOK at my AC to figure out the problem. Let alone what it would have cost to fix it. And they would of came out the same day!! But I ended up fixing the problem. I'm literally never call this company again.
5 months ago
Popular places from the category HVAC contractor