Viking Steel Structures
Construction company Viking Steel Structures, 113 W Main St, Boonville, NC 27011, United States:
79 reviews
of users and employees, detailed information about the address, opening hours, location on the map, attendance, photos, menus, phone number and a huge amount of other detailed and useful information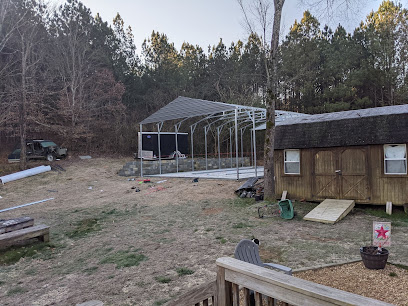 Address:
113 W Main St, Boonville, NC 27011, United States
Website:
vikingsteelstructures.com
GPS coordinates
Latitude:
37.0497788
Longitude:
-122.0101612
Location on the map
Reviews Joi Donnellon
We are very happy with out new garage. The install team started around 7am and were finished by 2:30pm very professional and fast. We have a 26x40 with 11ft walls. I will recommend to all friends and family.
7 months ago Sarah Leeanne
As far as the Customer Service we received from Viking Steel, I am very impressed and happy with Jonathan. He will promptly answered questions and the process up to scheduling the installation was great. The problem was bringing Coast to Coast Carports for the installation. We got into the contract in October 2020 and our Garage was barely installed last week. After many calls to Coast to Coast which were unanswered or just plain you have to wait to get scheduled. Jonathan said your installation will be done in December, after that month after month I had to email him for and ETA but he was always ready to get on the phone with Coast to Coast until we got it installed. The experience with Viking Steel was great as well as the Crew we got for the installation the only exception is Coast to Coast.
6 months ago Eli Jun
From start to finish the process was fantastic. Johnny answered every question I had and was always available if I needed to speak with him. Prompt replies via email and phone. Got my 30x70 building sooner than initially expected.
6 months ago Chris Basser
Very Very please with the entire process and purchase. only took 3 weeks from day of order till shop was installed and complete . Great service and fair pricing
6 months ago Ryan Shannon
Viking installed a 30x45x12 steel shop for me, the customer service was excellent. Returning emails and phone calls promptly. Once the design was complete the building had a short lead time and was erected quickly by a very efficient crew. I have recommended them to friends and family and will use them again.
7 months ago Michael Hall
We appreciate everything that viking structures did for us in the way of communication, color samples and design of our garage. Johnny was responsive and helpful at answering our questions as well. We were not impressed with the contracting out, as the company eagle carport was not the best at communicating. However we are pleased with our building and feel it is a nice addition to our property.
7 months ago Madeleine Wood
Ordered a garage on October 13th 2020. They farmed it out to Top of the line buildings in NC. Still don't have a garage after being told install in December. Then February then March, now April. Jorge keeps promising me weekly updates when I call upset and then I never hear from him again. my property has been torn up for months and I have invested thousands of dollars to have an Alaskan slab engineered specifically for this building complete with radiant floor . These two companies are the worst companies I have ever dealt with in my life!!
8 months ago Darleen alexander
I am extremely happy with my steel structure. I use it as a second shop for working on my bikes , doing mechanical work on my trucks my tractor and farm equipment. As far as a well built steel structure goes i definitely recommend Viking steel structures. I thank them for being cost effective as well as having professional installers.
9 months ago David Stuart
Very pleased with my 3 car garage. Jayven was great to work with. He answered any questions I had. Will definitely call them if I need another building.
6 months ago michael barry
Cannot express enough how great Salomon was through this entire process. Anytime I reached out he was there to get the answers. The vendor and installers they used for our building was a bit difficult to deal with but in the end it finally happened. That said, the extended time being due to weather and Covid, Jorge was extremely accommodating to make things right. I will definitely use Viking in the future, thank you Viking Steel Structures for being on the customer's side.
7 months ago Sydney Dawson
I had an 18'x20' vertical roof garage type building constructed on my concrete pad in Maryland. It seems of good quality for a carport type building. It has held up to several strong thunder storms with lots of wind. We also had snow storms with up to 8" per event. It handled both types without any issues. I did contact their engineering department due to concerns that they recommended an 18x20 pad as well with concrete anchors being drilled in. Drilling so close to edges could cause cracks and problems. They then recommended 6" larger all the way around. I did have a problem with the door knob not working on the small, personnel door. They promptly sent me a new knob. From the time I ordered it, to the time installation was scheduled. was longer than agreed to. Then installation did get pushed back a few days, but went smooth. It was a husband and wife install team, communication was a little tricky. The wife spoke some English, the husband did not. They were short handed and worked very hard and well into the night. I set them up with several lights. It was a free install included in the price so this was all an added bonus. I am considering getting a carport and I would purchase from them again.
6 months ago Jessica Wells
Awesome website for design. Great prices. Installers were very hard working, and did a great job! I am very happy with the whole experience. Love my new shop.
7 months ago Roger Shepard
Have purchased a few structures from them, have been delivered and assembled wonderfully.
5 months ago Mighty Thor
Thank you to Viking Steel Structures and Johny Catalan for helping us design and install our mountain garage. I appreciate the help and can't wait to use it!
7 months ago Miton
Outstanding experience. After working with Jonathan in Sales to nail down exactly what I wanted (he was very patient) I was handed off to Whitney for the contract signing and down payment. From there Anna coordinated the delivery and finally, Roberto and his crew arrived on time and despite some challenges assembled a 1,890 square foot carport/garage all within the price and timeframe they told me to expect from the very beginning. This has been an incredibly smooth and satisfying experience from the entire Viking team and I would recommend them for any steel structures that may be required.
11 months ago Christopher Gallivan
I am over all pleased with our carport purchase through Viking. However its was contracted out to TOL which was on time and the structure quality is just fine. The major problem is a 30x36 structure states all triple wides include mobile home anchors and i even specifically had it wrote on my contract before signing it that those anchors are included. I recieved all rebar anchors. 2 of which i pulled out by hand. So now im certain i own a very expensive kite that i will have to anchor properly myself
6 months ago Gary Geiken
I wasn't even there when they installed the building. I made a pad for the building to sit on. Told them on the phone where to put it. They came. Installed it. Left without making a mess and it was perfect! Only took them a few hours. Couldn't believe it. The crew was awsome. These guys really bang this stuff out. Thank you Jonathon C.!
7 months ago James Sands
My husband and I ordered a steel building through Viking Steel Structures almost 20 weeks ago. We were initially told the delivery time would be 3-8 weeks when they gladly took our nonrefundable deposit. WE ARE AT 20 WEEKS AND STILL HAVE NO STEEL BUILDING! They will no longer respond to phone calls or emails. They delete any negative comments on their Facebook and ban you from their page (which is why I'm posting this and not my husband). I will fix my review if I ever receive my building! I would STRONGLY recommend going with someone if you'd actually like to receive your steel building.
2 days ago Joe Kennedy
They are very unresponsive. Good luck with them following through. I have had two conversations. After the first the person was going to send me a quote. I never received it. The second time, I called, and someone picked up, but I got cut off in the middle of the conversation, and could not get them to pick up again. The sad part is I am ready to buy. But I will go somewhere else that has decent customer service.
9 months ago Carolyn McLemore
Do not use this business, they will take your money and never call or email you back.
5 months ago Meenakshi Subramanian
Very helpful. Worked with me to get a building in my price range.
5 months ago Justin Plotnikoff
CROOKS!!! We sent the full payment for a boat port. After a year of broken promises to install the structure, we asked for a money back. We were told that we would get our money back minus a several hundred dollars fee (not sure for what). Many months later, no refund and the won't answer our calls!!!
6 months ago Rit Hammond
Jaun was great to work with at Viking always returning my calls in a timely manner. We did run into a problem when the supplier arrived to build the building but Jaun stepped up and found an equitable solution for viking and myself. They stood behind everything they said.
7 months ago Abraham Robles
Once they get your money they become ghosts! Now, more than 2 months past the date we were given still cannot even get anyone to answer the phone, return a call or email. Probably the worst customer service I've ever seen.
9 months ago Valerie Duvenhage
I contacted Viking about doing a 30 x 40 x 12 steel structure in Mead, WA. The salesman Salomon was very helpful, professional, and always returned my calls and answered my questions. He was in North Carolina. I have not had the building done yet due to weather.
9 months ago oPhilip
I received service on purchasing a large garage for my new property in Antrim, NH. Mr. Solomon from Viking Steel Structures was extremely helpful and made the entire process so smooth and easy. I purchased a 36' x 40' x 16' garage with several doors and overheard roll up doors for a very good price. If your looking for an excellent offer and superb customer service contact Mr. Solomon at Viking Streel Structures and he will square you away.
10 months ago Tristine West
We had an enclosed garage with overhang installed. Couldn't be more pleased with the whole experience. Sales staff was knowledgeable and helpful even though we had multiple revisions. Installers were courteous, prompt, responsive and left the job site perfectly neat and clean.
3 weeks ago Aminat Ajiboro
Great customer service! Jorge Torres did an awesome job!
7 months ago Evo Guy
So I bought a steel building from Viking steel only to have the job handed over to top of the line buildings NC division (though caller ID say A plus carports) this has been the worst transaction of my life. Nearly 3 weeks to get proof of insurance so I can get a permit and now that I'm in the 4-6 week install window in November I'm being told my building likely won't be scheduled until mid Jan 2021. I do not recommend this company, or the company the job was farmed out to
1 month ago Sean Meyer
I had placed a order with Robert and I though at the time was a right move and that was back in aug and he informed me that I should be able to have it installed before or around the end of September and that didn't happened due to needing site Pacific Because there generics prints is no good in the northern states so I did that now it's goin in to October and still no building so I called up Viking and they said that best choice is falling behind and they can't make it until December so to sum it up it's now January of 2021 and I go to cancel and now there is a change for them to cancel the order which I was never told about from rob and now I'm out of over 1,200.00 dollars because of this company just to get the run around my Recommendation is to go some else because they will tell you call the manufacturer and the manufacturer will tell you to call Viking.
10 months ago Ian Kennedy
Ordered a building in sept. 2020 and put a deposit down. Was told 6-8 weeks been roughly 20 weeks. Still no building, getting the run around about not having materials now its theyre talking about not having permits for indiana. Asked for our money back and they said they would only give partial deposit back, if we ever receive it. Do not use this company. Even if they make it right i will not change my review.
1 month ago Blind World
Building is nice roof has a leak in seven of the metal panels we're all bend up and beat up emailed sales rep multiple times terrible customer service never even received an email back to fix my problems would not recommend
6 months ago karishma priyadarshi
Viking Steel did an amazing job, Excellent accuracy & workmanship. We're very pleased with the finished product. we are only to happy to recommend your company to others in our circle of friends & family and who ever else inquires... Thank You Carol Baker
7 months ago Alice Myers
Website is good, pricing is hard to nail down.
7 months ago pierre delorme
I'm loving my new building great customer service from Viking highly recommended
11 months ago Barry Fairbairn
You have a wonderful tool in the 3D Building Estimator that you have, allowing me to customize the building just the way I would want and modify as I go. On the other hand, it is very disappointing to receive and immediate response like this .... vendor logo Congratulations on designing your building! Our goal is to exceed your expectations of our service and product. If you have immediate questions or concerns, please contact us. ......and then 36 hours later no one has even met my expectations of getting a quote much less exceeding my expectations. I would expect with COVID going on you may have people working from home but time kills deals in the retail world. When we get a lead like this in my line of work, we are expected to at least reach out to the client with in 5-10 minutes if its nothing but a video of a sales person that will be following up with them on a personal level then followup with another video of the product and then a phone call seeing how we may facilitate the process. I guess my $10-$20k doesn't mean anything to you. Thank you for your time.
6 months ago Gladys Leal
Once the building was installed I felt like it was a really quality product. Scheduling was the only issue, if they could meet the time frame they tell you when you order it it'd be a lot easier on the sales team. 4-6 weeks until install can easily double.
11 months ago Kevan Anderson
5 star experience with Viking Steel Structures. Very helpful sales reps. Went through hoops to build in my township and the company engineer was more than accomadating to supply me with the extra documents needed to make it happen. Once scheduled, quick build time less than 2 days. Love my garage!
6 months ago beesley photo
This company was an absolute pleasure to work with. I had them re-quote me like 15 times and every time was trouble free. Scheduling went well, and the crew that came out built my 800sqft building in one day leaving zero mess. The building is exactly as I was hoping for and I would recommend Viking to anyone.
6 months ago Debby Jones
Viking metal carport, we love your carport that we did a rent to purchase and installed by Eagle who did a great job and the final product we loved and recommend it to anyone to see. And that we had another company who really sucked with the installation that had lots of defects when the other company installed our new carport, but returned it after two months and couldn't fixed the defects that we listed and sent photos of, but Viking are truly the best in my book, great customer service and with Eagle installers the same friendly service company. Thanks for the beautiful product for me and my wife to enjoy ????
7 months ago Richard Beleutz
Viking Steel was a pleasure to do business with. They were the most reasonable for the quality. We love our garage! Thank you Viking!
5 months ago Norma Dunson
From the start the process was hassle free. The installers were on time and were very professional and they cleaned up after they finished. I would used them again if I have the need.
9 months ago Krypt Hax
Said they would be here within 2 weeks they were!!! Very nice people to deal with! Very pleased!!!
7 months ago Penny Lombard
Viking steel is very good to work with. We had a scheduling problem with one of their manufactures, and they reached out to me resolved the issue and got my shed delivered on time. I would recommend their service to others.
6 months ago unicorn farts
I bought my building from them, awesome building, great customer service, very informational and very patient with me! Thank you Diego for helping me with the rent to own!!
11 months ago lee houck
Buyers beware. I ordered my garage with a deadline that needed to be met. Paid my part and signed my papers. The deadline was not a problem I was told. Weeks later and here we are on the day it was to completed and they called and said they won't be able to make it for another week to even start it. Electricians scheduled for tomorrow morning and concrete scheduled for the next day and it's not even started. Poor communication can never get ahold of anyone for the last week I've been trying to confirm all this. I'll be filing with better business bureau Monday morning ! Go elsewhere!
7 months ago Monica Carter
Ordered a carport from these guys in July and they finally came out in September to put it up and did NOT bring all the parts. Was told they would call me the following week to finish it and I have yet heard a word from them. They say fast service, this is not true. Once the contract is signed and deposit is paid you are in a waiting game with them. You can call and talk to them but it does no good. I have a bunch of metal laying in my yard is all I got. Poor service. Wont retire calls as promised. Very unprofessional.
7 months ago Joel McMorran
We live the building, all the people are amazing to talk to and they will work with you.A big thanks to Bryan Ordonez for having to deal with all my questions and always having a friendly, professional but down to earth person thanks bud and thanks viking steel
6 months ago Anna Ponamarchuk
We ordered our building from Viking. Joel G answered all of our questions so thoroughly and was willing to quote us several different ways and never got impatient he was very easy to deal with. The building was delivered and installed in 1 day by Roll (sp.) And Will. They did a great job, the garage turned out amazing. We are 100% happy with our purchase. 20x26x9 boxed eave style with 1 10x8 garage door and 1 walk in door. Pricing was amazing and when Mary called to talk about our pad being ready and when delivery/installation would be she was very kind and helpful. - Jesse and Brittany Butler
5 months ago Victor Ashburn
Truly enjoying the building I had built so much that we are adding on to it. Great staff to communicate with, they made it an easy experience. Thanks
8 months ago
Popular places from the category Construction company