Telecommunications service provider Click! Cable TV
Telecommunications service provider Click! Cable TV, 3628 S 35th St, Tacoma, WA 98409, United States:
58 reviews
of users and employees, detailed information about the address, opening hours, location on the map, attendance, photos, menus, phone number and a huge amount of other detailed and useful information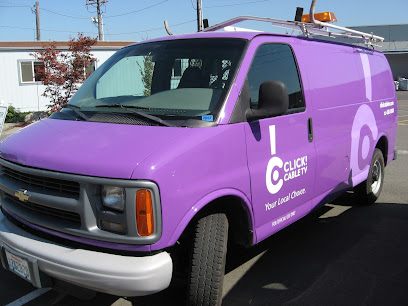 Address:
3628 S 35th St, Tacoma, WA 98409, United States
Website:
clickcabletv.com
GPS coordinates
Latitude:
47.2279250
Longitude:
-122.4848260
Location on the map
Reviews Juana Madera
I dont have click tv.
11 months ago Oksana Yaremchuk
Easy and nit expensive with very easy options for payment.
3 months ago James Stearnes
I'm fine with the quality of service on my TV but twice now on two separate occasions, customer-NO SERVICE has been a disappointment. The first time I called was for technical support to get help with logging into my account and the guy kept referring me back to regular customer service stating he was unable to help with online log in. What? I gave all of my pertinent account information and told him the error messages and he seemed like he was taking a nap and couldn't be bothered. I finally got it handled but by my OWN deductions and determination. The second time and just today, I called to just upgrade from basic broadcast service to Standard Broadcast and the Customer-NO SERVICE agent was unable to do this. Huh? They said I can only add HBO or Showtime or one of those premium services but not give me an channel upgrade; in that, I was given a "ticket number" and someone from "Upper level Account Services" would be calling me back in 24-48 hours. What? I'm wanting to pay this company MORE MONEY for additional programming and they wouldn't accommodate me at that moment! Shocking! What just ppened is that Click Cable just LOST my business for additional programming and by the way, the ONLY reason I am even with Click is because I am unable to receive Comcast on my street otherwise I would be with Comcast. Moreover, the business model they have of "sending the customer away to have someone call back in two days" just reduced their chance of getting my further business and paying to receive the extra programming from another streaming provider. Bad business strategy and understandably why so many are cutting the cable provider cord!
8 months ago Gerardo Gonzalez
This place has Ben in same location for quite some time. I really like the way they changed the service counter. Being you pull a ticket for the place you want whether it be click, Public Utilities, Etc. The gal at the click counter was extremely personable and very knowledgeable. Was exchanging out a remote control she told me if I had any problems to call. Thank you for offering that tip. Of course when I got home I could not figure it out so I did call. Talk to a technician that was in a hurry to keep talking and asking questions rather than putting on his listening ears. Fortunately problem was solved within minutes.
1 month ago Samar Abozuhairah
Great service kind and friendly employees,,,much better than the competition
7 months ago Zach Greenwood
I have been with click ever since the very beginning. Reliable and consistent.
2 weeks ago Daniel Reynolds
Was ok
5 days ago Richard Heath
Had a really old box and it started acting up. Called Click yesterday and a really nice man was here today and traded it out in no time at all. I got click when it first came out and have loved it ever since.
4 months ago Ana Krasnova
Customer service was such a good experience! And I actually stood face to face with a real live HUMAN PERSON and I cud understand everything she told & asked me. I'm not only a new customer, I'm also a fan now as well ????
2 weeks ago Troy Klabunde
We don't have a problem with quick they're good I like the channels they're nice people very friendly
4 months ago Raymark Bancolita
Never ever have I experienced a worker come to my house saying that he has ping a problem to my line and be so rude. I'm a grown woman and I almost wanted to smack him across his face. Wish I could explain or I had a video. I tried to record it with my doorbell dingbecause they would have been shocked to see how one of their employees really Acts ????????☠️
1 week ago Tammy Hubbard
My apt complex had Click TV and Internet and I enjoyed it. Good prices and nice people. But recently they switched to Xfinity. I liked the channel pkg better on click for the money.
1 month ago Nick Talarico
Customer Service is excellent, cable is decent, and the internet well, it connects but there is room for serious improvement. I'd give a lower rating because of the internet but since it's not provided by click I can't fault them.
1 month ago susan maynard
Customer for many many years. Sorry I had to cancel the standard plan and go to the broadcast plan I do not qualify for low income help, yet I am. Click had always been supportive and efficient. Best customer service ever. Can I purchase a receiver for my use instead of paying $7.75 monthly? I could then go back to the standard plus plan.
5 months ago ZGF
Quick TV is a great locally on TV and Internet service, great value
2 months ago Guadalupe Carrizales
There always so nice explaining when I have questions...the best cable company in Tacoma bills are always what is quoted without the extra bull umm...like you know who! ???? ????
1 month ago Brianna Nikolic
Really enjoy a click, I go down and pay my bill in person the employees are very nice are very helpful. And the man at the information desk is a very very nice person and very helpful.
6 months ago andree pienoel
We love Click! Customer service is just a call away - and I've never had to wait more than 5 minutes on the phone to get my cable issue taken care of. We're very satisfied and recommend Click! to all our Tacoma area friends.
10 months ago rimmi Kohli
I love click better than I do Comcast.. prices don't go up regularly like Comcast ..and when the prices do increase, they will give you plenty of time to let you know that there's going to be an increase...
6 months ago Reynaldo Molina
Great price compared to Comcast.
2 days ago Shyam Khandelwal
The cable service is very good, the Internet, however, is outsourced. The best things about this company are that, 1, when you call, you speak to a living person. Which is alot more than can be said about the larger companies. And 2, if you have a problem with pay per view, or your connection cuts out (which rarely ever happens) they will work hard to fix it. The thing I would like to see is to change the Internet provider, as stated above.
3 months ago Janice Ward
The best cable company in the country! Rates stay low and they are required to not increase too much. You get a live person in Tacoma with no wait time every time you call in. Simply the best and they are local!
8 months ago mike swan
Good tv but not great
1 week ago H P
Excellent employees.
10 months ago Madalyn Jennings
The gentleman at the front desk is always such a joy!!
10 months ago Charlene Bishop
I love community broadband. Being a student that can't hold a full time job, price and reliability were of utmost importance. Click delivers with a thirty dollar budget tier at 20 mbits. Internet never noticeably slows and have had no drops since starting service eight months ago. I've been with both Comcast and CenturyLink in the past, and can confidently say I'll be sticking with Click for the foreseeable future. In response to the below reviews which cite outsourcing, it's a law in our state that governments can't directly sell to consumers. Click, being a government entity, therefore provides the distribution network and started two companies to manage accounts. It's quite nice because it allows for competition.
10 months ago Gladys Reyna
I'm gonna miss this company. Had Click! for my cable service, very helpful customer service and always very prompt. Now I've moved out of the service area, and I'm back to my choices of worst nightmare, bad nightmare, and nightmare.
1 month ago Patricia Maguire
I recently moved to Lakewood and added Tacoma Click to our house. Tacoma Click technician Jeff Simmons came out and provided excellent services including internet connection, and I really appreciate Tacoma Click! Services~~
2 months ago Jane Kidd
I use to absolutely love click. I always ordered the HD package so I can get the free movies. They are not free anymore. I would like to get a special sent my way so I can up grade. I basically just use the bare minimum. I can not afford anything else.
10 months ago Molly S
Love the remodel in the lobby. Great friendly staff. Convenient and easy.
5 months ago Bill T
Their cable is top notch. I ditched Xfinity cable for them and it was worth it. No glitches with DVR/FF/REW features that I experienced with Xfinity, HD channels crystal clear, no complaints at all. But notice I said cable only. I still do have Xfinity internet because Click internet packages are way overpriced for the speed.
10 months ago Jones Thom
We have had excellent customer service. Good value with local company.
7 months ago Jim Doyle
We purchased internet through Click and it worked great at first! However, we only stream from Netflix, Hulu etc and our internet speed has slowed significantly over the last year! We've contacted them multiple times to correct the issue. They keep saying it's our modem, but we worked on that with no improvements. Also, the newest modems are not compatible with Click. It's gotten so bad we can't connect to our baby monitors, FaceTime doesn't work and we can't iMessage over Wi-Fi. We are paying way too much for nothing at this point. It seems like they purposely slow you down if you are streaming too much. We are unfortunately going to have to switch to Comcast as Click's internet service doesn't fit our streaming needs! You are better off going with another internet provider if you stream only!
3 months ago Sophie P
Very friendly and prompt service.
1 month ago Richard Wagor
The cable itself wasn't bad but the customer service after we discontinued service was HORRIBLE. I called to canceled our service because I had Comcast coming out the following day to install our new cable. My husband returned the click box the following week. Apparently, click charges you for the cable (even if you're not even connected to their network!!!) until you return your box. The few bucks you save on monthly service isn't worth the bad business practices. I'm sorely disappointed by the lack of good customer service while trying to resolve this. I don't believe we should have to pay for something we clearly weren't using and had already cancelled. All we're getting is the run around now. I would love to get someone on the phone who can actually answer our question and help us resolve this.
3 months ago Iyad Okasha
This company is a crook. I had a bill with them for maybe 160.00 and i turned out paying almost 2000.00 to these crooks. Their service sucks!! Dont ever choose them. Its not worth it. Literally.
5 months ago emily lom
So much better than Comcast!
10 months ago Jay Gina
No problems with cable service, Internet is great. But the website for channel listings is horrible.
1 month ago Sherry Veal
Click, PLEASE add your own internet to your cable offering! I want to leave Comcast, but I am turned off by having to deal with a separate entity for internet if I sign up with Click.
4 months ago Alyssa Bono
I don't think they turn on internet until after 7am. Also don't try streaming Netflix after 5pm. Their internet is unbearably slow. For the same price, actually cheaper, you can get DSL from century Link. Much faster. You can actually stream and be in the computer at the same time!! Crazy concept! Bye bye click.
10 months ago Alexandria Pease
I thought that I could get more service for my money if I cancelled my click tv, and go with Xfinery. I had the xfin. guy install my new stuff, and I had my new "money saving" cable service for about 3 weeks when I received my first xfinery bill. I about went thru the roof when I read the bill. The damn charge was $409 for the first bill, (for a 21 day period).holy cow! I realized just how good(and affordable) I had it when I had Click, vs the "lower costing"xfinery (I loaded the xfinery equipment in the car and went on a wild goose chase trying to find where to drop their stuff off, and after running around to newly non existant retail locations, I found where to drop the stuff off, and I made sure they checked off the equipment sku by sku,so I don't get any more "suprises" from xfinery in my mail box. now I am going to go ask for my service back with Click, as for what service I had previous was so reasonable, 3 rooms of service and a DVR, all for under $80 a month, and the customer service people I had dealt with in the past were always helpful and understanding if there was a problem, I was even granted an "due date extension" one time when the bill date and my pay date didn't see eye to eye. don't listen to that xfinery guy swearing your cost will be less if you switch to them! they are full of it, I know, 'cause my first bill, which he swore would be less than what I was paying Click, when, in reality, was over $300+ more than my click bill. Now I know the way it is, and I'm going back to Click.sorry for leaving, click, but we got swooned by the double talk of your competitor, now we know.
6 months ago Angela Carsley
great customer service especially the call center :)
3 months ago Droopy
Amazing customer service and great pricing. You can't beat this local company.
7 months ago Jenna Jeffers
Great customer service! Never any connection problems never any billing problems!
1 month ago derp derpstein
Best cable co
2 months ago Carol Lelito
Internet is atrocious. 8-midnight, sometimes later, speeds fluctuate to unusable levels. Streaming is a nightmare. Gaming is impossible. And service took 3 weeks to tell us they don't know how to fix it.
5 months ago Reynaldo Cardenas
Hey my cable is notb working
2 months ago Hanna Weaver
Way to expensive the worst
11 months ago Arsh Balqees
Best service in town
1 month ago Joseph Alonso
Miss it
1 month ago
Popular places from the category Telecommunications service provider