Whole Foods Market
Grocery store Whole Foods Market, 2001 Market St, San Francisco, CA 94114, United States:
220 reviews
of users and employees, detailed information about the address, opening hours, location on the map, attendance, photos, menus, phone number and a huge amount of other detailed and useful information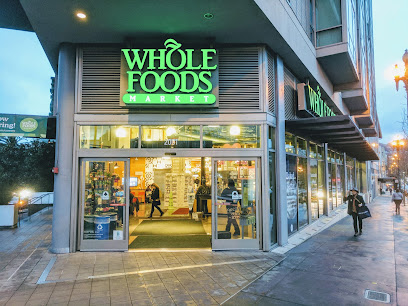 Address:
2001 Market St, San Francisco, CA 94114, United States
GPS coordinates
Latitude:
37.7683532
Longitude:
-122.4271267
Location on the map
Reviews Garry Fowler
It's nice they have security guy at the door. This store was clean inside (unlike the Safeway across the street) with many items well stock and displayed. When I was sick I was able to get all my comfort items in one place. Mom's chicken soup, Oven roasted turkey meat, oranges juices, Acetaminophen and tissues.
7 months ago Christina Scorsis
Things seem expensive but the quality and selection of products is amazing. They carry many of my favorite brands of snacks and food to live a healthier lifestyle. Sugar free options, clearly labeled supplements, and so many …
8 months ago senthil vasan
This is unfortunate that this store turned into an Amazon warehouse. It is now over run by prime shoppers which makes the shopping experience dreadful. A limit of maximum number of prime shoppers allowed at the same time should be considered to bring the sense of community back!
7 months ago Eagle
Best WF in the city especially during COVID times. It is large enough to shop in a social distance manners and the staff manages the capacity very well. Very organized aisles, have everything you need for produce. Checkout lines are plenty …
11 months ago kuntal Sardar
I normally shop at a small mom and pop because they have everything I need, but I shopped at whole foods for my Christmas meal because I did want some meat that my usual place doesn't carry and some champagne. When I walked in and looked …
1 month ago Dark Shade
Fast and quick service. Clean store great customer service.
6 months ago Naomi Mensah
Great place. Helpful staff. Good sales.
7 months ago Angie Kippers
Got delivery. Easy to order, delivery at time I chose and order was exactly right. This is the way I will shop from now on.
7 months ago Kim K
Given that this store is so conveniently located on Market Street, it's one of the busiest Whole Foods locations in the city. Surprisingly, the wait times aren't usually bad at all (i.e. checkout lines move quickly, etc.), probably at least …
10 months ago Brandon Casper
Great selection of products usually a lot of people in the store but lines move quickly and it stores always clean and neat and super good quality of products
7 months ago Christine Erickson
Trying out some new face care products, staff helpful and friendly, Price higher than average but this is expected with Whole Foods.
8 months ago Tomtnt Lovett
A very nice grocery store but on the very pricey side.
8 months ago Norbert Mildner
Everything seems to be always out of stock. I've Never been to a grocery store that's managed worse than this one. Good chance they will be out of most of what you need.
11 months ago xavier pl
There's two reasons why this whole foods gets two stars for me: 1) the place is consistently understocked. Not just a little understocked; significantly so. It also seems to carry less products than the other whole foods in the city: as if …
3 weeks ago Lisa Morgan
WFM on the border of the Castro, Lower Haight, and Mission neighborhoods. The store is busy! It's a bit smaller then other Whole Foods, but it has all the essentials. The staff is friendly and always available. They do a fairly good job …
10 months ago Jamie Baker
Gone way downhill since my last 5 star review. The place is now consistently 50-70% Amazon delivery workers swarming for products - I've been pushed, bumped, etc. by these silent, laser focused workers and they ignore any type of "Excuse …
2 months ago Eileen Zirngibl
Easy convenient and reliable wifi. It is a great option for shopping, a quick bite, or to use the bathroom. Miss the breakfast buffett.
2 months ago Matt Miller
May be I was a bit dumb or unaware, but not rude. I greeted the employee sitting there and taking temperature. She looked at me like "what the ....". My bad I did not look that I took the wrong path to get into the store. I did disinfected …
2 months ago Michele Ellis
The absolute mob of Amazon delivery workers doesn't allow for social distancing at all. I'm completely confused as to why I see lines of people waiting to go in at other Whole Foods but this one has done away with them. How is this safe? …
1 month ago Kimberly Males
Convenient location. Love the tables and seating inside after a day of walking in the city. High quality food and drinks. Great for shopping or as a healthy snack stop.
8 months ago Bryan Davis
For one, no box protein sets for kids like the other whole foods, nor many pre-made options for a fast in and out. Also when I asked for help the people had no idea where to direct me. And the sushi SUCKS!
11 months ago Joe Williams
They have the most respectful and accommodating employers that would serve customers nicely and appropriately. Besides, their store has everything that I wanted to buy. Very good quality of foods
5 months ago Mayan Society
Salat bar is pretty good. There is great choice of soups. Places for eating are clean. You can find a lot of fresh vegetables and fruits here. Staff is friendly
10 months ago Davis Green
Fresh bouquets daily but bit expensive. Prefer to buy them at Civic Center farmer market for affordable price. Love the fresh bread section if I really need to grab something for lunch. Got the local olive bread for $4.50. Very soft & tasty.
11 months ago Kamal James
Convenient but surprisingly short in stock. Said they couldn't display the bulk supplies but then only chose to prepackage a few popular items. Disappointing. Staff was helpful.
5 months ago Sabina Nasser
No where near chaotic as one might anticipate two days out from Thanksgiving. I was there picking up my pre-fab Thanksgiving Dinner for four complete. Although the store was busy, as always is the case with Whole Foods, the pick up for …
1 month ago Isabelle Pettinger
Great selection and they have the best meat department out of all of the Whole Food.
1 week ago Stacie Andreyeva
It's clean and they carry a few items I haven't been able to find in other stores, but I'm not sure that adequately makes up for the extremely high price of everything else.
2 weeks ago Justin Perron
Super clean. Very hygienic. Super heightened awareness for social distancing. Well and neatly stocked shelves.
3 months ago Christine Newman
Wonderful place good product , pricey but quality is there , cool staff on-site very good experience
8 months ago David Crespo
I love you guys but we are seriously missing our beloved TTLA and the water refill station. ????
6 months ago kemesha franklin
It's definitely gone downhill since being purchased by Amazon. The products are all roughly the same quality, but the shopping experience is pretty dismal. Aside from the cheese selection, you're just as well off (and will save money) shopping at Safeway and golden market across the street.
8 months ago kasie Kremenak
Can't hate Whole Foods ???? My only knock would be that there is no cell signal inside. Thank goodness they have Wi-Fi though.
2 months ago Walter Overby
Always high prices so it gets called whole paycheck but the food quality is excellent and the customer service is as well
3 months ago yolanda meadows
Much better than the california street store.. primarily the pizza, burritos and sandwiches are way better on Market street.
2 months ago Mihnea Puiu
Crowded most of the time during weekdays and weekends are crazy. Pros: -good collection of necessary items. -The 365 brand is great. -take away helps. Cons: -Cramped spaces ( it's the city :)) -Cannot plan the visit as it can be crowded …
9 months ago Chris Stanwood
Amazon drop location which is very convenient
10 months ago Trace Clarke
They don't have coconut ice cream:(
9 months ago Bobo B
My husband and I really enjoyed our dinner at The Whole Foods Market. Our server was great. She was very knowledgeable about the menu, and very friendly
4 months ago Seth Peterson
Decent place for groceries but really expensive. If had to choose, I'd shop around first. The brands and quality is decent but if you are straight up broke, I would recommend elsewhere first or whatever's left of your wallet will be gone within an hour.
5 months ago Nelly Ortiz
Has a good variety of homemade pizzas and other entrees.
1 month ago mike smith
Nicely maintained store with helpful friendly staff. Many specialty grocery items and a wide selection of fresh ready to eat meal items to choose from as well.
2 weeks ago Angela Spezzano
I've been here probably every single day of my 2 week stay in SF. It's always a pleasant experience and I know exactly what to expect from my beloved salad bar. Nice place to shop or have lunch/dinner especially if you're alone on a work trip and solo restauranteering makes you sad (which is why I prefer a salad bar) Highly recommend!
3 weeks ago Bruce Maclean
My best store. Very friendly customer service
9 months ago Brownmoney
Nice neat and clean supermarket. Lots of options.
2 months ago Annie Lane
EvGo fast chargers while shopping
1 week ago Vanina A
It was quite an experience this was my first time shopping at Whole Foods what brought me here was that my brother just found out he was a diabetic he's in the hospital and they told me to come to Whole Foods to find things that I would …
8 months ago Woodrow
I still got a lot of money left on my gift card love this store, and the screw-top wine bottles of that!
5 months ago RA HellsBells
Whole Foods had an excellent selection of high quality foods in a very clean, friendly environment. Naturally, it's more expensive than Safeway, but I find it worth the extra cost.
4 months ago Marc Gregoire
Had a Amazon return , it was so easy and Fast
1 week ago
Popular places from the category Grocery store