Crunch Fitness - Topeka
Gym Crunch Fitness - Topeka, 2905 SW Topeka Blvd, Topeka, KS 66611, United States:
72 reviews
of users and employees, detailed information about the address, opening hours, location on the map, attendance, photos, menus, phone number and a huge amount of other detailed and useful information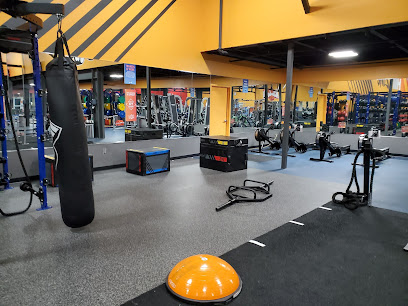 Address:
2905 SW Topeka Blvd, Topeka, KS 66611, United States
GPS coordinates
Latitude:
39.0145233
Longitude:
-95.6891136
Location on the map
Reviews Mike Ellis
If you forget about the price and focus on your workouts you'll see that this is a cool place to exercise. The trainers there are very professional and if you show effort they are willing to help. Kiana is a great trainer very down to earth and caring plus willing to help you build the results you wanna see with your body if you put in the work
6 months ago Jennifer Robison
Great gym with plenty of new equipment and a friendly, helpful staff. One week guest membership to try it out for free if you go to their website to claim it. Not bad!
10 months ago Robert Meisner
One of the best in town, always clean, great place to work out and tan.
6 months ago bonnie autrey
Yep... This place has everything???? a little something or a lot of something... Either way they have something for everyone... not only do they have an immaculately clean, top of the line facility with top of the line equipment, programs and amenities... But they also have the BEST TRAINERS I've ever witnessed working with clients...????.... Not to mention the rest of the rest of the CRUNCH team.... My goodness!!! I really love walking through those doors....????????????????????????????
1 month ago Matthew Rathbone
10/10 Thank you Abby for all the help on my first visit! Love that they have spray tanning machines my absolute favorite ❤️
9 months ago Vicente Chavez
Well customer service was the last thing they had on their mind, asked for a tour and they gave me bs about sign this and you get a weeks free membership, I didn't want that I wanted to be shown threw the building to see if I might want to try their gym. I tell you what people need to learn customer service again
8 months ago Ashley Wilson
It's a very nice gym that is clean and organized! The staff is very nice and helpful. I can't wait to go back soon! ????
11 months ago Mary Mcourt
Great place to workout. Cleaned every hour or so with you cleaning after every machine you use as well. Great trainers and every machine yoy can think of. The free weights are great. JUST BRING YOUR OWN CLAMPS.
1 week ago Tara Long
Went for a Groupon spray tan special. GM Prawith was so welcoming and helpful. I'll definitely be back to check out the gym!
7 months ago David Ford
*Edit* My issues with cleanliness were addressed within 24 hours! I can not say enough positive things about this gym! Plenty of machines, never so crowded I feel unwelcome, positive and helpful staff! Recently there has been a decline in the overall cleanliness of this gym. The last few months have seen a build-up of "gunk" on most machines but not on the visible areas. An excellent example of this is the recumbent bicycles; the backside of them is DISGUSTING!!!! That and the lack of disinfecting spray at most times calls for concern. There are plenty of staff members standing around, though, if you are into that. When new, this was a clean, friendly gym and can still be if anyone bothered to clean.
7 months ago Maria Vance
I love this gym! I have dropped off my two oldest kiddos at kids crunch twice. I was very skeptical & worried with COVID but they clean everything down before and after my kids left. I felt more at ease! I hated going to the gym, but Erica is a great motivator. Michelle & Holly are amazing as well! The classes are so fun and they all make sure your pushing yourself to your max and not focusing on everyone else.
11 months ago Morrigan Morrigan
This gym was very clean when it first opened. In the last 7 days the sauna has not been touched very dirty. The floor I. The main workout area has not been swept for quite some time and there is no paper towels in 3 of the 6 towel dispensers. Very disappointed
9 months ago manorath Gore
Friendly and knowledgeable staff help make the experience a value, penny for penny, unmatched in Topeka
7 months ago gabriel garcia
Nice and reliable gym to go to, also pretty local/central for a lot of people.
10 months ago Thomas Mathyn
I've read some of the other lower reviews and am glad that my experience has not been that bad at Crunch Fitness gym. The first thing is to realize that this is a commercial gym. So, if you want to specialize in powerlifting or something like that with training then a commercial gym is not for you. The gym does have personal trainers. I have not used the personal trainers at this gym. From my judgement with other clients they appear good and professional. But I'd say a lot of these trainers are for beginner gym goers and beginner lifters. I don't believe that is a knock on anyone. Crunch Fitness gym has a good amount of equipment for doing almost any type of exercise. The business has an area with sleds and equipment that could probably facilitate crossfit. (not a crossfit expert) The cardio area has tons of equipment for ellipticals, treadmills, bikes, and stair steppers. At the time of this review, every other piece of equipment is not available for social distancing purposes. The equipment available will probably change as time goes on. The gym has tons of machines for isolated lifts and dumbbells with moveable benches. For the more dynamic movements the gym has multiple Squat Rack lifting areas for getting the best out of bicep curls. And multiple bench press racks. Crunch Fitness has a bunch of classes that have very good instructors. I've taken some of these classes with my wife. The classes are not my favorite. But, I can understand the type of people that would want this type of service and think the classes are good for those people. Too me, this service is for people that are new to exercising and want to try different things or want to exercise with a group of people. In my opinion, the classes are a very valuable service for the generalized gym goer. Crunch Fitness Gym has different levels to join with a low tier of $10 and it seems like many people writing reviews miss that the gym has a yearly fee as well. I can't speak for others, but, the employee pointed out the membership fee while joining and I find it hard to believe that the details was not with others. You have to sign paperwork to join...so, READ IT!!! This is overall standard and you should already know what you are getting. The higher tier 29.95 allows the member to use any locations, join classes, and the other services such as hydromassage, tanning, and sauna. My wife has a membership solely for the tanning because that service can be expensive all by itself. The only service that I use is exercising at other facilities and that is great. Traveling or just taking a trip to another town can allow getting in a good workout. I'm usually working out while the Crunch employees are cleaning. Depending on the time a member is working out can determine the cleanliness level of Crunch Fitness. The gym will obviously be dirtier before cleaning than after cleaning. I'd also point out that some members don't throw away paper towels used to wipe down machines or leave weights in areas not meant for storing weights. I'm saying some members have bad gym etiquette and having good etiquette would improve the area for everyone else. I don't believe the overall etiquette is poor. I'd argue middle of the road or overall positive. Sometimes the equipment will break and I believe the gym fixes the equipment in a reasonable amount of time. It won't happen that day. But the gym has enough things for a member to use. Overall, I think the gym is a great experience with friendly staff. I visit this gym basically 7 days a week and rarely miss a day for a good workout. The gym even allows members to bring guests and this has allowed me to bring my teenage son to the gym and exercise with no cost. Getting out and exercising is even more important currently because schools are not working at full levels and this allows him to improve himself while socialized education fail the general public.
8 months ago Lori Collins
I've been enjoying my time at Crunch. I feel they've been handling the COVID situation well - I always see employees cleaning & I like how they've spaced out the treadmills, bikes, & ellipticals to maintain social distancing. The group classes have been my favorite. While all of the class instructors are great, Erica is a real gem & the drill sergeant we all need to get & keep our butts in gear!
10 months ago Lisa Turner
Great place to work out nice and friendly staff always kept clean
11 months ago Jimmy Vega
Unfortunately, I haven't been able to go as much as I would like to yet. It closed because of the order from the governor shortly after I joined. But it's brand new and very nice. I signed up for the Zumba classes which they have I believe six days a week. I'm so excited to get back into that soon. They also depending upon your membership level have a Crunch Live. It allows you to work out at home via laptop or if you have Roku, Apple TV and I believe Chromecast you can use to put it on your television. Also, there's no contract. It's basically month to month.
7 months ago Agus Aguilar
As with many others, I was extremely disappointed with how they handled the charges during the times they were closed due to Covid-19. They also did not give me the three free months for referring people that they promised. The gym itself is nice, equipment is great, but the customer service and whatever systems they have in place are not good. Just go in expecting to pay full price with no promo's or refunds or anything, because no matter what they tell you to get you to sign up, they will not actually follow through with their promises.
3 months ago Kari Lowry
The facility is excellent, although there can be a feeling of being judged by the staff.
6 months ago Richard Miller
Its a good gym with good equipment... But when I came in as a guest they took my ID and then lost it! Who the hell looses a persons ID!?
10 months ago Michael Beauchemin
I can not rate the actual facility considering I've never worked out there. But I signed up and then covid happened and they were so friendly and understanding and allowed me to cancel my membership. But this came with ties!!! I've now had to block at least 5 numbers who have continuously called me and at all hours of the day, 6am to 10pm; unacceptable!!! I've made it very clear I have no interest in signing up and I don't want their free training session; I have also flat out asked they stop calling me....
2 months ago Philip Etienne
Great place to work out!
6 months ago James Lemaster
I love crunch better than any of the other fitness centers I have been to. The employees are great, they have so many different services! And all of their trainers are amazing!
3 months ago Viacheslav Grimcore
Great atmosphere. Nik is a terrific trainer, very professional
10 months ago Dmitry Ivanov
Have had nothing but great experience working with the staff. The choices of options for the various things you may be interested in...cardio, weights, steam room, HIIT workouts, etc is best in Topeka. They are constantly cleaning and the class choices are awesome. I can take my son as a guest each time (no one else in town has allowed me). Hoping this gym stays for many years...and it's centrally located! Tired of driving to the West side for everything! ????????????
1 week ago Karl Sanderson
Clean and super friendly staff! Great deal for the money
11 months ago Siuzanna Khachatryan
Gym is quite nice and the staff is good but I found the marketing tactics annoying. They say no startup fee, no contract, $10/month. But then when you're already going through signing up they say "oh there is just an annual $60 fee also that will be charged 60 days after signing up. And every 12 months after." Still a good deal but come on. I'd prefer transparency to feeling like they are trying to sneak another fee in.
5 months ago anna bendon
I joined with friends, went 2-3 times before COVID closed them. We were not notified when they reopened. We were called a few times over the summer to upgrade our membership or sign up for training services. Then, out of the blue I was sent to collections because my bank card expired. Reputable businesses that want to keep their customers, reach out with a friendly call to get updated information. Stopped by today to ask why they proceeded with collections instead of mentioning during one of their sales calls- no real response. However, if I would give them my new card number they could forgive those charges. Really? I'm not interested in doing business with anyone that treats their customers like this!
1 month ago SALEWA OSINUSI
Hmm i was going to enroll here but after reading the comments , never mind! They really dont refund money they have taken , what a shame
3 months ago Derek p
Honestly one of the most customer service oriented facilities I have ever trained at. The staff clearly cares about the well being of their members. Equipment is always clean and maintained.
5 months ago MizZ Hamilton
I really enjoyed this gym for the week that I got to go before COVID. I ended up being charged in July for a month. I called and spoke to a lady and she said that they would not be able to do a refund but they could freeze my account and I would not be charged during that time. Shocker....at the end of July I was charged the annual fee. Also shocker...no refunds. It's now day 5 that I have been waiting for a manger to call me back to deal with this issue after having to call twice. Honestly, I wouldn't trust a thing they say. Be careful with your account on file there because remember...no refunds! If you have the authority to take from accounts then you should have the authority to give it back. So incredibly frustrating!
5 months ago Camino Bop
Good equipment. Great variety. Tanning booths are legit and that hydromassage is the truth.
2 months ago Emily Milam
Erica's class is amazing. She is encouraging and that motivates you to do more.
1 month ago Adrienne Jackson
Workout here every day! Cleanliness is on point
3 months ago Sunil Padinjareppattu
Nice place to work out
8 months ago Amy Loewy
Excellent gym. Affordable. Massage chairs, sauna, tanning beds, ballet classes, weights, etc. Friendly folks, very clean, brightly lit, colorful, no judgements. I go there to schlep on the treadmill for an hour and nobody bothers me. It's great!
8 months ago Jose Ramirez
So awesome. Lots of great equipment and very, very helpful staff. At this price, it can't be beat (in my opinion).
6 months ago Geral GRez
I can't believe how great their grand opening has been so far! The best staff, amazing equipment, a very low pressure and encouraging environment. Bright colorful clean and everything I ever wanted. The tanning, sauna, and hydromassage are awesome too!
11 months ago Elaine Flynn
Best gym in town!!!
6 months ago Melodie Rush
I tried to cancel my membership several times and keep getting charged. I have contacted the website and crunch fitness but no help has been given. And im still being charged for a membership that should have been canceled previously.
4 months ago Kristin Gentry
Holiday Square says it all Merry Christmas
1 month ago Yuvraj Mamupuria
I signed up for a 30 day free trial in March. Went once, for my free evaluation. Corona happened, havnt stepped foot in that gym for 6 MONTHS!! They charged me 70 dollars for a annual fee and a membership fee. I called and they REFUSED to give me my money back. Havnt used their services, havnt stepped foot in their gym. Be careful doing any deals with them
1 month ago Goldie Locks
Love love love the classes and the people employed there !!!! The membership fee and availability are awesome as well ☺ Wish it had a pool or hot tub though ????
5 months ago Getachew meaza
This gym is amazing and the staff is absolutely wonderful. Cheap and highest of quality. Only 10$ a month which gives you access to the equivalent of like 3 gyms in one building. That's like 120$ for an entire year. Plus they have a ton of options and perks for anyone and everyone.
9 months ago Jenna Jeffers
Love this place
6 months ago Dusan Mikula
Too much paperwork for saying they have "no contracts". I highly recommend that everyone read what they are signing first here! Guest privileges are a joke, because your guest can only workout they and can't even tan or massage or anything. They made this place sound amazing at first, but beyond the hype, it's just an overpriced gym that really isn't anything special.
7 months ago Ronald Graw
This is a good straightforward gym. Plenty of space and opportunities for getting into your own flow. Glad there's a dry sauna, HIIT and spin classes. I came during the night on my first workout and Ken reset my HydroMassage bed from the front desk after I called him from my phone. That's good service.
7 months ago Carter M
Clean and great equipment. Friendly and knowledgeable staff!
5 months ago Sam LeBlond
Best Gym in Topeka by far. Not even close.
4 months ago
Popular places from the category Gym