Next-Steps Employment Centre
Employment search service Next-Steps Employment Centre, 4585 Hwy 7 Unit 7, Woodbridge, ON L4L 9T8, Canada:
49 reviews
of users and employees, detailed information about the address, opening hours, location on the map, attendance, photos, menus, phone number and a huge amount of other detailed and useful information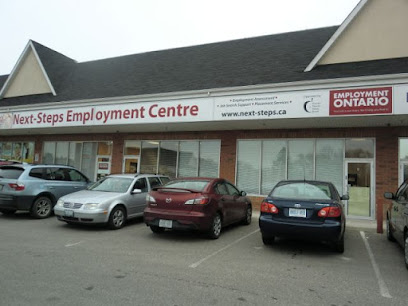 Address:
4585 Hwy 7 Unit 7, Woodbridge, ON L4L 9T8, Canada
GPS coordinates
Latitude:
43.7834606
Longitude:
-79.5752094
Location on the map
Reviews Vladimir Lysik
Samantha Dufrane-Ford of 8200 Pine Valley Dr is in serious need of a job. She has many months of back rent that she owes and needs to start paying back before this ends up in court. So if you can please go to her home and help her get a job that would be wonderful. Her qualifications are oral servitude for free food.
2 weeks ago Daniel B
My experience with Next Steps Employment Centre was really helpful. The Employment Advisor, Muzaffar Matloob, gave me many tips and advices that are useful for a lifetime. He really went above and beyond to help me and make sure I succeed in my future jobs and life as well. The interview skills, LinkedIn advice and resume critique was absolutely beneficial!
9 months ago Colleen Randall
I would like to thank each and everyone for their time, guidance and support while visiting The Next-Step Employment Center in Woodbridge. The resume and interview workshops was very helpful. The three weeks Customer Service Program was excellent. Great refresher for me. I met amazing people on this journey.
1 month ago Michael Melton
I will like to thank my advisor Mr. Muzaffar Matloob for a wonderful informative session . The employment resource catalog Mr Matloob shared with me is full of resources and information that I have a direction now which I was lacking. Also, I will like to add the knowledge and passion he has is what a newcomer like me was looking for. Would highly recommend for new immigrants to use his services as a stepping stone for a bright future and career
10 months ago Pamela Nishizawa
I had a great talk with Muzaffar Matloob from the Vaughan site. He was very knowledgeable and helpful. He made me feel like I could do all the courses and pass them.
9 months ago Jeremy Tucker
Next step employments was everything I needed to help me understand and see results in the job market. The team at Next Steps holds free workshops from creating a competitive resume, to help with interviews and gaining confidence . I'll like to personally thanks Rod and Harcourt for there time and energy helping me through the job recruitment process. There experience and expertise guided me to see results. - Daniel Russo
7 months ago rory smith
From the time I first signed up to Next Steps Employment Centre, it took me only one month to secure the position of my dreams. The resources offered to me such as workshops and computer training, played a key role in attaining an interview and becoming a successful candidate. I'm grateful to the committed staff at Next Steps in Vaughan for all their support and encouragement to follow my dreams and spread my wings!
11 months ago Justine Dowd
The services provided were life changing for me, I went from unemployment and aimlessly applying to jobs with little to no response from employers, to getting interviews most of the time at very desirable jobs, and eventually employed with a very respectable company that aligns with my University education. In brief, they taught how to seek jobs from a different targeted approach, increasing the success rate of getting interviews. I feel that people regardless of their employment status should come and learn job seeking skills here. There is a lot to benefit from here, and it's free, why not. Also major thanks to Rod.
10 months ago Annie Askew
Next Steps Employment Centre has been a life line. From resume workshops and interview workshops to job search tools, this centre truly gives you the confidence to find your next career and help you to get that job you want. The staff is simply amazing, they are always willing to help and guide you in the direction you need to go. The tools available are endless and the knowledge you will leave with priceless. I highly recommend.
10 months ago Gazi Mahmood
A wonderful team! Excellent service! I will definitely recommend for anyone who is looking for employment opportunities.
8 months ago Katherine Kelly
My experience at this centre was great! All of the staff here were very nice, friendly, professional, non judgmental, and took great concern and care in helping me get through a bad situation. They will go the extra mile to help and will call to follow up, invite you to workshops, job offers and just to check in and make sure you're doing alright. I attended one of their Job Refresher workshops and it enabled me to connect with others in my situation and gain valuable information which was very informative. Thanks for all your help and keep up the good work!
1 day ago Chloe Brewer
After being employed for over 30+ years I was suddenly faced with unemployment after our company contract was not renewed. I was so grateful for the staff at Next-Steps Employment Centre for their encouragement and positive attitude. I am especially grateful for the workshops conducted by Rod Scott. His workshops were very engaging and informative!
4 months ago Westmed
A very helpful and welcoming place to cick start your job search. Their staff, starting with the front desk ladies( Dorothy and Sam), the computer program coordinator( Mark), to the job advisor( Muzaffar), and the employment specialist( Rod and Julia),are dedicated to making your job search journey a pleasant one. The centre offers a wide range of job search tools, including workshops, computer and various information session that is oriented to help people get back into the work field. Thank you for all of your help!
9 months ago Ben Gibbin
I visited 2 other employment service centres before coming to Next Steps. I decided to use Next Steps for assistance with my job search because of the welcoming, supportive atmosphere that I received and boy was I glad!!!! I had nothing but a wonderful, positive experience especially with Rod, Julia and Harcourt. They were extremely warm, knowledgable and very helpful! Next Steps has many informative workshops and resources. I was able to upgrade my Microsoft Word and Excel from 2007 to 2016. I recently got an interview with my dream job!! I highly recommend Next Steps! Thank you Next Steps and I'm very grateful for all your assistance!
1 week ago David Boren
My experience with Next steps was really good. I attended most of their workshops which helped improving my resume, cover letter and job search methods. The consultant and job developer were also very helpful in terms of preparing me for job interviews and making me aware about the job market in Canada. I would recommend next steps employment for newcomers in Canada who are in the process of finding job opportunities.
4 months ago Mark Briggs
I'd like to thank the staff at next steps employment services in vaughn, for helping upgrade my resume and teaching me new interview skills to ease back into the work force quickly. thanks again
11 months ago Jade Nesselb
the staff at next step r very organized. They give a lot of suggestions and r always in your corner.i would recommend them to anyone looking for work. keep up the good work guys.
8 months ago vipin pk
My experience at NSEC- Vaughan, has always been very positive, especially my recent experience with them helped me end up getting my career job in the education field. This is the best place to get professional advice and help....the staffs is very friendly and polite. Particularly my Advisor Mr. Muzaffar, whose positive endorsement and strong motivation made it easy and possible to obtain this position.
4 months ago Costanza Prandoni
It was a very insightful experience. The Staff here are friendly, helpful, non-judgemental, accommodating and generous. I really learnt a lot from them. At first, I thought I knew a lot about Interviews and Resumes until the workshop started, then it turns out I really did not know much about it after all. Now am sure I definitely have what it takes to get a great job out there. I am glad I attended the workshop!!!...You should too.
4 months ago Dorthie Cooper
My experience with Next Steps Employment Services has been an excellent one. I took advantage of all of the courses that were available and came away with much more than I expected. Resume writing and Interview workshops were excellent, informative, interactive and Rod the instructor made it fun, as did John with the MALL course. I found all the staff to be very pleasant, helpful, patient and genuinely interested in providing us with the tools necessary to get us ready for our re-introduction to the work force. I would highly recommend the services to everyone.
1 month ago Leslie Ramirez
My experience with the Next Steps Employment Center has been a very positive one. With their great monthly workshops on resume writing, interview tips, and the many other innovative monthly courses such as computer training and the customer service program I have learn a lot in attending all these classes. Next Steps also has job fairs with great employers such as Home Depot, Best Buy, and Tim Horton's. Next Step's is great and friendly environment whose staff is top notch, and will go the extra mile to help you find the job/career that you are looking for. Being a person with a disability I found it very challenge to find employment. I usually got the excuse from the employer that my disability would be something they would not accommodate. Next Step's is great because they inform the employer of the disability and if they are able to accommodate the individual. With the help of Next Step's I am currently working with accommodations of being able to ask for help if I not able to do certain physical aspects of my job. With the help of Next Step's and the understanding o Home Depot I have achieved numerous customer service awards , and received the Executive Award from the President of Home Depot Bill Lenne . Whatever challenge you have in finding employment Next Steps is there to help you find it. Although I am gratefully employed now. If I ever need their assistance again I know that they will be there for me.
1 month ago Kayla Mollette
My experience with the Centre has been tremendously supportive. The staff are professional and experienced in all areas of the employment field. They offer materials, computers and whatever else you require to develop your resume and cover letters. The training sessions are top notch, very informative and necessary in the job search world today. I will continue to utilize the resources as needed and look forward to just dropping in to say Hi !!! All the best to a great bunch of people and sincere thanks to you all !!
8 months ago Amy Armstrong
Next-Steps Employment Centre is a great organization that provides you with the tools you need if you're in transition. Especially if you've been out of the market for quite some time, you learn about the new trends, resume writing, interview and techniques. You are also provided with plenty of resources you can utilize while in transition. Next-Steps Employment Centre has definitely provided me with useful information and the tools I needed to help me attain gainful employment.
2 months ago Sue Barr
Great experience from beginning to end. Helped me develop resume writing skills, interview preparation skills in addition to being super supportive and available. Totally recommend this centre for anyone looking to jump start their career "next-steps". In less than 2 months from the date I walked in to the office I signed a job offer for exactly the type of job I needed to balance my work and personal life.
2 months ago Mahesh Choudhary
Hi, my name is Rashid Mahmood today I want to share my experience with Next Employment and how they helping and teaching to the people's for getting their right and best working place. In spite of I have a good work experience of different company's I was facing a problem to get a work as of my experience but I couldn't found, then my case worker Christine from York region she refer me to next step and I started my training and believe me I learned a lot of things from one place Next step not even only these I got a excellent job in amazon full time. Special note: I requesting to those people's who facing a these type problems just join one time Next step they will be able to handle a lots of matters and in the last hopefully they must get what ever u need. Thanks next step Best of luck for everyone
8 months ago Jonathan Knight
I learned resume writing and interview skills at the Woodbridge location. My updated resume attracted many employers to invite me for interviews. I am really thankful to all the staff who helped me during my sessions with them. Very friendly environment. I am successfully employed now.
2 months ago SRIRAMULOO APPANNAH
A place where anyone looking for work can go for support.. Awesome people and place! Thanks for all your help. I truly appreciate it!
11 months ago lauren larty
Starting from employment advisor to job developer everyone goes an extra mile to ensure that you get a sound job. Strong encouragement from Mr.Muzaffar, sound tips on resume building from Mr.Rod and finally mock interview session with Miss.Julia Sipos. Thank you everyone for your contribution in getting me a job.
8 months ago tori hart
They were very helpful with my job search and have a lot of workshops/tools to help you develop and prepare for interviews and getting a job. Their advisors are honest and straight forward and very helpful getting you through "roadblocks"
4 months ago Candice Martin
As a new immigrant here, this centre gave me some useful guidance when I was looking for my first job in Canada. Such as, career assessment to specify the career objective, how to prepare a better resume, and essential interview skills. Those things are much valuable for me, and also made me success in the interview of my job I have now. Many thanks for your great help!
8 months ago Rey Cardoza
One of the best employment center! Help me go through difficult time of being unemployed. Specially Mr Scott Rod teach me many ways to approach employers with interview tutoring and resume building. He was always in contact with me through the whole process until I found my job.
11 months ago Bailey Walter
Next Steps gave a wonderful friendly atmosphere that allowed me to learn more about their employment process. The people here are nice and treat you as both a client and a friend. After taking some time to chat in a meeting (one on one) i was able to acquire knowledge and tips i could try out. I managed to get myself a job by using the tips and tricks i learned at Next Steps. I'm very happy that i came here to learn and gain knowledge about Next Steps and how to get a job.
2 months ago John Schmidt
Next Steps Employment Services has great services. All the staff here is very very kind, helpful and all the workshops given are extremely helpful, so I will advise any one who is looking for another opportunity to come to Next Steps Employment Services and get their services. Once again I really thank all the staff from bottom of my heart for offering all the assistance!! Great work guys!!
3 months ago Jurgen Braungardt
It was a really nice experienece. The staff is friendly, helpful and supportive.
10 months ago Cristina Baboi
my experience at next steps has been very helpful....if you are having problems finding employment then this is the place where you will find the help ...the staff is very friendly and polite and always willing to help, they found me employment within couple days...mr rod was great help and gives good advice...if you are looking for employment then this is the place for you
11 months ago Darwin Contreras
My company just went out of business and I was invited to explore opportunities and discuss my future goals with Next –Step Vaughan, I must admit I was a bit skeptical, but after talking to the advisor assigned to me I was pleasantly surprised by their professionalism and customer service skills, they made me feel like I am their only client, It was very rewarding for me Thanks! Harcourt, Rod you and your team are fantastic. Mike S.
8 months ago Patricia Czychun
I love Next steps because they actually care about their clients! Rod Scott has informative workshops, the girls at the front ( Sam Jama & Dorothy Feeney) were always delightful, Muzaffar Matloob my Employment Advisor besides his HUMORS personality is very professional and a great advisor with encouraging words. Julia Sipos the pretty Red head, always available for extra enthusiastic words and she provided a wide range of Interviews that landed my Job! Great Team work !
11 months ago Jeff Lawler
I have registered with Next Step Employment Center On Sep 2018 and they called me today on Nov 29, 2018 to know if i got a job. I have attended couple of workshops with them i.e Interview workshop,resume writing workshop.job search workshop, net working workshop. The services they are providing are NOT HELP FULL AT ALL.The employment specialist never help you to find a job. In the interview workshop the specialist asked us to search some tropics in google and discuss between other job seekers. The specialist does not have experiences . Everyone has computer and internet service in their home and they can access different website to find the job.If people can find the job by searching through internet why people are going to these types of service center , I really do not know. Instead of going into these types of service center better stay home and find job by yourself. DO NOT WASTE YOUR VALUABLE TIME. They really do not help. Government should not waste our tax money for them. Government must close this types of service center immediately.
11 months ago Sara Mendoza
My experience with the Centre has been tremendously supportive. The staff are professional and experienced in all areas of the employment field. They offer materials, computers and whatever else you require to develop your resume and cover letters.
1 month ago Cristhian Balcarcel
My experience with Next Step Employment service was great. I've went to all there workshops and they have helped a lot to secure a job. I've attended reenergize, resume & cover letter and interviews workshop where I've learned many tips and tricks which helped with my job searching process. Within a couple of weeks of joining Next steps employment services i found a job which suited my career path.
6 days ago Krasen Zahariev
I was very satisfied with the work they have done with me. I went in for the resume workshop and learnt so much. The staff are friendly and always ready to help. I would recommend their services.
2 months ago Tiger Raider
Next Step's experienced staff quickly helped me to find a career path. Thank you all so much!
10 months ago Samantha Owsiak
I was coming here for job search and the staff and resources were helpful. I found the job, thanks to the staff.
8 months ago Bertha Barber
My experience with Next-Steps Employment Centre in Vaughan was positive and helpful. Rodney Scott was my facilitator, and due to his expertise, I was able to secure a job within a week.
1 week ago bill wilkey
I just want to let u know next steps employment they are the best I went to learn how to do cv and the next day that fund me a job was so nice and lovely people and thanks Julia for helping me you are the best you guys helpmeet 2 times to find a job love you guys and god bless you so you can help more people to start new life god bless you again ......howayda potras
5 months ago Phuc Nguyen
Exactly a year ago I had finishing a joint program held by Next Steps & TDSB called Youth Into Food Processing. I began with zero confidence but was ready to learn. I found that the advisors at Next Steps, Muzaffar, Julia, Rod, were incredibly understanding, encouraging, and passionate about their roles in helping their clients find their way through a happy, safe, and satisfying work world. Mahnaz and Sarah from TDSB were absolutely amazing with the YIFP program. It's unfortunate that it is no longer running. Amidst all the guest presenters, workshops, certification tests, interview and resume building exercises, the advisors did a wonderful job in tailoring my learning and skill building to my own personality and goals. I was able to find employment a couple weeks after the end of the program. The advisors kept in touch with me, to see how I was doing and if I had any concerns. A year ago, I definitely would not have been able to picture myself where I am today - happy, secure, and constantly growing and excited to continue building my career!!! I thank Next Steps and TDSB for the amazing support, compassion, and knowledge they provided me. Come in with an open mind and be ready to learn!!!!
8 months ago Jessie Santos
Next Steps Employment Centre proved to be the extra "Umph!" I needed in my job search. They have numerous resources and a solid support system for all who come looking for assistance. Their workshops are very informative and are always customized to the needs of the group, which is great because they do not waste time on topics that are not relevant to the audience. The Employment Advisors are exempliary; one meeting with my EA and he infused me with the confidence I was lacking in my job search. Try NSEC. You will not be disappointed.
8 months ago Bhau Yadav
Thank you so much!!. This was a very comprehensive presentation, very helpful thanks a million!!
2 months ago Jay Thomas
Friendly environment and very helpful resources and workshops
8 months ago
Popular places from the category Employment search service