Gymnastics center Peninsula Gymnastics
Gymnastics center Peninsula Gymnastics, 1740 Leslie St #2410, San Mateo, CA 94402, United States:
12 reviews
of users and employees, detailed information about the address, opening hours, location on the map, attendance, photos, menus, phone number and a huge amount of other detailed and useful information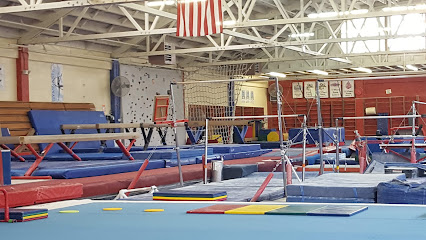 Address:
1740 Leslie St #2410, San Mateo, CA 94402, United States
Website:
peninsulagym.com
GPS coordinates
Latitude:
37.5529512
Longitude:
-122.3103867
Location on the map
Reviews De B
This is one of the most wonderful places on the Peninsula. I wish I knew about them ten years ago. The structure is fantastic have a look at the photos. The personnel is the most gracious, they explained me everything about their activities. The teachers are perfect: they give space to kids to try out stuff on their own and understand their limits, but are ALWAYS there to help them. They actually listen to the kids instead of telling them what to do. This obviously doesn't work for helicopter parents which do not appreciate this style but I find it great. If I had to nitpick and find a negative is that, as not all kids follow basic hygiene, the air tends to smell a little. Air up the place guys! All in all, fantastic, please never change. Plenty of parking space outside.
8 months ago AJ Muusse
We have 2 girls who have been here about a year and a half. We have needed to switch days a few times and the staff has always been very accommodating. Saturday's tend to be crazy but we are very happy with our Friday schedule. Parking is horrible but over all we are very happy with our experience. I would certainly recommend Peninsula Gymnastics.
9 months ago m hartline
this a great gym and is super fun to go to!!
6 months ago Chris Nycum
it is great if there was a beter word then great ill say it
7 months ago Kristen Young
No parking Totally disorganized Dirty place The staff is rude even with children especially the person at the front desk (Asian Lady).
7 months ago Gail Mitchell
Had a kids party her and staff was very rude. I don't recommend having a party here.
7 months ago james cary
Best place in going there for gymnastics and there great the best attitude towards everyone even if you had no experience they really don't care they help and make you a professional ????????????????
5 months ago Jacqueline Weinzierl
I've been here for drop-in classes for my 4 yr olds maybe 4-6 times, and every time, I've been on the receiving end of rude and/or condescending behavior from the coaches and/or staff. They seem to do well in competitions, and the coaches seem like they're probably real professional/retired gymnasts, so they know the technical stuff, which is why I kept coming back, but man, if you want a remotely pleasant experience, avoid this place. The last straw was today when the receptionist lied to my face and insisted on escalating it into full blown argument when I called her out on it. Let it go, lady. Never going back. EDIT: I see no way to reply to the owner's response, so see below: If it's so important that everyone check in, then make sure your receptionist is at the desk. I suspect this is why she insisted on lying to me about being there - because she'd get in trouble if she wasn't. I'm so glad you have it on surveillance - please check why she wasn't at the desk when I arrived. I am very aware of the need to check in because that was the reason for a previous instance of very rude behavior. I was walking my kids over to the cubbies so they could start taking their shoes off while I checked in because there was already another parent at the desk, when I was chased down and told that wasn't allowed. I had to make my kids wait with me at the desk while I waited in line to check in. Really? PLUS, this is all completely beside the point. I am not complaining about the checkin procedure. I'm complaining about the complete rudeness of your receptionist yesterday, and other staff previously. An employee does not repeatedly call a customer a liar. You apologize and move on, regardless of who is right or wrong. Your response here is another example of what I'm talking about. A professional APOLOGIZES AND MOVES ON. You do not continually insist that the customer is in the wrong. That is how you lose that customer. You have still not apologized for your staff's behavior. A quick look at your Yelp page shows me that this is not an isolated incident. Many people have experienced rude behavior. With so many gym options nearby, especially through Pearachute, I have ZERO reason to give you all another try.
8 months ago Kay yt
this is an awesome gym!!!
11 months ago E DuPerier
Good camp for kids....but parking situation is terrible.
9 months ago Amalia Bautista
Awsome!
2 months ago Katie Thompson
Super gym. ????????????????????????‍♂️
10 months ago
Popular places from the category Gymnastics center