Little Luxuries
Gift shop Little Luxuries, 230 State St, Madison, WI 53703, United States:
52 reviews
of users and employees, detailed information about the address, opening hours, location on the map, attendance, photos, menus, phone number and a huge amount of other detailed and useful information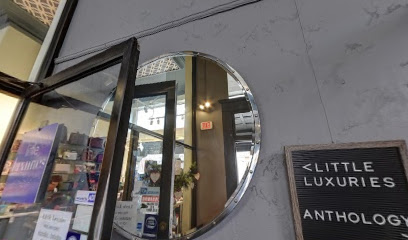 Address:
230 State St, Madison, WI 53703, United States
GPS coordinates
Latitude:
43.0749570
Longitude:
-89.3893901
Location on the map
Reviews Henk Berkhemer
One of my go-to places for cool and unique gifts - even though I always end up getting something for myself as well! They have everything from jewelry and accessories, small décor pieces like frames and cool items for kids . They carry a lot of local vendors as well - make sure to stop in next time you're downtown!
10 months ago Ted Bara
Phenomenal shop, with a huge variety of gifts and friendly staff!
10 months ago Ehsan
I always return for their high quality and unique hair clips made in France. Cute hats and mittens in winter, too!
1 week ago Claire Sellnow
An excellent gift shop with an awesome staff and really unique items!
10 months ago Jill Morgan
I really love this store and there are so many things to pick.
10 months ago Amer Kundra
Super cute shop with all sorts of unique and local art. Perfect place to find unique cards for birthdays and holidays!
6 months ago Gretchen Fisher
I love this place for buying gifts! There's always something unique there!
1 month ago misty scheller
Absolutely love this boutique! They have the cutest things for sale. Staff is always super nice when I go. I ordered sunglasses from there and I literally got them the next day! They are perfect and there is so many to choose from. It was awesome! I definitely recommend!!!
8 months ago laura noguera
This place is a true sampling of variety and adventure. So much to do and see and they have a children's section. My child liked a music box. She wants to go back for more songs.
6 months ago Harrison Marks
Another reason I love State Street! Support this great locally owned store!????
8 months ago Paul McClurg
Love this little souvenir store. Great Madison products and quirky knickknacks that give it an authentic Madison Wisconsin vibe. My personal favorite store on state street and right by the Capital making it a perfect stop!
8 months ago Gillian Johnson
Cute store with a ton on unique and fun gifts. Good selection of children's activities and beautiful children's books. Service has always been good! A little pricey.
6 months ago Tony Palmer
Great place. Fantastic gift selection.
11 months ago Cristian Aparicio
This is the one store on State street that I always look forward to visiting each time I return to Madison. Little Luxuries carries the cutest purses and is the perfect shop to visit for gift giving. Make sure you stop in and shop local!
8 months ago James Riha
Cute shop with a very wide selection of unique items. Would be a great place to go gift shopping for those that already have everything or are difficult to shop for.
8 months ago Nirupama parmar
Absolutely love this place and their collections!
9 months ago J Lescault
Great shop for quirky gifts. The inventory is always changing, making each visit fun, unique, and different than the last.
9 months ago gurdaspur punjab
So cute! So fun! You'll probably find something you never knew you needed but now love and can't live without ????
8 months ago Sarah Paris
Lots of variety and cute things to look at in here. Always something new to see.
8 months ago Araba d
Lots of cool stuff (trinkets, gifts, souvenirs, artsy supplies, etc.), but at a premium price.
9 months ago Justin Dick
Perfect for birthday or Christmas present shopping. Very Eclectic!! Love going there when we visit Madison
10 months ago Julie Thibault
Super cute little shop! They have great items that toy can give as gifts
10 months ago David Huffstutler
Has a lot of kool lil things in there & some stuff not expensive
8 months ago Dontavious Talley
Cute little shop on State where you can find lots of great little curiosities and fun trinkets for your next gift. The boutique section, and children's section are great too. Whether you're actively looking for a gift or just browsing, you're sure to find something interesting here.
3 months ago Abdullah Alsalloomee
Nice little boutique in downtown Madison, had lots of gifts and artsy items to buy.
10 months ago Jeffery Magnuson
Great clothing to get famous luxurious exports in products in Madison
8 months ago Jim Clem
Open late. Lovely shop full of nifty gifties.
8 months ago B Cat
My Favorite Store On State Street. Love the barrettes and the fun gifts.
2 months ago Jenny
Always find such fun things in here! I seem to stay at least a half hour in this small boutique! Make sure to pop in and grab something to brighten up your day!
6 months ago Yohendy Figueroa
What more can anyone say? This is just a veryfun gift shop!
9 months ago Brent Fields
Very pricey for stuff you can find elsewhere. Cute shop though.
9 months ago Moe Sam
Ever since I was a kid, my mom and I have stopped in at Little Luxuries just to see what they have. I've always loved the wide selection of fun trinkets and knick-knacks they have to offer!
3 weeks ago Nicole Jenkins
Awesome gift shop! Dangerous. I want to buy everything. So many unique items.
10 months ago Rodney Reed
Cutest little shop for unique gifts! LOVE exploring all the fun new stuff that shows up.
9 months ago Niko
Adorable place to find cute gifts for friends and family, and yourself
6 months ago vanessa lopez
This is a fabulous shop with out of the ordinary gifts. Very friendly staff.
2 months ago Terri Foster
Beautiful space with all the fixings for a perfect gift or treat for yourself.
11 months ago Katie Quirk
Great gift store, full of things I'd never seen before.
3 weeks ago susiemae ford
Very cute little trinket shop. Not sure how to classify this as they sell all sorts of little gifts suitable for a wide age range.
3 weeks ago Taher N
Great little shop if you need to pick up for the little lady.
11 months ago Colleen Dustin
Staff was very kind. I found some great items at a really good price.
2 months ago Angie Runkle
Fun gifts to find for everyone
8 months ago April Crowley
Great variety, I love my new air fern necklace!
11 months ago Nancy Marshall
great service, find very cool gifts there.
3 weeks ago Spencer Field
Great selection. Unique styles.
6 months ago Jim T
Love this shop.. a must visit if you're in the area!
2 months ago Jason Krivachek
If you need sunglasses or hair accessories, or just a pick me up in style, this place has it. Great service and selection.
10 months ago Garvin Golding
horrible to employees, college students don't work there <3
10 months ago Marissa Collins
Fun shop, lots of quirky, creative items for gifts.
6 months ago Venkat M
This is a cute spot to find presents.
4 months ago
Popular places from the category Gift shop