Duggan's Serra Mortuary
Funeral home Duggan's Serra Mortuary, 500 Westlake Ave, Daly City, CA 94014, United States:
17 reviews
of users and employees, detailed information about the address, opening hours, location on the map, attendance, photos, menus, phone number and a huge amount of other detailed and useful information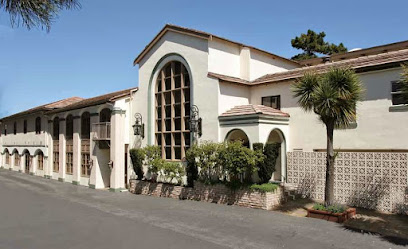 Address:
500 Westlake Ave, Daly City, CA 94014, United States
GPS coordinates
Latitude:
37.7002948
Longitude:
-122.4697221
Location on the map
Reviews michael Cormier
After 12 years my Mom paid for a burial plan for both Dad and Mom. Dad past away 6/15/18 and Duggan's came threw with all their promises and more. The Funeral and Burial was very nice Duggan's Staff treated all the guest , family as well my deciesed Dad with high respect. My Dad served the UNITED STATE NAVY for 40 years , We are very proud of him for that and for being a great Father. Thank You Duggan's for making these last days the best to honor my Father. Great parking for a large family and extra parking on the side garage if more.
1 month ago Storch Pictures
Duggan's -our family has been completely satisfied with your service... José Luis Gutierrez went above and beyond for our family. We had a horrible experience with another mortuary in Antioch and Duggan's pick up our loved one. Thank goodness for them we feel so well taken care. There professionalism, attention to detail, they explained everything, Accommodated our every request. We never felt like we had to do everything. Thank you! Chinchilla family ????????
7 months ago Travis Howe
Literally the best experience hands down! Having a death in the family during a pandemic is hard enough, the fact that you guys came to Our rescue words can't express how grateful we are! Thank you for such a wonderful experience, your intimate compassion, and your ability to create a rainbow during during these hard times! You didn't take advantage of us, you were being accommodating, and you your professional work ethic speaks volumes!
4 months ago Elizabeth Hyre
Great service and attitude. Respectful. Through. Compassionate.
5 months ago rachel sockbeson
From the initial point of contact, the staff at Duggan's Serra were empathetic, accommodating and very communicative. Melissa was sharp, responsive and a consummate professional... she managed my stress and fear of the paperwork and process with delicate compassion and kept in touch with us from start to finish as we awaiting the final documents. From the bottom of my heart, thank you Duggan's Serra.
1 month ago Jerry L
My experience with Duggan's Serra Mortuary was a beautiful one for a very sad time in our lives. Everyone there was so thoughtful and caring, Steve Muller went over and beyond the job of duty and made everything just perfect. Steve Muller takes that extra time for you and your family, and to me that is very important.Duggan' s Serra Mortuary has a small town business value in a big city. I am so very thankful we found you,and thank you from the bottom of our hearts Steve Muller for everything you have done for our family. Sincerely Julie
8 months ago Mike Merulla
Compassionate, loving, kind and gracious services are provided at Duggans. This is the place to mourn, celebrate or meditate the life and now death of a loved person. Exceptional family services! Thank you!
11 months ago Camielle Landolfi
Good place to pay your last respects, but be careful...A lot of people don't make it out of here alive.
8 months ago Cherrise Gaster
12/24/18 - OUR HORRENDOUS EXPERIENCE - A TRUE STORY! WHEN MY DAD DIED WE MADE ARRANGEMENTS WITH DUGGAN'S MORTUARY IN DALY CITY. THE MAN THAT SPOKE TO US SAID WE'D HAVE TO PUT MONEY DOWN. SO WE DID. THIS SAME MAN WAS SUPPOSE TO MAKE ALL THE ARRANGEMENTS > CHURCH, PRIEST, MUSIC, FLOWERS, EVERYTHING. WE NEVER SAW HIM AGAIN. HE VANISHED. HE SAID SOMETHING ABOUT SURGERY AND HE WAS GONE. INSTEAD OF HAVING ANOTHER PERSON ASSIGNED TO HELP US, NO ONE BOTHERED, SO WE WERE LEFT TO MAKE ALL THE ARRANGEMENTS ON OUR OWN...AND WE DID. ALL THE WHILE WE WERE GRIEVING MY DAD, WE WERE STRESSED TO THE MAX, EXHAUSTED, CRYING, DEPRESSED, WE ARRANGED FOR THE CASKET, THE SUIT MY DAD WOULD WEAR, THE CHURCH, THE PRIEST, A SINGER AND PIANIST, THE MUSIC, THE FLOWERS, ARRANGED THE WAKE, THE AFTER FUNERAL FAMILY GET TOGETHER AT MOLLOY'S IN COLMA, WE WERE SO TIRED AND THEN WE REMEMBERED THAT WE DIDN'T HAVE ANYTHING APPROPRIATE TO WEAR!!! WE RUSHED ALL OVER THE CITY LOOKING FOR DARK DRESSES, BUT IT WAS APRIL AND NONE OF THE RETAIL STORES HAD ANY DARK COLORED DRESSES. WE MANAGED TO FIND SOMETHING APPROPRIATE. THE MORNING OF THE MASS AT CHURCH WE WERE GLAD THAT WE HIRED A SINGER AND PIANIST, WHICH MADE THINGS SO MUCH NICER. ANYHOW DUGGAN'S DIDN'T DO ANYTHING, EXCEPT DRIVE US TO THE CEMETERY. YET THEY KEPT OUR MONEY AND TO THIS DAY THEY REFUSE TO REFUND US THE MONEY WE PAID. IN ADDITION TO OUR SORROW THERE WAS THIS YOUNG MAN, AN APPRENTICE WORKING AT DUGGAN'S, A CREEPY GUY CONSTANTLY TRYING TO EVADE MY DAUGHTER'S SPACE, TRYING TO TALK TO HER, WALKING BEHIND HER, RIGHT ON HER HEELS, ASKING FOR HER PHONE NUMBER. I TOLD THE OWNERS BUT THEY DID NOTHING. HE WAS PROBABLY RELATED TO THE OWNERS. ONE NIGHT AROUND 2AM THIS CREEP CALLED OUR HOUSE!!! HE TOLD US SOMETHING THAT WE'LL NEVER FORGET...THAT A MAN AND A WOMAN CAME BY DUGGAN'S MORTUARY AFTER MIDNIGHT AND WANTED TO VIEW MY DEAD FATHER!!!!! I THOUGHT THAT I WAS HAVING A NIGHTMARE!!! HALF ASLEEP AND EXHAUSTED MY DAUGHTER AND I COULDN'T BELIEVE THIS BIZARRE STORY. I ASKED HIM, "YOU DIDN'T ALLOW THESE STRANGERS TO VIEW MY FATHER'S BODY!!!...DID YOU?" THE CREEPY YOUNG MAN HESITATED AND SAID, "OF COURSE NOT". I DIDN'T BELIEVE HIM. THIS UNKNOWN COUPLE PROBABLY PAID THIS CREEPY YOUNG MAN MONEY; IN WHICH CASE THESE STRANGERS WERE PERMITTED TO VIEW MY DAD'S DEAD BODY...LITERALLY!!! BECAUSE THIS BIZARRE INCIDENT TOOK PLACE BEFORE THE WAKE, IN THE EARLY HOURS AFTER MIDNIGHT, WHICH MEANS THAT MY DAD'S BODY WAS NUDE AND KEPT REFRIGERATED. THAT CREEPY YOUNG MAN ALLOWED WHOEVER THESE PEOPLE WERE TO VIEW MY DAD WITHOUT HIS CLOTHES ON!!!!!!!! WE'VE HAD MANY NIGHTMARES OVER THIS. IT TURNED MY DAD'S FUNERAL FROM A PEACEFUL GOOD BYE TO SOMETHING SURREAL FROM A HORROR STORY. I NEVER FOUND OUT THE IDENTITY OF THIS STRANGE COUPLE. ATTENTION > DUGGAN BROTHERS - IF YOU READ THIS REVIEW - WE WANT OUR MONEY BACK PLUS THIS HORRIBLE EXPERIENCE WARRANTS COMPENSATION!!!!!!
1 month ago Angela Pace
Cleo was very straightforward with a mind on keeping our budget on track. Really great Filipino coordinator who knew how to deal with his Filipino clients.
6 months ago Farnaz Mohebbi
The absolute best.
10 months ago Chip Millard
Absolutely appalled and disappointed. My family member passed on March 19th, and today is April 18 and I am STILL awaiting a death certificate. The doctor apparently made an error, and between the two offices, they dropped the ball without any thought to contact me and advise me. It was finally signed on April 12th. This Saturday will mark 5 weeks to the day of her passing. I truly hope no one has to go through this. It has been a nightmare. Truly saddened by their lack of customer service. I work in a doctor's office, and I understand how very important it is to take care of this for the family in a timely manner.
8 months ago Tina Gargano
Really nice well taken care facilities
4 months ago Deb Schommer
first and formost i would like to thank the staff of duggans serra mortuary.Armondo the corrdinator explained down to the last detail very speciffic and understandable .the irish father that spoke at the service was very compassionate and real .all in all duggans is a very good choice when its about ur loved ones .thanx duggans .seriously thank you
6 months ago Henri CHRETIEN
We had a bad experience my uncle past away July2017..The problem we had is with the death certificate until now havent recieved it..
5 months ago Taha Taha
Service
1 month ago J Fuentes
Great service...
2 months ago
Popular places from the category Funeral home