Jewelry By You
Jeweler Jewelry By You, 1644 Towne Center Dr Ste 4, South Jordan, UT 84095, United States:
35 reviews
of users and employees, detailed information about the address, opening hours, location on the map, attendance, photos, menus, phone number and a huge amount of other detailed and useful information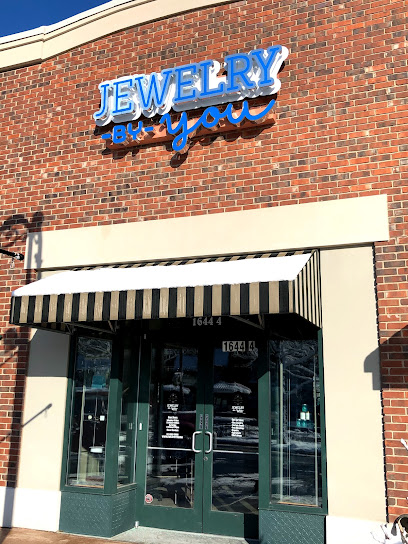 Address:
1644 Towne Center Dr Ste 4, South Jordan, UT 84095, United States
GPS coordinates
Latitude:
40.5587086
Longitude:
-111.9373907
Location on the map
Reviews bobby johnson
This was the most fun and most amazing experience!! We made a necklace of our own design in rose gold and Aaron (the owner) made sure that we could make exactly what we imagined. We even got to melt and mix pure gold and alloys together in the proper ratios to make the rose gold that we used and shaped the whole thing from that initial slug!! Whaaaat?!! We learned so much during our time there about metal work in general, and Aaron kept feeding us answers to all of our curious questions. He is the kindest and most encouraging, positive person. It was a pleasure to have him help us. We would recommend this activity to anyone who wants to make jewelry much more fun and much more meaningful ❤️.
1 month ago Crystal Johnson
They were super nice! The rings look amazing, great quality, extremely helpful. Would highly recommend to anyone looking to buy jewelry!
7 months ago Kristy Biddix
Very friendy staff. Fantastic work. I had my ring sized and 2 stones fixed. My ring looks better than it ever has.
6 months ago Kevin Kelley
I haven't received my ring yet so I can't speak to the quality, though it seems very good (I'll update this after I get it). However, my husband and I were blown away by our experience with this shop. We went in with a relatively small budget and we really appreciated Heather and one of the goldsmiths working with us in getting me the kind of anniversary ring I wanted while keeping to our budget. One of these next anniversaries we'll be going back to get a custom wedding band, and I'll be recommending these guys to everyone I can.
8 months ago Yvonne Gerych
This place is Awesome! Aaron is super nice and genuine. He helped me make my ring unique design a reality. She loved it and said, "Yes!"
6 months ago Cedric Marion
The owner Aaron is a wonderful and talented jeweler. I would trust him with any piece of jewelery, he can fix anything. Take all my breaks and jewelry troubles to him only. He's also made a lot of wonderful designs I've taken to him and they turned out Beautiful.
7 months ago Liz Spaetzel
I really loved this place I got my grandmas opal ring fixed here and they did such a great job ! I will for-sure be coming back for anything jewelry related
8 months ago Kris Beavers
Great experience. I dropped a ring off on Thursday to be resized. It was ready on the following Tuesday. It looks brand new and fits great!! Will gladly return in the future!!
10 months ago Adam Reed
Wish I knew about this place sooner! This is the THIRD shop I tried to reshape my wedding band that I totally wacked up and got stuck on my finger. First two wouldn't answer the phone and one was located in someone's house (I went there and turned around, I'm not tryna die). This place checks all the boxes, customer service, pricing, and quick quality work. Aaron was very friendly and gentle in removing my ring. It was reshaped perfectly in just a few minutes and also cleaned to sparkling. Go here for all your repair and special item needs!
10 months ago Jacky Jackson
Stopped by to get some of my watches new batteries. They helped me immediately and the service was great ????.
7 months ago Andrew Mass
Wish I could give them 100 stars. I had run over my wedding band and it ended up bent in a few areas. I had gone to other places which tried to charge me ridiculous amounts of money. So glad I found this place! It looks brand new now and I also got it resized so its PERFECT!
2 months ago Chris S
Aaron and Nicole are fabulous! They always take such great care of me and their craftsmanship is top notch. I'm a customer for life!
9 months ago Jessica Whisenand
Quick repair service and friendly staff
7 months ago Lina Vasquez
As always, Aaron, Jasmin, and Nicole were wonderfully helpful, efficient, extremely kind, and always make me feel like I'm the most important thing they'll take care of that day -- even though whenever I come in it's for a cheap watch battery! If they treat someone like me with that much respect, I can only imagine how great the experience must be for someone doing something more important than simply buying a watch battery. Seriously a very professional outfit. Highly recommend! Update: 6 months later I've been in a few more times and the service just keeps getting better (if that's possible). I found Jewelry By You only a year ago, but I won't go anywhere else ever again as long as they're still here.
3 weeks ago James Christian
We came from out of town and he gladly downsized our ring two sizes in a half hour. Ring came back polished and beautiful. We called other jewelers and their turn around time was 1 to 2 weeks. He was a very friendly gentleman and great prices.
8 months ago Ashley Sibri
If you need a place to resize your ring this is the place to go. Aaron is the nicest guy, I came in three times to get my ring resized because I am so indecisive and every time he did it with a smile on his face. Every time I got my ring back it was always so shiny and clean.
5 months ago Harpreet
I was looking for a place that would cut out some links from my gold, diamond, peridot and sapphire bracelet. Saw the great reviews they already had so I decided to check it out since they are so close to me. I didn't want to leave it anywhere a few weeks to get it done. I was amazed when when told me how reasonable the price to get it adjusted and he could do it while I wait in the store. Just got it back, it's gorgeous on me. I'm coming back to make pendants and earrings with my extra pieces after I decide what to do. Aaron was really nice and patient and very skillful. All the good reviews about them are so true.
6 months ago Exposing Thots
Aaron was patient, kind, and explained everything I needed to do to sell my jewelry and referred me to others who may be interested. He was wonderful! I will be going here for all my jewelry needs in the future!
6 months ago maria crandall
I wanted the perfect ring to propose to my girlfriend and Aaron and his crew made it happen. I had an idea of what I wanted and they helped me decide on what would be best giving me plenty of options. I will definitely be back!! Thank you!!!
9 months ago Virgen Velez
Refurbished my wife's 10 year old wedding ring and it looks brand new! Great job, highly recommend.
8 months ago Kimber Standridge
We made our wedding rings with Aaron this weekend and had an amazing time! He's a great teacher and we're so happy with the result! Highly recommend making jewelry with him. It's a really cool experience!
9 months ago Junlin Cen
These guys are amazing and helped me with a super sentimental gift. They are nothing short of the absolute best. I'll only be coming here for forever. I can't even tell you how happy we both are with their services!
8 months ago Carol Barrera
Absolutely wonderful customer service and my wedding ring is stunning! He even added more to it for a steal of a price
9 months ago Christen Bouchard
I heard about Jewelry by You from neighbors. For years, I had an idea of a piece I wanted to make out of our wedding rings, diamond engagement ring and our kids birthstones. Aaron at Jewelry by You helped me finally make it a reality. I mean that literally...I melted the gold, shaped it (with his expert and patient instruction), and he set the stones. Seeing the piece that's been in my mind all these years finally here in my hand, and more beautiful than I'd imagined brings me immeasurable joy. Looking forward to working with them again! If you need a special piece made, need a piece repaired, refurbished or cleaned, there is no other jeweler I recommend! A thousand thank you's!
10 months ago Wang Jamie
Aaron was able to help me pick out a really nice anniversary gift for a great price
9 months ago Sonny Gibson
Aaron was the BEST! I had him re-size two rings for me and I will keep coming back. He was quick to reply in email, patient with all my questions, knowledgeable, his work is excellent, and the price he quoted me for both was more than fair as technically one of the rings was four separate ones he resized and soldered into one, but he didn't charge me separately for each ring. He delivered when he said he would, and made sure to communicate with me when he wasn't going to make it by the date he originally quoted me. I can't say enough nice things about him, and I hope to take a jewelry class from him soon!
6 months ago Stephanie Grzemkowski
This man has magical hands! I had a bad experience with a different custom jeweler, I was super frustrated because I had to have my ring remade. Aarron literally got in my head and brought my image too life! I'm so in love with my ring and the quality of workmanship! I can't wait for our next project!!!
10 months ago Heather Loveless
These guys are awesome. Super friendly and they do a great job. Really great turnaround time for custom jewelry.
8 months ago Melissa Swindler
We've been looking for months for a place to make a wedding band that went well with my engagement ring and we went there and they were kind, professional and fast. 10/10 would recommend
8 months ago T Spencer
I am so thrilled to have found this incredible artist! He created a ring for me that has a very special meaning to me. It is absolutely gorgeous! So much better than I imagined. Aaron, I can't thank you enough for all your hard work! HIGHLY recommend!
6 months ago Ronald Broadnax
Awesome place and great staff. They truly care about their customers!
9 months ago Monica Ray
I sure loved this place, great customer service, fantastic prices, really quick turnaround time, knowledgeable and helped me make the decision on what I wanted. Thumbs up to Jewelry by You! I'll be sending people your way! Thanks!
6 months ago Debra Kellogg
So helpful! They literally make what you want in the price range that you need.
8 months ago Carlie Bissler
Awesome shop! Just what I was looking for!
11 months ago Jeffrey Jensen
Very friendly staff, we weren't pressured to buy anything, but he gave helpful suggestions and recommendations. Will come back!!
6 months ago
Popular places from the category Jeweler