Maloy's Jewelry
Jewelry store Maloy's Jewelry, 717 SW 10th Ave, Portland, OR 97205, United States:
53 reviews
of users and employees, detailed information about the address, opening hours, location on the map, attendance, photos, menus, phone number and a huge amount of other detailed and useful information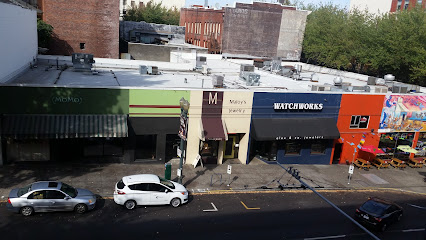 Address:
717 SW 10th Ave, Portland, OR 97205, United States
GPS coordinates
Latitude:
45.5198124
Longitude:
-122.6824361
reviews Paul Park
Thank you Nina for going out if your way to fix my earrings. Despite of the work orders you receive each day you made me so happy to solder my earring for my bday. It was an excellent job and excellent customer service. Thank you.
1 month ago Melanie Saflin
An excellent place to source indigenous jewelry. They have a large assortment of other items that are antique and might be what your looking for. It's great to have a place local instead of trusting an eBay seller.
9 months ago quenchell parker
I came into Maloy's searching for the perfect engagement ring and found it. I spoke with Eve, I showed her photos of rings I'd tried on at other jewelery stores and briefly mentioned what I liked about them but that I wasn't feeling that spark that would make a ring worth the price. She told me she has a knack for matching people to their ring and she nailed mine on the first try. She showed me this ring that was outside the budget I'd first given her, but I felt that spark so strongly I didn't mind adding to my budget. The history, craftsmanship, unique style, and sparkle of this antique ring was all so special, I'm so glad Maloy's was recommended to me after I struggled at the traditional new jewelry stores.
7 months ago Olivia Borum
I have to express my total gratitude for the service and craftmanship of the jeweler who restored my wedding ring of 49 years to its beauty. I had small rubies which the prongs kept failing. I kept restoring the rubies and prongs only to continue same problem. And then I found Maloys. Within a half hour consultation we decided to remove the ruby and change the design to replace it with a gold leaf which balanced the other two leaves with the diamond in the middle. When I saw and placed it home on my finger, I felt it better than original... as if it was always the way it is today. I fell in love with my simple classic wedding set from 1972. From my moment of walking into Maloy's Jewelry, we were treated with profession and warmth, and expertise which brings trust. Thank you very much. Valerie Roche
6 months ago Mike Johnson
Maloy's Jewelry Workshop is awesome! I have a 50 year old mechanical watch that needed service. I'm always hesitant about places that don't service in house, but I took a chance and was pleasantly surprised! Jen was very polite and communicated with me through the process. I never met the watch maker, but he had my watch back in less than 2 weeks and running well! If you visit the shop, ask about the old man who brought in the watch he was wearing on the USS Indianapolis... Update: Over a year later my 51 year old basic workhorse Seiko 5126 movement is still keeping perfect time! The watchmaker obviously took exceptional care in servicing and regulating my timepiece. But you don't have to take my word for it, let the atomic clock show you how good this place is!
5 months ago Jill Christine
Very knowledge and friendly staff. Great for all your jewelry needs.
4 months ago Dev Kumar
This shop was recommended to me by a co-worker and it's adorable! Their styles are great, love the vintage looks of their jewelery. We ended up buying an engagement ring the same day as our appointment and it was sized within the week! Highly recommend ❤️
4 weeks ago Kristina Love
I am sorry that I wasted my time visiting this store. They were recommended by another jewelry store to take a piece I had that I was contemplating selling. I never wear the piece and I had it sized down to wear on my pinky finger which was a horrible mistake. In a rather cold tone I was informed that they wouldn't be interested in it because it had a very large crack in the 1 carat stone. I had already mentioned that I was told it had a chip. You can't even see it unless you use a very high powered lens. Being rude to a potential seller/buyer doesn't bode well with me. I brought my fiance with me and they didn't acknowledge him but, did look at him as if he were going to rob them. When I made the appointment, they were told that he would accompany me.
9 months ago Catherine
Always amazing customer service, and incredible attention to detail. They take the quality and overall integrity of your vintage jewelry very seriously. Both my engagement ring and wedding ring came from here, were sized here, and they did an amazing job. Each experience left me beaming and happy.
2 months ago Darya Kolesnikova
Sweet little jewelry store with cool vintage jewelry. I went here to get a couple rings re-sized. When one didn't fit proper and I brought it back they were very accommodating. They also changed the shape of a ring my Grandma gifted me. Thank you!
9 months ago Jean Atwood
Can't recommend enough! I've had two custom rings made by maloys. The staff is very easy to talk with. Laid back vibe (no feelings of typical "jewelry store pressure"). Prices are extremely affordable and quality is top notch!
5 months ago Mark Bohnhoff
Malloy's is a treasure and a landmark shop that you should visit anytime you are looking for great pieces of vintage jewelry and vintage watches and timekeeping pieces. They have a great collection of beautiful rings, necklaces, pendants and other items gathered from obviously upper and estate sales and the like. The watches they have for sale are unusual and many nice pocket watch pieces as well as men's and women's wrist watches. Many are out of my budget range, but they also provide prompt and friendly service for replacement of watch batteries and adjustment of sizing of metal watch bands. I visited last week to have the metal band of my new Seiko watch properly sized by removing three metal bands and Jennifer did a great job removing 3 links and giving them to me for possible future use if my wrist expands. I almost walked out without paying her then turned back to settle up, but she refused to take any payment!. Anyone should visit this wonderful little shop that has been there for as long as my office has been here, at least 20 years. Great service, great inventory, and great ladies.
6 months ago Andre Gilmore
I came in with a hatpin I wanted to make into an ear crawler and one of their amazing bench jewelers figured out how to turn it into exactly what I wanted for a super affordable price! Is she a magic elf? Probably. Go spend your money here- you will thank me.
7 months ago W W
Antique jewelry should not be taken to a "regular" store. Antiques must go to people who know about them. This is the place to go. These guys are fantastic. They know their stuff. This is the place for family jewelry repairs and even match ups. They are also very creative with pieces you don't use anymore.
4 months ago edward tiliinghast
Friendly and knowledgeable staff, I was able to get my gold jewelery appraised.
3 months ago Jefferson Cheng
Friendly staff, convenient location, eazy transaction look me up on. If you need to get some quick cash and have a handful of jewelry you need to repurpose, this place will give you more than the other guys.
1 month ago Terri Hayley
My husband and I found our rings here and were very happy with the knowledge and how fast they were ready. I would definitely recommend if you are looking for a vintage/antique ring that's unique. We also got a voucher for Momo's next door for champagne since we purchased engagement/weddings bands.
3 months ago Noah Johnson
Best customer service and even better if you purchase one of their pieces, then you are family!
7 months ago Ritika Jogadiya
We have been coming to Maloy's since we found my engagement ring there 2 years ago. Everyone there always takes such good care of us and their prices are very reasonable. I've been in several times to have my ring resized, which I feel self conscious about and on my last visit the gal at the counter was so sweet and made me feel better about having to upsize my ring (again). She also helped me get it resized short notice in time for Christmas. My ring always comes back so sparking. I won't go anywhere else for my jewelry needs. THANK YOU!
1 month ago Veena Swamy
We bought my wife's wedding band here and had it welded with her engagement ring. They are some of the most kind, attentive sales people. They have remembered us since our first visit. They were able to get the rings welded rough after the wedding for a super reasonable price, and it was done while we waited.
5 months ago Tommy Tatum
My fiancé did some research and found this place on google. We went in to look at possibly purchasing my ring there - which we did. They had a great selection in a range of prices/metals/stones and the customer service was excellent. When the ladies in the shop found out we were leaving town the following morning they offered to resize right away so we could leave with the ring! Definitely would recommend purchasing from Maloy's!
3 months ago Darrel Morris
Amazing selection, knowledgeable and courteous staff - purchased my wife's engagement ring here and couldn't be happier with it.
3 months ago Thomas Jullien
In just about any situation, I respect an approach that is guided by the most knowledge, the most evidence, and is the most fair. The vintage dealer that sold me my ring told me one expectation about the condition of it. And I got another expectation from a different jewelry shop. And I did a little research. Then I went to Maloy's. I didn't say what I was previously told. I just asked their opinion. What they told me about my ring made the most sense and was well supported by my prior experiences. Also, I could tell that they were being much more fair with me than the other jewelry shop- not just in price, but that was certainly part of it. They did a beautiful repair for my ring. They have gorgeous pieces in the store. I feel like I gained a truly knowledgeable resource by being their customer. And the fact that they were immediately down-to-earth is something I will remember and respect. And the skillful work is right on the heels of that. Next time I'm in the market for jewelry, I will come here first.
6 months ago Sharon Oehler
Such a wonderful experience at Maloy's. I brought in my Mother's vintage ring to have it repaired and reset and they couldn't have done a better job. Nina was a joy to work with and she knew exactly what I wanted. It's so well done and worth the price. It was even less than another place had estimated for me. Thank you Maloy's!
5 months ago Manish Agrawal
I brought an inherited chain bracelet in for repair after one of the links broke. They told me since it was heavily worn that they couldn't guarantee the repair long-term, which was fine, but once I got the "repaired" bracelet back it broke within a couple hours! I called to tell them and they would only refund me half of what I had paid, even though the women on the phone told me they made a mistake taking the job at all. Really disappointing and I will not be returning, I'd take your repairs somewhere else.
4 months ago Chad Pace
great service wonderful inventory they take the time to talk to you find out your needs and help you through the jewelry shopping process
4 months ago Jennifer Deluhery
I had my diamond eternity wedding band fixed here two separate times. (I'm hard on my jewelry), and they perfectly matched and replaced two small diamonds on different occasions, and resized my ring. The work was beautiful. Their service was friendly, efficient, and good with communicating with me during the process. I will return for future repairs. Thanks for great service and work.
7 months ago Azizjon Mansurov
I stopped by today with a set budget for a birthday gift for my sister and they were wonderful. It wasn't my first time in Malloy's and it won't be my last. Knowledgeable staff and so helpful spending the time with me it to pick out the perfect gift. Time and money was very well spent today, they even gift wrapped my selection and my sister loved it. I've taken pearls there in the past to be restrung and have had amazing service every time. Shopping local and going vintage with estate jewelry is the only way to go.
11 months ago Jhoy Ross
I went in on Thursday with a broken ankle bracelet that is cheap in quality but rich in sentimental value and Nina fixed it in a minute and didn't charge me. It says a lot that a place selling such gorgeous pieces isn't haughty in the least. I have a couple of actually nice rings I'll need resized at some point, and I'll go to Maloy's. Nina made my day. :)
6 months ago Khalil Favard
Crate service wonderful collection have antique jewelry knowledgeable staff willing to help you find just the right piece
5 months ago Sam Tip
I walked in to ask about getting my vintage, silver ring hammered back into shape (it got smushed and was too mangled to wear). The kind staff took my ring and reshaped it on the spot. It took less than 10 minutes and was free of charge! I'm so happy to be able to wear my ring again, and highly recommend this shop.
1 month ago Trey Hernandez
Great selection and service
2 weeks ago Natan Hagopian
We go here for everything jewellery related - cleaning, engraving, diamond setting, engagement ring repair. The service and quality of work is as good as it gets. Everyone we have worked with has been fantastic, this time we were helped by Maloy's Jewelry Workshop
5 months ago Todd Beaumont
Very helpful with major and minor jewelry repairs. Glued and reset a cracked opal for me, being quite honest about its limited life expectancy. When the opal eventually died and I decided to replace it with a harder carnelian, the new stone had to be ground to fit the old setting. No problem. They have built special tools to remove particularly difficult watch backs and replace batteries. They appreciate old stuff, and I appreciate them.
7 months ago Duck white
A quaint shop filled with beautiful jewelry. Very knowledgeable and attentive staff and a great selection. Nina is amazing, you can definitely tell she cares about her customers as much as vintage jewelry!
1 month ago Dana Bishara
I was in town from Charlotte last week and shopped around some valuables I wanted to liquidate. Shannon gave the best offer and was very patient. Went back the next day and did my transaction, plus got a tremendous deal on a gorgeous vintage watch. Highly recommended.
3 months ago Tracey Billingsley
i've been a customer since 1986. their custom design work is fantastic and the attention to detail is far better than any chain jeweler.
1 month ago Yaquelin Espinal
Stopped in to get a cleaning on an antique diamond ring, assuming it'd cost me $20-30. The service was complimentary and the ppl were more than happy to chat with us and show us some beautiful pieces. Definitely worth checking out if you like old gemstones and happy friendly ppl who sell them.
1 month ago Mike Fadamiro
Great jewelry, great people.
4 months ago Massimo Alloro
Stopped in to look at the antique settings, but there weren't too many options that would fit the .5c diamond I inherited. We decided to get a quote for a custom engagement ring instead. The lady we spoke to was very helpful and pleasant to work with but not the actual designer/jeweler. We were given a few rough estimations and asked to narrow in closer to an actual price, but were told we couldn't have a final quote until after we had paid the design fee. I prefer to have a more specific quote with line-items called out such as price-per-gram for metal, design cost, casting fee, setting fee, etc. Overall the price seemed reasonable for the audience (NW Portland) and it looked like they were very talented craftsmen/craftswomen. The pieces were beautiful. We decided to go somewhere else that gave a more specific quote that came in around $1500 less.
10 months ago Jamie Clark
My fiance and I had an initial experience with a Malloy's employee that was was not fantastic. However, the owner was extremely kind, exemplifying wonderful customer care, and rectified the situation by gifting the repairs to my fiance's ring at no charge. I so appreciated the kindness and sensitivity as well as craftsmanship he demonstrated.
1 month ago Arun Murugesan
AMAZING!!!!!! I got engaged on our trip to Portland and we really needed to get my ring resized before traveling home. Nicole got it down 2 sizes AND smoothed out a nick in the silver band in 30 MINUTES RUSH ORDER!!!!!! Forever grateful!!!!!!!!!!!!!!!!
7 months ago Sharif Parvez
Excellent work quality and truly exceptional customer service. Highly recommended!
6 months ago Eliza Flores
So helpful and easy to work with. Also affordable for alterations and repairs.
4 months ago Jason Rock
My wedding ring was designed 27 yrs ago and I still love it!
1 month ago Patryk Dziedzic
Got my wife an amazing vintage 20's ring here. Nice folks. They also maintained the ring at no charge.
11 months ago Kyle Ballard
I felt completely dismissed and disrespected the entire time I was in there. I apparently look to young to have any money. Every moment I was there they made me feel like I wasn't worth their time. Every request I made was met with sighs and eye rolls. I'll never enter this shop again.
1 month ago Cici Kinney
These people are rude and snooty. Evidently if you don't have something like the garish monstrosities they sell your jewelry is "poor quality" and they can't work on it. So we went to ABC, who managed it just fine- better than fine, in fact. They also treated us like human beings not of "poor quality."
1 month ago Shivangi Chak
They do great work here and can actually fix your vintage jewelry! It's expensive but you get what you pay for
1 month ago Tammy Crone
Very rude, highly over priced and pushy.
7 months ago
Popular places from the category Jewelry store