Greyhound: Bus Station
Bus company Greyhound: Bus Station, 700 S Tyler St, Amarillo, TX 79101, United States:
220 reviews
of users and employees, detailed information about the address, opening hours, location on the map, attendance, photos, menus, phone number and a huge amount of other detailed and useful information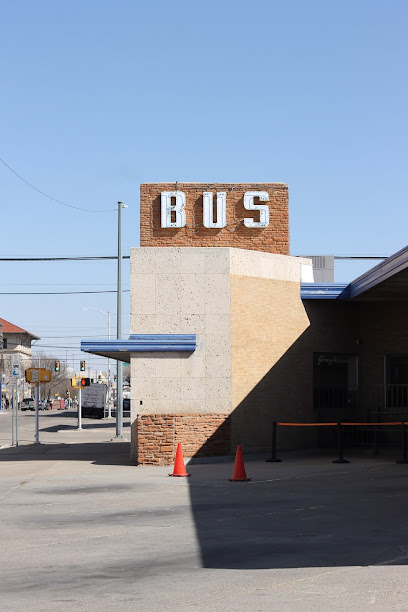 Address:
700 S Tyler St, Amarillo, TX 79101, United States
GPS coordinates
Latitude:
35.2065095
Longitude:
-101.8387051
reviews Rene Santos
Oh the station? It's fine. So they sell soda, junkfood and food behind the counter. Smaller station. Pretty clean. 5 stars yeah that's for something else..
5 months ago Matt Jenkins
Amarillo by morning... I'm pretty sure that I will never be back to Texas, so I can smile when I think about the last major city that I was in on the last trip to and through the Republic of Texas. Get you some, or movround clown. God bless Texas.
5 months ago TA Scholl
The bus was SUPER LATE and we had to wait 12 hours for a 2 hour layover. The security guard was loud and rude but at least the nice girl behind the counter was helpful. Make sure to travel with pillow and blanket because you might have to sleep on the cold concrete as you wait for your bus.(at least they had charging stations)
6 months ago Liu Tim
Amazing location the young African-American lady that runs the station for all the stuff that they put her through. She still smiles and does wonderful job. Deserves a gold star for all the stuff that she has to put up with
6 months ago Denish Khetan
Its easy cost effective to get the tickets their vending machines are always to high i have never paid 3 bucks for a bottle of water in my life nor will I ever its like greyhound wants you to go broke traveling with them my partner and I always travel with them and our trips are never less than 4 days unless local and we are starving by the time we reach our destination
6 months ago Marty Vanhouten
No food in The vending machine and we've yet to stop somewhere to get any. I'm hypoglycemic so I keep snacks . Hopefully it will sustain me . Now the bus is broke down in The middle of nowhere Texas . Already running late due to the first transfer and missed stop. Now I have been here in Dallas for 3 days , miles away from the city in a hotel out of food no electricity on in the hotel. Can't get ahold of anyone to help Blood sugar issues are making me weak so it's going to be a struggle on the already slick streets to go get some food. Worse experience of my life.
8 months ago Carter Lantermans
Greyhound has become a company who does not care about its customers. They will literally kick you out on the curb. I was stranded several times because of Greyhound on a single trip. Whatever you do, DO NOT TAKE THE GREYHOUND BUS!!!! This is fair warning, avoid the chaos and pain.
6 months ago Annie Dougherty
The station Manager here was simply amazing completely helpful however I had issues with the stop before with the manager I would actually writing a complaint against her have at the Albuquerque New Mexico station Hispanic lady I believe she was the manager her skills need major improvement but thank God for the manager at Abilene Texas station turned it all around with his amazing customer service thank you for caring
6 months ago Michael Kunzmann
I got there at night but it was calm collective nobody was out there but us you just got off the bus
5 months ago Ig Kas
Clean ..the service was polite but when made the anniuncement the lady was so fast that i had too ask a stranger what schedule is ready for departure i realized few days ago bus was leaving for dallas texas i showed my eticket too agent she said and driver that i can get on that bus its going there but then i thought its too early looked at the schedule numbers brought it too ticket agent asking dont i have too follow this schedule number???? So i was happy too learn if in doubt just match the schedule number with time of departure do not just get on any bus just because thats where your going
6 months ago Loretta Lonigan
Armarillo charged me twice for a bus ticket. They to keep there. Lucky I had enough money in the bank. Filed for an injunction.
6 months ago Gary Reynolds
Very clean. Cleanest greyhound bathroom I've seen. Helpful staff.
7 months ago Brenda Lane
I recomend wearing a face mask in ANY greyhound station, but especially the bigger stations like Dallas, Los Angeles, Chicago....those i would ALWAYS wear a mask in. Any of the ither greyhound stops, thats usually mostly just what they are...stops.
6 months ago Renee Read
I brought my camera, so I didn't really stay inside, but everything was on time and everyone was really nice. #teamboaaats
7 months ago Kevin Hawkins
It was well kept and the management was on it!! Made sure everyone got where they needed to go including myself I believe his name was martell!! He was awesome thx greyhound for hiring rockstars !!
7 months ago Shaun Sweeting
The lady working during the day sunday May 30 was very good to all the customers waiting for delayed buses, now I'm at the Oklahoma city bus station and they are horrible here.
5 months ago Luis Salgado
Every time I have passed through Amarillo on the greyhound, I usually have an hour and a half layover. It's quiet and welcoming. The facilities are very clean and warm I might add. Announced at first of course is the safety measures and precautions and urgency for wearing a mask. There are signs throughout. All in all, it was a smooth transition from the Greyhound Station in Amarillo,Texas.
6 months ago Aracelis Espinal
I road the gray hound bus from grants pass org. To Muskogee Oklahoma. It took me 2 days and the bus drivers was on the ball. Made sure we were our mask over noise and mouth. They were reassuring us about every Emaracy opening and if I had a question about anything they face me the answer I needed. I felt safe And was content the 2 days I was on it. Yes I would ride the gray hound bus again. Thank you for the safe trip there and back..kathy adcock
9 months ago Gerard
This station was empty wh re n we was by there other than the crack dealers that seemed to be plentiful
8 months ago Tim Malone
They were very helpful..kind.
6 months ago Albena Ivanova
The manager was super nice to my daughter amazing customer service and experience
7 months ago Cissy Redwine
Tiny, and in a town that does something very wrong to those who call it home. You know what I'm talking about. "I'm from the big city!" No, it's just the biggest one you've ever seen.
2 months ago Ricardo Mena
Did there best to keep us safe and out of harm's way, Great customer service, It was a long ride but they made me feel safe, Thank you.
3 days ago David
clean. the workers were helpful efficient and friendly it was easy to find the bus arrived on tine driver alert and ready for her journey with us and ny luggage was taken care of with no damages and all there when i arrived to my destination. greyhound is the only way i travel.???? thank you greyhound tabbluna
2 months ago Mahnaz Ali
Horrible we had a dude spit at everyone along with cutting his wrist putting everyone safety at risk not good
5 months ago richie fortune
Forever waiting for bus that dont even show up on time
7 months ago Spring Morin
Had only one problem that was when i was taken out from the front seat i am handicapped was told i didn't i would. Be removed this was from Oklahoma changing of bus driver Never have i been so humiliating. Never ever had any problems with greyhound before im handicapped
2 weeks ago Chris Fawkes
This bus station is very nice and clean but if you arrived late or night everything is closed no hot food any place
7 months ago Gloria Figueroa
On my 50 hour trip this one had the most completely maskless customers. No one said anything, bus driver even allowed to people who "didn't have masks" to board anyway.
11 months ago Tristan Hawkins
Been here a few times watching my friends move on to Bigger and Better Things. Good thing about it is it's not that far from The Salvation Army Shelter, if someone needs a place to stay. Clean bus stop , friendly staff.
1 month ago Kaneel Stokje
in the middle of downtown no nearby eateries or convenient stores. trash and homeless adorn the nearby walkways. sad
2 weeks ago Andrea Quormby
Hot no a/c
5 months ago Belle Bundy
As I sit here going 42 miles an hour on the freeway at 1:30 in the morning with no traffic... After getting transferred to another bus that has no lights, no air, no heat, because the previous bus had a passenger on board two days ago that was infected with covid-19... The bus had to return to the terminal twice because it wouldn't accelerate faster than an idle. The bus windows are gross, and I can tell they pulled this bus out of the graveyard to get us moving down the road. There is a seat on the bus that looks like it has vomit on it. I don't expect to make it to Los Angeles on time for the next bus. In addition, I'm pretty sure the driver said over the intercom "Amarillo to albequerqe. You can smoke and drink." Three of us heard it and all raised our eyebrows in suspicion. I feel like a drink is in order after this chaotic chain of events. And at this point, we are an hour and a half behind schedule. More like Amarillo until morning.
2 months ago charles
Good place. Clean. Security guard was funny
9 months ago Raegan Strasser
Greyhound is doesn't practice social distancing at over crowded busses
9 months ago mark leclere
Has gotten better about keeping the sitting and bathroom areas cleaned
9 months ago Shmily Feder
Didn't walk In but from the looks of it from were I was OK.
6 months ago Lisa
Great friendly staff. Clean station
10 months ago Dale Sturgill
Not the best attitude n Tx.
6 months ago Melissa Sallis
Going around the area is so scary they alot of homeles people they need to have more business there it looks so dead its unbelievable. It don't even look like its down town or like is a bus station it looks like a abandoned place SCARY!!
11 months ago Hemangini Sondarva
These people are unprofessional got my family sitting down there for two days an missed our sisters funeral an keeps canceling there trip with no reason greyhound is a joke in Texas very unprofessional an needs to be shut down!!!!! My lawyer will be in contact !!!!
9 months ago Card Man
Used to be an awesome place. But they closed their restaurant and now employees aren't even there most of the time. Sad to see it fall like that
3 months ago Timmy Chase
Ya know. Greyhound station. Small
6 months ago Bobby Cox
Nice old style place, customer service was great. Can be a bit confusing to find the entry area but finding where the bus was is extremely easy.
4 months ago Susie Leonard
Quite surprised a very clean bus station didn't have to hide around the corner from all the dope heads LoL
10 months ago muskan tayal
Snacks twice their value or more. Old terminal needs a cafe like before.
7 months ago Ryan Dundas
Horrible n tbe employees treat u bad
7 months ago Shannon crutchfield
Over the weekend I had to travel to pick someone up .. Well short story ..my buddy I picked up forgot to get her luggage .. an employee by the name of Kelly was super helpful and showed me that great Texas hospitality. Made us feel welcomed and taken care. I just hope the manager of this place gets this message. She rocks !!!
10 months ago Becky W
Portlandia, Oregon from El Reno, Oklahoma sick/I'll as a dawg.......
8 months ago Eniola Ajao
Good customer service when you're traveling
9 months ago
Popular places from the category Bus company