Greyhound: Bus Station
Bus company Greyhound: Bus Station, 960 Airport Rd, Chattanooga, TN 37421, United States:
220 reviews
of users and employees, detailed information about the address, opening hours, location on the map, attendance, photos, menus, phone number and a huge amount of other detailed and useful information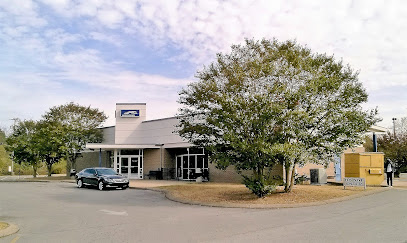 Address:
960 Airport Rd, Chattanooga, TN 37421, United States
GPS coordinates
Latitude:
35.0321081
Longitude:
-85.1939942
reviews Grace Lam
been here before but this time its my layover time for an hour in june on the 15th is there anywhere to walk to close to grab a bite to eat etc
5 months ago Gina Greenlee
Didn't really see much the driver didn't really have time to take a break but the outside was nice couldn't say about the inside
5 months ago Patton Dickson
Closed when you need a bus doesn't open imma until 1pm sad for real
5 months ago Bonnie Whitfield
Clean not dirty staff is respectful and helpful. I love traveling greyhound
5 months ago Hermes Parra
Awful bus service. Bus left early from behind the building with no signage or indication of where to wait, no information from driver or last call. And of course, customer service is non-responsive. Try calling the station, your phone will die before anyone answer. I've taken hundreds of busses and left hundreds of reviews. This place is the worst!!!!
5 months ago Caleb Fischer
Y'all are slipping. I know covid-19 got everything all screwy with traveling but with 23 hour layovers at closed stations? That's not funny, sleeping on a sidewalk in the bloody rain.
6 months ago Lian Duan
My luggage was stolen by them. I contacted them several days and times they kept saying they have not saw my luggage i guess it got legs now. I was charged for 2 seats and my grandbaby seat was taking. I took pics. I hate them. The bus were over crowded so were does social distance come from because it was a violation of my rights. I was my things . I'm contacted by a lawyer to handle this matter because I feel it was done on purpose
7 months ago Haydee Lopez
Safety is not a concern it seems. Many buses leave at 1 or 2 am, and the station isn't even open. Minimal lighting. No shelter for passengers having to wait outside in the cold, rain, or snow. Do better Greyhound. Do better.
10 months ago Justina Saveikyte
Comfortable ride. Nice group of people!!!! Exceptionally well.
5 months ago Scotty Adams
There are still Angels amoung us! My son and myself were victims of domestic violence fleeing, cold hungry very scared, and tired. There is a lady named Mrs. Velvet, she fed us, assured me we were safe and even gave us a voucher to make sure we had food a hot meal along the way. Words could never express the amount of gratitude in my heart . Please someone pay this forward. Thank you Mrs. Velvet you are an awesome lady!
9 months ago James Dollarhide
Was there to pick up a relative, the bus station was clean the employees friendly and professional and very helpful. Would recommend.
8 months ago Jamillah H
Staff lady really rude . Didn't want to answer any questions without a attitude. It was my mother's 1st time riding greyhound and lady made her very uncomfortable . Facility was clean and nice .
5 months ago Shane Grissom
Love the girl that works behind the counter.she very sweet and polite.very good service place was clean . love the pay phone.lol
8 months ago Gerardo Gonzalez
I feel for the workers at the stations. They out up with a lot. Thank you for your service. And this . coming from a vet
8 months ago Photography Palache
The bus from jackson tn to Nashville tn was awesome. The bus ride from Nashville TN. To Chattanooga tn. Was bad. The driver was rude and hateful. He made a rider is in the floor when there was 2 seats open. He just didn't want to move his stuff
8 months ago Len Cava
omgoodnesss, don't even play yaself!!
5 months ago Brad Ritti
Good place. Safe location. And the bus will be there when you need it.
11 months ago Roman Gogolev
Although I have problems with getting a ticket the attendant was awesome every question I had he answered he went above and beyond major had something to eat as well as the other passengers waiting and waiting their ride great place great grey Greyhound
9 months ago Tyler Lane
Greyhound Station in Atlanta is okay. But bring your own food because there's no real food there & everything is over priced. Not mention robberies occurring outside the terminal every now then.
11 months ago Cindi Stokes
I had a good experience on my trip. The drivers were really well trained.
9 months ago Lindsey Joseph
Nasty ppl work here they speak to you like trash
5 months ago Liusheng Zhang
Pretty clean facility. Greyhound is following some Covid precautions such as masks being worn on the bus. Chattanooga station has always been an easy station to be at everytime I've dealt with them. Atlanta on the other hand is crowded, you cant walk outside for fresh air without someone trying to come up and see if you have anything they can bum off you most the time, & 9 times out of 10 the bathrooms leak out the smell of urine very heavily. Atlanta could do better, it's the worst terminal I've experienced so far. All my other travels stops have been fine. As far as riding on the actual bus, it isn't so bad. It's always just a good idea to keep to yourself and focus on getting to where you are going to anyway.
11 months ago Christine Kyle
Not so friendly. The staff yells at you instead of talking. Sometimes you just have to hunker down and get through the bad so you can get on that bus and leave town. Expensive drinks. Greyhound takes advantage of the travelers. Extremely high Mark up. 3 stars for this greyhound.
10 months ago Erik Jacobson
The absolute worst company in this whole world! Paid a 200$ bus ticket for a family to come up from Panama City, FL. He got there 5 hours early! And the bus never showed!! NEVER! He waited there for 3-4 hours after the bus was suppose to be there! I was on the phone with him 99.9% of the time! No bus ever came! And they won't refund me my money. Literally stealing money from someone! Ridiculous! DO NOT USE THE GREYHOUND.
6 months ago Bob Marley
The station itself is fine but you have to be careful..Security is good but the crazy going on outside is Alot
2 months ago Maggie Glanowska
They put things in order at their bus terminals...
5 months ago Dayna Yourn
Something happened to the bus last night and we couldn't move so we was an hour late game where we was going
5 months ago Jimmy White
Armed security to keep the rift raft out. But pretty much safe as long as you don't go outside walking up and down the streets.
10 months ago A Joe
My Experience WAS. '" TERRIBLE BECAUSE, THE DRIVER CAUSED ME TO ME MY " BUS" & FROM MSSING MY BROTHER " FUNERAL" BECAUSE, OF HIS CARELESS OF HIS
6 months ago Barbara Porter
Local bus stop is out of date and lacks many of the current amenities of other Greyhound Stations that I've frequented. It is clean inside and safe.
8 months ago Mil Tes
I'm just grateful that they got me to my destination right on Greyhound
10 months ago Tara Hustus
Very small but very clean.. Nice place to stop and stretch your legs.
11 months ago Virgilio Abdulio
This place is the worst, being forced out of the building after 1pm because the lady behind the counter had other plans and closed up shop for until 7pm tonight. There's people waiting out in the heat for them to open back up. Very unprofessional in my opinion.
11 months ago nasir ahmed
Small but clean. Ample seats. Employee had attitude.
1 week ago Dana Mattocks
Does anyone really honestly like riding the Big grey dog anyway
8 months ago Jeff Glynn
Looking for Roy jeffreys that drove for greyhound in 89-90. Please very important. He used to live in Ringgold Georgia. We have a class reunion planned. Contact me please
4 months ago Benjamin Lebron
Needs to be moved to a better location
5 months ago Paul Seeling
They were very nice and on time just like they said
1 week ago Achsha Jones
The station is closed leaving families in the cold
5 months ago George Perez
Bus was over crowded..station was over crowded bathroom on bus and station was nasty..bus driver had a nasty attitude
6 months ago Jonathan Hartzell
I wanted to smoke my cigarettes and guess what they had a smoke spot that was chills
9 months ago Julie Dunahugh
Buses leave early. And the they open at 1pm
6 months ago Hugo Perez
Small with vending machines and bathrooms.staff was helpful
7 months ago Jeff Merten
Bad them stole we infront the station is not fear to have a station in front a ghetto that who's in Atlanta g
2 months ago Mary Bukovcan
Very peaceful. Small and clean
11 months ago Kiza Zika
It's everything you expect. And so much less...
8 months ago L Gallagher
The place was clean and the folks that work there are very helpful
3 days ago Marilyn Markel
The manager at this bus station is very unprofessional and extremely rude! My brother's bus left out early on 7/16/2020. He was stuck with no place to go out in the heat all night. He wasn't allowed to stay in the building after said manager opened up. The next bus wasn't until 9:45pm today 7/17/2020. She cancelled his ticket after he cussed at her because she was being rude, I know this for a fact because I was on speaker phone with him. He's stuck in a City with no money and no way to buy another ticket. I tried calling corporate but, they are closed due to Covid-19. How can any human that is supposed to be working in customer service have ZERO compassion for another human being? Lady, if you're reading this you are rude and heartless. He's trying to get home to his kid. I only hope someone doesn't treat your loved one as you treated mine. Karma will come back to bite you. I will not rest until I you lose your job, that I can promise you.
3 weeks ago Cassandra Rose
Nice bus station but wish it was back downtown Miss the old grayhound bus station
2 months ago KIGU RUMI
A friend of mine road the bus from here all the way to Detroit and transferred to Grand rapids. a very pleasant trip
3 months ago
Popular places from the category Bus company