Walmart Supercenter
Department store Walmart Supercenter, 2825 N Kansas Expy, Springfield, MO 65803, United States:
220 reviews
of users and employees, detailed information about the address, opening hours, location on the map, attendance, photos, menus, phone number and a huge amount of other detailed and useful information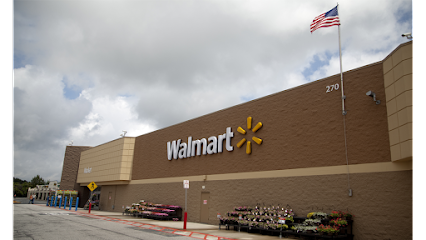 Address:
2825 N Kansas Expy, Springfield, MO 65803, United States
GPS coordinates
Latitude:
37.2486506
Longitude:
-93.3140268
Location on the map
Reviews bj edgeston
Pickup is an absolute joke. I have been waiting for someone to bring out my order for over an hour while people who've pulled up 5 minutes ago have had their groceries brought out and left. When asking one of the pickup employees why this is happening, his response was "I don't know". I could of went inside and got my groceries in less than an hour. Y'all are annoying. Pay your employees more and maybe you would have enough staff to work the dang pickup effectively.
7 months ago Hartstene House
This Supercenter Walmart has load or deals. Good people, and the sanitize everything all the time.
11 months ago Mack Arillo
We were very happy to be able to have our vaccine done here! We are in mandatory masking and there were people walking all over that store with absolutely no mask! They should be stopped at the door and given the option to leave or take one of Walmarts.
10 months ago Franklyn Vasquez
My favorite part is the reserved parking! Don't mind if I do! Nice touch walmart! Thanx... And a badass camper-insert I didn't know they still make
6 months ago Alex Hood
Well I kinda like this store for mostly everything except the food part. Because sometimes they don't always have e everything I'm used to buying at Walmart Neighborhood Market so yeah there's that but they do have the coffee's I like to buy e everything else is fine. I think other than that you should be able to find anything else you need just a heads up ☺️ not that it's not a nice place to visit I just thought you might like to know ????????
10 months ago paul maurer
Very easy to order your groceries and pick them up The Times are very reliable The only reason I didn't give it 5 stars is because there out of a lot of products at times
8 months ago Reagan Allen
Got my COVID-19 Vaccine here the other week... I would be concerned by the fact I saw one of the employees put some kind of micro chip in it but I'm sure it's to make sure we're social distancing so it must be fine. -xoxo Jimmy
8 months ago Charles Lewis
Very courteous. The lines were extremely today. The cashier was patience.
8 months ago tammilee truitt
I work here. We clean constantly to protect you our valued customers. We try hard to help our customers, & will go out of our way to make your shopping enjoyable. We arrange departments so products are easy to find. & we're always happy to help! Highly recommend Deli. Very helpful, friendly, & knowledgeable.
1 month ago DAVID Rodriguez
I noticed the isles are back to normal size again, and aside from most people wearing a mask, the place seems like a familiar place again.
8 months ago Sharon Odum
We found everything that we needed with ease due to the great floor plan and bright lighting. The wonderful people that stock the shelves really know their business!????
8 months ago Josh Morrow
Who doesn't Love Walmart! Justin been noticing that the stock on the shelves has become low!? BUT Me I have 2 Stores in my hood. Plus understanding The New Normal.
9 months ago Sifat Ulla
Went to grocery pick. Personal nice, loaded my items, & had on her mask. It was quick & easy. Had almost all the items I ordered only 3 things they were out of.
11 months ago Rik Kurzdorfer
Had a tire going down had road hazzard.. they fixed me up put me on a new tire.. no problems friendly... helpfull... auto dept...
8 months ago Eric Roco
Just went at 10AM. They had the pharmacy side doors locked AGAIN. (3rd time) AT 10AM. They open at 6am... they don't even put a sign on the door to inform you, so countless people walk up and leave or are forced to walk all the way to the grocery side. Avoid this Walmart. Go to the Southside Walmart's. Much nicer.
8 months ago Devon Slimjim
I purchase my favorite beauty products and very good baked chicken and wonderful fruits you can buy
8 months ago Rachel Cowart
Wonderful employees. Very busy, they're doing a terrific job
8 months ago mary dion
Store is good when everything is functioning as intended. I've used the store off and on for around ten years. When stuff breaks down their customer service sort of falls apart. Stopped in yesterday on the way from KC to Central Arkansas. Apparently the exit door on produce end failed while I was in the store. Whole entrance/exit area was a mess. When I went to walk out the functioning door the door greeter made a scene because I didn't magically see their "organized plan" amidst the chaos. Was not a visit that impressed me. Not bashing them for their intended plan of handling the situation....it's over how they reacted. I go by it twice a month and will likely skip it for a good while
3 weeks ago Patricia Uram
I got to admit this Walmart has changed a few things and I find it a little frustrating. The longest time they would barely have any check out people now they have show many more self checkout Lanes and like 9 Associates watching them. How come we couldn't just do it the old way we had eight lines open and one person monitoring the self-checkouts? But I'll say this they keep it clean the cost of a sanitizing due to Covid and I understand stalking is challenging right now with everything going on. But for the most part when you're shopping Associates are friendly helpful.
9 months ago Rajesh Peddiraju
Pharmacy staff are very easy to talk to when you're having issues.
7 months ago Markita Mills
Walmart has finally hit their all time lowest. They have made checking out all self serve. All the cashiers just stood around and pointed to the direction of an empty scanner. Took a very long time to scan my cart full of items because of my Fybromyalsia pain. I will not endure that again. I am taking my business and money to better businesses who care.
9 months ago Heather Hewitt
My experiences @ this particular walmart Super center were absolutely Fantastic!!! Superb coustomer servise all the way around!!! Every staff/crew member I engaged with was very friendly and super helpful!! Totally recommened!!
8 months ago Ronda Gates
It's a Walmart. They do a good job of being Walmart.
7 months ago Quyen Hoang
Thanks for having the things I need and I actually get out faster checking and bagging my self. Do no like the employees that have to do other peoples shopping cause they take up the aisles & do not seem to care.
7 months ago Chris Cunniff
Very rare that something doesn't go wrong here. Either not stocked or prices ringing up incorrectly with no one willing to resolve the issue. Least favorite store
8 months ago Fred Fred
I love Walmart. Throughout Covid-19 they have faithfully delivered all of our groceries. They are accurate and timely! I really appreciate it! Thanks!
9 months ago Rachel Morton
Walmart is always a nightmare. Not always Walmart's fault. Sometimes it's the person standing next to you in the dairy isle. As you stop and take a closer look you realize this individual is a special case. Nothing more sad than to see a late middle aged man dressed in tights and pink tutu. Worst part is that he was an employee.
9 months ago kim haddad
We love Walmart its our vo too place.
8 months ago Melissa Spencer
Awesome selection on women's clothing. But they were almost completely out of size 8 and 9 in women's sandals.
8 months ago Neha Jagadale
What can a person do when that's the only store in town that's reasonable.
9 months ago Buddy Whittenburg
People were nice. Doesnt always have what your looking for, but thats basically every walmart.
8 months ago Eliza Mota
Self check only open and the cigarete asile. Once they did open a asile, she closed it after 2 people. I got lucky as i got through before it was shut down. Now i counted 6 personal shoppers doing the curbside work. I will find a better way or maybe Hyvee next time. The drive would be better than trying to get someone working.
8 months ago Kyle Lei
Was busy today, every worker that we interacted with was cheerful and extremely helpful and checkout was quick
9 months ago Eva Dahan
Need more open check out lanes
7 months ago Maria Hush
I had a small list and even smaller amount of time to get in and get out. Everything was exactly where I expected it to be (meaning no new resetting to the other side of the store in the middle of holiday shopping time) and I was able to get from the frozen to the spices, to the chip dip, and to the fit bit in the electronics section all without a problem. I was in and out in no more than 15 min. Usually I have more time to cover the entire store. Once in a while I need to make these quick trips and this time it was a perfect experience.
1 month ago Ryan Williams
O_O The employees I interacted with were nice and courteous. The store was kept clean and tidy. All in all good visit I found all I needed but I dont see how food has gotten so expensive i didnt even get a half a cart of food and it was over 100 dollars! Crazy! *_*
11 months ago Louise Parlee
Good prices. I do not like that the mask mandate has been lifted for only those who have been fully vaccinated.
7 months ago Katie Vallance
Great in and out store. I know what I want and I try to get it quickly.
9 months ago Luo Cecilia
Everything is usually good. The only reason I left a four star is because every time I order in store pickup I go to the kiosk and check in and after 15-20 mins I finally have to ask an associate to help with getting someone to bring my stuff. I could shop physical myself and be done before they even acknowledge that I am there. Not sure how this service is a convenience to customers.
5 months ago Janet Rosen
AGAIN!! I go into this store around 2:30 pm and observe people with NO MASKS strolling around shopping the aisles. I was informed the last time in a phone call from management that they will call 911 and handle it. So today i point out to and suggest to an employee, who was positioning a display at pharmacy side entrance, that they should call confront or call 911 at which she responded by laughing at me and ignoring me rudely. I do not think this virus is a joke!!! The grey haired with glasses and yellow vest with name tag DIANNE took quite a rude offensive stance toward my request and concern. I did not have my phone on me or i would have photo and called 911. NEXT time i will take pics and call 911 and wait for police to come and write up citations. I will stand at door with camera and phone and make a record day of it. Springfield will be booming in citation money.
1 week ago Ray fitzgerald
They seem to be quite thorough regarding covid precautions, but at the same time given the amount of people allowed in the store vs the number of employees working, it's quite an adverse ratio, every line unfortunately was backed up into aisles causing a lot of traffic blockage for people who were still shopping. And the self checkouts being in cards only mode is nice but at the same time it makes it difficult for someone who might only have cash and is only buying a few items.
4 weeks ago vinita Mishra
They have everything organized and keep items stocked that I need for everyday use inside and outside items and great customer service
10 months ago Susan Andrews
Who doesn't like walmart. They have what you need and very reasonably priced.
8 months ago Samir Govani
Tried to call them and see if an item was in stock, was on hold for over an hour. Talked to the service desk, the manager and the sporting goods counter, everyone just put me on hold and blew me off. They must have had some trouble helping me because of how busy they normally are at 9 am on a Thursday. You'd probably be better served going to pretty much any other store in town, because these guys clearly couldn't care less about wasting the customer's time. I could've driven there myself and looked in-person in half the time, though at this point I'm not even sure I care anymore. Avoid.
3 weeks ago Susan Barnardgillmer
It has everything you love and more home, business, entertainment, health, and convenience of the service for shoppers who aren't familiar with the stock !
10 months ago Juliette Min
Stocking should be better in my opinion. Service help in finding things is great, as what is usual. Cleanliness was great. Moe wasn't there this trip. He is always nice and pleasant. Normally shopping trips stress me. But Moe always has a smile and welcoming comment that offsets that stress.
5 months ago RR
Walmart is a great place to buy groceries. Or everything else you may need.
9 months ago Paul Dandridge
The store was a disaster. Food Items on the shelves were smashed, unorganized. Trash laying around. It was a mess. Probably won't be going back there
8 months ago Janna Laughon
A guy was following me around thw store i had alot of goceries i had so ethinf fro. The deli i was eating even though i should pay first.but he kicked me out for life at all walmarts amd called to The police
9 months ago Curtis Curylo
Great range, also very safe. I love taking my kids here to learn gun safety.
11 months ago
Popular places from the category Department store