CarMax
Used car dealer CarMax, 1975 Beaver Ruin Rd, Norcross, GA 30071, United States:
220 reviews
of users and employees, detailed information about the address, opening hours, location on the map, attendance, photos, menus, phone number and a huge amount of other detailed and useful information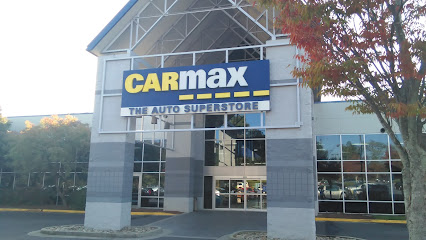 Address:
1975 Beaver Ruin Rd, Norcross, GA 30071, United States
GPS coordinates
Latitude:
33.9325880
Longitude:
-84.1715556
Location on the map
Reviews James Gonzalez
I got an appraisal first. Process went very smoothly and quick. I came back later and sold the car. That process was also very smooth and quick. Got a nice price for my vehicle. The staff was courteous and helpful as well. I would definitely recommend CarMAx for anyone who wishes to sell their car.
5 months ago Lise Lawrence
In the past going to car dealerships was a nightmare. Salespeople killed the joy of getting a new car for me. Until now! I highly recommend CarMax and CarMax finance. The experience was effortless, quick, and the financing was fair! For me, there is no reason to go anywhere else.
11 months ago Hailey Shellady
Outstanding experience. Great customer service. Very professional. I still can't believe that I sold my car in 1 hour and walked out with check on my hands what was promised 9n pre evaluation.. Definitely looking forward to visit for my future car needs.
5 months ago Heidi Henry
Fast, courteous service. Appraisal & sale completed in less than an hour! I can't wait to go pick out the new car and use my check for the down payment.
5 months ago Ghost Rider
Ephraim did an amazing job assisting me. The car looked new after service. I wasn't happy how it was delivered to me. It was filthy and photos didn't fully represent the car. It had some damage but said it never been in a car accident. They …
7 months ago Lisa Volturi
I would definitely buy a car from them again. You just have to be patient and keep looking you will find gems. Also I feel secure knowing that for the first 90 days if something goes wrong they handle it free of charge. I also took the extended warranty. I love my care its definitely one of a kind.
6 months ago Rossy Rossy
My overall experience was good. I was able to establish car selection, financing, and car transfer all online. I planned on completing as much as possible to avoid a longer in-store process. Once notified of the arrival of the vehicle at …
6 months ago Sierra Nevin
Cam was outstanding, and he assisted me with my new purchase/trade-in. He listened, understood why I wanted to purchase another vehicle, confident in the vehicle I chose, and he closed the deal. Cam followed up with me to ensure there were …
7 months ago Express Kitchen
I did my initial process online. I actually had to call the store and make my own appointment. But when I got to the store customer was impeccably efficient! My sales person who was amazing and friendly! She assured my satisfaction even …
7 months ago Sophie Cameron
They are friendly, fun and overall great customer service. If you could find and get Josh when you go there, you are Lucky! Would recommend this place for sure.
6 months ago Edgardo V
Everything was as good as it could be while dealing with Covid-19. All of the process were noncontact from start to finish.
6 months ago Robert Rosenthal
I had an amazing experience. The store was clean and well organized. And the process was smooth and efficient. There was no haggling. I highly recommend CarMax for selling your vehicle!
6 months ago Maria McCaw
My experience was awesome! My sales person, Rafael was awesome and very patient. No pressure at all like other dealerships and I love the transparency. Additionally, financing happened in record speed. The whole process took under 2 hours. …
8 months ago Terri Coffman
Lino was incredibly informative and helpful. He's ypur guy if you're looking into buying!
5 months ago Greg Baker
My sale's men was Cam. He made it so easy for me to by a car. I will be back for an up grade. I highly recommend him. He was very professional. He walked me through the whole process and explain everything to me. Ask for Cam!!!!
6 months ago allan ruskin
I had great experience at car max the young lady that helped (kerrigan) was awesome anyone looking for a car go to her.
5 months ago Ed Annatone
Fast sell of my car. It took about hr and a half. Mr. Jim was fun and customer service was amazing. I had a great experience.
7 months ago maria crandall
My experience was wonderful until after I bought the car. I pointed out at the time of signing that I had a crack in my windshield. Well, I've found some other things wrong and I've been in touch with my sales consultant and still do not …
6 months ago Sergii Martseniuk
Very good experience. I did everything online before showing up and met with Jackson to finalize and pick up the vehicle. Jackson was very helpful. If you educate yourself on what you're buying and do the online financing on the carmax …
8 months ago Jessica Pryorman
I bought my second car from Carmax due to the great service I received when I bought the first one. The salesman that helped me was very patient and nice during the entire process. The best part of it is that they bought my 2008 Kia for …
6 months ago Tammy Storz
I had a decent experience purchasing the vehicle because financing was already approved. I received a call two weeks after purchase that we needed to redo the contract due to their error. I am having a difficult time speaking with someone …
6 months ago Ksenia Migunova
It was the easiest and most stress free car buying experience I have had in years. The sales associate was amazing and the whole staff was kind and helpful. I would definitely recommend for any of my friends and family to buy from here!
7 months ago Herman German
By far the worse experience I've had purchasing a vehicle in my life. Every person at the location dropped the ball! The sales person, the management team and even the customer care team. All they seek to do is apologize, but not fix the …
5 months ago Petra Jones
They really make it easy to buy a car. Zero pressure to buy and they give you all the information you need. After buying our last two cars there, I think we're done with trying to haggle with other dealerships. Both of the associates we dealt with were very knowledgeable and went out of their way to make sure we were happy.
8 months ago Dave Rothamer
Quick and easy vehicle transfer. Convenient 24 hour test drive. Would have been a 5 star experience if the "manager" wouldn't have tried to sneak in the MaxCare extended warranty despite me declining it when the sales associate asked. I …
11 months ago Susan Woodworth
Frazier was our sales person an she did a great job. She helped us with the price range an made sure we left with a car that day. She even worked with us off the clock an stayed to make sure we were satisfied at the end.
8 months ago Jean Bolan
I had a great experience. Everything was super easy to understand and navigate. I worked with several people, and everyone was nice, helpful, and explained everything clearly.
6 months ago Dan Tyburski
I had a really sweet salesman that was very polite and patient. My overall experience wasn't bad except the actual "sales manager" wasn't very friendly, nor were some of the other customer service people. The whole process was pretty easy, …
10 months ago Abraham Botello
Absolutely horrible. Barely 4000 miles in and I have several issues. Car max! You guys promise great inspections before selling. They are liars. Because I am 4200 miles car max won't fix my vehicle!!
8 months ago Diego Saenz
It was a quit process. They were straight to the point about the appraisal. Then it took a little over an hour to process everything. I was in and out the door in less than 2 hours.
6 months ago Carol Rand
it is just like the commercial says it was the most easy car buying experience I ever had in my life and I have had plenty of cars. For once I feel like I got a great deal in a reliable car that I actually wanted instead of being tricked …
11 months ago Tanmay Mishra
My attempt to have a car transferred was not great. I waited for two weeks and then the car never came and the communication was not what I expect from Car Max as a 3rd time buyer. But, once I found a different car and came into the store the process was quick and easy.
9 months ago Charlotte N
It was the best experience I've ever had. Everything happened so fast it felt like it was a dream. Thanks to all the team at carmax. Their professionalism was Awesome ????
7 months ago Dhivakar R
They sold me a car that wasn't titled and after many, many attempts (in person and on the phone) I can't get anyone at this store to even pick up the phone. Just horrible. I don't recommend them. The call center tries to help, but they aren't even able to get the business office to call me back.
6 months ago Jeff Showers
It was a very smooth transition, no haggling.. l had a car transferred to Norcross and got to test drive, I didn't really like it like I thought I would ???? but they had no problem with that I showed them another car I liked on my phone app. …
11 months ago Liz Petro
I never thought I could be able, on my own, to get my dream car!! After doing an online pre-approval with Carmax and speaking with one of the most caring salesman, I think her name is Hope, I was in my dream car!! Within 36 hrs I was in my new, gray on gray, Camry!! Thank you for a great car buying experience
6 months ago Shawn Hickman
Even when the wait is longer the service is always great. I get treatment as if I was at a luxury car dealership. I used to have an Audi and I downgraded to family car and was worried I will miss the treatment but I am so pleasantly surprised. Thank you Carmax
7 months ago Rey B
This is by far the fairest and fastest Car dealership. Mt. Zion car max is trash. Norcross gets all 5s. Never a disappointment
6 months ago Christopher Smith
Buying my car wasn't the issue. I purchased a 2019 Kia and after merely 4 months when its "conveniently" out of the warranty, I need a whole new engine. I did get the CarMax "care plan" but so far I've been without a car for nearly 3 weeks …
5 months ago Bill Almon
Nick helped us through the whole selling process! He explained everything to us really well and really helped us find a car within my sisters price range and the features she was looking for.
8 months ago Anna Poutiainen
Wish I could give no stars. We've been dragged around for almost the last month on a car that I believe doesn't exist anymore. Our sales rep, Austin, makes up excuse after excuse and no one from management will return our calls. Was told we …
6 months ago roman roman
It was great except I was there for over 9 hours!!!!! It was absolutely ridiculous! I picked out my car, supplied documents, and was ready to sign for the car within 1 hour of being there. I got to the dealership at 11:30 am and didn't leave until after 8 pm.
6 months ago Jill Smith
The process itself was very easy, staff was friendly and helpful. My Car needed to be transferred from another city and it did arrive on time! The only reason this review is not a 5 is because CarMax was suppose to let me know when I could …
7 months ago Momin Afrede
Full Disclosure, this is not a review based on an actual buying experience. We ended up purchasing a car from a competitor, but only because they had the exact car we were looking for and CarMax, in this instance, did not. However, our …
8 months ago Kassem Maksoud
The guys at the counter are getting screwed by the mechanics. My trunk button stopped working. The mechanic melted the trim to install a new button. I immediately complained and was told that a new trim piece would need to be ordered. …
6 months ago judy bruce
Disappointing visit. 28 of the 30 vehicles that i was interested in were sitting on the lot but not for sale. I wanted to buy a car and felt like I was wasting my time. May rethink going if you are ready to makeba purchase.
6 months ago J Brat
We found a car on line that we thought we wanted. We came to the store and the first person we spoke to stepped up to help us. He ordered the car to be shipped from St. Louis. We paid for that and about a week later he let us know that …
8 months ago Erik Schmeltz
Had some issues. Tried to buy a car that was branded and previously stolen and recovered with no damage... According to carmax. Got a quote with my insurance and they ran the VIN. They found the car was stolen and had severe damage. I am …
6 months ago Phillip Decker
Took my vehicle in for service. Needed my airbag and door serviced and they took care of me in a timely matter. I was updated everyday without having to call in myself. They finished up with my car right before the weekend and now I'm back on the road. Thanks.
9 months ago Alerima Ganizu
I initially started the process online..That went smooth...I got the vehicle I wanted but during the online process I was told that it was a couple of minor scratches and scuff marks and some chipping of the paint in front by the bumper at …
5 months ago
Popular places from the category Used car dealer