CarMax
Used car dealer CarMax, 1975 Beaver Ruin Rd, Norcross, GA 30071, United States:
220 reviews
of users and employees, detailed information about the address, opening hours, location on the map, attendance, photos, menus, phone number and a huge amount of other detailed and useful information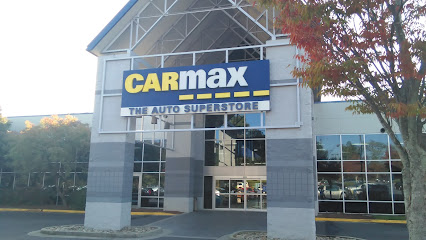 Address:
1975 Beaver Ruin Rd, Norcross, GA 30071, United States
GPS coordinates
Latitude:
33.9325880
Longitude:
-84.1715556
Location on the map
Reviews Fugere Leo
I had a great experience Carmax! I saw a car that I liked and was able to teset drive and get the car at a great deal. The Financing was easy. The only down side was that my car only came with one key and no car manual. My next step is to …
1 week ago carolyn dickerson
Sales man was good, and the car was a good deal. However, the business office made us wait 3 hours to finalize the deal!
8 months ago Khalid Bahrami
We bought a 2017 marano here management was very helpful and professional needs to have hot coffee for customer service
11 months ago Robyn Bemis
Professional and plenty of quality automobiles to look at. We are very happy with our purchase and will definitely purchase our next vehicle here as well.
8 months ago elissa sanchez
Had a great experience purchasing my car. I needed a quick turn around and I was able to purchase from home. The process was smooth. Shout out to Gustavo, Nina, and Landen (may have misspelled).
1 month ago edward wilson
Everyone was so nice and friendly and made the experience of buying a car very easy.
10 months ago Crystal Kitchens
Bought cars here three times. Recently purchased a 2015 Nissan Rogue. All the customer service was great. The process was easy and went pretty quick. Update: We just bought a Nissan Murano for my husband. A guy named Joshua helped us and …
7 months ago Joanne Flower
Easy and fast- a little disappointed having to pay a transfer fee but easier than fighting over the ones at the lot.
8 months ago Lisa Deer
Easy, no pressure. It was amazing!
2 weeks ago Alma Gerber
Beware the service center. They'll sell you a car 7 days per week but if you need them to repair anything, I hope you're ready for a lackluster experience. Took my vehicle in for service and ended up having to fix their work myself. A …
1 day ago Chad Hanna
Staff is knowledgeable and polite lots of vehicles to choose from.
8 months ago Bayardo Silva
Daughter bought a car fast, easy service. In and out in no time.
10 months ago Manju Mahesh
I advised my daughter against going here but she stated she didn't want to get a brand new car so she decided to go anyway they gave her the run around and then didn't approve her. I contacted a regular car lot that sales new cars the …
1 month ago Michelle Trousil
My experience was quite awful. I was a first time buyer and I came in for a test drive, and then afterwards, set up an appointment to come back and purchase the car. When I came for the test drive, they were supposed to have me fill out the …
11 months ago Keyshawn Leffall
Nice place to sell car. very friendly and honestly, no hassle. feel extreme comfortable.
3 weeks ago Lang Tuang
Great service but I knocked off a star because within a week I had to replace a tire.
11 months ago Dan Boehlke
Nerval was great! He listened and addressed all my car needs.
7 months ago Marlene Pannell
Awesome! They were prompt, helpful and knowledgeable.
9 months ago Eric Burns
Bought a 2017 F 150 Truck. Paid $99 to have the truck delivered to the Norcross CarMax from Jacksonville. The truck was advertised to have a bed liner. Upon inspection I noticed it was missing the part that covers the tailgate. CarMax …
5 months ago Christopher Mitchell
I went in had fun!!! Got a car!!! And went home!!! I wasn't there long!!
8 months ago bianca hockensmith
Best place to buy a newer model used car.
8 months ago Georgette chin
Very friendly and professional. Everybody was nice and friendly from the representative that called me to get everything started. I didn't get the run around and they worked really hard to help me find the perfect car for me. Most car …
1 month ago Roy Dowty
My recent purchase at the Norcross store was a smooth and comfortable process with the exception of a lengthy period after I made my down payment and was asked to sit at a desk and wait for a representative. I was sitting there for quite an …
1 month ago Erica Valencia
My salesman Oneil was very helpful, he explain every single step of this car process to me and I will definitely recommend others to deal with him. My service rep Dylan was also amazing. I left with an awesome suv and just wanted to say thank you.!!!
4 months ago Max Xavier
Was told they had the car I wanted and got lied to . The car was already beeing transferred Kiki was a horrible rep and handled it unprofessionally!!!!!
8 months ago Renfei Song
The process was very fast and straight to the point from start to finish; excellent experience!!!
10 months ago Shabnam Khan
Daughter got her 1st car on her own!! With a lil of Daddy's money ofcourse!!
9 months ago April Belcher
If you value quality, never purchase a car from carmax. Some customers may have had wonderful experiences, but I'm far from one of them!. Over 15k in repairs in less than a year, and then an associate had the audacity to tell me I may need …
1 month ago Sss Ppp
Not bad. Sometimes the process is so slow.
7 months ago Nick Grady
I recently purchased a vehicle from Carmax. The payoff on my trade in was $896.01. However, due to the weekend and holiday on which I made my purchase, Carmax could not verify this amount with loan provider. Therefore they told me that they …
10 months ago SLAVEOF THECREATOR
It was excellent! I found the car online, had it shipped to my local (Norcross) location from the Charlotte lot. Test drove it and completed the paperwork a week later. Couldn't have gone more smoothly.
3 months ago Lisa Yee
I HAD THE WORST EXPERIENCE AT CARMAX NORCROSS. I HAD A 8 AM APT. GOT THERE AT 745 AM. LEFT AT 200PM FOR A BRAKE JOB. WORST CUSTOMER SERVICE EVER IN LIFE!
10 months ago Victoria Pope
Excellent experience No haggle and very informative
7 months ago Hilda Fitzpatrick
My sales person Makim Christain is the only reason I shop at Car max! He makes car buying a wonderful experience each time I purchase.
10 months ago Gavin Moran
The process was almost seamless; the only problem was the car I paid to get transferred to this site was being held under someone else's name. Waited for about 20 -30 to get this resolved but got it worked it. Sold a car to them a week …
3 months ago BIG KOUNTRY
Decent experience only because I came prepared and ready with documents along with having the vehicle I wanted transferred to the Norcross location. The salesman was new and really not ready for the floor. He could use more training to be …
3 weeks ago Laura White
Service department doesn't pick up the phone
7 months ago Kim Johnson
Everything went super smoothly right up until they put the tag on the car, then it couldn't be tagged. However the staff remained friendly and positive. After finding the second car that I wanted and started getting everything put together, …
6 months ago Dave Lane
Wait time was crazy but i got my car. Yay
9 months ago Nicolas Nguyen
Great customer service no long wait time.
10 months ago Taneisha Christie
Just don't even bother!!! SOLD ME A CAR WITH MAJOR ENGINE PROBLEMS .. tried to trade it in ..Guess what they told me to go somewhere else
10 months ago DC Romey
I bought my car here. Great experience!
3 weeks ago Valentina Tedesco
Peyton was the best sales associate ever!!
7 months ago Victoria Warren
I was a bit skeptical with purchasing from CarMax. They were my first car buying dealership experience and I have no regrets. The car buying process was very easy and straight forward. I personally like they don't haggle because you can …
2 months ago Deatra Parker
I made a 2nd vehicle purchase from Carmax today, Sylvana is the best salesperson I have ever had the pleasure of working with. She assisted 2 of my children with purchases as well. I strongly recommend Sylvana, she will not disappoint.
3 months ago Roger Landrum
CarMax made the car buying experience quick and seamless. The sales rep and finance rep were courteous and helpful. I will definitely buy another car from CarMax!!
3 months ago Bot Bot
Dre and Kay were simply the best. They made my 1st car buying experience an unforgettable one. I'd highly recommend them.
8 months ago sue pugh
Great service got just what I wanted at good price
6 days ago Andy Goodman
I had a very positive experience with CarMax, from beginning to end including the price I received for my 2005 Toyota Camry. The Camry developed a problem driving to CarMax and I also had a title problem coming from out of state after a …
5 months ago adolphus kisseih
Got an online appraisal for my car. The onsite staff was quick and efficient. Took less than 45 min to finish the sale. Quick, easy and fast.
2 months ago
Popular places from the category Used car dealer