Carrara
Rehabilitation center Carrara, 4501 Tradition Trail, Plano, TX 75093, United States:
52 reviews
of users and employees, detailed information about the address, opening hours, location on the map, attendance, photos, menus, phone number and a huge amount of other detailed and useful information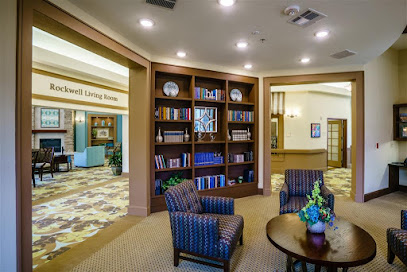 Address:
4501 Tradition Trail, Plano, TX 75093, United States
GPS coordinates
Latitude:
33.0139906
Longitude:
-96.7844450
reviews Abimael Gonzalez
I have gone to visit my Aunt several times. She has been there for about 5 months and doing well. Her meals look great, her room is always clean. The people are very polite and professional. The Nurses are always willing to go down to her room when we call and need her to answer the phone. We appreciate this center. They are doing a great job and the place is beautiful!. The Harrison Family
7 months ago Mattie Clay
I'd like to offer a review of the Carrara staff as they were very professional and helpful as they supported me thru my Covid experience. They made things easier for me and gave me good advise, and at this point, they plan on providing follow up service at my house over the next several months.
7 months ago Cards
I went to visit my dad and I was so so pleased with his room and how clean it was.Amazing.And he looked so happy and refreshed.The staff on his unit was great. I'm not gonna lie after reading some comments I was kinda worried.But you have to go by your own experience.i wish I could give five stars.The only thing is wrong to me is getting ahold of a nurse and being left on hold again.but if I had to send him back to any rehab it would be at Carrara
7 months ago Jimmie Smith
l am quite pleased with the facility as a whole. The staff is dedicated , friendly and responsive to the needs of my father. I feel like I made a great choice with Carrara!
7 months ago Cynthia Jones
I am thankful for Carrera. All staff members are Kind and Helpful. I really appreciate the care that's provided.
8 months ago Elena Lopez
My mom was recently in Carrara after surgery for a broken hip. The staff was fantastic. Kudos to Cathy, Bertrand and all the other nurses and CNA's looking out for her.
8 months ago Clara Ramos
My mom spent 2 weeks at Carrara following her battle with COVID-19. Everyone was great! The admin and admittance people were always in contact with me. Her main nurse would call to update me on her progress. The social worker arranged physical therapy to continue once mom was back in her home. Like all care facilities they are stretched to the max, but I was pleased wit my mom's care.
11 months ago eugeniu bezniuc
We are blessed to have found Carrara for my mother. The care and love given is exceptional. The nurses, and the nurses aids (thank you Daniella,) clearly love what they do, and they do it so well! Carrara's handling of COVID should be written up, and studied as a how to guide for all of the other facilities. My gratitude for keeping my mother safe and happy through a very scary and potentially dangerous situation.
10 months ago Alisher Zavkiev
My brother has been a resident of Carrara for a few years and our entire family is greatly appreciative of the care he has received. The Staff is extremely aware of each patient's needs and adapts their schedules to fit the requirements of each resident. During the ongoing Covid crisis they keep all families up to date on anything that might be of concern, such as positive test results of Staff. They take immediate action to insure that all residents are separated from anyone that might test positive. I can recommend Carrara as a first class facility without any reservations.
11 months ago Graham Gardiner
when I called to see if they had any position open for housekeeping, and they told me to come in person to fill out an application, and the lady said if the director in housekeeping has time to talk with me. they were very rude to me. especially when I go out of my way to try to help them out for housing and she says they have several openings still available. they need extra training how to be nicer on the phone.
4 months ago Kat Parry
My father in law currently is in Carrera, Great staff, wonderful CNA! His cares depending 100% on others and we are so pleased the quality of cares Carrera has been providing. I highly recommend Carrera! Thank you!
11 months ago Colin Conkey
My father has been here at Carrera now for three years. He is paralyzed and needed maximum care on his daily life. I have no word to describe how my father has the best care from every shift here at Carrera. Everyone there:- from Adminstrator, unit manager (Sinke) nursing Aides, nurses ... paying attention on giving my father the best cares..due to pandemic we allow to visit him twice a week, every time i walk to my dad's room he is full of smile and very much happy to live there. When I visit him I tried to help on feeding and doing some cares for him, but he tells me he will rather have The CNA Chamilia doing it for him, he says she knows what she is doing, and reject my help and waiting for her. Chamilia gave my father a beautiful outfit on Christmas Day, and putting them on for him, she made his day. Dad felt the people there are his family. Communication with Adminstrator is very easy, convenient, she responds to my calls and text in the matter of seconds, if she is in the meeting I still get text response, thank you Markay! Sinke, you are an amazing leader too! Amazing staff, best cares, good communication, the best, best, of best Nursing aids. I highly recommend Carrera!!!
11 months ago Jess Smith
I would not suggest anyone go to this place. My husband was sent there from another place because of covid. When he returned after 20 days he had what looked like a burn mark on his left leg. He is paralyzed so he can't get out of bed or walk. Carrara had no record of anything happening and said he happened somewhere else. Look at this. He left Carrara on a December 1. I saw him on December 2. It had already scabbed over. Look at the marks on the side. I wish I could give the a negative. BTW I reported them to the state and nothing was done so ...
2 months ago Isaac Hassan
If you have a loved one who needs care, especially long-term care, Carrara is the worst possible place to send them, both for you and them. Regrettably, my father contracted Covid-19 at another long-term care facility in July and after a brief hospital stay, he was sent to Carrara to convalesce because the previous nursing home did not have a COVID-wing. My sister and I were finally able to see him in October after the governor loosened visitation restrictions in nursing homes. The lack of communication at Carrara is bar none the worst I have ever experienced in the six years my father lived in long-term care facilities. Every time I called, the receptionist, Esther, made me feel like it was a huge inconvenience, and I was a real pain. I called to ask questions, and someone would say so- and-so would get back with me, but nobody would call me back. I got email addresses and began communicating that way, but the nursing staff never responded. The most responsive people there were Nancy, in account management, and Stacy, the social worker. Unfortunately, they were powerless to help me address my father's health concerns. I felt that I had to beg for somebody to pay attention to our concerns regarding my father's health. I had to call, email, again and again for a nurse or somebody to address serious issues my father was experiencing. We asked for blood work to be done to check kidney function and was told that x-rays were taken of his arm, for edema of all things, and of his head after a fall, but nobody reached out for results and when I asked multiple times for paperwork none was provided. The level of care was basal and neglectful, the incompetence rampant; however, if you need somebody to change a diaper or insert a catheter, or put a cannula over your loved one's face, they are very good about doing that. I called to their attention that my father was beginning to hallucinate. It took weeks for them to finally find out that he had a UTI. On Tuesday, the 22nd, my sister went to visit and found our father unresponsive and on oxygen. They had just changed his diaper though. Michael, an aid there, told my sister that my father had bad diarrhea and asked if she was sure she wanted to see him. My sister asked for the nurse when she could not wake him up. The nurse did not come. I called and talked to Esther-again-but the nurse showed up an hour later without a sense of urgency but to simply administer his insulin without bothering to ask about why I needed to speak with her. Furthermore, she was not truthful about him being fine a few hours prior to her showing and could not tell her why he was on oxygen. When asked about the x-rays and why no one had called us, she said they were fine. After continuing to press the nurse for answers about our dad's current state, she decided to call 911, and they were there within minutes. When she walked out of the nursing home facility, no one said a word to her and acted as if nothing had happened. Sadly, our father passed away during the early hours of Christmas Eve. When we picked up his belongings at Carrara, Michael handed over several bags, turned his back and muttered something under his breath thinking he had not been heard. He didn't even have the heart to acknowledge our grief. That is the level of care, sensitivity, and professionalism this people demonstrated even after my father had died. You do not have to go through the same thing; you don't have to choose Carrara. Choose to give your loved one a place that will treat him/her humanely and with dignity.
2 months ago Lila Roberts
DO NOT, I repeat, DO NOT send your loved ones here. My grandfather was sent here after he was diagnosed with Covid. The first couple of days he was alert, now 9 days later we had to call EMT to get him transferred to the emergency hospital. He has serve dehydration and kidney issues now. This place was horrendous. We would call multiple times a day to get a status on his health and they would either lie to us and tell us he was doing great or just not answer at all. They wouldn't even help him plug in his cell phone to get it charged. This place needs to be investigated and I will make it my life's goal to take this place down. This is utterly heartbreaking a place could abuse the elderly like this.
1 month ago Vickie Buccini
The absolute worst rehabilitation center in the Dallas Fort Worth metro area! My father was there to rehab his broken hip. This was right around Covid-19 hit in mid March 2020. The rehabilitation department made little effort to see that his hip was improving. I always had to call them to get a report, as they weren't letting visitors in during that time due to the COVID-19 outbreak. Which that much I could understand and agreed with. After his insurance stopped paying for his rehab, I had to make the decision on whether we should bring him home or leave him there in case he was exposed to COVID-19. Shortly after that they had to call in hospice because he couldn't swallow his food. The hospice care was absolutely the worst I've ever seen! No one could answer any questions as to whether we can see him or not due to his declining health issues. Finally on a Monday when the manager was back, she said we could come see him because he was expected to pass anytime as his vitals continued to decline my whole family immediately headed to Carrara to say see him one last time. By then it was too late I received a call from Carrara while everyone in our family was on their way to see him telling me he had just passed away. I could write a book regarding the service and "care givers" at Carrara! No one even called to say we could come pick up his belongings. I wouldn't recommend Carrara rehab to anyone!
3 months ago Bob Lamont
My grandad is there and i worry about him so much!Its hard to talk to someone to get a update about him.I wish they understand that these are i love ones and we are already dealing with the fact that they are in there.They moved him and didn't let me know to another room.he has deminta and i dont want him to think thats i have forgotten about about him.I pray every night that god heal him so he can come home.Me and my husband cant sleep anit night because we worry about him because its very hard to get and update on him.i dont understand.im very unhappy with this place. God sits high and watches low.put your self our shoes.How would yall feel if your loved ones was there and all you get its the run arounds and get told probably anything just to get us off the phone.Mike is very sweet and pleasant great communication .mike the receptionist is a sweetheart
3 months ago Tabbitha Dilley
Please do not send your love one to this place. My rating is a 0 star. This place needs to be seriously investigated. My Dad who is a diabetic, disable, and positive with Covid-19. Day one when he was in their care the communication between the staff and my family was horrible. Everytime we called to get information on him you would get put on hold or no response from anyone. He was supposed to be rehabbing for 7 days but he was in the bed for the whole entire time. His days are up as of today(10-29-20). The staff are in their feelings because we made a complaint but yet we have not gotten any information on if they retested him for Covid-19 before they discharge him. Please go somewhere else if you love your love one.
2 months ago Imre S
I do not know what is wrong with the person that suggested Carrara should be shut down, but he has some kind of personal issue. My Mother has been at Carrara for a year and we could not feel more fortunate. The people are very kind, caring and conscientious. They have taken extreme care to avoid the virus and are virus free right now. I have no doubt that my Mother is in the safest place she could be! If you actually care about your elderly relative, you will go to Carrara.
11 months ago Carolyn Rae
Please, please, please do not send your loved ones here...They are not taken care of. I would give 0 stars if I could. The staff will lie to you and tell you they are okay, but they are actually being neglected. They do not respect the family or patient's wishes. My grandmother was bedridden and repeatedly brought to the hospital for dehydration. They did not feed, drink or shower her properly and my grandmother suffered for it. They can not even follow explicit instructions of which hospital to take her to and they do not even call the family before making rash, unnecessary decisions. On top of that, they lied and said they could not reach us even though we provided them 4 different phone numbers. In addition, the staff is HORRIBLE and can never answer any questions. Please do not subject your loved ones to this place, we deeply regret it and you will too.
5 months ago Kyle Lyons
I just got released after spending 3 weeks of rehab at Carrara. This is the "BEST" rehab place I have ever experience. Everyone care that you get the best service. You can tell that employees are happy to work there and happy to do everything they can to help you go home with all the tools and techniques you might need. Congratulations to the manager Lori for hiring a great staff. I wish they would have been open when I was looking for a long term facility for my mom. ????????????
8 months ago Brenda H
My overall experience at Carrara has been a positive one. The nursing staff is excellent: attentive, pleasant, knowledgeable. My call light was always answered in a timely manner by whoever saw it. I had everyone from an aide to facility administrator answer my call lights. The therapy staff with whom I worked was also excellent. I found them very personable and knowledgeable. They made what can be tiring and tedious work enjoyable. While I was at Carrara I think I met most, if not all the administrative staff up to and including Lori Lovelace. I was very impressed that I saw Lori out and about. I got the impression she definitely knows what's going on in the facility. She is available for the residents and family members to address concerns. My overall experience at Carrara was very positive. No one wants to be away from home, but if a rehab facility is needed, I would highly recommend Carrara.
9 months ago Camielle Landolfi
I can only speak to the Rehab section. Horrid. My father was here for "Rehabilitation," He was alert though weak when I was able to speak to him on the day he arrived. He left one week later near death. With COVID there is no way I could get inside to witness what was happening but it's pretty easy to figure out: Utter neglect. Most calls were not returned and when they were the Nurses are extremely difficult to understand and offered little information as they rushed to get me off the phone. I was asked the SAME questions EVERY time regarding his history....Did no one ever read his chart?? His catheter was temporary but was still in when he left! Now he has, to no ones's surprise, a raging infection. He has SEVERE SEPSICE where Early Detection is Crucial . I can only imagine the suffering he endured there. Tragic. Shameful.
6 months ago Diana Conley
I wanted leave a review for Carrara and the people working there for their excellent handling of Covid 19. It has been a difficult time not being able to see my father for the past few months due to the restrictions. Visits through the window just don't match up to the physical embrace with a loved one. My father has been at Carrara for a few years now, and I have wrestled with moving him because of the Covid risks. It's been difficult to say the least. But the staff at Carrara have been wonderful. Ashley in management has been nothing short of an angel and very helpful and kind with coordinating visits and FaceTime calls and answering my questions. She has put my heart at ease with keeping my father in the building. We've been able to have FaceTime calls and visits when possible. It's kept me sane. I'm very happy to report that my father has not contracted Covid and I know it's because of the precautions Carrara has taken to ensure it doesn't spread. I'm very grateful to the folks there and thank you for everything you do.
4 months ago Patrick Morris
I have been employed with Carrara going on 4 months now and can honestly say this is a great place to work. Our leader is hands on and always willing to get out on the floor and help anyone that is in need. Under her great leadership and from the support of all of the other management team I have truly had a positive experience. The residents seem very happy to be here and over all it is just a great place to work at and to live.
8 months ago magicmilla
My grandma is here after Medical City Dallas recommended this place this place is very pretty. She has only been there 2 days the staff is not professional in any manner my grandmother has been calling for the nurse for over 20 minutes when I finally get to see her through her window in her room because of the covid-19 .Her hair with oily she asked them to help her get a shower ans clean clothes she was only in a dirty shirt and a used diaper that cause a rash and asked. To give her some cream for diaper rash that havent. her cather bag was super full getting ready to bust nurse said she was too busy to help my grandma unfortunately is unable to leave for two weeks or i would of taken her with me right then and there. I have asked multiple times for a nurse to please help her plug in and charge her cell phone yet not been done. my grandmother has dementia so she doesn't remember a lot of things so when we tell her she said she'll do it but then forget because of her dementia. I am super aggravated with all of this and she wasn't paying they gave her a shot of Benadryl Benadryl for allergies not pain. And when my grandmother that has dementia is crying and begging me to please take her home they're not treating her right that was the final step for me I will be calling the state on this facility it's unacceptable how they treat their patients and residents unacceptable please if you love your loved one to not send them to this place. If I could give them a -5 stars I would in a heartbeat they don't even deserve one star. Hopefully the state takes care of it and I will be getting my grandmother out ASAP.
7 months ago Samsung Asong
This place is outstanding! We love our residents and have a outstanding rehab department! We are dedicated to quality care and customer service. Please stop by to visit! I would love to give you a tour!
8 months ago Robert Skews
I worked at Carrara for one and half years. Great place to work !!!. The staff are dedicated to their work and great management team. Commits to quality service and always striving for excellence. It's a great place for your loved ones when they need that TLC. It's definitely home away from home.
8 months ago mustafe liban
I have been employed at Carrara for 8 months as Director of Nurses. The staff is dedicated and goes the extra mile to provided resident care and their needs. It is a pleasure to be part of an amazing team that strive for excellence.
8 months ago Raven Lopez
Experiences at skilled nursing and assisted living facilities can often be very personal, and vary, depending on what people are looking for and the needs they have. For us, my father was a resident at Carrara in Plano during the fall of last year. From the first time I visited the facility I felt welcomed and cared for by the Carrara team. My dad relocated from Tennessee and transportation was arranged for him to get from the airport to the facility by a Carrara team member . When he arrived at Carrara he was greeted with many smiles and lots of energy. I could feel the care and love the people taking care of him had for my dad. The director of nursing, the unit charge nurse, the physical therapists and all the nurses and doctors with whom I worked kept me informed of how my dad was doing and were patient with me on my many questions. They had positive, patient focused attitudes which I appreciated. It brought a smile to my face on a number of occasions when members of the kitchen or the maintenance team would go out of there way to see he was taken care of. One particular week-end he asked me when his laundry would be taken and a few minutes later I saw one of the cleaning team members taking it to be washed, without me asking. The people at the front desk greeted me with a smile and a positive attitude and the finance team walked me through what I needed to know when my dad first arrived. The director of business development answered so many questions and helped get everything started. The doctors that visited him at the facility were friendly and took time to let me know how he was doing. I was touched when so many members of the team told me how much they cared for my dad.
2 months ago Tom Bowen
I love working for Cantex! And at Carrara! We definitely strive for excellence. I love how the staff comes together to help one another. It's is my home away from home. Therapy works to get your loved one to Prior Level of Function or establish a new base line. Our aides work diligently to meet the needs of the patients and their family members. Lori and Trunie are a dynamic duo in leading this team.
9 months ago Henny LeBeau
My 86 yr old mom started her journey with a broken hip right after Thanksgiving 2018. After a visit to 3 rehab facilities, we decided on Carrara. The rehab group here is exceptional! Mom eventually progressed enough to discharge and move to an assisted living facility but not long after, she fell and broke the second hip. Back we came to Carrara. This time, mom did not rehab. But it was NOT the fault of the excellent therapists (PT, OT & ST). The therapists were all very encouraging and loving toward my mom but she had lost her determination to get better. After several medical challenges, she was not able to go back to AL and it was necessary to make the transition to nursing home resident. During this very difficult time I received caring, compassionate, knowledgeable support from her Dr (Dr Cung), the social worker (Anne Sanchez), the executive director (Lori Lovelace), and the director of nursing (Trunie Nielsen). These folks make up an exceptional team. Being an only child and trying to make the best decisions for the best care for my mom, I do not know how I would have made it without them! A nursing facility is never a desired outcome for a loved one. But I am thankful that we found Carrara.
9 months ago Scott Wyatt
My grandmother, Sekine Seraj, has been staying here for a for weeks after having knee replacement surgery. The staff here have taken such good care of her that she asked me to leave a review! Thank you so much for helping my grandma after her surgery!
8 months ago Tammy Strawderman
Medical city of Plano recommended this place. It's very pretty, but that's about where the good ends. Food is terrible. Bring your own. No one is helpful. They have a good therapy department, but nursing is honestly dangerous. My grandmother fractured her hip a couple months ago after a fall. We let her stay because of the therapy department, but the nurses are horrible. They can't answer questions, they say they'll get back to you and never do, and forget about getting any help. The alert light just stays on with no one coming to assist. Staff just walk by the the room and don't acknowledge anything. Even their corporate people were there one day. Not a greeting or even a smile. It's no wonder they all seem unhappy. Depressing. Do not recommend this place. They'll win you over with the building, but everything else is substandard.
10 months ago Bruce Maclean
DO NOT LEAVE YOUR LOVED ONE HERE! Although the weekday staff is great and the physical therapy is quite good, the night and weekend staff are NOT. There are a few very competent capable people on the night and weekend shift, but they are so horribly understaffed they cannot be effective. After multiple incidents of taking more than 30 minutes to respond to a nurse call, I started timing the response and waiting an hour was not unusual, and the worst response was one hour, 47 minutes, FAR below TDHS legally required response. Management made multiple promises but nothing improved. To make matters worse, the food is inedible (there is a refrigerator in the room so we stocked our own) and there is a theft problem here. Too many other good choices to risk leaving a Loved One here.
10 months ago Ashley Blackstock
My mom has only been here one day and so far I am not impressed. Nurse wouldn't set up the CPAP, the food has not made an impression. And the response time after pushing the call button is horrible. As I sit here with her she pressed the button 10 minutes ago! No response
8 months ago Shane Thans
My sister was in Carrara for over two months and received excellent care. Not everything is perfect in any facility but we were very satisfied with her care and treatment at Carrara. Thanks to all the staff there.
2 months ago Basheerah
This was the absolute WORST experience of our lives. My mother is 69 and was admitted there after surgery. She needed IV antibiotics and physical therapy. After 2.5 weeks of being there she was admitted to the hospital after the staff said she needed a blood transfusion. Turns out when she got to the emergency room and they ran tests she was in full kidney failure. She then was unresponsive for 5 days. All because of the negligence of the staff. DO NOT SEND YOUR LOVED ONES TO THIS FACILITY. It nearly killed my mother. Apparently I had to rate it in order to post this review. I WOULD NOT GIVE IT A SINGLE STAR.
6 months ago Bruce Geffen
This is a fantastic place to bring your loved ones. The new team at Carrara have really made a difference in the care of patients!
9 months ago K AR
My elderly Mother has been hear 2 times in a year and a half. This is a top notch skilled nursing facility. They will bend over backwards to meet the clients needs. I talked to people there from Florida who said the was one of the nicest ones that their elderly Mother had been in as well.
3 months ago Norris Cole
Carrara is a great place. The Nurses and CNA's provide exceptional care for patient's needing skilled and long term services, and the Physical Therapists follow a stringent rehab program and have been very successful in improving the quality of life for patient's.
8 months ago Daniel MacKinnon
If you love and care about your elderly parents - please chose a better place for them and do not bring them here. My grandmother is here for almost 3 days now, there is not a single day when I do not have to complain about things. This place is fairy new and staff is not properly trained, this can be dangerous for the patients who are here and require serious care without experimentation. First day, no one came to take my grandmother to the bathroom and she ended up peeing in her pants. Day two, our menu was not decided yet and we have to go to kitchen or ask someone to give her the correct food since she is a vegetarian and also have other health issues as well which require a particular diet. On the shower day the nurse showed up at almost dinner time after promising to show up right after lunch time. Most importantly, they missed my grandmother's blood pressure medicine and gave her that medication at the wrong time which put her in a serious condition of high blood pressure. This is place is a potential danger for the elders and should shut down asap. I am clueless how this place is got the license to serve and they are still in business. God help people who are admitted here. The physiotherapy department is the best department overall and I did not have any issues with them.
4 weeks ago tauana mitchell
I actually did not work at this facility I arranged an interview, LEFT WORK, in a timely manner to be at the appointment on time.....Guess what? The individual I was scheduled to meet with wasnt prepared to meet with ME. Truly a waste of my effort! I literally changed meeting times and made Various adjustments to make this appointment. RN - MSN, UM-C
9 months ago FIRDAUS GARMENT
Wonderful facility! Carrara has completely changed my perspective of skilled nursing facilities. Not only does this facility feel like a hotel but their service is top notch. I had a really good experience with all the staff members I interacted with. To name a few: Lori Lovelace is an amazing administrator, I wish all facilities had someone like her. She made us feel very comfortable right from day 1, answering questions and always willing to help us through out our stay. Nursing director Trunie is very compassionate and cares for her patients. She has a wealth of experience which shows in her patient care and interactions. Ms Trunie has a great team of nurses who are extremely dedicated. Truly a gem of a facility with big hearts. This facility took on a complex case that most facilities shy away from and have the had the patient recover successfully. The entire staff has a very positive attitude. Director of PT OT Pranjali is the best any facility can have. She is very thorough, caring and her positive approach guides the patients to effective therapy. Her team is also extremely efficient and very caring. Speech therapist Marah is great asset to the team as well. Over all a great experience, would highly recommend this facility.
10 months ago Matthew
On Dec. 29, 2018 I fell and severely broke my right leg. Had surgery and on Jan. 7, 2019 I was transferred to Carrara's for my rehab. Three months later I went home. I want to tell about my experience at Carraras. It is a very beauty facility. It has so many amenities that you will need during your recovery. The nurses, techs and therapy staff are all so helpful. Also I had a Pain doctor, a Wound doctor, and a General doctor that all saw me at least once a week. I needed the therapy staff to help me get ready for home, which I never thought I would ever be able to do. But they pushed me to get up and go to the equipment room. And if I couldn't get out of bed they would work with me in my room in my bed. I can't say enough about the friendliness of all the staff. Always a smile on their faces and always calling me by name. I am still going back to Carrara's for my out patient therapy 3 times a week to continue my progress and the friendliness continues each and every time I walk in the door. I would always go back to Carrara's if I ever need Health Care again, and I will tell you, you should go by and view the facility for yourself. Terri Cooley
9 months ago William Matheson
My husband was a resident of Carrara for more than 4 months, and getting adequate care for him was a struggle from day one. Not only was he often neglected or ignored, many of the less professional staff members were incompetent, ignorant, uncaring or borderline abusive. We had several meetings with the social worker, director, and head of nursing after each major crisis, and many promises were made, but after a very short time, everything would fall apart. Examples include a promised response time to the call button of 5 minutes. Although someone just might pop their head in the door to ask what was needed, actually getting a bedpan or help with a urinal or meds was often delayed. I observed call buttons being ignored many, many times while staff sat at the desk or in one of the cafes looking at their cell phones or chatting. I had to purchase a bedpan for my husband when one staff member said they didn't have any one night. Another time an attendant said he'd get my husband a bedpan when he (the attendant) was through eating! Sadly, more than once my husband was humiliated and left in his own feces. Also, the rooms rarely received a thorough cleaning. The same dirt and debris was around the edges of the room the entire time my husband was there. Days would go by without horizontal surfaces being cleaned. I finally brought in my own supplies and wiped down surfaces myself each day. My husband required a bariatric bed, but the facility had only 2 sets of sheets for it and their laundry never got them cleaned expediently, so I had to take the sheets home and launder them as well as his personal clothing. I often had to not only change the soiled linens on the bed, but clean the mattress. (Once I had to show an aide how to make a bed.) The toilet was often clogged and smelly for days because staff would put large wipes not intended to be flushed in it. The food was disgusting and extremely small portions (smaller than a frozen diet meal)--mostly processed and rarely fresh or healthy. Almost never did my husband get what was on the menu. If the menu said diet drink, he'd get a small glass of water. If he requested milk, it rarely made it to his room. Often supposed hot meals arrived stone cold. Nothing appeared to be cooked from scratch, just reheated. We brought in our own fruits, juices, and healthy snacks. Later we discovered that patients who were able to make it to the dining room had a much better selection, but those who were bed-bound like my husband were plain out of luck. Getting bed baths was hit or miss (supposed to be at least 3 times a week, though my husband had orders for a daily bed bath) and certain attendants made it known they resented doing it by their callous and rough behavior. I was shocked to discover that a patient's personal hygiene was not considered important. My husband came out of that facility worse than he went in. We were always pleasant and kind to others, but yet he received sub par care. I think Carrara's behavior was criminal. The ONLY good thing was the physical therapy unit and a couple of decent professionals who were over-worked and under-appreciated. If you love your family member, DO NOT send them to Carrara.
2 months ago anju gusain
We want to give a 2 thumbs up to this rehab facility. I felt like they gave great care. The staff was knowledgable and eager to share her stats and progress. I can't say enough about the tender heatred Physical Therapy Ladies: Shelli and Sarah. Above and beyond was the social Worker Sandi Odorizzi. She responded to every single call, question and text. She never put me off. We were given answers immediately and even helped us understand how the process worked.She connected all the dots back to her assisted living and made many phone calls on her behalf to secure funding and the on-going care for my mother-in-law. I highly recommend this place. My mpther-in-law wants to give a shout out to the 2-11pm med. tech ladies who helped her bathe as well. She loved the home style meals and the coffee was great!
11 months ago Tony C
I wish I could give this garbage a NEGATIVE star. They contributed to the death of my grandmother. I can't wait to see these jerks in court. It took me calling the admissions coordinator at home and then she demanded them call an ambulance for my grandmother who had suffered a stroke and they just kept ignoring us. The Director of Nursing is the biggest joke around with his lousy and incompetent nursing staff. This garbage facility should be closed IMMEDIATELY. Looks can be very deceiving...you CANNOT strike gold in a silver mine.
2 months ago Beatrice Rodrigues
I am still in & not getting better. The food sucks, gave me a list to pick from. Today, breakfast came way late, after 9:00 am. I ordered 6 items & received 1&1/2. I am home but let me tell you this place looks good on the outside but Bates Motel inside. I wouldn't want my worst enemy there. They lie, may answer your call light whenever, the thing most terrible is they wouldn't let me take my meds that i brought with me that were in their on bottle with all info. They changed some of them without checking with MY DOCTORS. I checked myself out Sunday & around 4:00 pm they gave me my evening & bedtime meds. I wasn't thinking due to being upset & took them. When i asked why they gave them to me, said wanted me calm before my husband got their. I wanted to know who was in charge that day, told me the person had left & nobody in charge. Asked what would happen if an emergency came up, stated guess you would have to call 911. They do their best to undermine you. All they care about is the $ amount, i heard other ppl talking about how bad they have it in their. I could go on & on but i think you get the idea. Do not put anyone you love or hate their, i was to a point of being scared to sleep or take anything they gave me. And then them giving me all those meds just before i left was such a I DON'T KNOW WHAT TO SAY, yes i do PURE NEGLIGENCE. I could have fell, had reaction or other & My husband wouldn't have known what was going on.
6 months ago Thom Boy
the nurses are horrible. They can't answer questions, they say they'll get back to you and never do, and forget about getting any help. The alert light just stays on with no one coming to assist. Staff just walk by the the room and don't acknowledge anything
6 months ago
Popular places from the category Rehabilitation center