Che Bella
Bridal shop Che Bella, 1641 Hennepin Ave, Minneapolis, MN 55403, United States:
66 reviews
of users and employees, detailed information about the address, opening hours, location on the map, attendance, photos, menus, phone number and a huge amount of other detailed and useful information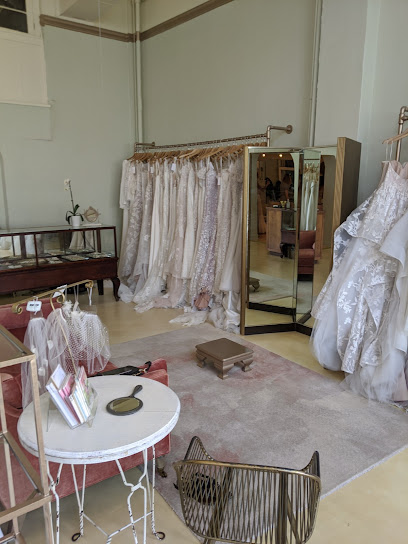 Address:
1641 Hennepin Ave, Minneapolis, MN 55403, United States
GPS coordinates
Latitude:
44.9715311
Longitude:
-93.2864291
Location on the map
Reviews Lauren J
I went to Flutter and a&be first, and I loved both shops. At each I thought I would buy a dress from them... but I figured I should at least visit Che Bella first. The moment I tried on the first dress at Che Bella I knew I would find what I wanted here - somehow the selection is even better than what I had seen at other shops. Che Bella was able to accommodate my tight timeline which I had worried about too. Plus Nicole gets an A+ from me for being attentive, listening, pulling the right dresses, and setting me up to feel like a Queen. The other staff members working during my visit chimed in with helpful thoughts too. I wound up with 4 perfect dresses to choose from, all of which I loved better than anything I had tried on at the other shops. Nicole helped me narrow it down to the 1 dream dress. So Che Bella is my favorite, hands down.
6 months ago Bria Anddaka
Che Bella was my sixth wedding dress shop and by the time I got here I was so stressed that I wouldn't find my dress. The shop was so beautiful and made me feel so special. I put this dress on and instantly knew this was it. The girl who sold it to me got emotional and it just meant the world to me to know that they truly cared about me finding the dress that I really wanted. Thank you Che Bella!
6 months ago SR Cummings
Helpful personnel and large selection but shop layout has seating so close to the bride's pedestal and mirror that we moved the chairs back. All the veils were "packed for a trunk show" so we didn't see any cool ones.all said it a good shop and a must see if you are shopping in the area for bride's dresses.
6 months ago George Nicholas
I ordered my dress my in February 2020. My wedding was scheduled for October 2020. Apparently they called me over the summer, asking if I wanted my dress postponed. They didn't have the correct number for me and rather than assume that I still wanted to order my dress, they assumed that I didn't want to order it! How backwards is that?! So, they didn't order my dress. I called them repeatedly, asking them to order my dress and make my veil. Now it's February 2021 and I still don't have my dress or my veil, nor have they communicated with me about it except when I've called them.
9 months ago Ajay Jain
Che Bella was my 4th or 5th bridal salon that I visited. Before this experience, I was stressed. I had less than 3 months to find a dress off the rack and alter it. I cannot recall my assistant's name, but she was amazing! Ultimately, the dress I ended up falling in love with was one she pulled off the rack and said "Let's give this one a try!" I had my doubts. It wasn't one I would have pulled, but after trying it on I LOVED it! This is the Filipa by Pronovias. It came strapless and I knew I wanted to add off-the-shoulder sleeves. My assistant helped hold up some fabric so I could better envision how that would look and that sold me on this dress! After my alterations, it was PERFECT! THANK YOU SO MUCH!
1 month ago Damon Washington
They do an absolutely amazing job! And Rebecca was so great to work with highly recommend requesting her if you can.
7 months ago Trolling Trollster
They turned my bridal dress shopping experience around in the BEST WAY. After a horrible experience my first go around, I was a bit apprehensive to come to my next appointment. When I walked in I was greeted warmly and they seemed genuinely excited to work with me. I worked with Nicole and she is so sweet and spunky. The appointment was so intimate and the girls working went above and beyond, helping me find my dream dress. They are so knowledgeable and not pushy! The absolute best!
3 months ago Sierra Stacy
Although my daughter did not find her dress at Che Bella, I have only good things to say about the shop and their service. They followed COVID rules and were very good at making my daughter feel comfortable. They agreed to alter the dress she liked by adding sleeves and they definitely stayed within the budget we had.
2 months ago Allen Alisha
I worked with Rebecca and had the most wonderful experience at Che Bella. They had a variety of dresses to try on and I saw no duplicates from previous stores. Rebecca was professional and friendly, she moved at my pace and offered valuable suggestions. I would recommend Che Bella to any bride looking to feel special while dress shopping.
9 months ago Concepcion Florian
I loved my experience buying my dress from Che Bella. This was the second store I visited (pre-pandemic) and they accommodated my 3 bridesmaids, mom and mother in law perfectly. Solana helped me try on a variety of styles for my January 2021 wedding and I fell in love with the Sabine dress from Robert Bullock. Becca helped me when I went back to try on the dress one more time before buying. Pick up during COVID went smoothly and they even stored my dress until I needed it for alterations. Wish I could try on dresses all over again.
9 months ago Manish Raju
Said YES to the dress today!!! Had an incredible experience trying on dresses!! Rebecca was pure gold and so fun to work with. I expected the process to be long and hard. She made it so light hearted and enjoyable!!! She is an expert at what she does and I couldn't be more pleased with my experience and the dress I chose. 100% recommend Che Bella!!! It was a memorable experience I'll cherish forever!!! Thank you so so so much!! Leah :)
7 months ago Angel Maldonado
After an aweful experience at a near by bridal shop this place made my daughter feel like the most beautiful bride! What an amazing staff and beautiful shop with beautiful dresses! She said Yes to the dress! I cannot thanks these wonderful ladies enough for turning around an experience that started horrible and they made it beautiful! Would Highly recommend this place enough ❤️
2 months ago Blaise Sodano
I really hate to give negative reviews, but I have to because wedding dress shopping is such an exciting time and personal experience. I went to three wedding dress shops, two were incredible with excellent service and great atmospheres. This place was negative the moment you walk in. I know they can't change the size of the store, but right when you walk in it's very tight with little room to move, and there were a lot of people in the doorway trying to get in and out and take off shoes. We had to wait for our appointment because the other party that was there at the same time brought too many people, more than allowed and they were trying to figure out seating. You had to answer and confirm how many people you were bringing about 3 times before your appointment because the space is so limited. It's really lucky I didn't bring a full party. Unfortunately, the worst part about the appointment was the service. I didn't feel like my consultant was listening. She kept pulling different dresses I didn't want to see, I kept saying I really like this one brand but she pulled one dress from it and didn't pull anymore even though I asked multiple times about the brand and if I could see more. I was really disappointed. I also asked about a dress I liked on another bride but she shut it down and said it wouldn't be something I would like without asking why I liked it or trying to find more dresses that I was drawn to which would have been really helpful, and my bridesmaid had to finally go find and pull a dress we actually liked and had explained in the beginning that was the style I liked. The other weird thing that happened here that didn't happen at other shops, was she kept bringing up time and how much time we had left. I felt pressured the whole appointment to hurry. I left with finding zero dresses that I loved and wishing I hadn't brought anyone here. I now really appreciate the other shops I went to and the service they provided with no pressure and they listened well and tried to understand what I like in a dress. I would only recommend this shop if they have a brand and dress you love that you can't find anywhere else in the Cities.
6 months ago Alexandra Tolmacheva
I had an amazing experience shopping with Nicole at Che Bella! She's so sweet and excellent to work with. She understood my style and was happy to flex with me. She was also flexible with my options and gave me the biggest (and much needed) hug when I said YES to the dress! The owner was also able to step in and provide additional guidance in terms of pricing, accessories, and most importantly alterations. I couldn't recommend Che Bella more for any bride to be!
11 months ago Myah Ricchiardi
I absolutely loved my experience at Che Bella! From buying the dress to pick up, it was such a breeze! I really liked that they take the time to find what the bride really wants. Right as we got there, my entire entourage of family and wedding party were pulling me left and right picking dresses and I was feeling very overwhelmed. The Che Bella staff took control of the situation and really made me feel like it was my decision on what dresses I wanted to try on. I fell in love with the first dress, but I wanted to explore my options at another store, so they even made me another appointment later that day, so I could come back if I wanted to try it on again since all of my family was from out of town! I'm so happy I decided to shop at Che Bella and I can't thank the staff enough for always being so sweet and asking about our special day!
9 months ago Asma Ali
I absolutely LOVED my experience at Che Bella! The shop is adorable, the staff is knowledgable and kind, and the dresses are beautiful! I felt like I was able to make my dress one of a kind and that I wouldn't see it on another bride later. Plus, working with their recommended, Amy Jane Studios, for alterations was so easy and smooth! Would never change my decision to work with them!!!
8 months ago Adam Jackson
I had such a great day at Che Bella. There were so many options and dresses to look at. Jen was so helpful and amazing. She went through the whole appointment with me! It was so easy and fun!! Highly recommend going to Che Bella!
7 months ago Patrick Koplin
Disappointing Service I was disappointed in the service and overall process of the boutique. From the beginning the consultant was not very friendly, to myself or my guests.Our designated area had extremely poor lighting and was overly crowded. My consultant gave off negative energy-as if I was wasting her time.I also wasn't able to involve my family throughout the process via FaceTime. That was most upsetting as I was already limited to the number of guests due to COVID.I won't be recommending this place to friends
3 months ago Fabio Rosa
After visiting multiple bridal boutiques in the twin cities area Che Bella really stood out because of the multiple reasons. The gown collection is very diverse so what ever your taste/choice you are bound to find something gorgeous there. The staff are absolutely phenomenal (I worked with Marie and she is terrific) also interacted with Becca, all very pleasant, super helpful and fun to work with with no stress. They really made the whole process simple, uncomplicated and fun!! highly recommended! I would also strongly recommend Che Bella for petite brides as they have the most extensive collection of brands that suit petite frames better. Fantastic experience!
7 months ago Jessie Hawkins
I had the most unforgettable experience here in the best way! I made an appointment and had so much help also I went there during a Jude Jowilson trunk show in which Jude was there and I felt like the most important person there! I felt so beautiful that I began to cry. It was the most amazing experience and I shall never forget it!!! Thank you to Jude, Allie and the rest of the staff here for truly giving me the experience of a life time!
7 months ago Sarah Hutchinson
The staff at Che Bella does a great job guiding you though styles while still letting you choose through dresses. The do a great job ensuring you are within budget and have many to choose from in all price ranges. Their customer service goes above and beyond expectations! I wish their website reflected how great their shop is. I will absolutely recommend to my friends and family when their special day comes! And of course an extra thanks to our consultant Becca!
6 months ago martha patterson
I bought both my wedding dress and veil at Che Bella! I always experienced amazing, attentive service. Everyone was so friendly and excited for me and my mom, sister, and friend who came with me! I ended up picking the perfect dress, I'm so happy that I decided to shop at Che Bella!
7 months ago Lemuel Klaasen
This place was so impersonal. They had about 5 brides scheduled at the same time, were extremely rude about how many people you could bring when a bride should be able to bring as many (reasonable) people as they want as they are dropping thousands of dollars on a dress, and they were not personable to the bride as they weren't accommodating to their needs and wants. So many better bridal shops that will work with you more one on one and your style. The try on mirrors for brides were no less than 5 feet apart
5 months ago Simon Drifty
I had a wonderful experience here. I was able to pick some dresses and the consultant also pulled what she thought I would like. The boutique is beautiful and the staff are wonderful. They accommodated my guests. Jennifer was my consultant, and also owns the boutique, and I really enjoyed her. She was knowledgeable about the dresses and I felt no pressure to purchase, which was not how I felt at other places. I would definitely recommend this boutique!
8 months ago Julia Vazquez
WE LOVE BECCA! I had my first appointment yesterday and could not be happier with the service. From the moment we walked in, she was energetic and ready to help. She encouraged me to try on multiple styles and was quick to find a second option when I found a style I liked. There was no pressure to buy a dress the day of... and her advice was "if you can't stop thinking about this dress the next 48 hours, you know you found the one." Thank you, Che Bella, for an amazing experience!
5 months ago Swaran Sekhon
I loved my experience at Che Bella! I worked primarily with Becca – she is so sweet and is genuinely interested in your special day! The salon was bright, beautiful and clean!
6 months ago Katherine Reilly
Dear Che Bella, I did not see an email listed for you, so I am writing to you here. I am writing on behalf of my best friend, who is currently planning her wedding. She is about to start finding her perfect dress and living a few blocks from your location gave you a call. I shouldn't need to preface this with any facts besides the bride is looking for her dress. That should be all that matters. The bride is beautiful and will be stunning in whatever dress she falls in love with. She was very excited to call around and make her appointments at some of the local shops that have caught her eye in passing. She gave your store the honor of being one of the first places she called. In my opinion, this is the only thing she did wrong, calling your store. During her phone conversation with one of your sales persons, she unfortunately did not get a name, she mentioned that she is a curvy woman and would need to look at plus size dresses. This is where the problem I am writing about arises. The unprofessional salesperson rudely informed her that there are "no dresses for you here" and she would need to look elsewhere. Stunned, she was not sure what to say this and thanked the sales person for their time, because she is a kind person. I understand your store may have dresses for a different build than my friend is. I am not faulting you on that at all. I am faulting your salesperson for how they handled the conversation. This is a magical time for my friend. She should not be made to feel ashamed of her figure when calling ANY store. I cannot image how she felt after being told this so rudely. There is a way to politely inform potential customers and this was not the way. Something that was once exciting now became shameful and embarrassing. I do think this could be a learning a point for your employees and maybe a training on how to handle turning away customer could be done. I can tell you I will letting all my friends know, and she hers, of how this was handled. Word of mouth is amazing. Maybe your employees should focus on that a little more. We will be vising Luxe bridal, and she is excited once more. Sincerely, A disgusted friend of the bride
11 months ago Slavica Popovic
I went to a handful of bridal stores and had the best experience of them all here. I didn't feel pressured and the dresses are gorgeous.
7 months ago Trevor Porter
Canceled my appointment here as soon as I heard how unfriendly they were to my friend who recently went to try out dresses. As a future bride, the wedding dress shopping experience can be daunting. It is important that the sales associate make you feel welcomed, listen to your needs, and helps you find a dress. Che Bella did not provide this service to my friend and now has lost a future customer.
9 months ago Jocellyn Pinero
Che Bella was the 2nd shop I went to looking for dresses and I wanted to come here based on the rave reviews. I liked that my group and I got to pick dresses and they had a decent selection. However, this shop is not really fit for someone with a budget of less than 1800. Our consultant was so nice and fun, however she started grabbing dresses for me before asking my budget, which was 1300. I loved all the dresses I tried on, but I was really wowed by one of them. Then I found out it was 2800 and I was crushed. I honestly might have bought it if it was even remotely within budget. I didn't have a terrible experience, but it really hurts to find a dress you love but not be able to afford it. The consultants really should ask the bride her budget beforehand. That being said, if you have a bigger budget this place is great!
5 months ago Laura Saucier
I had a wonderful experience at Che Bella! Even though I didn't end up purchasing a dress here, I highly recommend brides check out this shop. It was a lot of fun trying on a variety of styles. Becca was so friendly, patient, and really great to work with. Che Bella allowed us to browse the racks and choose dresses more-so than other shops we visited, though I'm not sure if that's still the case when the store is busier. I did find the average price of this shop to be a little higher than others. Most gowns seemed to be in the $2k to $3k.
1 month ago Kam Medium
Amazing customer service and dress selection. I came in without an appointment and they took care of me. I went to the bridal shop around the corner first and they turned their nose up at us even though they had 2 girls sitting at the front desk and only one other bride in the store. I had an amazing experience at Che Bella and every dress I tried on was gorgeous. The dress I picked was better than I could have imagined. Honestly, thank you Che Bella!
5 months ago Terry Wyllie
Awesome selection of dresses and the staff was amazing. I did not say yes to the dress here but it was still a great experience. The dressing room did get a bit cramped with my ball gown picks so I would suggest only grabbing a couple at a time if that is your style. Everyone was very welcoming and the cookies and water certainly didn't hurt!
11 months ago peggy hernandez
I have recommended Che Bella to so many people and I will continue to, because I couldn't have asked for better experience wedding dress shopping!! I went dress shopping at about 6 other dress shops and none of them compare to Che Bella! I not only got my dress at Che Bella, but I also got my shoes, sashes, and all of my accessories from there! The dresses are so gorgeous. I really wanted to find a simple, elegant/classic dress and Che Bella is the only dress shop I could find that had dresses fitting that description. Jennifer also makes the most beautiful accessories. Not only are the dresses and accessories amazing….. Jennifer and Stacy are wonderful to work with! They were both so accommodating and everything felt very personalized. I really appreciated their input and they made me feel so at ease and stress free. All in all, everything I bought from there for my wedding is PERFECT and I received fabulous service! If you haven't shopped at Che Bella yet, definitely take the time to visit there!
5 months ago JASON NAYLOR
Cute shop, it has a smaller selection than other places I went to. Dress prices are higher than the Wedding Shoppe but lower than A&be that's next door. Staff was rude especially the taller girl with darker blonde long hair and girl with dark brown hair. The shop could do without them.
9 months ago Nilab Balooch
This business epitomizes quality and customer service! After my daughter became engaged last fall, she chose Che Bella and two other local bridal boutiques to look for her wedding dress. Her initial appointment was a lovely experience and, after visiting several other bridal boutiques, she selected a dress from Che Bella. After the dress arrived, we encountered a issue with the fit. Jenna and her staff worked with the designer, Kelly Faetanini, and the seamstress, Amy Jane Bridal, to remedy the situation. The result was amazing and my daughter couldn't have been happier with her dress. Thank you so much Che Bella!!
5 months ago Junga Lakshmi
Che Bella was the wedding gown shopping experience Brides DREAM of. The staff was welcoming, patient, and honest. The atmosphere was intimate and fun. I felt so special and that my bridal consultant truly understood the magnitude of this decision for me. The dress selection was stunning and the quality of the sample dresses really gives you the opportunity to see the full picture of how you would look in any given dress on your wedding day. The staff and owner allowed me to twirl in my prospective dress for 30 minutes all the while accessorizing me so I could see the complete look. My consultant was excited and upbeat without making me feel pressured, she knew just when to step away so my Mom and I could have a special moment to discuss. After we decided to purchase they brought out champagne for my Mom and I to toast. It was a day we will always remember. I would recommend Che Bella to any bride.
5 months ago RedHead Diane
Great staff, lovely store, even if more possible the new one is better! Ended up not getting my dress here but ordered super comfortable beautiful shoes; they even let me use the display pair to pick up and take with me to the dress tailors until my shipped. Just really can't say enough how nice, supportive, no pressure the staff is. Stacie is wonderful and Jennifer the owner is great!!
3 months ago Karen Carey
I had the best experience at Che Bella!! Jennifer and the whole staff there are so friendly and truly want to help you find the perfect dress for the big day! After having other appointments at other stores, I hands down would recommend Che Bella over all the rest! It's a magical feeling leaving there knowing you said yes to the dress!!
10 months ago Lexi Castaneda
I had such an amazing experience at Che Bella! I was nervous to try on dress but Cydney, my consultant, was AMAZING! She was wonderful to work with and talk to and she really listened to what I was looking for. She made me feel very comfortable throughout the whole process. The shop also has a great selection of dresses. There was a little bit of everything so you can find the dress for you. I would highly recommend Che Bella and especially Cydney for a wonderful dress shopping experience.
5 months ago Guiliana Orbegozo
Very helpful, friendly staff. Beautiful dresses and reasonable prices.
7 months ago Heyvin Romero
Lovely staff. Great selection of lace, crepe, and other simple styles. I didn't end up finding my dress here but I would recommend it to others.
9 months ago Jackie McCulloch
Great bridal store with knowledgeable staff! Ashley in particular was very helpful. Very knowledgeable about everything, but not at all pushy. Stylish, but open to very different tastes. And patient! This store has a little of almost everything, although their selection is geared towards couture trendy. It's not for those on a budget, dresses start at $1500. They are missing some of the more daring styles, but definitely worth a stop for any bride looking "the perfect dress".
1 day ago Dylan Reese
If you are looking for an enormous bridal superstore, where you are crammed in a tiny fitting room next to 10 other brides, Che Bella is not the place for you. In fact, there is a place just down the street that you will find exactly what you are looking for. From the moment I walked into Che Bella, everyone was helpful and sweet. They take their time with you so you don't feel rushed, and give you an honest opinion. You get a personalized experience and are 1 of 2 brides in the boutique at any given time. Che Bella gets an A+ for selection and style, since the gowns are stunning. Service is outstanding, both of the phone and in person. I ended up purchasing my dress and an accessory from Che Bella. If you are near the Twin Cities, this place is a must-do for any bride.
5 months ago Izzy
Decent selection of dresses, with surprisingly reasonable price points on several dresses. The best was that my consultant finally understood what I️ was really looking for in a dress. I️ had been to several shops before this one and the consultants just seemed shocked that I️ wanted something a little unique. Cydney was super sweet, really helpful and the first dress she immediately pulled for me was perfect! The only thing I️ would say is that I️ wasn't drawn to a lot of the dresses there-I️ had been to other salons where a lot more caught my eye, but this salon had the best one for me. :)
9 months ago Chill PHD
I had heard such good things about their store so I went and set up an appointment. I was instantly impressed with the atmosphere upon my arrival. It is a smaller store, but each and every gown is hand picked by Jennifer (the owner). One of the attendants guided and supported me as I picked out dresses, paying very close attention to my requests and my price point. When I picked out a dress that was above my price range, she quickly found a similar one. The customer service was outstanding. The dress I picked out is amazing and I am so thankful that I choose Che Bella!
5 months ago Chen Jacobsberg
I made an appointment at Che Bella and was very excited as they are one of only a few shops in the Twin Cities that carry some of the bridal lines I was interested in. I arrived with my family as stated in my appointment and we were disappointed from our arrival and were over come by a "bathroom" or musty smell. We were not greeted upon entering the shop but waited at their front reception. A woman came over to check me in as the bride and proceeded to have me fill out a quick form with my information. She asked me a few questions about my taste, instructed my family that they had no room for them in the back viewing area and offered the front green couch, even though I had an appointment. She told me to "look around" and walked away. My maid of honor and I started looking through the racks of dresses and were very disappointed. All of the dresses, except one small rack brought in for a trunk show, were dirty, yellowed, covered in makeup and ripped. We collected a few and flagged down our associate to help me. She placed the dresses in the dressing room and walked away. When I needed help zipping I had to ask her to come back. I would walk out and show my family and return to my room. She offered me no assistance or suggestions on other options to try. After trying on three dresses and receiving no help from the associate my maid of honor came in the dressing room to assist me. We proceeded to try on a few more, but sadly felt as though I was inconveniencing the sales girl with any questions even though I had an appointment. There were a few other girls there trying on dresses and each of their families were drinking water, champagne or soda and were treated graciously. My family and I were dressed in a clean manner, came at our scheduled time, were polite and professional but received no customer service. We left feeling very disrespected and as though our business did not matter. When we left the store no one said good bye, offered to write anything I may have liked down or anything. It was as if we did not exist and did not matter to their business. This was our second appointment of the day and we walked down the block to "a & be" bridal and although they were busy they made time for us even without an appointment and made our group feel welcomed and valued. As a former Miss MN USA and someone who has assisted pageant girls in dress shopping I am utterly appalled and disappointed by this shop, their gowns and their staff. I will NEVER recommend anyone I know getting married visit after how horribly both myself and my family were treated. I want it to be known that I fit into the oddly small sample sizes they had and had a very substantial budget so nothing warranted their ill treatment of me from a size or budget perspective.
5 months ago Carol Lelito
Solana was incredible and I had the most wonderful experience there with her. I ultimately choose a different dress at another store, but did love a lot of their dresses and they had a lovely variety of designers. I would highly recommend to anyone considering to go here.
1 week ago Jim Francis
Had a fabulous experience at Che Bella. We worked with Jenna. She was AMAZING! Super attentive and gave so much advice and knowledge. Can't say enough good things about it. Make sure to check it out on your wedding dress shopping experience!!
3 weeks ago Bruce Saffin
My experience at Che Bella was underwhelming. The staff was standoffish and didn't offer advice or helpful guidance throughout the process, which I experienced and appreciated at the other places I visited. Afterwards, my family said they thought the person helping us even looked bored at times. That is not the vibe you want for such a special occasion! Also, this wasn't as big of a deal for me, but some of the dresses I tried on had imperfections like broken or stretched out straps. It was little frustrating because I couldn't get the best idea of what the dress would actually look like. I really wanted to like this place, but it just wasn't what I was hoping for!
8 months ago
Popular places from the category Bridal shop