Orthopedic clinic Henry K. Biggs - Joint Replacement Institute
Orthopedic clinic Henry K. Biggs - Joint Replacement Institute, 3466 Pine Ridge Rd Ste A, Naples, FL 34109, United States:
35 reviews
of users and employees, detailed information about the address, opening hours, location on the map, attendance, photos, menus, phone number and a huge amount of other detailed and useful information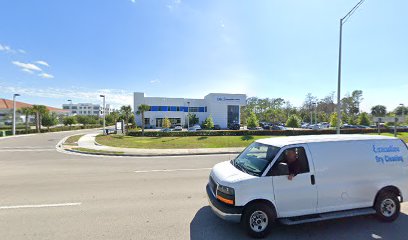 Address:
3466 Pine Ridge Rd Ste A, Naples, FL 34109, United States
Website:
jointinstitutefl.com
GPS coordinates
Latitude:
26.2109680
Longitude:
-81.7478942
Location on the map
Reviews Andrew Wharton
Dr Biggs is amazing.. he did a partial knee replacement on my left knee one year ago..everything went well and he is the nicest person ..and has the greatest personality .. ????
11 months ago Monica Erwin
Awesome doctor and person. I've used Dr. Biggs for my aging knees for over 15 years. He is truly one of the nicest doctors that I have ever met. His caring for you as both a patient and a person are evident.
11 months ago Jonathan Warren
Saw Dr. Biggs for a second opinion on a hip replacement. He reviewed my MRI, got updated x-rays and very patiently answered all of my questions. I was very impressed with the time he spent with me. His staff was very professional and friendly. I am considering having the surgery done by him.
10 months ago Eduardo Alvarez
Dr. Biggs replaced both of my knees in 2015 and my left hip this past November. First class operations, first class staff. Highly professional in every way. Cannot go wrong in having them perform any Orthopedict procedure needed.
4 weeks ago Colette Puhalski
The staff was friendly and knowledgeable. The atmosphere is very professional and encouraging. I am pleased with my visit.
10 months ago Brad Gunner
Had a hip replacement by Dr. Biggs. He is a knowledgeable, skilled and caring surgeon. Happy I made the right decision in choosing him!.
10 months ago Rahimi Kabuli
Today was my first appointment with Dr Biggs and his staff at Joint Replacement. Vanessa at the receptionist desk was very pleasant and professional. At the scheduled time of my appointment, Kim escorted me to the treatment room to complete my history, again in a very professional way. Dr. Biggs came in, on schedule and discussed the options for my troublesome knee. There was No pressure for Immediate treatment. He then explained how to best be seen during "season". All in all it was a pleasant experience in a great atmosphere.
1 month ago Bettina Archer
Placebo kicked in so my come and go pain not there for my appointment but Dr Biggs was exceptional advising me for future treatment if needed while recognizing an active lifestyle and not making me feel stupid for wasting his time. All the staff were friendly and efficient.
2 days ago Toni Six
Love all the educational videos. I had the pleasure of having dr Biggs do my hip replacement 15 years ago. He was amazing and easy to talk to.
4 months ago Michael Sanichanh
Efficient and effective total joint replacement. Dr Biggs and his PA's are very kind, friendly, and professional. Entire staff was impressive as well as the facility. My knee replacement was a total success. I am 6 weeks post op doing steps and walking 2 miles and am off all pain meds.
4 months ago Reuven Glanz
Office staff works Like a well oiled Machine. Dr Biggs gives you his full attention and leaves you well informed.
9 months ago Christopher Dysart
I cannot give enough stars to Dr. Biggs and his staff. 6 months after knee replacement and I can do more than I could before. Feel like I have my life back!
11 months ago Casey Robinson
Dr. Biggs is the best doctor!!! He was taking care of my knees before I lost my job and insurance about 5 years ago. He is a very caring doctor and so gentle. I really miss him hopefully I can go back to him soon!!!!
3 weeks ago Karen Croisetiere
The problem was explained, the x-ray taken, the decision made for knee replacement after options were offered. The service was excellent, the doctor Biggs was a pleasure to be with and the nurse who wrote down all the steps for pre-op was efficient and so easy to speak with. Best medical office for replacement surgery-in our humble opinion.
1 month ago Danielle Outlaw
My first visit was today and Dr Biggs was everything that I expected !! He was very easy to understand and explained my knee problems and solutions. We have a plan A and B and I'm so glad I found him and his nice staff didn't disappoint me as other Doctors have . Looking forward to treatments and knee plans .
6 days ago Carrie Stephens
Dr.. Biggs is quite knowledgeable and matter of fact. He diagnosed my condition and immediately suggested my solutions. I plan to revisit Dr Biggs again. I can whole-heartedly recommend this gentleman.
11 months ago John Nabors
Excellent, professional care. Wonderful staff and atmosphere. I highly recommend this group, and Dr. Biggs in particular. Amazing bedside manner!
1 month ago Alexander Praleikas
Efficient, effective, friendly and professional. Who could ask for anything more? I feel I am in good hands - pun intended... Bruce Hayhoe Sr
11 months ago Olivia Mro
Had two knee replacements from Dr Biggs. Everything worked out beautiful. Husband had a broken arm that required a plate Dr Biggs did a great job. Recently my husband needed a knee replacement his leg had bowed as well. Dr Biggs did the replacement he's doing great after only 3 days. Dr Biggs and his PA Will are wonderful caring people.
3 months ago Cynthia Thomas
Like the new Office. Doc and Staff are very friendly and great to work with. I had both Knees done 3 years ago and Hip Replacement a year ago today. Everything works :-)
10 months ago Vilmarie Bermudez
Dr. Biggs is a terrific doctor with impressive credentials, bedside manner and expertise. My husband had knee surgery (quad tendon tear) yesterday and Dr. Biggs and the staff at Seaside Surgery Center treated my husband as "visiting royalty." They offered gentle, efficient, thoughtful, care throughout the procedural process and the humor everyone shared during surgery prep was a tonic in itself. Dr. Biggs is thorough in his explanations, trustworthy in his professional efforts and tenacious in his encouragement for a patient's health to improve and be golfing again soon. My husband and I recommend Dr. Biggs, his office staff and the exceptional professionals at Seaside Surgery Center with full confidence! We celebrate Dr. Biggs with sincere appreciation!
3 months ago Victoria Fresh
First apointment went very well. Answered my concern about need for hip replacement. Xray were done and after discussion with Dr. Biggs plan of action has begun. Very pleased thus far.
11 months ago Wilson Lima
Dr. Biggs was compassionate, caring and honest. I was scared when I walked in, but he made me feel at ease. More doctors should take the time with patients, as he does.
3 months ago Matthew Rathbone
Thank you, Dr. Biggs! The shot has helped a lot. Also, I want to compliment your staff for their efficiency and courtesy.
11 months ago Walter Swett
Nice new facility excellent staff very efficient went well anxiously awaiting upcoming hip replacement surgery
2 months ago Gail English
Excellent results. Very Happy with the outcome of my hip replacement. Back on the course at 6 weeks. DR. Biggs answered all my questions and put me at ease.
4 months ago Deanna Myrick
I picked Dr Biggs for he was within network of my insurance. He assured me that having my surgery at Seaside surgical center was within my network and would accept their payment scale. You know the ending! Turns out they are not in my network. Why did I trust DR BIGGS! I am a fool to trust a man of medicine entrusted to our well being to due the right thing. Now seaside surgical center is asking me to pay a very high bill and won't negotiate with my insurance company. This review is open to change if Dr. Biggs and The Joint Replacement center helps with this problem.
10 months ago Ashley Hampton
Called three (3) times during one work day to inquire and schedule an appointment - no answer after 10 rings each call. If the Office doesn't even have voicemail or a scheduler (this was a Wed, in 2018, 10am, 1pm, 3:15pm), can you imagine what the Doctor's and Staff are like? Not very professional!
1 month ago Denise Mitchell
Dr Biggs was very professional and covered all questions very well.
4 months ago D W
Dr. Biggs is like a miracle worker. I had both hips replaced simultaneously and I'm more active than ever with virtually no pain. Thanks, Dr. Biggs!
3 months ago Hector Anguiano
Nicest and the best orthopedic surgeon for hip and knee replacements especially anterior approach hip. Home in 2 days and no restrictions. Sweet office staff and nicest PA. Highest recommendation
4 months ago TeamType
I love Dr. Biggs he is a wonderful surgeon. My hip is great, and I was walking on my own in 2 weeks. Great staff & PT department, too! Thank you, Dr. Biggs!!
5 months ago MORROWIII
Dont go here. Very rude office. They are not nice. Money hungry staff . No compassion.... If you have a problem, they are not helpful. You are on you own.
10 months ago Dov Lipshitz
Not empathetic , pure money hungry !!! Very neglecting. Not reliable !! Immature staff!! Fake people. A complete complete scam!!!
6 months ago Ben K
Excelente el reparo mi hombro y hoy llevo una Vida normal. Sin dolor. Un equipo Excelente.
3 months ago
Popular places from the category Orthopedic clinic