Planet Fitness
Gym Planet Fitness, 2633 N Kansas Expy, Springfield, MO 65803, United States:
107 reviews
of users and employees, detailed information about the address, opening hours, location on the map, attendance, photos, menus, phone number and a huge amount of other detailed and useful information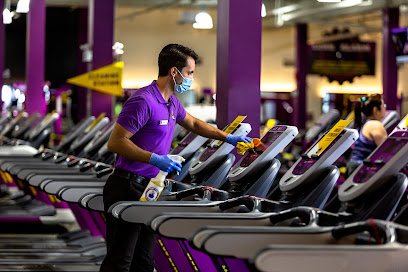 Address:
2633 N Kansas Expy, Springfield, MO 65803, United States
GPS coordinates
Latitude:
37.2457175
Longitude:
-93.3121419
Location on the map
Reviews Brandi Fest
It is very awesome everybody is very friendly and knowledgeable very knowledgeable easy to get your work out in !!!
2 weeks ago Lamont Way
Very Clean, Professional and Quiet. I'm A Newbie, this is a GREAT CHOICE. Props for The Sanitation Areas. MOST IMPORTANT... The Employees are Top Notch Knowledgeable, Friendly and Always Available. Quick Shout Out for Employee SAM, he sure does help a New Guy Fit In. Thanks, This Place Rocks, It Works for Me.
10 months ago Leila Joslin
Friendly staff clean facility great selection of workout areas. Includes tanning, hydro massage and locker rooms! With showers. Affordable prices too. Love it so far. Been going a couple months to 2 different locations both are great.
9 months ago Melanie Robinson
Great location for arm day, leg day is a little lacking with limiting press ability. Newer equipment, clean locker room.
4 months ago Sorin Botoroaga
So many different types and pieces of equipment to use whenever you want. Always clean and well kept place. The staff is always very kind, eager to assist and dont mind explaining whatever to you. Sadly enough I spend 99 percent of my time …
8 months ago Ann Garmager
Planet fitness is great. Staff is friendly and machines seem to be well cared for, for premium members the extra features are kept up with seemingly fresh bulbs
7 months ago Jere Crowley
In town for a business trip and had to get a workout in. Not used to such a small location... but there were LOTS of machines to choose from. Staff was friendly and the gym was super clean.
7 months ago Pavielle Wuerfele
This was my first visit to this location. The facility was clean, staff was friendly, and it was not jam packed. They practice social distancing and ask clients to wipe equipment when finished. I will definitely be back.
8 months ago Adalia Lasai
Glad to have a found a gym that is even open! Workers are friendly, price is just right, and the sanitizing stations are always well stocked and used on the machines.
8 months ago Ayan Sengupta
Great Gym! Always super clean. And the people that work here are amazing!
10 months ago manoj kumar
Very up to date and very clean. Friendly staff, although none of them look like they work out (no judgements intended). The gym is smaller than some, with zero free weights, other than a rack of dumb bells up to 70 or 75 lbs. The music is extremely modern, and alternative. Tanning, and massage options are nice!
2 months ago Em C
I absolutely love the staff here. The equipment is clean and I never have to wait. The only complaint I have is how they changed their hours due to the pandemic. I picked this gym because they were 24 hours. I drive from Buffalo, mo to work …
6 months ago Lindsay Garison
I feel at peace and comfortable when I come here to tan and work out.
9 months ago Mac Stephens
They have amazing tanning beds and friendly servie
9 months ago Vhea Cannon
I love PF. I was really worried that I would feel like I dont fit in, but they have done a great job make the atmosphere inclusive. I would recommend PF to any one who is just starting out on their fitness journey. They also do a good job keeping things clean and disinfected.
11 months ago Maria Faddis
Oh man, i started my membership in October and this place is my home away from home. Super friendly amazing workers and clean everything. Respectful of space and covid 19 regulations. Im seeing a huge improvement in my physical and mental …
4 months ago Cristian Rivera
Closing very soon most of the planet fitness are 24/7 or close at 10:00 PM but this center danm not ????????????
8 months ago Sean Allen
Had a great workout for just $20 a month with all the perks. Set my schedule how I want. It's great. I love it.
8 months ago Tony Zebrowski
Love my gym. Always clean and the hydro massages are worth the 20.00 a month alone.
2 weeks ago Thomas Lavender
First visit to any Planet Fitness location as a guest, was impressed with the location on N Kansas. All new equipment, wasn't too busy at 7 AM - will definitely be coming back!
11 months ago Holly Prince
A good place to work out ????????.
11 months ago Matthew Larson
Great place to get a great workout
9 months ago anthony Velez
Yes I did some language arts this morning on cumputer ,went to Mac Donald's got me the Big Breakfast now I'm here right now getting my workout before church
10 months ago Maxim Savchuk
I feel welcome. The staff is helpful and professional. Very clean facility.
4 months ago Mariuza Noda
Small gym with too much equipment for the foot print. Staff was friendly and it was clean. Just felt crowded and claustrophobic due to too many machines.
7 months ago cindy limjoco
Great equipment and nice facility. They do a great job making you feel comfortable during a workout. Very clean!
6 months ago Elizabeth Karp
New here but so far so good!
11 months ago Pete Rizzo
All i had to do was stay outside while the wife goes in an tans
8 months ago OFFICAIL crewz
Wonderful place for a good workout
8 months ago David Lansing
I love the layout of this planet fitness, I can start at one end of the room using machines as I make my way across and end my workout at the other side to do some stretches. Very clean and friendly atmosphere. Staff is helpful and I am …
9 months ago Andrew Wardner
Affordable, clean, many different options
9 months ago Gracie Downes
Fantastic "gym". Don't sign up for Planet Fitness if you want to become the strongest or biggest. Sign up because it's the cheapest gym you will ever go to but with the highest quality equipment that they DO have. They don't have any squat racks or stand alone barbells. Just smith machines. 5 stars because I know what I signed up for.
9 months ago Trevor C
Very clean facilities, and equipment as well as the staff are awesome!!
2 months ago mike b
Great place to sweat
8 months ago Carlie Sullivan
Love PF!
7 months ago Karl Przechocki
Super nice staff and very clean.
1 month ago Alaksandar Novikau
You never see any workers clean anything and lots of people don't wipe down equipment. Bathrooms are not as nice as other locations. I'm surprised there is not hands free soap/water or hands free flush. Other then that it's close and the equipment is nicer.
11 months ago Josh Canzeri
Solud PF location. Newer facility with low crowds
2 weeks ago John Yoe
Four stars only because it's the smallest Planet Fitness I've ever been to. Doesn't have near as many machines. But if you want to bike, run/jog, walk they have plenty of ellipticals. Very small locker room. But the place is pretty clean so that's a plus.
8 months ago Tony Culp
I feel so pumped when i go here with my workout buddies. It's and the energy level is great! The memberships are so adorable and they truly mean no it's a no judgement zone. Strongly recommend.
11 months ago Holeinone Chipster
This gym is still being develope as of 8 December 2018. I don't know when its going to open
10 months ago Lara Tuck
I wish mask were required but people are considerate.
5 months ago swetha guru
Great personnel. Always polite
6 months ago Everett Creamer
This gym is clean and safe while being open 24x7. When you need a workout they are open. Equipment is kept in good working order and the employees are very nice.
11 months ago Steve Hayes
Amazing location for personal needs. The attention to detail on the building's upkeep is greatly appreciated. Greeted by staff upon each visit and find machines in great working order. Hydro massage machine is amazing. Tanning is available …
11 months ago Gene Sanders
This was a great facility and Springfield had several planet fitnesses which was convenient because I was there visiting. Because I had the black card membership I was able to use the location of my choosing
1 month ago Jeon Mark
Reasonable rates, no contract. Gym is always clean, equipment always in good working order and staff is very friendly. Best gym in town!
5 months ago Mason Cacurak
I like it is by my house. All the staff is nice and willing to give out pointers. Thank you for be awesome!!
1 month ago Laura Hill
This is a decent gym for this area, but be warned there are other "Planet Fitness" gyms in town that are nicer, but not as friendly, and the membership rate is the same. I have the "black card" membership, so I can use any of the gyms even …
10 months ago annapoorani s
Clean and quiet
8 months ago
Popular places from the category Gym