Personal Touch Car Wash
Car wash Personal Touch Car Wash, 134 Thomaston Ave, Waterbury, CT 06702, United States:
89 reviews
of users and employees, detailed information about the address, opening hours, location on the map, attendance, photos, menus, phone number and a huge amount of other detailed and useful information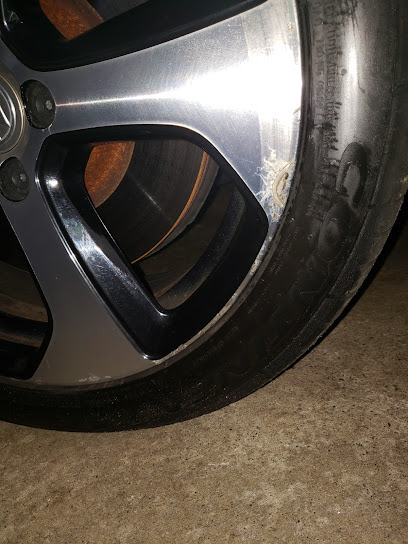 Address:
134 Thomaston Ave, Waterbury, CT 06702, United States
Website:
personaltouchcarwashes.com
GPS coordinates
Latitude:
41.5607116
Longitude:
-73.0528654
Location on the map
Reviews Michael Cherry
Love the service but they close at 5 pm I get out of work at 430 and work in New Haven they used to be open until 7. People do work so only being open during business hours makes no sense. So I go to the other one express wash on east main ... It's not the same and doesn't clean as well. Sadly may be time to move on to a new car wash service ...
6 months ago Barry Raymond
Car wash from hell. Scratched wheel and a busted clutch. They have no regard for your car. Got a gold wash, it was bad. They did not put the car on the track right so the wheel got scratched all the way through the wash. They left the windshield wipers on with did cause a fault light with the car. On the way out the attendant roasted my clutch. You can hear them revving the engine from inside the shop. They also don't do a very good job of cleaning the car, There was still dirt and debris on the front bumper and roof. They returned my car partly clean with a burning clutch smell.
8 months ago wanda hunsucker
My car looks great, the car tech was efficient and detailed in his job. Thank you for making my car clean.
7 months ago Lorelei Bachman
Excellent pricing and hand drying. Also my F150's diamondback bed cover got into a fight with the hanging mops, it won the scuffle, tearing out a section of the mop that hooked onto the tie down cleat!
6 months ago Shannan Duncan
Employees were nice. A little slow. Asked if I could get bronze with no undercoat they said they can't change that, I figured. Some brushes didn't reach my car (Wrangler), and the person who hand dried my car didn't do well. I dried it myself shortly after. No receipt. Paid about $17 for something to toss soap and water on my car. And for myself to wipe it down.
15 hours ago jason Griffith
This is the worst car wash I ever been to the people that are supposed to dry your car spend more time on the phone then drying your car I will never ever go here again I would rather clean it myself $17 for nothing I had to dry it myself after I drove away because I didn't wanna be angry I just wanted to have a pleasant day I would advise everyone to stay clear of this place the smaller place by the gas station on the corner by far is cheaper and does a much better job
3 weeks ago brina salvado
I went today to wash my car. I payed 20.99 for the silver service which included vacuum, and cleaning inside, however, I waited around 30 min for my turn, the car was only vacuum inside and poorly cleaned and dried outside.I spoke with the guy drying the car, he told me "we don't clean inside", I asked to be clarified but he was bot able to say anything, and I left. First time I leave a place so upset after paying for a service. I CAME HOME AND CLEANED MY CAR AGAIN ????
15 hours ago Seth Hubbard
The people that work at that car wash are very friendly they make you feel welcomed they do a awesome job. Thanks guys I'm happy I switched.
3 months ago Alayna Ellis
Overall they did a nice job. They could have done a better. For the amount of time they had my car. I had to ask several times what was taking so long. I will give them another try, hopefully it will be 5☆ next time.
7 months ago ZeiKoFTN
There's a whole new staff there they are very pleasant and helpful and did a good job cleaning the windows and wiping down the car after it was washed and the pricing is pretty reasonable
2 months ago christopher borjas
Fast..friendly..easy access location..very good wash services
2 months ago D BatAffirmed
I have reached out to this establishment multiple times to cancel my membership & get a refund for continually being charged for the membership which I haven't used in months; they have yet to respond or reimburse the charges. I enrolled in my membership at Flash Car Wash (1359 Thomaston Ave, Waterbury, CT 06702). I received an email December 13, 2019 from Flash Car Wash saying that I would no longer be able to use my Personal Touch membership after December 31 because they separated, so I haven't used it since the third week of December. I have since filed a complaint against them with the Better Business Bureau & am still waiting for a resolution to this ongoing issue.
6 months ago Sam Fillenworth
Fantastic hand car wash of my fine Mercedes and other vehicles for a fair price an excellent customer service and responsiveness. Bring your car here for a great wash rather than the automatic machine guys who can ruin the finish on your car.
7 months ago Ren Drake
They always do a good job. Vacuum, windows, and towel dry door jams and exterior. My car always looks good when I drive away. I've been going here for decades.
7 months ago Chip Griffith
Not as good as last year
7 months ago Robert Potts
I have been a platinum plus member for about a year. The value of this plan is really great IMO. I was pretty happy the first 6+ months. I got to know the staff. I am there 4-6 times a week. The staff as a whole was great back then. They were engaging, and professional. Sadly the last month I have noticed a decline. There are a ton of new employees. Most of the guys I came to really enjoy are gone. The new guys working where you hand them your car really need to be shown how far a smile and a little gratitude will go. The girls that work inside are always polite and professional. The crew that dries and does the tires are still doing a solid job with good effort and politeness. No doubt things could be so much better with just a little more training. I do leave happier than disappointed the bulk of the time just rarely blown away by how satisfied I am. I would be lying if I said I wasn't starting to seek out another car wash but I am still willing to stick around a little while longer to give the new guys a chance. I am rooting for you.
10 months ago Anushka Miller
They were amazing! 5 minutes before close they hand washed my car (because my back window doesn't roll up) and didn't charge me a dime because it was my first visit. The manager and the workers are extremely friendly and professional. They vacuumed and wiped down the inside of my car as well. They did a great job!
5 months ago Reklamix Matbaa
I moved to Boston and still have yet to find a place as good as this one. very professional, very personable, and very good at what they do.
7 months ago Toni Pastre
They a very good hand wash vac and wipe the inside. Its worth the money
9 months ago Lydia Griebell
Very fair price for how clean my car is and very friendly. They​ fully cleaned the interior and it was like getting back into my new car even though it's four years old and I have five dogs that travel with me. They were able to get the fur and dirt from every nook and cranny. I was surprised how much dog fur they got out, that's the hardest to get out of car carpet. Great job guys!!
9 months ago Hevyn Poret
Best detail I've ever had for my truck. It was a very big truck and they did everything inside and out for a great price. Hit all the hard to get unexpected places and even did areas I didn't expect them to. I would highly recommend coming here for a detail.
2 weeks ago Leslie Ramirez
There is a new Owner now and has changed everything at this car wash except for the price. I was there this am got my car washed and for the first time extremely disappointed. You are paying $30 for a car wash and can't get your interior wiped down or cleaned, the interior rear window is no longer done, tires not dressed that is an additional $20. So sad, I have visited this place for years and recommended it many times. Staff is still pleasant and apologetic for not being able to do their job as they had in the past. 2 stars are for staff. Management -10 stars won't be back.
7 months ago Kelly Malson
Bought the Platinum Plus Full service wash. They spent less than 90 seconds cleaning the inside; there are still dust streaks on the dash and the floors look like I had come in from the beach. The exterior came pretty good, through pretty good fails in comparison to what it should have been considering I paid for the top wash. To boot, they decided to skip putting the glaze on my tires. Typical factory chain of (insert business here) America - in and out with little regards to quality or customer service. I'd rather pay to have my car detailed less often, but done right as opposed to this type of car wash done more frequently.
11 months ago James Regal
Complete lack of Customer Service
10 months ago Jerome Batz
Ghetto. Poor job. I was a monthly customer and I just cancelled my membership. The manger was ghetto was well. This place will not remain open in the future with the type of service they are giving. A waste of $60 per month. Never go here as they are the worse car service on this planet. I am not joking. If you go there you will not be happy at all.
6 months ago Serene Lai
Total disregard for customers concerns. I am a longtime member who will be canceling my membership. New female manager is more concerned with flirting with the employees.
6 months ago Joshua Kendall
I had the monthly plan. I been going to the car wash since it opened.The last time my car came out it was Scratched I told the manager Al . I told him it happened with the power washer he told me it was not working.I told him I just watched the employee use it.U lost this customer.I will be sending Personal Touch my bill.Management Should Put Rubber Tips on There Power Washers So That This Does Not Happen To Anyone Else. I Got My Car Repaired 8 Months Later. Good luck with your Busines your going to need it.
8 months ago Eytihia Stavrianos
I paid for the top wash with my floor mats to be washed... they didn't clean my mats, my windows weren't even cleaned. I went down the street to the express and they wouldn't even help saying that their not the same. I will never use another personal touch car wash in my life if they paid me!
7 months ago Grant Fahlman
I have their membership & recently I had to get my seats shampoo because I had cooking oil spilled on them & they did a great job. I only had to pay half price which was $25 plus tax, & they were done in half hour.
6 months ago Brenda Huffman
Terrible customer service, they won't cancel your account and continue to take your money, I will take my business elsewhere.
8 months ago Cristina Sasso
They do a good job washing the car and cleaning the windows. The only problem I have is that they don't dry the car properly. Side mirrors don't get dried so water gets on the car when you drive away. There is always water all over the back of the car that drips on to bumper and causes water spots. I've seem people drying their own cars after they have already dried it. I now do the same. Yesterday they were in such a hurry that they even left the roof wet and rags in the car. Too busy rushing to go eat pizza. Don't know if there is a manager on the premises but if there is he/she should address the issue. I'm not the only one drying my car over
1 month ago Sarah Reid
Do not purchase the unlimited car wash plan! Their website states it is simple to cancel at any time yet they will not cancel your plan, they will not reply to emails, they will not answer their phone, and they will continue to charge your card. I have to place a formal complaint with the BBB and dispute the transaction with my bank. This company is obviously poorly managed and is not an honorable business. They have violated their own terms of service posted on their website. Here is my full complaint through the Better Business Bureau: "I had an unlimited car wash plan with this company that charged me $22 per month. After I had an incident where the car wash caused swirl marks and scratches on my car, I cancelled the monthly plan. I sent my first cancellation form through their website on October 6, 2018. I did not receive any reply and they did not answer their phone so I sent another cancellation form through their website on October 19, 2016. On November 1, 2018 I was charged $22 for the car wash plan. Their website specifically says the following: "NO CONTRACT - cancel or upgrade your plan at ANY time." Their terms of service also states "If participation is canceled mid-month, there will be no refund for remaining month(s). Please provide at least ten (10) working days before your billing date for cancellation of program to take effect. Cancellation is complete after customer receives an email notification from Personal Touch Car Washes car wash." I received email notification on October 6, 2018 of the cancellation. Ten working days afterwards was October 19, 2018. This company has had ample amount of time to cancel my membership in their system. They have violated their own terms of service."
5 months ago Brooke Simons
This used to be a good car wash
6 months ago carmelino santizo
Does not open as advertised at the time advertise. I sat here at 8:30 and they're closed having a morning meeting for half hour to 45 minutes. Yet their website states they are open at 7 AM.. morning meeting should be conducted prior to opening or in groups so that business is still running during scheduled hours
5 months ago Rafael Feliz
I subscribed to the Platinum Plus monthly plan at one of their Waterbury locations according to the agreement suppose to be able to go as many times as you like at any of their locations NOT TRUE, when I went to a different Waterbury location and they knew I had a monthly Platinum Plus plan because they scanned the bar code sticker they put on my my truck. After running my Truck through giving the bottom basic wash they demanded on charging me $12.99, I told the I have a monthly plan. They took the keys out of my truck holding me and my minor son hostage until we paid. I had to call the Waterbury police waiting an hour to get my keys back traumatizing my 10 year old son !!!! I contacted the General Manager the next day and they would not do anything to correct the terrible ordeal we went through. They are dishonest don't go here !!!!
11 months ago Yasar Sulaiman
Best place to get your car done/detailed..the guys are great and are soooo good at doing a perfect job. Buy the monthly specials well worth it...can be used at any personal touch car wash...I go to the one on thomaston ave waterbury ct...TRY IT OUT!!
9 months ago Jeremy Norman
Needs to pay attention to vacuum and cleaning windows. But over all good places to go to
8 months ago Joshua Anderson
Good crew
11 months ago Karen Salsbury
This place has gone down hill and was never like this. The employees are unaware and need to pay more attention on who got to the line first. Got the platinum wash and received very poor service. They kept reving my car while it was going thru the washing process which aggervated me. Once my car was done i noticed they dident even wipe down the interior dash left it dusty and the windows were left with smudges. i ended up finishing the cleaning myself. I will not be coming back. Not worth the price i paid for.
8 months ago Debby
Love this car wash especially since I got a fast pass and I'm a taxi driver keep my car clean at all time
11 months ago ThylacineWings
The WROST!! Do NOT go here...A bunch of new guys that DON't know what they're talking about. Was going to purchase a higher value package asked if the package included a dash board wipe down was told that the feature is a part of the detail package, so I downgraded...complete BS wiping down the dash is NOT a detail feature all other car washes do it! Went inside to ask my question the young lady was like good question and asked whomever the guy in uniform was standing at the counter texting or whatever on his phone the question and he said they do wipe the dash down. He was RUDE! I told him his guy said they don't and he said that they are all new. WELL THEY NEED TO BE TRAINED. This place will NOT get my business anymore and I will make sure to spread the word to family and friends about this car wash! Location: Thomaston Ave.
5 months ago Joseph Baldwin
Good wash but not their best location. Never a manager when I go there or blends right in and doesn't make sure everything is taken care of. The monthly membership pays for itself in my eyes after a couple visits.
5 months ago rachael smith
Did a terrible job
2 months ago Bernard Garcia
Monthly plan for the best was is well worth it... I go almost every 2-3 days for 60 bucks a month... can't really beat that
11 months ago Ebony L
Great car wash if you live in Waterbury you should go and visit.
8 months ago cleo hollis
I was satisfied, good job
6 months ago Pauline Nguyen
car comes out very nice every time I go, pretty quick for the service you get.
1 week ago Terry Shadley
I went to the car wash on Thomaston Avenue and cancelled my plan with Personal Touch car wash …. when I spoke with the manager there were no cars being washed there was no one doing anything everybody was just standing around I told her I had canceled my plan she really didn't seem that concerne … the company doesn't seem to care about our concerns but during that conversation she eventually told me that they have all new staff and they just do not clean the cars as well as they used to they do not wipe off dashboards they do not vacuum the back of cars they just don't do it and I thought that was odd that alone told me about her skill level and the level of what the owners are willing to accept I say that based on my 25 years plus in human services dealing with a lot of different individuals … I'm not sure if this company has quality control … I'm just disappointed because when they first open the service it was excellent I recommended many people to them I no longer recommend this car wash I would suggest to anyone reading this post make sure they're if you go to them that you actually get out and walk around your car and check ... don't assume it's being done correctly because it is not I arrived at the Thomaston Avenue car wash at around noon time on Friday the 17th when I arrived there was hardly anybody there so I thought well I'll be in and out someone came out and check me in and then I waited about 5 minutes before anybody even started vacuuming my vehicle all of sudden somebody came out started yelling at other staff members …… meanwhile the two guys working on the detail work were complaining I went inside and watched my vehicle go through as I always do as it got to the end of the line .. l noticed that the wheels we're still dirty so I mentioned it to the young lady working behind the counter she immediately question me and then I showed her exactly what I was talking about and she told me that it would be cleaned l also mention to her that I've been to the Car Wash on East Main Street the past couple weeks that location didn't clean the wheels either ...she stated me that site was a fast service car wash ….. I said it didn't matter it was fast service or full service ...then she mentioned that the owner was there .. he was too busy talking had no idea all this was going on …. I went to get my vehicle the wheels were still dirty nobody had clean them … the guy next to me was complaining also that his wheels were dirty too ….his dash hasn't been was wiped that's what I noticed my dashboard hasn't been cleaned either when I got home I noticed they didn't even vacuumed the vehicle all the way they just did the front ls anyone paying attention to Quality Control? I'm so disappointed with Personal Touch Car Wash Company I have voice my concerns in the past and have not received any reply from the company itself they said they were going to contact me but they never did …. I am definitely closing my account today. It's been three months I haven't heard from anyone about my concerns today I will cancel my membership. I'm writing today I have a couple concerns about two locations that I frequent in Waterbury and when I go to East Main the staff there is so rude…. Do they speak English? Both locations don't spray the wheels ( brake dust build up) The windows are streaky. I've been a customer at this car wash since they opened in Waterbury and spend between tips and car wash fees over $600 a year I think the customer service needs to inprove I'm seriously consider canceling my monthly agreement. At the very beginning the service was truly excellent at both sites I don't know if it's due to New Management or something else if I were performing a customer satisfaction survey (CSG) both locations would have done poorly on presentation and service I didn't hear from anyone about my concerns.?????
11 months ago Luis SALDANA
Like it because it's new, BUT space is tight so no 5 stars
6 months ago Curtis Mitchell
This place is the best..they are very professional & polite. The prices are very reasonable.
11 months ago
Popular places from the category Car wash