Firestone Complete Auto Care
Tire shop Firestone Complete Auto Care, 139 Putnam Blvd, Glastonbury, CT 06033, United States:
113 reviews
of users and employees, detailed information about the address, opening hours, location on the map, attendance, photos, menus, phone number and a huge amount of other detailed and useful information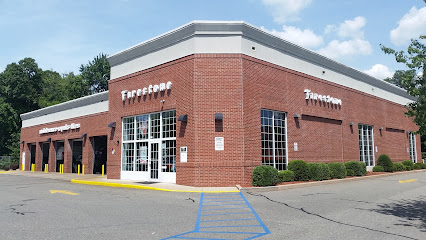 Address:
139 Putnam Blvd, Glastonbury, CT 06033, United States
GPS coordinates
Latitude:
41.7255983
Longitude:
-72.6217210
Location on the map
Reviews Clint Gresham
This business establishment is the reason why so many people do not trust automotive shops. I am a younger adult, so they automatically assumed that they could swindle me. I came in looking to get a leaking tire checked out. They try to swindle me with four new tires, that has another season left in them easily, and two struts, even when they showed me only one had a very minor leak. I would not recommend this place to anyone I know. Very disappointed with fire stone they will never get my business. please do not waste your time and even check them out , even as I was sitting in the lobby they just try to swindle so many people. Horrible business. Beware of Kevin & Joe especially. honestly all of them. probably trained to do this
8 months ago Armando Mendoza
Great job, excellent service and quick work
8 months ago Matt
My truck was shaking a little after going 60mph The young gay told nothing they can do unless I'm buying 4 new tires $900.00. + the alignment Now I'm sitting in city tire and they told me i still have about another year left in tires. For $120.00 They balance and aligned my tires Something is wrong with Firestone
10 months ago Taylor Goodman
Need CT emissions. Called yesterday to ask when thier slowest time is for this. The guy told me best time to arrive is 8am, tomorrow, (a Saturday) is "not too bad". Well, maybe in his perspective, but not in my eyes, the customer. An hour and a half wait to me is, I need to make arrangements to leave my car, especially during Covid. Wish I knew. That said, make plans for emissions.
10 months ago Emrick Crosby
This business establishment is the reason why so many people do not trust automotive shops. I am a younger adult, so they automatically assumed that they could swindle me. I came in looking to get a leaking tire checked out. They try to swindle me with four new tires, that has another season left in long, and two struts, even when they showed me only one had a very minor leak. I would not recommend this place to anyone I know. Very disappointed with fire stone they will never get my business. please do not waste your time and even check Lisa, even as I was sitting in the lobby they just try to swindle so many people. Horrible business
8 months ago Mr Ed
I went in to pay my bill on my Firestone credit card they refused to take my debit card. Had to be cash only. But if I bought something that day I could have used my card, doesn't make sense!!!
8 months ago Clint Poncy
Booked my appt. with Darmesh, checked in with him, and he coordinated my winter summer tire rotations on 2 cars. Darmesh is super professional, organized, smart. Met the time promised. Just a great experience. Jordan and tech were great to work with too. COVID careful. Impressive operationally. Totally recommended
9 months ago Isaac Valdez
All the associates I dealt with here were all very nice, very helpful and went the extra mile to help me. It was raining pretty hard the other day when I went in and the woman who was at the counter was so helpful and even came out in the rain to check my tire pressure for me, she was really helpful, as were the other men at the desk, they took me in back to show me exactly what was wrong with my truck which was nice to see, that way you know you aren't being ripped off
3 months ago Alviana Zurita
Brought my car in to get my water pump replaced. Got the car back 5 days later with an accelerator lag (car delayed while pressing my foot on the gas for about 5 seconds). I started to think it would go away. I called someone that worked their (my cousin) and he said that their was transmission oil on the ground. He also stated that they didn't tap off the transmission oil. But of course the manger denied that their were any spilled transmission oil. I've been bringing my car in ever since. I called and spoke with the manager on feb 6 2021 and told him I will be dropping the car off so that they can conduct a test drive the following day. I also stated that I want to be there wherever they take it for a test drive. He responded, " No problem." Why Firestone called me on the feb 7th saying they they drove the car and there was no issue. They ignored my request Smh PLEASE STAY ALWAY FROM THIS LOCATION. I WILL TAKE MY CAR TO INFINITI TO GET A DIAGNOSTIC TEST CONDUCTED. FIRESTONE YOU WILL HEAR BACK FROM ME.
10 months ago Vasudeva Pai
Look they do emissions you always have to wait like 1 hour for that not terrible but not great. But DO NOT let them work on your car. We had work done to fix a bad TPMS sensor. Paid like $250. Problem did not get fixed and had another more trusted garage look at it and they said the TPMS sensor did not get changed, was still broken, and did not look new. Firestone charged us for a new sensor they did not change. Robbed us blind.
11 months ago Hanna Jane
The service is good but they have a tendency for over booking often if I look at other peoples comments. I scheduled an oil change and tire rotation for Sunday at 2pm. I show up drop my car off, I'm told it will be done by 4pm. I'm annoyed now since I have to wait 2 hours after my appointment time for my oil change. Not sure what the point of the appointment was. After wasting 2 hours of my time I come back at 4pm and my car hasn't even made it in the garage yet. I complain and they said I will go in next. If I didn't complain were they going to tell me to try going back another day? Since the day ends at 5pm. I finally get out of there at 4:45 with my car oil change done.
6 months ago Jackie Tiner
Went on 5/3 to get a flat tire fixed. I brought my own new tire. All I wanted was a mount and balance. When I entered the show room, no one was there. I looked in the shop, and the employee was on the tire machine. I asked him , Hey, could I get a tire mounted? He replied.Maybe by Monday. I can't believe one tire will take till Monday. I would not recommend this establishment
8 months ago Carlos Arroliga
Very disappointed. They don't list times on their website and wasted my time.
9 months ago Brandy Shrimplin
Friendly service for my emissions test. Quick and easy, I went in the middle of the day..had about 1hr wait..no issues
4 months ago Lyv Houston
I'm disabled it helped me a lot that I didn't have to take my hand controls off for my emissions and reinstall them they let me drive it in
10 months ago Heather Anderson
If I can't even call and have a good experience why would I wait an hour to get my emissions done there? I'll gladly go to East Hartford or Manchester.
1 month ago Chris Hawk
I took my car to get a flat tire fixed. After waiting an hour, I was told that the nail in my tire was removed and my tire was patched and fixed. Since I was late for work, I didn't bother to walk around to the passenger side to inspect the tire. After driving 30 minutes to work, I look at my tire to find out that the donut was still on my car and my flat tire with a nail in it was still in my trunk. They made me wait an hour and didn't fix a thing. 0/10 would not recommend.
5 months ago Sean Smith
This place treated me like family! If I could give it 6 stars I would.
1 week ago Brenda Franklin
I brought my 2017 Acadia in for brakes, and got a broken car back. I was without my car for work the next day. Had to pay to have it fixed what they broke. I should have never of brought my perfectly working car here . They were not helpful at all. Would not recommend. I would run . Good luck
8 months ago donna brown
Bought some new tires from here and they are fantastic! The employees were so friendly and helpful, plus I got a great deal! I highly recommend this Firestone!
8 months ago Mitchell
I had a great experience purchasing the Firestone Destination tires for my Tundra truck. After lots of research I still wasn't sure at which tire would be best but also reasonably priced, but the salesperson directed me to this tire. At first they seemed to ride hard, but after a couple hundred miles, broke in and rode comfortably while offering great traction in the rain and snow as well as dry road conditions which in New England is necessary. Being a classic car builder some years ago, I can be very discerning when it comes to people working on my vehicles, Joe and his staff at Firestone Glastonbury have always been patient and helpful with me as this is my 4th set of tires purchased from them . While in the waiting room I watched as they handled all customers quickly, calmly and in a friendly manner. I will continue to purchase my tires there and send friends and family there as well!
8 months ago Forty Kay
I have been here 5+ times, they take forever even if you have an appointment. They will was you to leave the car there and then they never get to it. I left my car at 12:45, they said to come back at 5 and it hadn't even been touched and no one even called me... to patch a tire! Go to another location, they are notoriously unorganized.
2 months ago Eliesha Nick
The employees here are fantastic. So professional and nice, I love this location. They are very honest about what work needs to be done, I've never been taken advantage of for being female. The waiting area is super clean, with comfy chairs and cable TV. you can watch your car through a giant glass window which is nice. The restroom is always very clean and it has a diaper changing station. I love this place.
9 months ago Mayer Jotkowitz
They wouldn't install my TPMS sensors after quoting me a price and scheduling because I hadn't purchased them from Tesla. I was specifically told the manager wouldn't allow it. This, after I'd called twice and been told they'd do it for the flat repair price. End of the world? Of course not. Just annoying to have waited and driven out there only to be subject to the whims of the guy on shift.
7 months ago Gary Beisler
The service was fast and correct the first time. The manager Jason was very professional and assured me I wouldn't be there for a long time, and I wasn't. I highly recommended this place! Great great team that works together!
8 months ago Sindhuja lifeisbeautiful
I have gone to this location twice -- once to have new tires put on my car, and again when a screw lodged in my boyfriend's tire. Both times, employees of this location were friendly & courteous, and service was relatively prompt. They were able to get us in on Memorial Day on short notice to remove the screw and patch the tire, and the repair was cheap (~$20). They did not try to up-sell us or scare us into unnecessary repairs on either occasion. I am also very happy with my tires, and have had no problems with them since they were put on by this location 1.5 years ago. Overall, very pleased with this Firestone.
3 weeks ago Melissa Anselman
Some businesses just do the work; others do the work and actually care about their customers. Firestone Complete Auto Care in Glastonbury cared enough about this customer to replace a warrantied catalytic converter three times- once in the beginning, and twice to swap it out under warranty. When the catalytic converter failed again, Joe and his team went above and beyond to facilitate obtaining a replacement part from Subaru and installed it at no additional charge. They were very understanding and patient through the process. Will definitely return in the future.
9 months ago Eunice Ang
Great Trustworthy Service every time. Initially, I was hesitant about using a chain retailer, but I've been using this Firestone location for 5 years and they continue to keep business by being honest and doing great work. Shout out to Brian today for saving me a few dollars!
9 months ago Damian knox
Wow, WOULD NEVER GO BACK the worst service Ever. Dropped my truck off for an oil change and emissions test @ 9am, was told it will be done at 11am went back only to find out they never touched the truck, so was told it's going in next and will be done at noontime, I went back at 1:30pm and they never touched it. Unfortunately "sorry" doesn't make up for the time wasted waiting around. I ended up going elsewhere for oil change and emissions.
8 months ago Chris Chinn
Stopped in mid-day on a Thursday, no appointment, for emissions testing. Was in and out in 15 minutes. I always take my vehicles here for testing and it's always a quick visit. Staff are friendly. Highly recommend.
8 months ago Megan Johnson
The girl with the blonde hair was rude to us ,when we came to get our emissions done,never coming back here
6 months ago Ciocarlan Svetlana
I've gone several times now trying to get emissions work done and been turned away every time. I'm tired of them wasting my time. Either check emissions or don't.
3 months ago Carla Poindexter
RUN, unless you have a deep pocket.Came in for a flat repair was told i needed to get two newt then was told I needed an alignment done, then received a phone call about two hours later stating that the alignment could not be done because I needed a new strut, had to leave overnight allow them to get part luckily for me I could not get ride following day to retrieve car. Brought to another place told nothing was wrong with strut just alignment was off. Would of paid for something that did not even need to be fixed.
8 months ago Diane Hill
Made a appointment for noon waited 1 hr 35 mins before they touch my car
3 months ago Elliot Bruce
I just had the tires on my 2016 Golf replaced at Firestone and I couldn't be happier. They took my car at the last minute and were very up front about how busy they were. Despite their busyness, they finished my car the same day and were prompt about letting me know it was ready for pickup. The sales techs were very transparent and weren't trying to pressure me into buying more services or more expensive tires. I will certainly return to their shop and would recommend it to others!
8 months ago Sudheer Kelam
I went for snow tires because my trusted mechanic couldn't get the tires this week. I knew I wanted Blizzak. I went in Monday, Nov. 25 to schedule an appointment. I said I could do it anytime this week. Made the appointment for 10 a.m. Friday, 27. I thought Black Friday might be a busy time, but let the service advisor decide. My mechanic would have had the tires that next week. My mechanic quoted me about $700 for four 235/65R16 Blizzak tires. The Firestone service rep on Nov. 25 quoted $750 which included their most basic alignment. My mechanic did not recommend an alignment for a 2007 Odyssey that shows no sign of uneven wear on the all-seasons. It's Firestone policy to align cars when you get new tires. I asked how long it would take on Monday to plan. The service advisor said about an hour. Now I had a two-year-old with me while I waited, so my nerves might be shot. I paid $1,035.22. The van was checked in at 10:01 a.m. and we checked out at 1:24 p.m. My van is 12 years-old with 175,000 miles on it. I expect things to come up. I do not expect $225 in additional unexplained fees and three and a half hours to get four tires. Support your local independent mechanic and avoid this predatory shop.
9 months ago Rashad Carter
Angel at the Alignment station is awesome got my tsx done in great time.
8 months ago Glyn Robinson
As we all know an emissions test does not take a while, especially when there's no one in front of you.... Guy at the counter was nice. Came in for emissions, told me it would take 10-15 minutes because there was no one ahead of me and the bay was open he said. Car was still not pulled in the bay 35-40 minutes later. I approached the guy at the counter and asked him why the car wasn't pulled in and he was not really to sure. If I never approached them, the car would have been still sitting outside waiting for a test that was suppose to be a 10-15 minute test to be done.
6 months ago Erica Grant
I visited for a flat tire repair. I arrived as soon as the store opened. I then waited for one and a half hours to get the tire fixed. I was then told that the technician recommended the vehicle get an oil change and an air filter replacement as well as new tires. I pointed out to them that I had just gotten an oil change a week and a half prior at the dealership, that the vehicle indicated 100% oil life and the dealership also rotated and inspected the tires stating that they were absolutely fine so I have no idea where those recommendation came from other than to make money. As I drove home I noticed my engine was making extremely loud engine noises on acceleration. I pulled over and popped the hood only to find that my air filter compartment was left unsecured and the lid was flapping around. This is absolutely ridiculous and the shop was more interested in trying to find stupid things to up sell me on than providing efficient service.
9 months ago Rodney Kent
Drove from MA to CT to see someone, woke up in CT with a flat tire. All other places in the area were closed due to it being a Sunday. Called Firestone, said they were fully booked but to head in and they'll take a look. Got me right in, threw a patch on the tire, and some of the most honest, thorough customer service I've ever experienced. Matt at the front desk was. Dry helpful.
10 months ago Eric Redegeld
Had an appointment. It took 5 hrs. To put tires on. They said they had them in stock. Sent a tech to go get them he got lost and came back and they sent someone else.
7 months ago kimberly jackson
Kayla, the woman that took my car in was very pleasant and knowledgeable. She greeted me with a smile and kept me informed. Thanks.
3 weeks ago Daune Ortberg
Management team is excellent, techs are quick and focus on a quality job.
10 months ago Jeric Tamayo
I've done business with them for many years. Been generally satisfied. However today I bought my Porsche in to have rear tires mounted and balanced. The car is 10 years old and there was not a mark on the wheels. I told the counter person, "The wheels are perfect and I expect them to come back perfect." When the car was done I inspected the wheels and both rear wheels were scratched. How you can scratch wheels with a touch-less tire changer is beyond me, but they did it. Not just one but both! They offered to have someone come to the store so I could bring the car back and have the wheels touched up but I doubt a guy in a van will do it to my satisfaction so I think I'll pass and repair them myself. Just comes down to the growing problem of people, young people it seems, who don't give a dam about the quality of their work. It's not so much the damage or the effort to repair it as it is the total lack of competence. I wouldn't be doing business with them any more. If you can't change a tire without screwing something up I sure don't want them doing other repairs.
4 months ago Tabitha Armstrong
Great services with reasonable price and the technicians well educated ! GREAT JOB !
3 weeks ago Jennifer Emerson
Their fast respectful and convenient.
3 weeks ago Terra Cossin
I had to set up an appointment with Firestone for my emissions test and also to fix my headlights and wipers. Not only did they fix one of my headlights for free (didn't need replacement, just sealed back in place) but they did it all in around 30 minutes. Very quick and reasonably priced work. Wipers they gave me are almost silent and work great.
6 months ago Zoe McElroy
Come here for emissions. Never wait too long and employees are friendly.
9 months ago Isaac Darragh
Only been here once. Needed one tire mounted and was in a rush. Had the car on a jack few minutes down the road snd didn't want to leave it like that. Was told it would be about am hour. I agreed and left, called me 5 minutes later saying they were able to fit me in. I was please all considering my situation.
9 months ago John Truly
Best service center in the Greater Hartford area. Staff at this location are wonderful to work with! Ask for Joe or Dave.
2 months ago
Popular places from the category Tire shop