My Vinyasa Practice
Yoga studio My Vinyasa Practice, 109 Jacob Fontaine Ln Suite 800, Austin, TX 78752, United States:
164 reviews
of users and employees, detailed information about the address, opening hours, location on the map, attendance, photos, menus, phone number and a huge amount of other detailed and useful information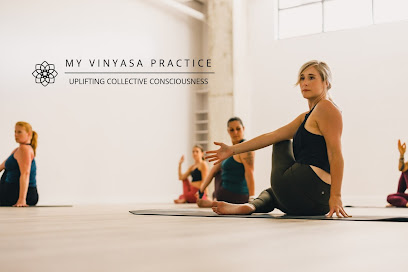 Address:
109 Jacob Fontaine Ln Suite 800, Austin, TX 78752, United States
GPS coordinates
Latitude:
30.3250571
Longitude:
-97.7152606
Location on the map
Reviews David Lang
I recently completed the 300 hour online yoga teacher training. It was a comprehensive program offering a wealth of information and community support. The training is self paced so you have to decide how best to complete the modules and meet the other requirements. I cherished the freedom of this training opportunity and know that I am a better teacher having acquired invaluable knowledge and experience. I hope to be able to visit the studio in person one day.
7 months ago Cheerupro
I recently completed the online 300 YTT and found it to be comprehensive and very enjoyable. Michelle and her team are knowledgeable and love what they do, presenting the material in an honest and welcoming way. MVP supports an environment of diversity and inclusion with trainings at a price point that is affordable and not prohibitive. I really appreciated the opportunity to study from my home and will partake in future offerings.
8 months ago Mason Lewis
I have nothing but excellent things to report about my experiences with My Vinyasa Practice. I entered the 300 yoga teacher training as an RYT 200. The best parts of the program: 1) the diversity of teachers in the training modules/content. Not only are many from different backgrounds, secondary professions, etc., but also provide a variety of teaching personalities. These factors wove into a very enriching experience. 2) Michelle covered quite a bit in the way of types of yoga. Enough so to feel confident and hold a solid command of teaching several styles of yoga as well as adaptations/modifications. 3) Permanent access to training materials to reference as needed and stay connected. 4) The meaningful, valuable feedback provided from the peer support staff in relation to the practicum. 5) The affordability, making yoga accessible to all. 6) The self-paced trainings which make it possible to commit to with consideration to balancing work/life schedules and world-wide time zones. I'm filled with gratitude for the program and the intentions behind it. My Vinyasa Practice is a great place to either begin or enhance your yoga practice and development. Thank you to Michelle and the MVP crew!
10 months ago Vernon Rainey
Amazing experience with Michelle Young and her team of professionals. Her online teacher training program is complete and easy to follow and there are students coming in from all over the world. It is an amazing community. On a more intimate level, Michelle is a wonderful yoga therapist, offering compassion, insight and a listening ear for anything you might be going through. Her dedication to her clients is unbelievable and she gives helpful advice to guide you through whatever you are going through. THANK YOU MVP!
11 months ago Crystal Ehresmann
I found this training to be very thorough and I loved how I had the option to dive deeper into any of the topics through extra recorded zoom sessions. With multiple teachers facilitating, it gave varied viewpoints and perspectives. When I had questions, my peer mentor was quick to respond. While I missed being in person and creating strong bonds with fellow students, I was able to keep my focus entirely on the training and material. Frankly, I went in with low expectations and was wonderfully surprised with the depth of knowledge I gained! I highly recommend this program for those who want an online experience.
1 month ago Michael S
My Vinyasa Practice is amazing! I am doing my 200 hour Yoga Teacher Training with them, and they are truly exceptional at providing inclusive, professional, flexible content. Their practices are always well thought out and offer plenty of variety for all types of yogis. I truly love what they are doing and would definitely recommend anyone to check them out!
9 months ago Martha Gaines
This year was a time a change for me – between buying a studio, shutdowns due to the pandemic, our changing community, and shifting of priorities, I thought that I would have to put off additional learning to deepen my practice and become a better teacher. I was lucky to have found My Vinyasa Practice and the 300 hour Teacher Training program. This program allowed me to dive deeper and focus on what I need to do, for me and my studio. I wasn't sure what to expect by taking my training virtually versus in person. It was a different experience, and more rewarding than I thought. Most of the classes I took were recordings, since the live classes didn't fit in with my schedule. I enjoyed having the ability to pause something and reflect. It gave me the opportunity to really absorb what I was hearing, reading, and doing. Sue, my peer mentor, was amazing whenever I had a question. I would recommend this program to any who are looking for additional training, and may be reaching out for feedback as I continue to build my own training curriculum over the next couple of years. Thank you for everything.
2 weeks ago Bianca Clarke
Authentic training that is flexible and affordable with incredibly rich content even beyond the standard course. I took the 200 hr course and now am almost complete with my 300 hour yoga teacher training. I'm excited to complete it and to take additional MVP courses in the future. Highly recommended!
9 months ago Tim Upham
I recently started my 300-hour online teacher training at My Vinyasa Practice. I had searched "top 10" online yoga teacher training courses, and it was included there. I looked at their program, along with some others, and shared it with my 200-hour instructor, asking for her feedback. She responded quickly with a "thumbs up," and was very surprised at how affordable it was. I was hesitant and skeptical, having completed my earlier training in person. But I went ahead and signed up. And never looked back. This program is thoughtfully prepared with a well-designed and sequenced curriculum. Each section includes reading, video lectures, self-reflection assignments and practice opportunities. In addition, you get your own peer support representative, LIVE weekday and weekend lectures with recorded sessions if you miss the LIVE ones, livestream classes, office hours multiple times a day, practice teaching opportunities, a monthly book group and movie night, community involvement options, and even one-on-one sessions. They've thought of everything. And every MVP representative I've encountered has been kind, helpful, nurturing and accessible. One of my favorite things to do is attend LIVE office hours and see yogis from all over the world tuning in with their questions. We share, we laugh, we learn and we see what a beautiful global community we're a part of, even as we sit in front of our computers. It is my hope that everyone out there who's thinking about yoga teacher training will go to myvinyasapractice.com and just sign up. Start your yoga journey today.
10 months ago Jim C
If you're considering My Vinyasa Practice for yoga classes--or for teaching training--you have 100% come to the right place. I just completed my 300 hour teaching training, and both the video and written content was so informative and professionally done. What's icing on the cake is that I'll have access to that content FOREVER, and it will undoubtedly be an amazing resource for me for years to come. From a communication standpoint, every time I emailed MVP with a question, I received a prompt and thorough answer. Michelle also has "virtual" office hours so that she can answer questions directly as well. The weekend Zoom teachings were interactive, attended by people from all over the world, and each one was recorded, so I was able to watch them at my convenience. I'm so thankful that this MVP training was available during the pandemic, and I highly recommend this program. Michelle and her team are second to none, and I'm honored to say that I'm completed my 300 hours through such a wonderful organization. Stay safe, namaste.
4 months ago Braxton Gilliland
I have nothing but good things to say about how the instructors care to see you learn and grow. One of the classes I loved to take was Ashtanga, a class that taught me how to practice yoga even when no one is around, a routine that takes discipline to follow. Shout out to Cristina and Cristiana for being amazing teachers.
7 months ago Lee McCullough
I completed my 200-Hour Yoga Teacher Training completely online with My Vinyasa Practice (MVP) from May - September 2020. I wholly recommend this studio if you are interested in deepening your yoga practice in any way, including becoming a yoga teacher. From a yoga perspective, I enjoy their diversity of offerings, breadth of knowledge on staff, and accessibility of all of their training materials. As a student, I was matched with a peer mentor, always received timely and detailed feedback to any questions or submissions, and felt integrated into the MVP community even though I live in a different state. This studio is doing the work, and I'm glad to be a part of their expansive alumni network. Thank you!
1 month ago Moe Jordan
I am so grateful for My vinyasa practice, they made it possible for me to finally complete my yoga teacher training! (A six year dream). They are affordable and flexible, which meant I could complete the training while continuing to work and be a hands on mum. The teachers are extremely knowledgeable and the peer support was invaluable. I loved being a part of their community :)
11 months ago Ann Crumlish
I have had a great experience with My Vinyasa Practice. I will be forever grateful, not only for the knowledge that I have gained from my 200 hour training,, but also for the mission of this organization that opened a financially accessible path for me. Supporting teachers of lesser means brings additional breadth and depth to the dissemination of yoga philosophy and practice. I have registered for my 300 hour training now, and I'm excited to continue on this journey with this wonderful school!
11 months ago Jarel Rudd
I tried this studio for the 1st time today. I attended their 6pm class. Studio was nice & clean but class itself just did not worth it. I been to different studios but I have never been to a class that teacher just sits in the corner & only gives verbal instructions without actually doing any of the poses. There was also no music playing & in the end ( during savasana) once she instructed everyone to go Savasana she left the room ( I never seen any teacher doing that in any other Yoga class either ). Maybe this is how Yoga classes are being held in the pandemic world but I rather to join one of those virtual classes on YouTube if instructor suppose to sit in the corner & give verbal instructions.
9 months ago Richard Tregilgas
My Vinyasa Practice (MVP) is a great school for yoga teacher training. They are located in Texas and I am located in Maryland. I was able to use their online format to successfully complete their program at my own pace without having to adhere to any specific schedule. Because of COVID, they used zoom lectures and recorded them. The cost of the program is also reasonable, and they offer many other classes too. I would highly recommend their program to all who are seeking certification as a yoga teacher. Thank you MVP, for helping me achieve my goal!
11 months ago Danielle Smith
My 200 hour training was absolutely transformative. Students who choose My Vinyasa Practice (MVP) for yoga teacher training will find an expansive library of multimedia content to deepen their learning and personal growth experiences, plenty of opportunities to connect live via Zoom with faculty, and a robust community of supportive students from around the world. My Vinyasa Practice also provides students with direct access to supportive professionals who offer feedback, clarify any questions students may have about content, and encourage students throughout the process. As an occupational therapist, I deeply appreciate the heavy emphasis on injury-prevention and proper alignment presented throughout the curriculum. The experience I had with MVP was so positive and enriching that I signed up for the 300 hour training once I finished the 200 hour certification process. The final thing I will say is this: Don't let the price fool you. There are other online programs that want thousands of dollars to even get you through a 200 hour training. One might be tempted to think that with such a discounted price tag, MVP might be "missing something." Here is why that line of thinking is just not true. Michelle believes yoga should be accessible to ALL PEOPLE. This is why the program is so affordable. She truly aligns her business practices with her essential values, and it's reflected in her pricing. MVP offers financially accessible options, while at the same time maintaining the highest level of integrity of content and professionalism. MVP is an excellent choice for anyone considering yoga teacher training!
4 months ago Julio Aponte
I loved my online 300-hour yoga teacher training through My Vinyasa Practice. It allowed me to complete it on my time schedule. My daughter and I completed it together. However, I also used the study groups that were set up. The amount of help given from all aspects of this training is incredible. It is a comprehensive training and the best part is the life time ability to review the material covered. This is just the tip of the iceberg! I highly recommend this training. I have already signed up for additional trainings.
4 hours ago Lynn Carson
Proud I started my 300 hour training with MVP. They offer tools and make learning fun with loads of live video lecture content and pre-recorded material. I really love this community! Thanks so much for everything!!
10 months ago Joyce Allen
I discovered MVP during the pandemic and am so impressed by their ability to move their classes and their training program online with such ease! I acquired my 200-YTT through them, and am definitely considering continuing! They're a great group of instructors and Michelle is full of insight and a really well-rounded instructor, really focused on the mental health and wellness aspects of the yogic practice. Love this place!
2 weeks ago AJSB Records
I began my 200 YTT online with My VInyasa Practice and I could not have made a better choice. The amount of information and knowledge I gained throughout my training gives me full confidence in passing along the information safely and effectively. Michelle and the team at MVP are super helpful and intuitive. Everyone has great knowledge and insight in the practice of Yoga. I am super thankful to be a part of the MVP Community now!
10 months ago Ron Patterson
My Vinyasa Practice was a wonderful online program. The staff and teachers were attentive and responsive. The program was adapted very well for online learning during Covid 19. The weekend workshops were informative and well designed. The curriculum was very involved and went well below the surface of learning the basics of yoga. I would definitely recommend this program.
1 week ago Vicki Jackson
I have been into yoga for years and I never thought I could save enough or commit to the time schedules of the teacher training. With COVID-19 trainings became more affordable and I researched all over the internet because I was so skeptical of an online course when it comes to yoga. But the training with MVP has been amazing so far! I am at 97% and more excited than ever to spread the goodness of this teaching in the World. Not only is it affordable and lets you learn at your own schedule, but you also have a constant peer support who can answer any questions any time, live lectures with live Q&As that you can re-watch anytime if you forgot to take notes, multiple community offerings and fun challenges. I really feel like I have known these people in person for years. And every week they continue developing the course and introducing new incentives for learning. I am truly grateful to be a part of this community!
10 months ago Damaris Sing
Signed up for the online YTT 200hr (due to COVID) and the experience has been really great! Though the program is online, everyone I've emailed so far (including my Peer Support Mentor) has been quick to respond. I'm also enjoying the community that is built around their programs -- really helps while going through this training. Highly recommend!
11 months ago Rich Rich
Epic experience. Just completed my 300TT. Prepare to receive more than you ever expected to get, especially from an online platform. I am completely blown away by the wealth of information and training available here. The best part, the training modules are accessible beyond completion and the zoom video library continues to grow with topics beyond your imagination. You can continue to learn and grow indefinitely. Peeps are gonna say if it doesn't cost a lot of money, it might not be that good and online training isn't effective. I say that is their loss!! MVP is #1
6 days ago Erika Lambert
Their classes are fantastic - lots of options with excellent teachers. The 200 hour teacher training been life changing. Not only did I deepen my yoga practice and gain the myriad of skills that I need to teach yoga, but this was also a highly introspective program that allowed me to connect to my core values and better process the COVID-19 global pandemic. At first, it seemed just too good to be true. But Michelle Young and the rest of her team at My Vinyasa Practice are just that amazing. This group of people is genuine, caring, compassionate, patient, and dedicated to their profession. I am so completely impressed that I have referred friends to them, and I signed up to do my 300 hour training with them.
5 months ago shaun gregory
I completed my 300-hour Yoga Teacher Training with My Vinyasa Practice and was so grateful for this incredible journey! The training was extremely thorough, and impactful and everyone on staff is absolutely amazing, holding a range of yogic knowledge! I highly recommend any of MVP's trainings and yoga classes or workshops and really appreciate how the studio is centered around authenticity, affordability and making yoga accessible to all! In my personal opinion, more studios should hold these honest values in our yoga community. MVP is a true leader here! Thank you to everyone on staff for your offerings and sharing your knowledge with me throughout my teacher training!
3 months ago Nick
I was very impressed by the quality of the content MVP provides in it's YTT 200h. The training content was kind of addictive, it kept me wanting to learn more and more each day. I'm so grateful for the knowledge they shared with us students, its precious and very useful. The training was very interesting, everything was intelligible and coherent. I can now connect the dots between my own yoga practice experience and the fundamentals of yoga. Thanks to MVP, I now teach yoga with confidence.
1 month ago Mayuri Patil
I am doing the online certification training right now, and I have nothing but great things to say about the program. It has only been a very short period of time that I have been enrolled, but I have already learned so much. Truly feel like I made the right decision choosing My Vinyasa Practice, and I have no doubts I will excel in this career because of it!
10 months ago omar alfalasi
Michelle Young and her staff have added SO much value to my life. She, and all of her teachers who taught content and actual yoga classes were the most patient and kind people I have ever had the pleasure of knowing. I feel very connected, even though I am hundreds of miles away physically. I am so grateful that I still have access to the content, and even though I finished my 200 hours, I listen to MVP's teachings and continue to do the lessons and classes every day. I literally cannot get enough. I have since enrolled in another class with Michelle. I truly hope I will be able to visit her studio in person at some point and actually met her and take her out to dinner. Michelle made this possible and made it pleasant and I learned (and am still learning) SO much. She answers my calls, she has met with me one on one virtually, and she and her other teachers continue to provide content that is life changing. I could literally go on and on. Rarely do businesses met my expectations, but hers has exceeded them. Thank you MVP! I will always be indebted to you. Linda Hisaw - Huntsville, AL
5 months ago ashley Prater
To be honest, I had been skeptical about taking an online yoga teacher training course. I researched many different schools before coming across My Vinyasa Practice. Everything about it felt right. The sign up was quick and easy and I was able to jump in. Everything you need is provided for you (but you can purchase hard copies of the books if you'd like). I was assigned my own personal peer support, Micaela, who was fantastic. She was very quick to answer all of my many questions along the way, genuinely supporting me in my education. The course itself is thorough, engaging and most of all it covers all aspects that you need and more with all the pre recorded Zoom lectures. I love that you go at your own pace but it tracks how much percent you've completed, I find it very motivating to reach 100%. Once completed, you have access to all the learning materials for life so you can go back at anytime to go over anything. If you're looking to take the course, I highly recommend doing it with MVP - everyone is there to help you and get you started on your very own yoga teacher journey!
5 months ago positronicmike
I attended MVP for my 300 hour yoga training online and absolutely loved it. The support you get is second to none - I've attended trainings in person with less support. As a mental health professional I really appreciated the inclusion of trauma informed and adaptive practices as well as the stellar information on the mind-body connection. There are weekly meetings you can attend, an endless collection of extra webinars, tons of video instruction, and a peer support specialist with you (if you want) all along the path. After you finish the online program you continue to have access and you're part of the MVP family, which I love. I totally adore MVP and the whole team there!
1 week ago robbie gunter
The online classes were extremely well run and coordinated with a multitude of teachers. The content was varied and interesting. Staff were helpful in guiding you through any issues you may be having technically or philosophically. I would highly recommend my Vinyasa practice for online classes if I am ever in the Austin Texas area I will be sure to take classes in person as well.
2 months ago Jessica Thompsen
I had the best experience with My Vinyasa Practice when deciding to do a 200HR YTT with them during quarantine. I was weary about how a virtual training would feel, but I never felt left in the dark. The materials were wonderfully packaged for us, the weekend lectures were very informative, as well having a point person (peer support) for any questions I had. I also love that I can continue to learn and use all of the materials from the training, as well listen to new and old lectures and be a part of the MVP community even after I completed my training.
3 months ago HD T
Although I was skeptical at first of an online training program, My Vinyasa Practice blew me away. I am so happy I made the decision to train with Michelle and her team. The constant support, feedback, and learning opportunities were more than I expected. At least every weekend, I had the opportunity to sit in on live Zoom trainings which were, and still are, invaluable. The variety of content and deeper dives into all sorts of subject matters relating to yoga made My Vinyasa Practice a great choice for me. I admire Michelle's approach to teaching and living. I highly recommend My Vinyasa Practice if you're looking for an authentic, caring, knowledgeable yoga school.
4 months ago Jon Adams
My Vinyasa Practice is a wonderful school. I have taken my 200 hour here and am currently in their 300 hour program. The programs are very well done and flow from one subject to the next in a very informative way. Student questions are answered right away...to the point that Michelle (the Owner) gives you her cell number that you can text or call for help or information. The support staff is very professional and caring. I receive answers back within 24 hours and many times in the same business day. There is a huge presence on Facebook of those who are in the program, study groups, and alumni that assist each person along the way. I honestly cannot say enough about this school. Without being able to take the trainings online and at such an affordable price, I never would have been able to become a Yoga teacher.
5 months ago LA Guy
I found MVP while searching for an online platform to complete my YTT 200. I absolutely love everything about this studio and all the teachers are wonderful. I graduated and still continue to do work online with them, they offer a wide variety of classes and workshops. I hope to one day soon get to visit in person :)!
11 months ago brina salvado
Highly recommend MVP—I did my YTT with them and absolutely loved it. I've made lifelong friends, received amazing education, and am well-connected to a network of very talented yoga teachers. In a world where yoga needs to be more accessible—this wonderful team is doing it right. Not to mention the affordability of the trainings and the classes. Keep it up ladies!
2 months ago Louise Cunningham
If you are considering yoga teacher training, I encouraged you to look no further. My Vinyasa Practice is an excellent school with wonderful support/mentors. I completed the 200 hour YTT and I loved the curriculum and self-pacing of the program.
1 week ago SR Cummings
I recently completed 200 hour teacher training with My Vinyasa Practice. I had such a positive experience that I signed up for the 300 hour program immediately after completing the 200 hours. The instructors at MVP go out of their way to create a positive, supporting community and the costs of their programs are more than reasonable. I liked the flexibility of the mix of self-paced content and live Zoom lectures on the weekends. Even though I live over 1000 miles away, I feel like I'm part of the MVP community.
3 months ago Sarah Becker
Highly recommended to all those who aspire to deepen their yoga journey. The teachers were all very accomodating, passionate and understanding to the student. Lessons were well organized and easy to follow through if you are on a self-paced study. More power to My Vinyasa Practice. Keep inspiring. ????????????
2 months ago Beverly Smith
Amazing yoga teacher training!! My Vinyasa Practice is accessible, affordable, supportive and provides you with an excellent training. I have grown so much throughout my 200h Yoga Teacher training with my vinyasa practice. The teachers and peer support are incredibly supportive and knowledgeable. They are always there to help and support you with anything you need. MVP has given me all the tools I need to be a great yoga teacher. I have never enjoyed learning so much in my whole life!! The training is so interactive and you really feel part of a connected community. I am so grateful to be part of the MVP community. Thank you MVP!!!!
2 months ago Jay Woo
I loved the MVP Program! I have always wanted to pursue my 200 hours but I was unable due to schedule and the expense. MVP allowed me to achieve my goal because the program was flexible and on my schedule and was affordable. I truly felt that the program was accessible to anyone that was passionate about learning. I had concerns about the virtual learning because typically YTT is a community driven program but I made several connections and joined a study group as well! The program gives you what you put into it. I thought the material was great, was understandable and I was able to incorporate into my life! I'm excited to become a yoga teacher and feel ready because of MVP!
8 months ago Michael Sterling
I'm in my second training (Applied Yoga) with MVP and chose to continue with them because of the depth and breadth of their 200 Hr teacher training. The amount of access to teachers and content is outstanding and makes it feel like you're truly part of a community which is challenging for online learning. If you want to dig into yoga above and beyond (and before) what happens on the mat I highly recommend My Vinyasa Practice.
6 months ago Maddie Bryan
The teacher training offerings at My Vinyasa Practice are student-centered, easy to navigate, and very affordable. If you can find 8 hours a week, you can complete the 200 hour training in about six months. Some of the training is your personal yoga practice, so that helps! I liked the training so much I have recommended it to friends and enrolled one of our daughters in the program. It has changed my life!
2 months ago Divya Rajpal
I had done an in-person 200hr a few years ago with another studio and have always wanted to go for my 500hr. I am so glad that I picked MVP for my training. I loved being able to learn at my own pace and the content was very interesting and eye-opening (from Kundalini to adaptive yoga). Staff was always available if I had questions or concerns and I felt like everyone was very knowledgeable and caring. I highly recommend this program!
4 months ago alex dinsmore
My Vinyasa Practice has the most affordable 200 Hour and 300 Hour YTT programs that I have ever seen in my 17 years of practicing yoga. Both programs have in-depth content and excellent guest lecturers. The teacher's manual is full of great information and there is a huge focus on how to make yoga classes accessible to non-traditional yoga students. I highly recommend both programs, as well as the independent weekend modules and online videos for more in-depth knowledge of specific areas of interest.
6 months ago Troy Gilbert
Really great, informative teacher training. I began my 200hr in early May and have just earned my certification yay. I have watched them adapt and grow so much throughout this challenging year. The MVP community is so supportive and great to communicate with and you get to connect with inspiring yogis all over the world. I feel confident with what I have learned and I am continuing my training being in the 300hr with MVP.
3 months ago kathy reider
MVP is a stellar yoga teacher raining program and Michelle Young is an incredibly responsive owner. The curriculum is excellent! I am so glad I chose MVP for my 300 hour YTT. I plan on enrolling in additional trainings as well!
11 months ago Daria Gurina
I have always avoided online trainings because I did not think they provided the same opportunities and quality as an in-person training. Michelle and the team at MVP have proved this to be wrong. Their program provides more than ample opportunity to learn in a variety of ways, as well as to interact with trainers and students from all over the world. This has been such a rich experience that always goes back to lineage, yoga philosophy and authenticity. The inclusion of trauma-informed and accessible yoga was most appreciated. I am also very grateful for the lifelong access to all of the training materials, allowing me to continue to learn and grow as a yoga teacher. MVP is also constantly updating and adding to their materials, taking feedback willingly from students, and making corrections where they are needed. I am so grateful for this opportunity that I might not have otherwise had.
4 months ago
Popular places from the category Yoga studio