Cotton Mill Interiors
Furniture store Cotton Mill Interiors, 21 Cobb St, Jefferson, GA 30549, United States:
131 review
of users and employees, detailed information about the address, opening hours, location on the map, attendance, photos, menus, phone number and a huge amount of other detailed and useful information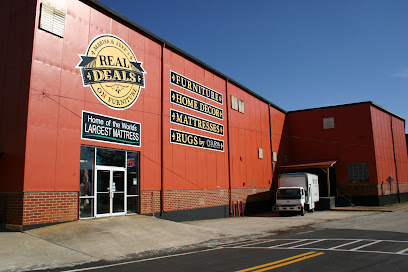 Address:
21 Cobb St, Jefferson, GA 30549, United States
GPS coordinates
Latitude:
34.1173793
Longitude:
-83.5831970
reviews Maurice Shyrell
I don't recommend to anyone this store bad services and liar people.they hungry for money they tell you one thing just to get you. and they gave you something different what told you before..
1 month ago John Banik
I love love this place. I have been here looking for accessories for a new home. They offer unique pieces and I received a list of companies they can order furniture from with a bit of a discount. I had Tamara, a super design consultant, give me advice on room layouts. I enjoy browsing. This place is a must if you are furniture, rug, and accessory shopping!
3 months ago Demetria Gordon
It used to be a really nice place to go for furniture but now they have gone up on their prices a lot
1 month ago Junior Effik
I first learned of Cotton Mill Interiors while visiting a now-closed antique warehouse next door. I was amazed at the selection and variety the first time I walked in. And, the staff is so friendly and helpful. See Ella for furniture and Bulent for rugs. He can order rugs for you, too ⭐️⭐️⭐️⭐️⭐️
6 months ago Phil Lodato
This is a Quality Furniture store in a unique historical cotton mill building on the backside of jarfly antiques! They have tons of furniture and decor to choose from. They also have rugs, pillows, mattresses, knick knacks, Etc. Mara Davis and the rest of the staff were all super friendly and helpful! They're also the home of the largest mattress in the world in which you can go on with socks but you must sign a waiver. They have a clearance section, a Consignment section upstairs and they frequently have sales throughout the store.
1 month ago Stacey S
Great place to shop for interiors. Went to look for a rug; walked out with 5 rugs, 2 recliners, and other accoutrements.
1 month ago Cory Cheyne
Got some great pieces from Cotton mill. MARA was awesome helping me with my selection. Will go back
5 months ago Linda Norred
Great little furniture warehouse with lots of selections to choose from in an historical setting. Personnel were friendly and knowledgeable but not pushy.
5 months ago Alecia Holden
Very friendly staff. Cute accessories for your home. Nice sets for living and bed rooms and kitchen. Inventory goes fast.
7 months ago Mark Darkazalli
Great customer service - went out of their way to get the chair my wife wanted.
6 months ago Toni Bacon
Cool stuff at a decent price.
1 month ago Chandler Fruehan
Fun to walk through and see the styles of furniture and art work.
5 months ago Dianna Black
Loved loved the many choices of living room sets, tables & chairs, bedroom sets, foyer & side pieces, and rugs!!
3 months ago Norine Smith
I have purchased several times from Cotton Mills and have never been disappointed. Both Mara and Heather are outstanding! Great quality, very reasonably priced, and they really go the extra mile.
1 month ago Dana Ploof
Customer service is excellent. Very pleasant experience and bought more than I intended.
8 months ago JAMIE JO
Nice furniture at reasonable prices. They do have a company that will deliver what you purchase but most bring their own trailers.
9 months ago KATRINA WILSON
Way over priced and so musty smelling that it turns you away.
1 month ago IVAN Toymentsev
Have fallen in love with this place! They have some very unique sets and artwork. We will definitely be back!
4 months ago Debbie Longest
Loved this place! Prices were great, decor was beautiful and gotta love that mattress fmto entertain the children while you shop!!
5 months ago John Yost
Always a great experience. Family owned local business that really cares about their customers.
9 months ago Christophe Ryan
Need area rugs this is the place they will cut prices for you the more you buy the cheaper they make it good quality just got to search for it. Co them out.
8 months ago Tiffany Strout
Customer service stinks. Let's just say they greeted certain people. Did not even acknowledge us.
9 months ago Steve Bandtlow
do NOT shop at Cotton Mill. I am SO done with their misleading sales tactic, policies, and outright deceptive nature. The chair should have had an ottoman...I was told it came together..and the salesperson literally tells you the pieces are INCLUDED TOGETHER ....I was never told it was a separate charge. I WAS NEVER TOLD. HE . YOU WANTED THE OTTOMAN?? BC IT CAME.. TOGETHER. But, whatever when you tell a customer that it *comes together* that means just that. Then, after they rang me up, they let me know they sont deliver. Also a separate charge. 4 weeks later (couch was special order) they send me a chair that's defective. Take your business elsewhere. For what I paid for these 2 pieces I could've had an entire set someplace else without all this headache. Yes. I talked to the lying sales person and then to the manager who would meet me halfway for the ottoman but I'm not paying another 300 bucks to these people. . I'll take my self to goodwill and get one. so disappointing. the only good part of this was the delivery service. nice dudes. I just completed radiation. I just turned 40. This was kind of my YAY I MADE IT gift to myself and Mara just totally lied to my face to benefit herself. Gross.
3 weeks ago Jamaul Fortune
Used my stimulus money to buy a beautiful Navy blue ,all over leather, power recliner with power headrest & power lumbar that was made right here in the USA ???????? They have a huge old mill full of great furniture & you can find made in the USA . Go check this place out .
2 months ago David Mcnally
Our family has purchased from here many times and always been happy! The staff is friendly and not pushy. The prices and products are great. Our most recent purchase was a new queen sized mattress. They had a great selection. Our kids enjoy playing on the world's largest mattress while we shopped.
8 months ago Justin LaCelle
We enjoyed our visit. We were looking for ideas. Everyone was very helpful and friendly.
1 month ago Anna Walsh
We bought 2 (not so cheap) rugs from here and within a week the binding came apart and started fraying... Brought the rug back and they would do nothing about it. DON'T SHOP HERE FOR RUGS!!!
4 months ago Adam Saadi
Worked with Heather on all of The furniture. Spent two hours and picked out the entire house worth of furniture. Could not of been more helpful. Great selection and even better pricing. I would recommend to anyone looking for good quality furniture.
3 months ago Harry Sambayu
I had a great experience at Cotton Mill Interiors and purchased a reasonably priced sofa for my mother. Heather helped me and listened to what very specific item I needed. She helped with measuring, price and quality questions. There was no pressure, just friendly service. I will go back for my home furnishing needs in the future. Thanks
6 months ago Zalmen Labin
Awesome stuff.. a little pricey on some things
3 months ago Maria
I took two boys to jump on the world's largest mattress. The children had a great time. I got to rest a bit too.
6 months ago Katherine Desjardins
The furniture is very beautiful, there are things at a good price, it is a good place to visit if you like to know all the decoration trends for your home, the interesting thing is that there is the largest bed in the world, and here children can enter and have fun for a while, the people who are in charge of attention are very friendly
2 months ago Gauri Sawant
Very nice place to buy furniture very helpful and friendly people.They went out of their way to answer any questions we had highly recommend this place.
6 months ago Danielle Allessio
We moved here in October and needed to furnish our new home. The staff was friendly and extremely helpful with the design making the right furniture fit in our rooms. Love going in there to shop or just look around
5 months ago Ivan Rykov
They have really nice furniture and the people are really nice too. The mattress was super fun, but I wish it was more clean so I could lay on it. It had dirt marks and other marks I couldn't identify. The couches were very comfy and premium. This will definitely be a place to visit when we replace our couch in a few years.
6 months ago Emma B
Great selection of Everything! Rugs of all sizes&designs. New furniture prices beat big box retailers. The staff are helpful and REAL PEOPLE THAT CARE! It's worth the hour drive. Ive made several different trips for several different rooms. I've bought a sofa, beautiful cabinet, candles, rugs, wall decorations, lots and lots to pick from. I've learned it's best to take a picture of room I'm decorating and the measurements.
3 months ago Eric Brooks
Cute farmhouse decor, antique looking items, lots of furniture, rugs, and mattresses. Will definitely be back to continue decorating my house. Staff was friendly also.
6 months ago Ashley Weber
Nice selection and reasonable prices. The help are friendly and knowledgeable. I really wish they would bring the delivery piece in, though.
3 months ago Gwen Cameron
Fantastic deals
8 months ago John Messiha
The options are great. Little expensive but great deals if you look around. Very accommodating. Rachel is a gem. Entire staff is so helpful and friendly. Delivery service available and they are prompt, friendly and careful.
4 months ago Brandy Craig
Not much in Bedroom furniture which we went to look for. Living Room and Dining Room a lot. Not blown away though with any great price advantage over other stores.
2 weeks ago Mr Spurlock
So many options, really good pricing. Usually they have a % off sale going on, just ask them and they'll tell you. I love their decor items too. We've brought our living room set, 2 lamps, and a rug from here. My son loves going because he gets to jump on the "Worlds Largest Mattress". ????
4 months ago bill setag
I've literally furnished my entire home from this location they have some of the best prices in the industrial great location in the industrial awesome staff to work with and may I repeat awesome selection huge selection they have anything you need for your house as far as furniture and rugs go if you can imagine it being in your home they probably got it in their showroom definitely check it out it's not a big corporation it's a HomeTown locally run organization
4 months ago M Hernandez
Just bought a mattress and got a great deal. The employee I dealt with steered me away from the more expensive mattresses and into the best bang for my buck instead of trying to sell me the most expensive items they had like most places do. Very very happy with my experience. Will absolutely be going back for future furniture purchases.
6 months ago Chris Martel
Mara Davis went above and beyond for us! Will be shopping with her and the Cotton Mill Interiors for all of our furniture and rug needs!
2 months ago ILYA SKOROBOGATYH
As a local realtor, I am always asked where the best priced, high quality furniture spots are. Many of the newcomers I deal with are surprised when I tell them we have our very own local source for all the things you need when starting a new home. Great, friendly staff as well !
10 months ago Brittney Peace
This store has an electric arrangement of very fairly priced items. I bought some great gifts for the holiday. I was totally surprised by what I found in the store and I will definitely be back!!!!! They really do have great deals on great items!
6 months ago manolita hougard
Very helpful while picking out out door furniture. Got great deal on bamboo pillows.
3 months ago Jingjing Ling
Good prices and the enployees are attentive and sweet! Great quality pieces as well!
3 months ago Ashley Rose
The "World's Largest Mattress " was fun
2 months ago
Popular places from the category Furniture store