ScreenDoor
Antique store ScreenDoor, 115 Fairview Rd, Asheville, NC 28803, United States:
220 reviews
of users and employees, detailed information about the address, opening hours, location on the map, attendance, photos, menus, phone number and a huge amount of other detailed and useful information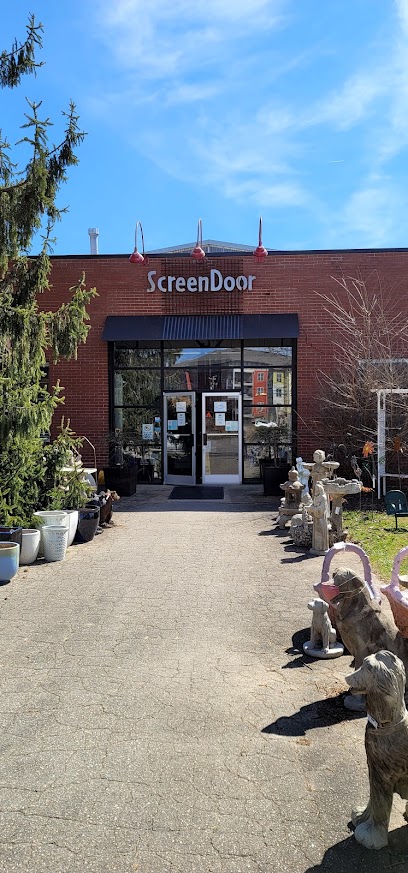 Address:
115 Fairview Rd, Asheville, NC 28803, United States
GPS coordinates
Latitude:
35.5657311
Longitude:
-82.5333800
Location on the map
Reviews Meg Wert
I went to look for something funky for my flower bed and ended up with a variety of things (plant holder, side table for the porch, and some measurements of possible yard art). Staff was helpful, wearing masks, and it was already busy at …
8 months ago Truth Bringer
I would love to give this more stars. If it was based on what products they sell I'd give it 5 stars, many are unique and beautiful. Based on my overall experience that brings it down to a 3. They don't degotiate prices with the sellers …
7 months ago Danielle Muncie
We love popping into this store to browse every now and then.. This time, my partner enjoyed taking photos of interesting items while I smiled at the displays of unique goods. We feel refreshed and fulfilled after walking through ScreenDoor.
7 months ago Dominik Stahlke
I hadn't heard of this place until recently when a friend of mine suggested it. I'm so bummed that I haven't had it on my thrift list all of this time! They have a plethora gorgeous pieces! vintage furniture, newly built tables and …
4 weeks ago carly lewison
Love this place, it's like walking into a place you dreamt about as a kid. Around every corner is one person's junk and another's treasure. If you need something unique, this is the place to go. And if this isn't reason enough, go for the friendly masked staff smiles. Great place--go!
8 months ago Sara Gathro
Very nice, clean and quite a variety of stuff. The only reason I didn't give the 5 stars is because the bathroom really wasn't handicap accessible. But other than the the aisles were wide and clear.
4 weeks ago Chris Higham
I purchased two mid-century modern chairs from this establishment for over $600, for what they are — overpriced. Not even a week later one of my clients sat in the chair as someone normally would, and the back of the chair snapped …
10 months ago Jacki Macker
Great place to find unusual objects and furnishings for your home
7 months ago Lee Shelly
A little pricey, but their booths are very well curated. Great for inspiration.
9 months ago damian daviid
Great craft items and lots of good stuff
7 months ago Rachel Dewhurst
A hodgepodge of second hand thrift finds organized as small storefronts. It's easier to shop if u have specific ideas in mind, like "a bedside table" or "a tall lamp" etc. Otherwise, u cd spend hours just browsing. I found a small bear cub …
3 months ago Joel Cordial
Very unique items. Good prices
9 months ago Caroline Debnam
A lot of wicker pieces and out door decor and furniture in general. Nice indoor furniture and rugs as well.
2 months ago Ernest McHenry
Nice place, clean, antiques well displayed!
7 months ago David Connor
So much to see, so many artistic ideas.
1 month ago Nileme Floriemy
Good selection of actual antiques with a lot of vintage items as well with some reproductions mixed in . Prices are high but they do have quality stock.
11 months ago Daniel Callejas
Great antique store and the folks that work there are great also!! We'll be coming back again.
4 weeks ago Monica Wong
Fun and FULL of nice stuff, if you are patient.
9 months ago brandon stokes
Love the inventory. Could spend hours here.
10 months ago Abi Mahadevan
I love this booth organized shop. The place has a really diverse offering of antiques, fine and funky furnishings as well as all sorts of random in between. Be careful though, you might walk out with more than you came for!
6 months ago Sharon Ellman
Fun place to see antiques and creativity.
8 months ago Elizabeth Miller
Excellent staff, amazing collection of so many things!
11 months ago Chuck Hurd
The Screen Door is a kool place with some kool things and the ppl are friendly, too.
11 months ago Jessica Park
A great place to get furniture.
10 months ago Kevin R
Lots of good stuff.
8 months ago Renee Spencer
Quiet! Don't tell anyone about this amazing warehouse full of antiques, art, and oddities. Oh! It's also a bookstore.
10 months ago David Zukerman
Fun to walk around
7 months ago Moxie Lefebvre
Loved it! Many items to look at. Well worth my time.
5 months ago Marina Kevilovska
Huge place! Amazing selection! Prices on the higher side for used furnishings, but everything is in great condition. Highly recommend this gem
8 months ago Victoria Wilkinson
Lots to choose from ???? We were looking for a coffee table and found that plus a dresser and bed side table in "Barb's booth". Thanks Barb! We also found a vintage (50's) pitcher and glass set. Fun browsing with helpful, friendly staff.
5 months ago Ashley Cannon
I have visited The Screen Door twice. The first time I purchased a few things including a desk. The customer service skills of the those attending the front counter are horrible. I was reprimanded for setting Items with items setting …
4 months ago Jacob Giulianelli
Huge place, with tons of little booth spaces. There's so much to see here, I spent over an hour here and still didn't see all there was to see. I'll definitely have to come back for another run through, and to check out the attached book store!
4 months ago Breher Meier
Very nice stuff, but also very pricey.
1 month ago Missy Broadway
For the most unusual items, they never disappoint!
4 weeks ago Hannah Smith
What a great place to shop. There's a museum of displays and antiques up there.
6 months ago Jordan Beall
Beautiful art and decor! Very worth visiting!
5 months ago Matt Turner
Blond lady that works there is rude to customers. I do not recommended shopping there. Their prices are very very high and she will not negotiate on any prices.
2 months ago mike weinert
Very very clean and so much to look at there is something for everyone
3 months ago Jorjick
My favorite place to find that something special!
11 months ago Richard Metheny
Great,stuff but the operators,of the market will absolutely not negotiate. To those of you who sell there. I have bought before but wanted to offer on a couple of items ihad looked at for months only to be told flatly NO. What could've been a sale is more than likely still on the wall.
4 weeks ago Manish Chawla
Very low on inventory due to covid, usually a great place to shop.
5 months ago Gizem Canseven
We visit every trip to the mountains. Always tidy and new things to see.
2 months ago Mary Fredette
We found a treasure we weren't looking ,but we do find something unique every time we visit. And Frank was a great help.
4 months ago Abner Barajas
Some cool stuff.
11 months ago Shalita McQuarter
Had to come back twice it was so nice! Large store, great variety and staff are following COVID safety regulations - which made me feel even better as a customer
8 months ago tyler johnson
Charming antique store, clean, well-lit, helpful folks.
4 months ago Denis Martel
What a different and unique store, great finds and the staff are very helpful and friendly.
4 months ago Pam Fromson
Great selection. A little bit of everything!
4 months ago Andrew Tolopko
My son and I frequent this store. I love the selection at this store.
2 months ago Gloria Whitford
We found a few things
8 months ago
Popular places from the category Antique store