Panaderia Del Valle
Bakery Panaderia Del Valle, 5781 Buford Hwy NE # 105, Atlanta, GA 30340, United States:
197 reviews
of users and employees, detailed information about the address, opening hours, location on the map, attendance, photos, menus, phone number and a huge amount of other detailed and useful information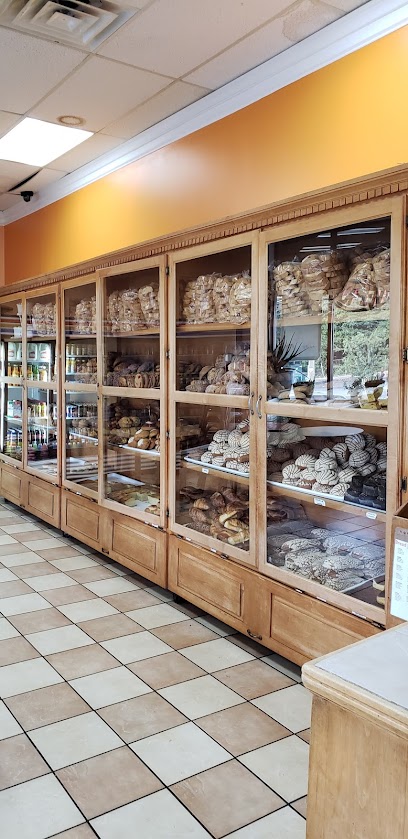 Address:
5781 Buford Hwy NE # 105, Atlanta, GA 30340, United States
GPS coordinates
Latitude:
33.9080382
Longitude:
-84.2667886
Location on the map
Reviews Adam Sweet
Good Central American Bakery....come to check it, Like grandma Style home pastries, cakes and much more ????
5 months ago Jack Pollard
I get bread here all the time :D. The bread here is full with flavor and it's sold for a great price.
6 months ago Major Bonner
Goood
7 months ago Flourence Cole
Worst thing about this place is that they only take cash. Otherwise, the bakery is really good! I highly recommend getting the Tres Leche cakes from here. They're a bit expensive but otherwise really solid!
1 month ago Kane Esser
Good quesadillas and bread, good selection of drinks not the most sanitary place they only take cash as well
2 months ago William Grimaldi
Very very very good bakery plus their tamales in quesadillas are amazing
2 months ago Lena Barrera
expensive for bread compared to cali pricing
8 months ago Dustin Fickel
The cakes and the food(Quesadillas and gorditas)are really good. I love their mocha tres leches cake is delicious.
4 months ago lydia reyes
yummy very variety of Mexican bread and the quesadillas are big and delicious
2 months ago Cheryl Jay
This is a nice little bakery with a good variety of breads that taste great and in the morning they sell some breakfast foods like quesadillas and gorditas that that are also very good. I suggest the pork rine gorditas, those are my fave.
5 months ago Jesus Castaneda
Csro
6 months ago Gail May
The bread is ok...but not the best. Some typed are better than others. However, the quesadillas and pupusas are on point!
9 months ago Joy Tsao
Great I like it and love going with family to eat there
6 months ago Jezreel Kaid
this is good place to buy gorditas
5 months ago Thomas Shelton
This is the best "variety" "mexican" bakery. I have not found one similar to this Panaderia. Tasted the quesadillas and gorditas filled with beans. OMG I wanted more but they are fulfilling, tasty, and "home made". Tienen mucha variedad de pan dulce. Aparte de pan tambien tienen gorditas y quesadillas sabrosas y muy llenadoras!
9 months ago Dani Newby
Great place very good pan love it. And highly recommend it to anyone. Clean and nice place friendly people that help you out.... you need to ask them, but it works.
8 months ago Darlene King
It was OK but for the price I expected it to be better.
8 months ago James Burt
Good bread ???? Open early ????????
9 months ago Brooke Ehlinger
Everything is so fresh and taste amazing
3 months ago Anna Kovalenko
Cute Authentic bakery! They do not accept cc but I did not let that stop me from trying these pastries!
7 months ago Preston Blake
It's so good
4 months ago Arthur Anderson
Cute little authentic Mexican Panaderia. The trick is getting there when the hot bread is coming out which is everyday. They also serve really yummy breakfast (quesadillas and Gorditas). There is a long line every morning but they have ladies at the front getting you through the line quickly.
8 months ago amar saini
Fantastic quesadillas, tamales and arepas on the hot bar and an excellent selection of fresh baked breads, pastries, and cookies. Popular lunch spot for the after-church crowd on Sundays. Dress nice and show up early or you won't get a seat!
11 months ago Samantha Kratzer
The reason for the 3 star is location and parking. Parking is a NIGHTMARE and location is just not the best. Random guys wandering around the outside area expecially since there is a laundromat next door. Food is very good but just not a very comfortable place to actually go and get food if your not interested in having old random guys hitting on you. Also BE VERY CAUTIOUS! This place is CASH ONLY !!!
11 months ago Kristen Cox
Great food, I always stop here when we pick up food from Tortas Factory in front of them.
5 months ago Luke Kikukawa
Delicious bread the best one, and the quesadillas and gorditas are so good!! Really good prices
8 months ago Zainab Nazim
I visit this place too often, good taste, in the mornings they sell really tasty food, great service, avoid weekend's morning, its too crowded
9 months ago David Miles
The food is amazing. The authenticity is very precise and overall you can never go wrong with flavors. They serve both sweet and savory breakfast. Sweet- the breads, pastries, and etc. Savory- different types of quesadillas and gorditas. They are big. One is enough to fill you up. They also have a variety of breads to select from. This is way better than dunkin donuts or Krispy Kreme. However only mujeres sangrona work there.
1 month ago Sara Ledesma
Excellent
8 months ago Shawn Davlin
Racists. They hate white people. I've met these types before. They were rude to me. They gave a horrible product to a neighbor of mine. It didn't look like the other cakes they made. I don't even want to think what they did to it while making it.
8 months ago Renatka DB
Cons.- Expensive, parking is a nightmare, the place is too crowded, clerks are rude ( they need to be trained) and the worst THEY DON'T ACCEPT CREDIT CARDS OR ATMS!! PROS.- Quesadillas are great, Tamales ok, bread really nice! However I'm not going back to espend my money, there are several more places lake this one, waaay better !!
1 month ago Buddy Whittenburg
Food is good. Usually a wait and is always crowded. Only reason for a 3 star is because they only accept cash
9 months ago Jaime johnson
Great food (quesadillas / tamales) They can cater cakes for parties. Very small area to eat and move around. Parking is terrible and THEY DO NOT ACCEPT CARD.
5 months ago A
Very friendly. The tamales are adifferent type of masa, yet very yummy!
11 months ago Sharon Garcia
Clean and very nice staff
11 months ago Vanessa Ebert
Only accept cash but they are the best pan I've had since I left LA
9 months ago sudheer vem
The breakfast is awesome in this place The downside is that, you can barely walk inside.
3 weeks ago Nick Kopf
Very nice people working there. Their empanadas are my favorite.
5 months ago Emmanuel Nyarko
It's very expensive.
7 months ago Nick Leal
Parking at certain times is an absolute nightmare as someone had stated...the lines are often long at peak hours...but it's totally worth the wait for the cheese gorditas and chicken quesadillas
9 months ago Daniel Dillman
Really good food and bakery and service
9 months ago David Johnson
I was one of their first Customers when they opened and we still pass by sometimes,
11 months ago Scott Holland
Good taste food
6 months ago Katherine Tantinan
Is uncomfortable. Because we can't pay with credit and debit because we use them all the time
9 months ago Lena Wu
Nice
3 months ago Todd Brandon
Excellent Quesadillas
7 months ago Biswajit Chowdhury
Lady at the cashier always gets orders wrong
7 months ago Chuck Ray
Best place for cakes...
9 months ago Ernie Hamilton
Delicious and authentic
7 months ago
Popular places from the category Bakery