Hair salon The Moon Hair Salon And Barbershop حلاق عربي
Hair salon The Moon Hair Salon And Barbershop حلاق عربي, 3354 Chamblee Tucker Rd B, Atlanta, GA 30341, United States:
102 reviews
of users and employees, detailed information about the address, opening hours, location on the map, attendance, photos, menus, phone number and a huge amount of other detailed and useful information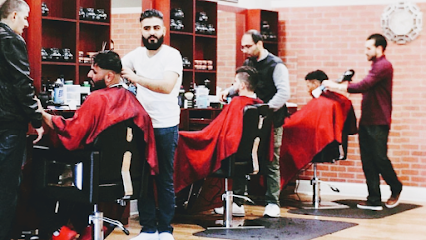 Address:
3354 Chamblee Tucker Rd B, Atlanta, GA 30341, United States
GPS coordinates
Latitude:
33.8863022
Longitude:
-84.2564258
Location on the map
Reviews Katherine Whitehead
Have been here multiple times, had different barbers, and showed them different hairstyles. All of the barbers did very well every time and in a professional manner too. Barbers are kind, listening, and the store is very clean. I do walk ins on weekends and never spent more than 10 minutes waiting. Cuts are clean and quick. Only problem I have is that the barbers might have a few communication problems, but I let that slide b/c they get the job done and I walk out looking fresh. Heaven has a special place for this barbershop lol. I really recommend this place.
6 months ago Gray Wilson
Best haircut I get is at the Moon hair salon.
11 months ago Anna Anatolievna
One of the best places in ATL to get your beard cut. Absolute professionals with great skill.
5 months ago Peter Bakker
Went there to get a haircut for the first time and it was a great experience. I showed a pic to the hair stylist and he knew what kind of hairstyle I was going for. He was very professional and helpful. I had a great conversation when I wanted or could also just stay silent and felt great after the haircut.
7 months ago PF Cunning
Best barber ive ever been to in my life. Will always go to these guys
6 months ago Jessie Jiang
They are one of the best barber shop ????I ever went to they always know what there doing and how to do it if u go there I recommend all 3 of them each on has experience of what there doing and will get it done as soon as possible. Please try them out if you ever have a chance I would appreciate to cause they are hardworking and determined thanks for all the cuts and everything y'all did to me..... ❤️
3 days ago Hemera Maybonni
Discovered this place through Google maps, and so glad I did! Very professional, yet laid back atmosphere. They gave me a new haircut that I've been loving.
10 months ago Amanda Robertson
I always come here even if it is far away from me, and I'm waiting more than hour and they are not open I think this is disrespectful for their customers
10 months ago Leslie Josue
Quality and skillful barbers with a need of slight improvement in communication and customer service.. I recommend this shop for the quality of the barbers.
10 months ago Mk Watson
My barber was really nice. He made me feel comfortable and the end result was to my satisfaction.
5 months ago patti t
One of tge hest saloons for mens haircut in suburb Atlanta
9 months ago Jasmin Winnie
Really good hair Cut good customer service
6 months ago Jami Kesner
These guys know how to do a guy's haircut like no other. Highly recommend. They are professional but also laid back, great environment, clean shop. Everyone looks good coming out of this place. Can't say enough good things. I will come here as long as they are open.
7 months ago Dezi G
It's very good service and also nice skilled barbers. I like going there it's very comfortable in the store. Also, what I like about this place is that you don't have to wait a lot to get the hair cut.
5 months ago Jessica Santone
Very professional and great Barbers. I really recommend them.
3 weeks ago Javier Ibanez
Best service ever. Amazing people and very professional about the haircut. Its been my go to place for haircut since I moved to Atl
3 months ago RIck SWearingen
Highly recommend! They provide the best customer service experience. They take their time and pay close attention to detail. Always feel at home when I walk in!
2 months ago Kathleen Stepanian
Getting my hair cut by Latinos in the Bronx my whole life it's not easy to leave and find comparable skill. The combination of cleanliness, skill, and affordability in this shop is just not present in any other shop I've been to in Atlanta. Not only that but the music is culturally inclusive, ranging from American, to Middle Eastern, and they even play some Latin tunes sometimes when I show up. Best barbershop in Atlanta hands down. Mohammed (Mo) cuts like he belongs in NYC, I only really go to him but the other guys do awesome to from what I see. Love the diversity in the barbershop. I'd give it 10 stars if I could. I got nothing bad to say about these guys.
6 months ago Joe Dabouis
I was refered by a friend to come here. I usually get my cuts and facial trimmings done at Great Clips but due to the "pandemic" situation they don't offer any facial trimmings, so I decided to come to The Moon Hair Salon these guys are awesome! It's a long process but it's definitely worth it.????????????
5 months ago Ernestine Buster
Very good haircut Very good service
9 months ago brucewayne
Mohammad was my barber. That was my first time, & I love it. I'll comeback again:)
4 months ago Abood Mk
Perfect hair cut the way you want it
10 months ago Maria Baha
The best salon in Atlanta hands down
6 months ago Brenda Posthumus
Best haircut I got here
3 months ago nilton zuckerman
Very skilled professionals at this location. Salon is clean and well kept. Staff are friendly and respectful. These guys can cut hair. Will be returning.
11 months ago Raul Campos
Awesome barber shop! If you're looking for a clean fade this is a great place to go. They can trim a beard and line it out like no other.
6 months ago Ahmad Marzuki
Personally this is the best barber shop this side of the Atlantic Ocean. Been to many barber shops/salons but this one is the crown jewel here in the Atlanta area. Mohammed E Is a gifted barber and an even better human being. Customer Service is always on point. Always greeted with a smile and followed up by consistent haircuts.
6 months ago Caridad Armbruster
What a fantastic shop! They are always really friendly, and they do a great job with my husband's and sons' haircuts. Priced more than fairly. We never walk away unhappy.
10 months ago George Coors
One ☝️ of my favorite
3 weeks ago Mouner Saab
I make a comment about respect. On 1st Feb. I have come at 11 am whereas I was 3rd customers. The 4th customer came at 11:50. 2nd barber come at 12 and start with the 4th customer and ignore the others. No respect for the line. I prefer to pay 50$ for people appreciate humanity whereas this shop do not respect the line.
6 months ago Jessi Melvin
These guys always set me straight and satisfaction is guaranteed. I go here every 2 weeks for a haircut and beard trim.
9 months ago Brent Lemons
I've never been to a better place then this. They are amazing and do a great gob. Everyone is very nice and you can tell they actually care and have great interest in making their customers feel and look great!
1 month ago Marco Redhouse
They do great work at a really good price.
4 months ago Stacey W
Great haircut 100% of the time! Super friendly staff, easy to walk-in. Definitely recommend, worth the drive!
7 months ago Keyona Thompson
It's a great place and every barber in the shop does great work.
6 months ago Christine Lima
The best haircuts ????‍♂️ they ever give y'all should go get a haircut there and all different beard ???? styles and eyebrow done as well
6 months ago Zulma Beltran
I have been here three times, my hair was cut shorter on two occasion despite me explaining in clear term not to make it short. Apparently the guy on the middle chair was obsessed with short hair, maybe he wanted to cut short his work and use machine instead of scissors. So if you are one of those Asians who prefer scissor and long hair. You must not go here. Because they dont know how to trim long hair, and apart from the main guy they don't understand English as well.
9 months ago Matthew Gervais
Awesome haircut, great service.
1 month ago Nicky Wilkinson
If you are looking for an outstanding hair cut, its the right place. I love this place. Professional people, great service and very welcoming are all included in one place.
7 months ago Betty Chavez
Very professional, great price. Highly recommend.
5 months ago Jo Dobey
Grret, clean and safe.
4 months ago Caitlin Glover
The best hair cut and beard trimmed I got in Atlanta after trying many other professionals.
8 months ago James Puckett
Great place. I live nearby saw it really clean and neat, decided to get a hair cut and got to meet the owner. Really nice guy, Definitely going back for my next hair cut.
1 month ago Tonk Sullivan
This is the only barber that I go to. I've been to many barbers in my life, none of them compare to the quality and expertise that you will find at Moon. I'm always happy and satisfied when I leave. Moe specifically is the man!!!
8 months ago Joshua Chevalier
Amazing skilled barbers, Clean & modern!! Excellent cuts with perfection
6 months ago kitchoy Caliao
Great place friendly staff I like to get my haircut here
7 months ago Bill Mcjester
First time coming in, nice staff and I didn't know what style I wanted. Walked out liking what I got
7 months ago Todd Riegler
Best salon ever smooth no app just walk ins good systems and professional barbers
5 months ago Ella Gregory
It's always good.
7 months ago Kristen Theagene
Professional, reasonable prices, and decent hairstyles
6 months ago
Popular places from the category Hair salon